The Easiest Way To Make Your Backyard More Relaxing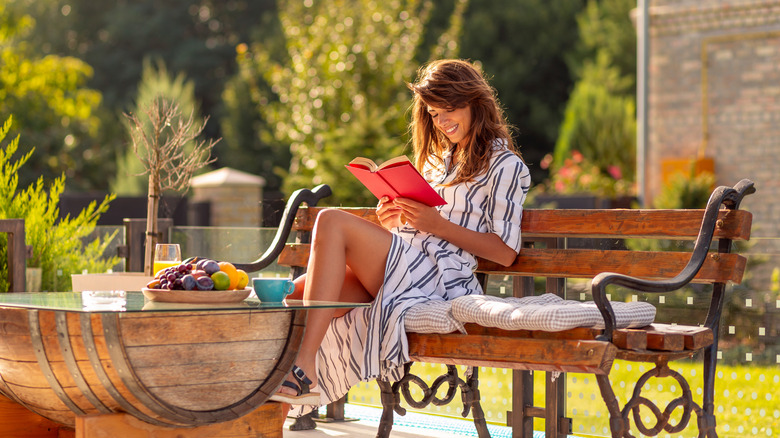 Impact Photography/Shutterstock
Close your eyes and imagine the most relaxing backyard space that could ever exist. Perhaps you're picturing a large pool filled with refreshingly cool water, or maybe your ideal relaxation spot includes a steaming hot tub. Maybe your picturesque space has a cozy fire pit, perfect for roasting marshmallows in the colder months. Your interests could also be more aesthetic. If so, your idea of an ultimate backyard is probably filled with lush greenery, fragrant flowers, and a beautiful water feature. You could also imagine a pergola perched on a porch with a cozy hammock swinging beneath it. Lowe's describes this space as a backyard oasis.
Now think about your own backyard. Probably pales in comparison, right? But, if you're trying to achieve the oasis of your dreams, there's one easy purchase you can make right now, and it doesn't have to cost you very much. This idea may be the easiest first step you can take to create the relaxing backyard you desire.
Add shade to promote relaxation in your backyard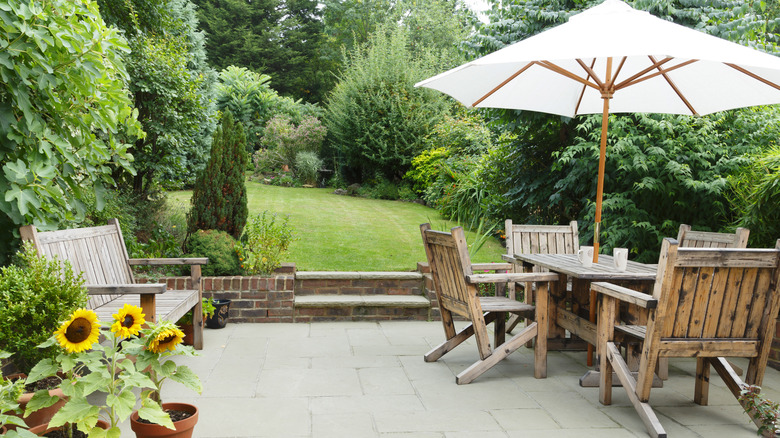 Paul Maguire/Shutterstock
The easiest way to create a more tranquil backyard is by adding shade. When a portion of your backyard is shaded, it allows you to use your space more often, even on hot days or during light rain. Moreover, for families with kids, adding shade over the play area may give the parents more time to relax. Shaded areas are overall more enjoyable and comfortable, and you won't have to layer on sunscreen every time you relax in your backyard.
HGTV lists some shade options to consider. To add more greenery, you could plant trees, which will provide some stunning shade in the future. For those who also want the option of lots of sunlight, you could choose an umbrella or a retractable awning. A backyard pergola would add both shade and aesthetics to your space. If privacy is also important to you, consider hanging curtains around your deck.
Other ways to create a relaxing sanctuary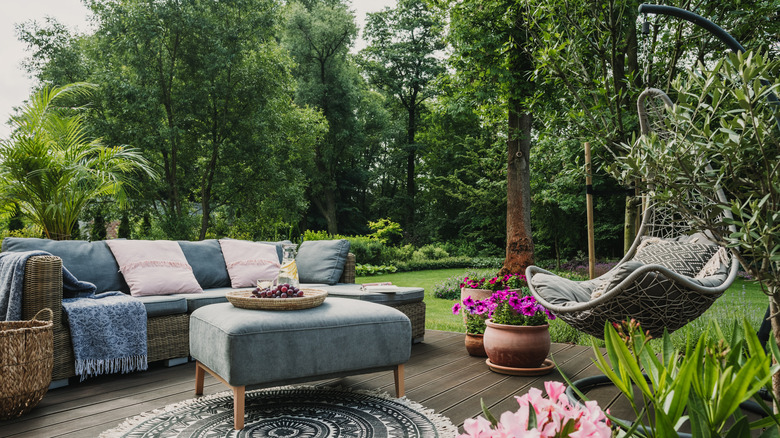 Photographee.eu/Shutterstock
While you could add a pool, hot tub, or water feature to your backyard, you may not have these costly updates in your budget. However, landscaping and outdoor furniture are two less expensive updates that everyone should consider to create a more relaxing oasis.
Landscaping is important because it makes your space look more inviting and aesthetically pleasing. According to Home For The Harvest, you can use landscaping to provide more privacy, shade, and functionality to your space. When doing your own landscaping, be sure that you thoroughly consider the position of the plants. A common place to add greenery is around the border of a yard or along a fence or wall. Placing flowers in pots on the porch or deck will also add more color to your space.
The second thing you need to add to create a relaxing backyard is outdoor furniture. When choosing furnishings for your space, consider the size of your yard, the number of people your furniture will need to accommodate, and the style of the pieces, Lowe's recommends. Good options for materials include aluminum, iron, metal, and wicker. Furniture made from these materials will be durable and easy to clean. You could also add cushions for extra comfort.