This Is The Whimsical Detail 37% Of People Would Add To Their Garden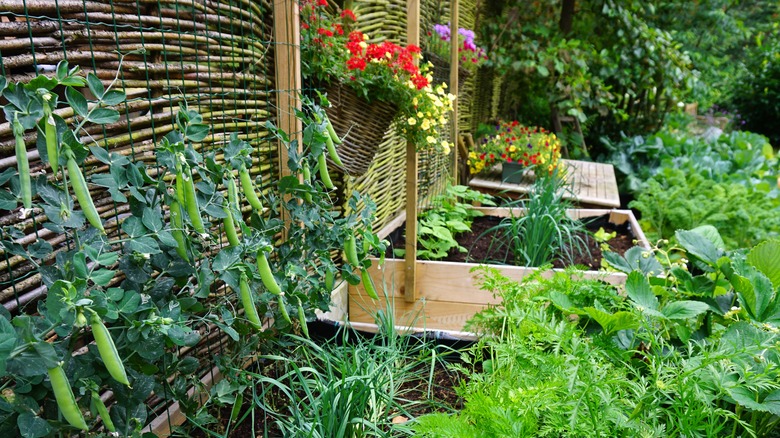 L. Feddes/Shutterstock
Does your home garden feel bland or boring? Are you looking for a way to spice it up so it's more fun and appealing? Of course, there's nothing wrong with using your space strictly for growing food. But if you want to create an area that's both functional and beautiful, maybe you've thought about adding some eccentric details. One way to easily add fun elements to your space, per Shifting Roots, is to peruse your yard, neighborhood, or nearby woods for natural items like old branches, large logs, or smooth stones that could become unique plant stands or stacked statues.
On the other hand, maybe you want to add a larger whimsical feature to your garden that will really make a statement. To this end, we're sure you'd like to know about the most desired accent piece, and you're in luck. House Digest conducted a survey of 596 people and asked them which detail they would add to their garden. The results are in, and about 37% of participants, or 221 people, conclusively agreed that they would add one specific feature. Here's what it is.
The most popular garden accent piece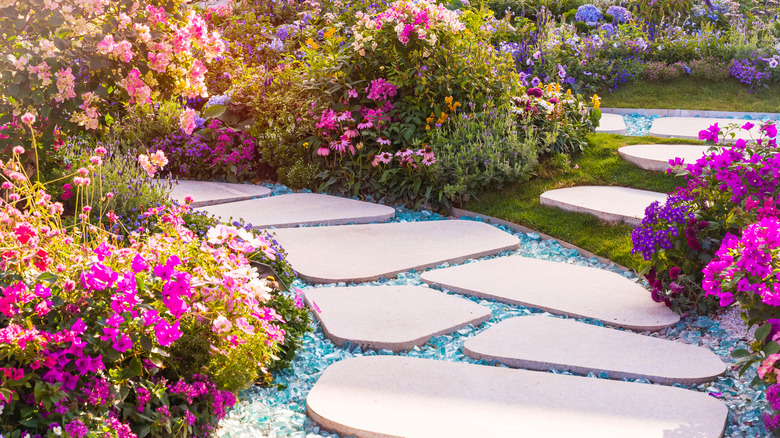 asharkyu/Shutterstock
Just over 37% of people said that they would add a stone pathway to their garden. Stone pathways balance earthy vibes with a whimsical feel. They can be primarily used to traverse around the garden or to create a beautiful art piece. Ted Lare Design & Build points out that paths made of stone are versatile in design because the stones can be placed wherever desired. Therefore, you could create a straight and narrow trail or you could add interest by creating a long, winding lane. If you want to switch it up in the future, the stones can also be adjusted.
Other benefits of adding a stone pathway include durability and style. Lathe stones can handle heavy foot traffic and come in a variety of designs and colors. Madhav Marbles & Granites Ltd. says that stone pathways make garden spaces look more inviting. They also benefit the greenery by retaining water. If you want to add a stone pathway to your garden, it's fairly simple to do. Just find or purchase flat stones of about the same size. Then line them up, leaving a small space between each stone. 
Other popular choices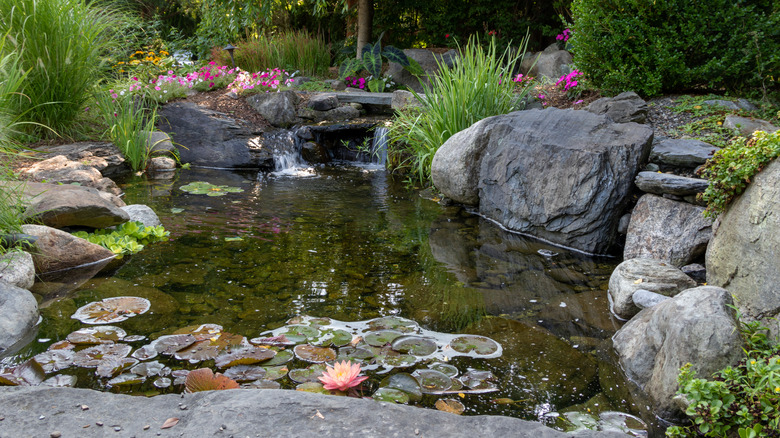 Rabbitti/Shutterstock
While a stone pathway was the top choice, 25% of people, or 149 participants, said they would add a pond to their garden. This choice would bring a beautiful and calming water feature to your space. According to Clearwater Creations, to add a pond yourself, you'll need a liner and a water filter for aeration (and, of course, a shovel). To decorate you'll want stones, plants, and fish. You could also install a fountain or build a waterfall. 
With just over 17% of the votes, 102 participants chose a charming bird bath for their whimsical garden addition. Mother Earth News says that bird baths attract birds by giving them a spot to drink and groom. The birds will also snack on insects and other pests you'd probably rather not have in your garden. Other less popular options included a bench, with about 12% and 71 participants, and a gazing ball garden ornament with just 5% and 31 participants. Only 22 people chose pink flamingos, which just over 3% of votes, making it the least popular option.