What Is A Split-Level Pool?
So you've decided to add a pool to your backyard, but you're not sure what design to choose. Of course, adding any pool will elevate your backyard and make it much more enjoyable. However, there are a number of ways to set your pool apart and add interest to your backyard. For instance, Luxury Pools recommends adding beautiful designs like custom mosaics or aggregate to your pool. These elements will upgrade the aesthetics of your backyard. To really make your space extra luxurious, you could add a swim-up bar or an underwater bench.
Another way to boost both the look and function of your pool is by choosing a split-level design. Split-level pools will improve the appearance and functionality of your backyard. You may be wondering what a split-level pool is and what other benefits come with installing one. There are also a number of ways you can make a split-level pool even more impressive.
Definition of a split-level pool
A split-level pool is one with multiple levels. It is also sometimes called a two-tier or multi-level pool. Aquavisions Pools says that a split-level is a great design for those who have a sloped backyard because the pool can easily be installed with the landscaping. Another benefit is that these designs allow for multiple zones, which can benefit those who use their pool for multiple functions. For instance, if the kids want to play but the adults want to relax, each can be confined to their own space. Build A Pool Today features a design with one deep zone and one shallow zone, fit for the adults and the kids, respectively.
However, there are also some cons to consider before pulling the trigger on a split-level design, per Aquavisions Pools. The first is the cost. Because you're essentially adding two pools to your space, this design will cost more than a basic design would. Another con is that your backyard's layout may limit the split-level designs you are able to choose from. And, if you have limited space to work with, a split-level pool may not fit in your backyard.
Other ways to upgrade your pool's design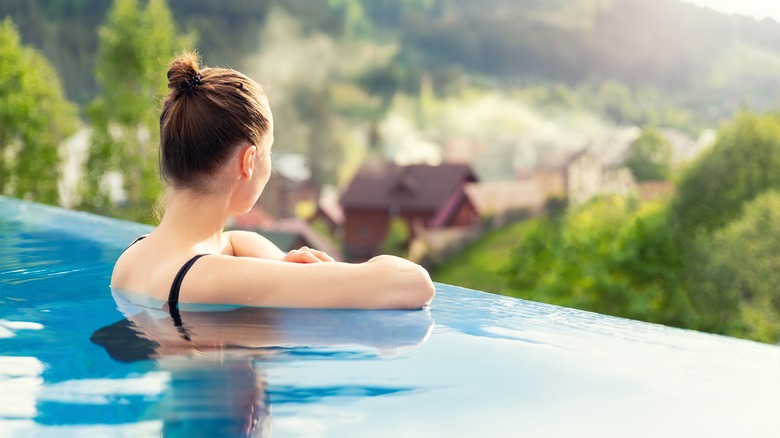 Gorloff-KV/Shutterstock
To make a split-level pool even more unique, there are a number of other features you could add. For elevated aesthetics, consider adding intricate stone walls, beautiful landscaping, and decorative patios around your pool. A hot tub or spa could upgrade your backyard space to make it more enjoyable and functional.
Another option is adding a black bottom. According to Leisure Pools USA, black bottom pools are both aesthetic and functional. While adding a dramatic flair to your space, the dark color will also absorb the sun's rays and heat your pool. You could also choose to add an infinity edge. This is often added to split-level pools because the water can pour into the lower level. Local Pools says that infinity edges will make your top pool appear as though it doesn't have an edge, but just flows right into the landscaping. This feature is typically used in luxurious spas or hotels.