30 Bathroom Window Treatment Ideas That Give A Big Boost Of Style
Hendrickson Photography/Shutterstock
Window treatments are always an excellent idea for making a room feel finished. Not only does it provide privacy from the peering eyes of the outside world, but it makes the room feel complete. Your bathroom might not be the first room you think about placing window treatments in, but you should. According to Just Blinds, consulting an expert is advised, and there are a few things to consider before installing window treatments. The company recommends taking proper measurements to ensure a custom look and using different options for windows with a unique shape or size. This can offer the best choices for lighting and privacy issues.
According to The Washington Post, there are several options for window treatments, including drapery, blinds, curtains, and shades. For example, the outlet says that longer drapes look more refined. Access your home's needs and decide the look you want to go for. Keep scrolling to get inspired with these 30 bathroom window treatments that boost your bathroom's style.
1. Keeping it natural
New Africa/Shutterstock
This bathroom has so many natural elements we love. Light natural woods are brought into the room, which look beautiful with the large freestanding modern bathtub. The wood blinds are a bit darker than the rest of the wood accessories, but it definitely works! Add a mustard bath mat and towels.
2. An elegant option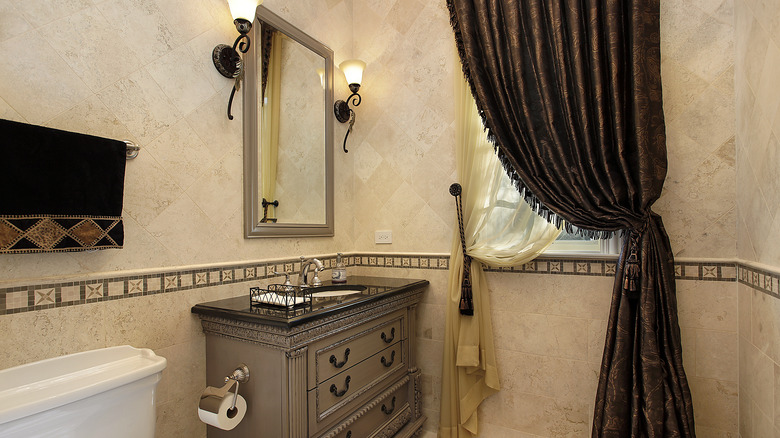 pics721/Shutterstock
As The Washington Post pointed out, long drapes are more refined than their shorter counterparts, and this bathroom is exquisite. Dark brown luxurious drapes with a see-through style are an attractive choice if you're looking for something sophisticated.
3. Roman shades are a popular choice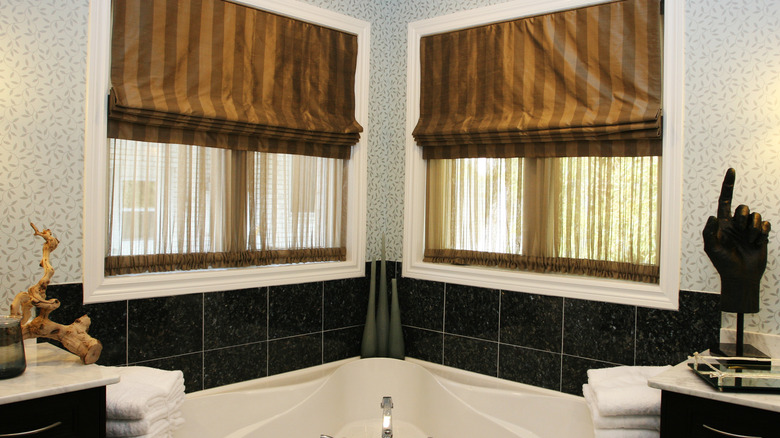 Vanessa Belfiore/Shutterstock
Roman shades are easy to spot as they generally fold and cascade down the window. This style is ideal if you want to allow light to come into your home easily.
4. Go for light and ethereal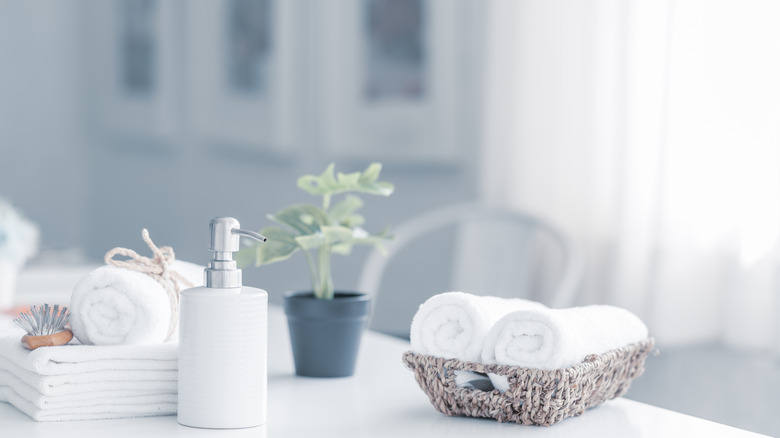 shutter_o/Shutterstock
Light and airy is always an attractive choice, so if you're looking for an ethereal feel, we suggest looking for see-through drapes for your bathroom.
5. In the thick if it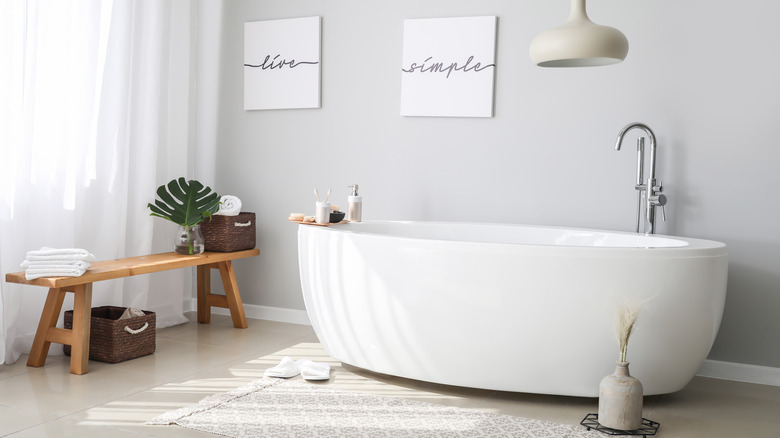 Pixel-Shot/Shutterstock
If you live in a high-rise and are in need of privacy, you may want to consider choosing a slightly thicker drapery that gives you the seclusion you're after.
6. Jungle views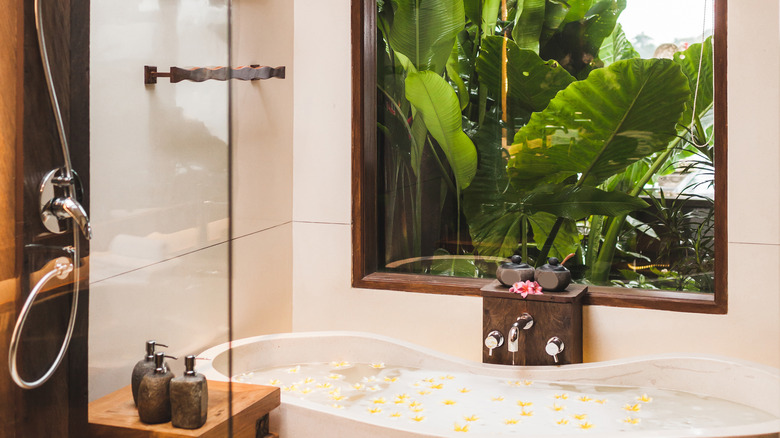 Breslavtsev Oleg/Shutterstock
There's nothing like taking a relaxing bath after a long day, but it's even more special with lush palms to look at, which double as your window treatment.
7. Sheer white and gray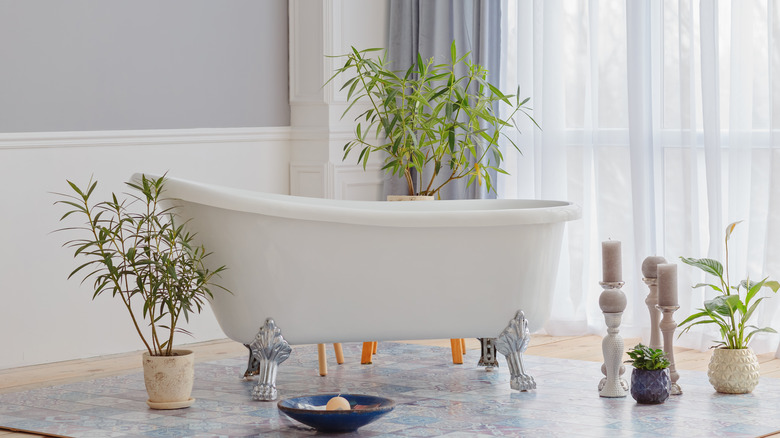 Sante77777/Shutterstock
Once we take our eyes off of that stunning claw foot tub, we can't help but notice this ideal drapery situation. This homeowner combines a sheer white curtain with a thicker gray version, which looks beautiful in the space.
8. Light tan wood and sheer drapes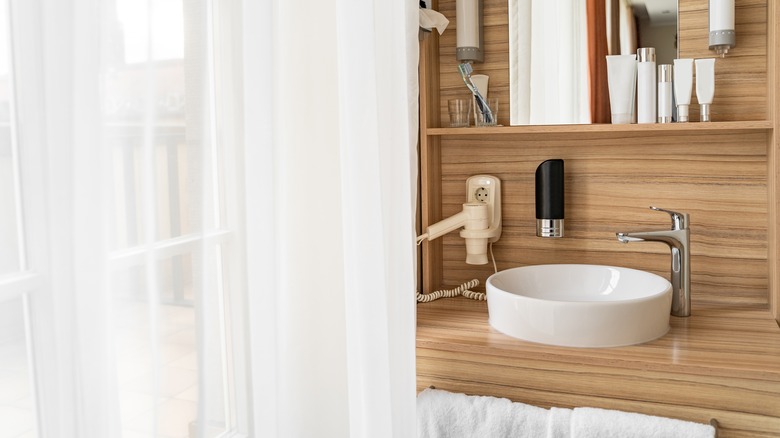 Pavel Gulea/Shutterstock
It's easy to have a light-filled bathroom with sheer, white flowy drapes, which look gorgeous alongside tan wood seen throughout the bathroom, giving it a modern look we can't get enough of.
9. Inside out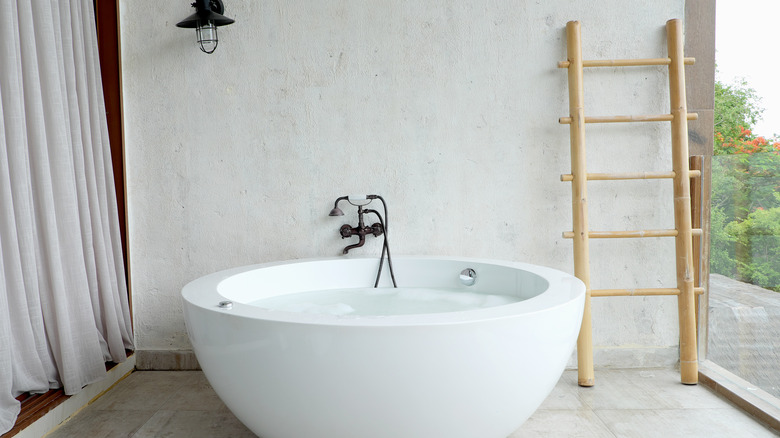 Buntoon Rodseng/Shutterstock
This exquisite bathroom brings the outside in. With an expansive floor-to-ceiling window, we wouldn't want to leave that large soaking tub. The thick drapes are an elegant option to give you privacy, separating the bedroom from this unique room.
10. Living large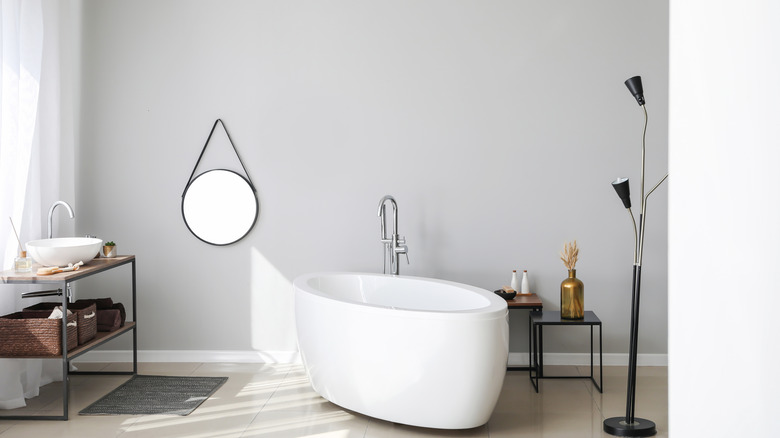 Pixel-Shot/Shutterstock
This sizable tub is the centerpiece of the room that features a simple, gray paint color on the walls. With artwork that says live simple, it's easy to see how basic decor can go a long way, including the long, white drapes that finish this room.
11. Crisp white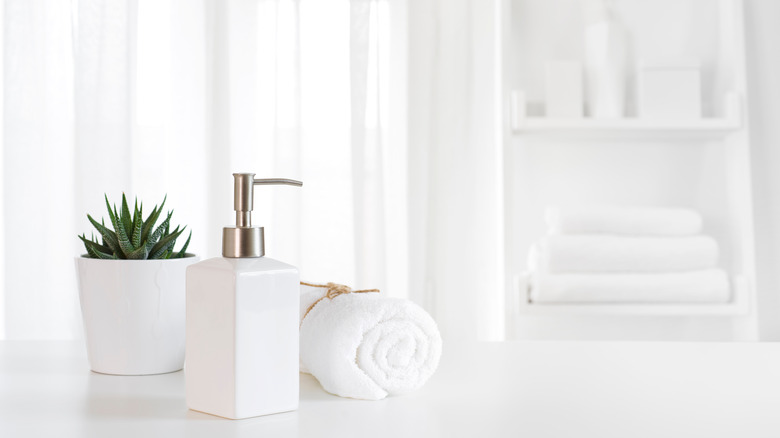 Didecs/Shutterstock
This all-white bathroom looks crisp and clean and oh-so-pretty. This look is easy to accomplish. All you need is flowy drapes, a stack of white towels, and bathroom accessories.
12. Simple and chic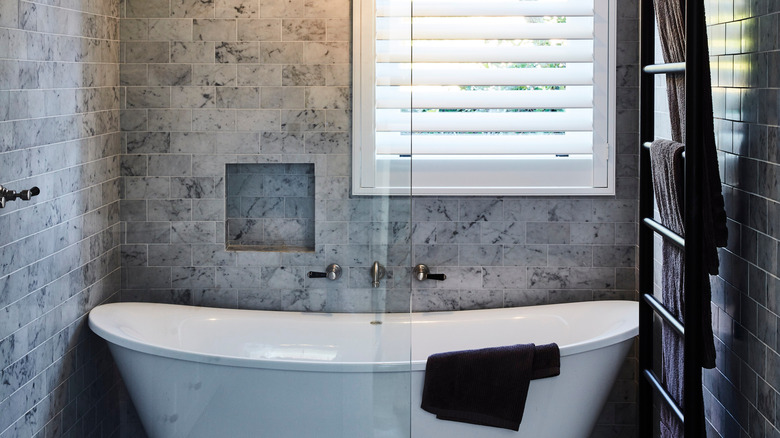 PhotoMavenStock/Shutterstock
These blinds are simple and chic and look flawless in this bathroom that has sophisticated floor tiles, a uniquely shaped soaking tub, and stylish lighting.
13. Dark and sexy Venetian blinds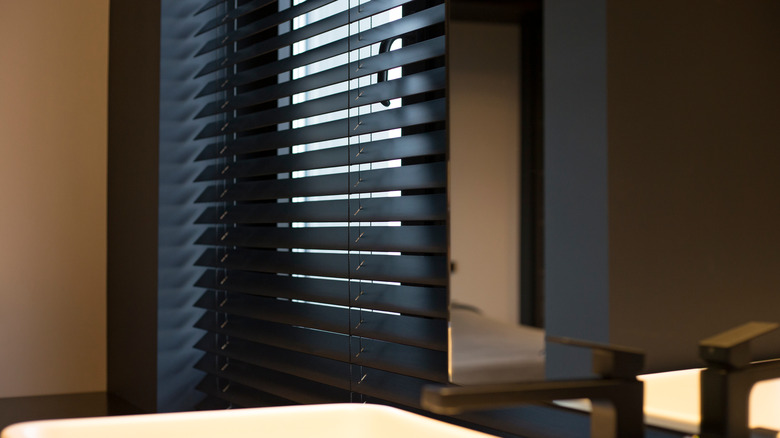 Astibuk/Shutterstock
Black Venetian blinds would be a sultry choice for any glam bathroom. If you want to keep the sun from infiltrating your bathroom, it's definitely something to consider.
14. Simply chic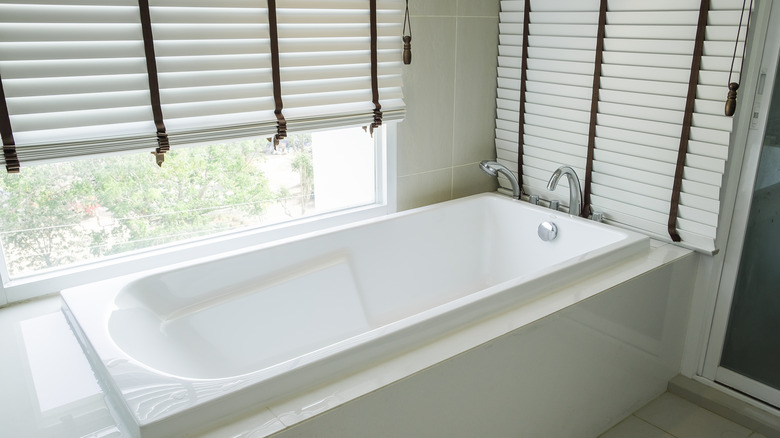 Mumemories/Shutterstock
This modern bathroom with a mix of large and small tiles is simple yet chic with the accompanying wood blinds. The homeowner opted to go with white blinds, which look pretty.
15. Pretty in pink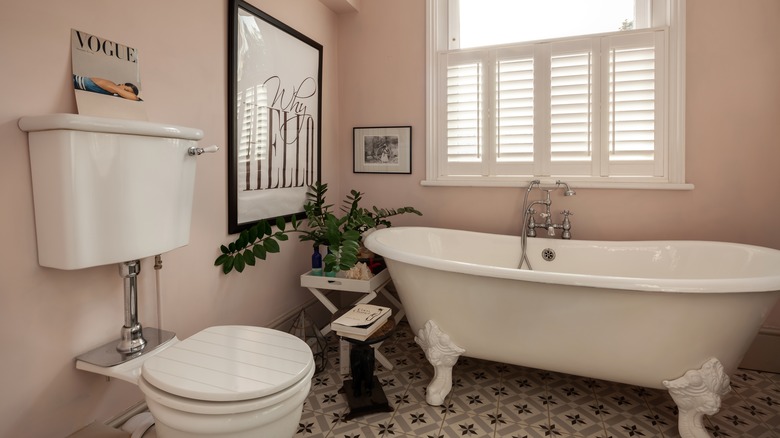 Mike Higginson/Shutterstock
This dusty pink bathroom features an elegant clawfoot tub front and center with white shutters on the bottom part of the large window, which is perfect for privacy!
16. Blinded by the natural beauty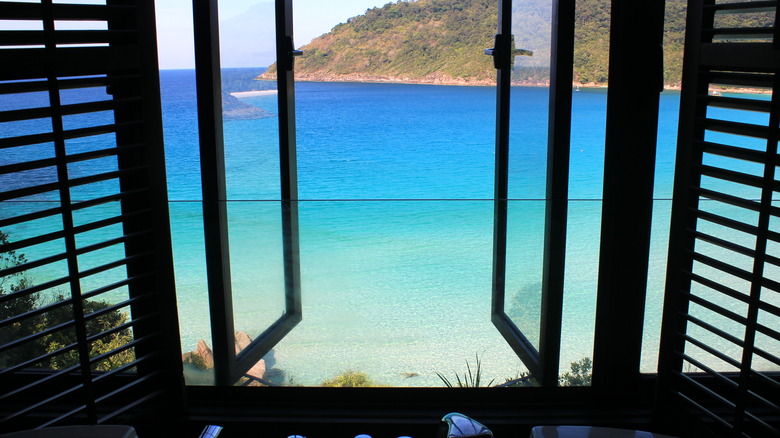 Heidi Becker/Shutterstock
Who needs closed blinds when the view is this stunning? Although we can't get enough of these dark blinds, it's the bright blue water that we can't take our eyes off because, after all, this view is everything!
17. Class act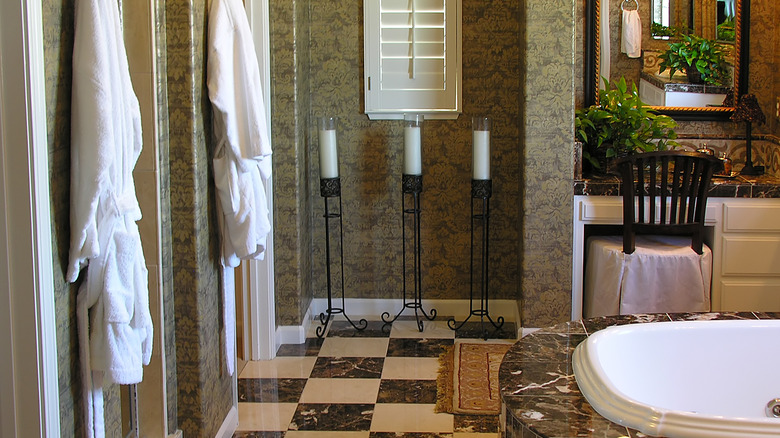 Stephen Coburn/Shutterstock
This classy space has it all. A large soaking tub wrapped in black marble, a white-and-black checkered floor, and an extra thin window with blinds to ensure plenty of privacy.
18. Gray and gorgeous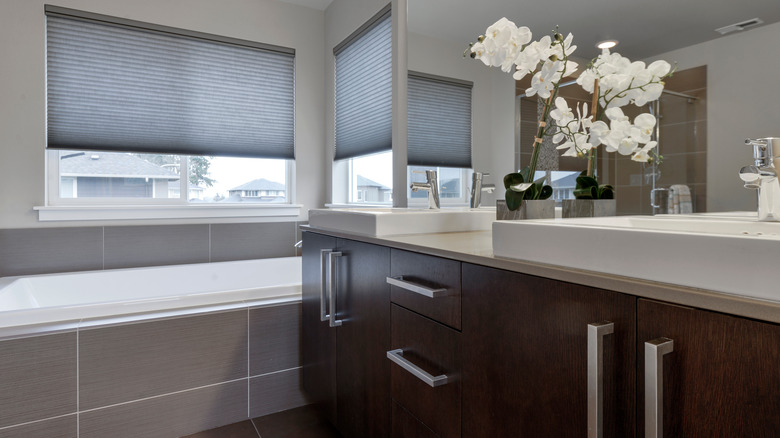 Jonathan Park/Shutterstock
Instead of using basic white, consider choosing a neutral for your bathroom like this gray option, which looks excellent alongside natural wood and beige tiles.
19. See-through style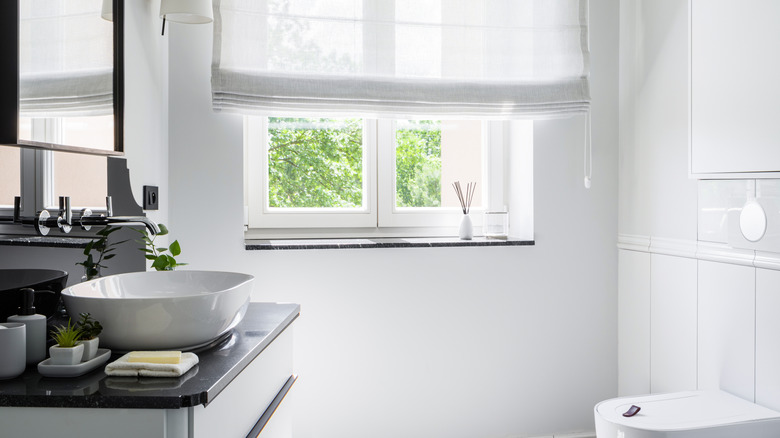 Dariusz Jarzabek/Shutterstock
These ethereal shades have that sheer style we know and love, letting plenty of light into the bathroom but also a dose of privacy when you need it.
20. Light gray shutters are so chic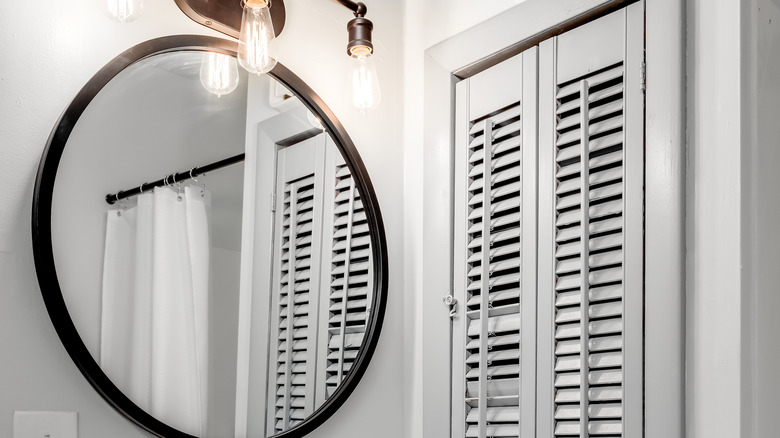 Hendrickson Photography/Shutterstock
This tiny bathroom is simple yet chic, and we love how they matched the light gray shutters with the base of the sink, so don't be afraid to get matchy-matchy when it comes to your window treatments.
21. Wood blinds look stunning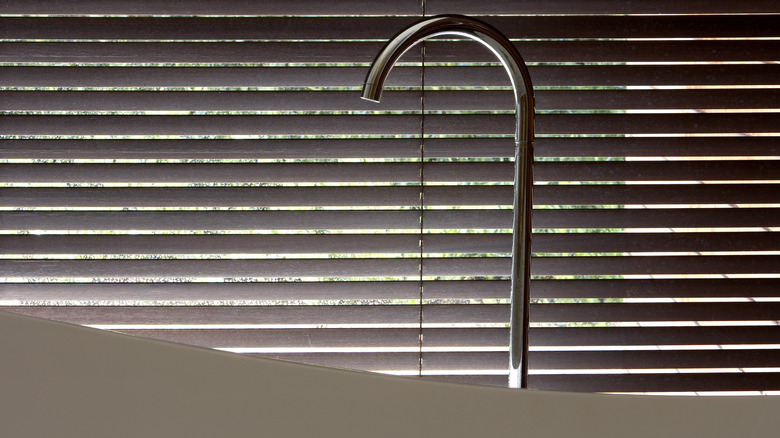 Construction Photography/avalon/Getty Images
These blinds have thin slats that are made of wood, which look beautiful in a bathroom, whether it's a room with ample space or a half bath.
22. Add a lovely printed valance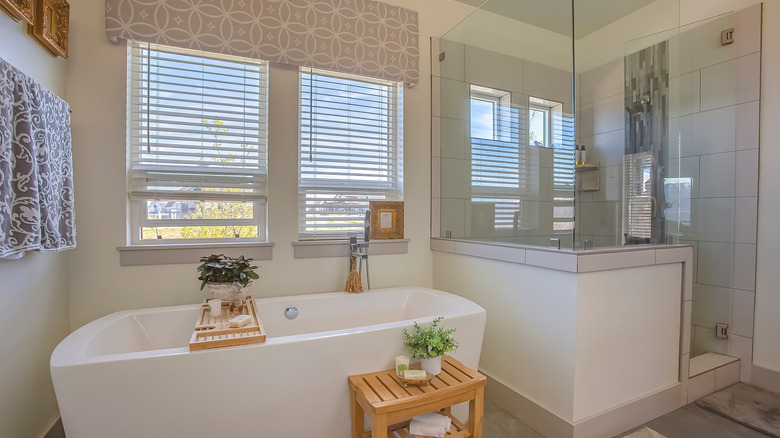 Jason Finn/Shutterstock
One unique option would be to consider putting basic white blinds and then add a valance in a pretty print to bring interest to the room.
23. Light tan sheer drapery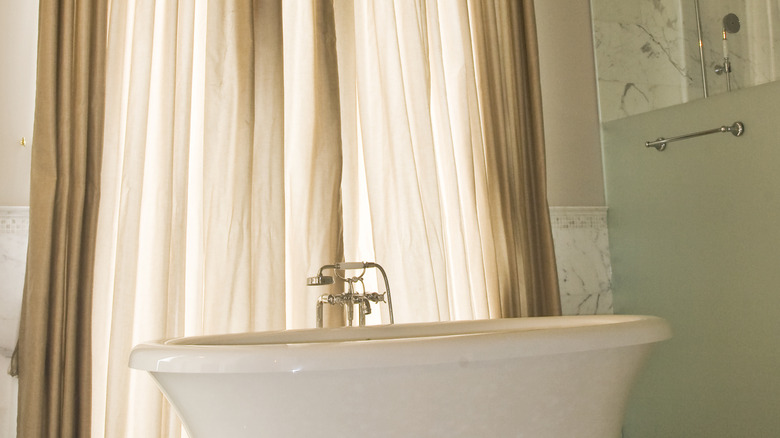 Vanessa Belfiore/Shutterstock
If you like the drapery look, you can add some sheer curtains to your window treatments, which look great in a tan hue. 
24. Pleated blinds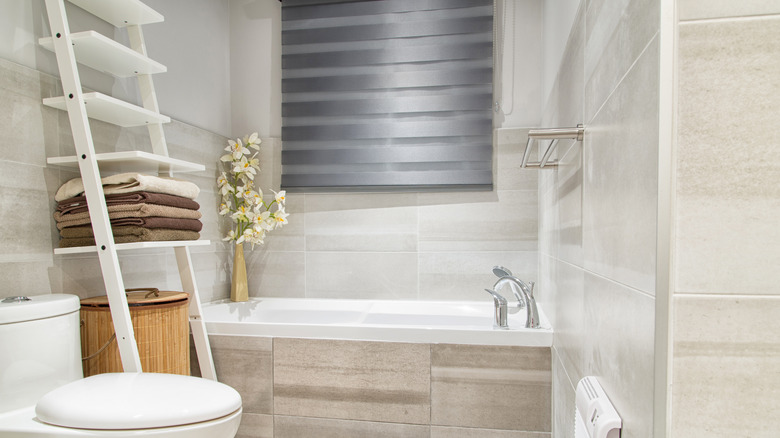 DD Images/Shutterstock
These pleated blinds look beautiful in a medium gray shade that looks good with light tan and white accents.
25. Custom roller shades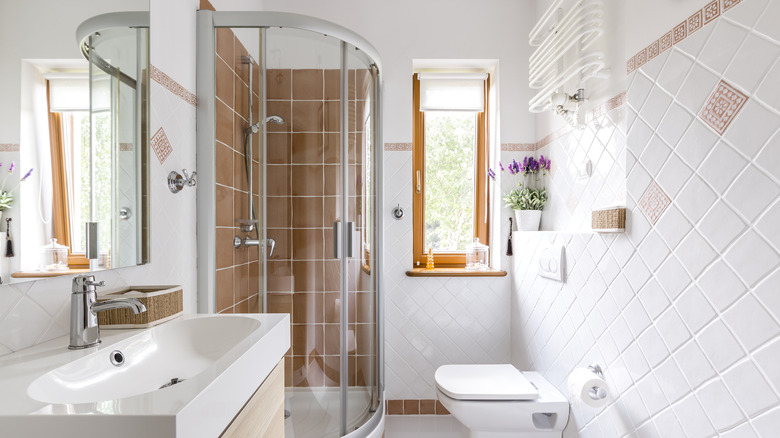 Photographee.eu/Shutterstock
If you have a window that doesn't fit standard sizes, you may need to opt for a custom style of roller shades like this homeowner did. Even in a basic white, this style is a wise option to ensure you have plenty of privacy while using the bathroom.
26. Strictly for looks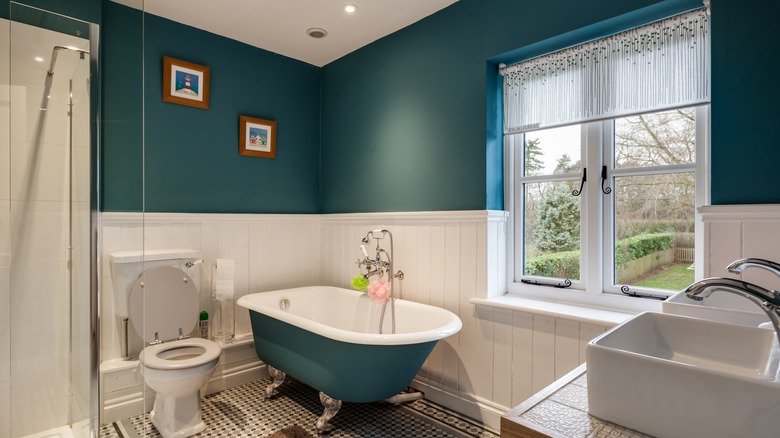 Mike Higginson/Shutterstock
If privacy isn't an issue, think about just adding a pretty valance for your window treatment. This homeowner chose a sheer version, which is gorgeous with the dark green of the walls and tub!
27. Basically beautiful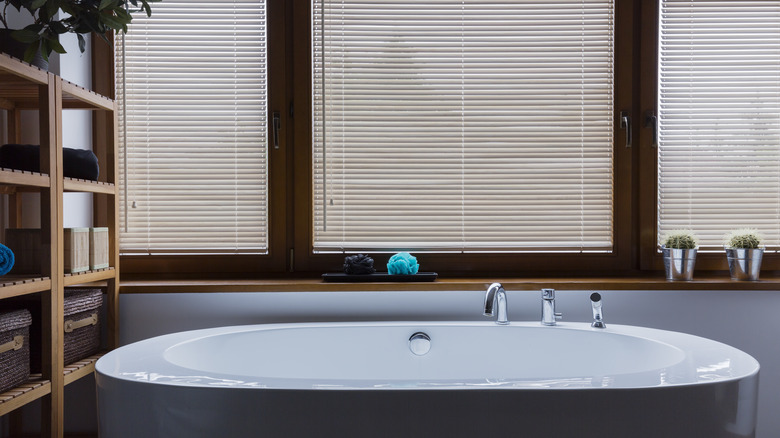 Photographee.eu/Shutterstock
This massive window features a simple set of blinds for the window treatment that work to shield out light and prying eyes from your bathroom space.
28. Thick Roman shades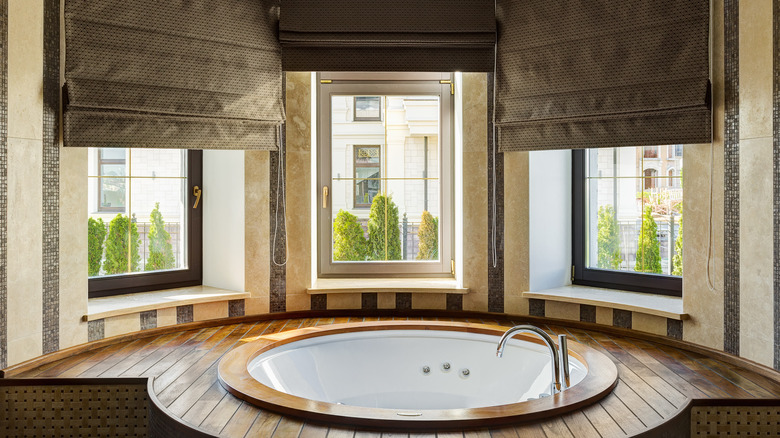 Artserstudio/Shutterstock
City living means lots of nearby neighbors, so we love these dark brown Roman shades that can be used when you are ready to soak in the bath. Not only will they give you privacy, but they also look great.
29. Minimally chic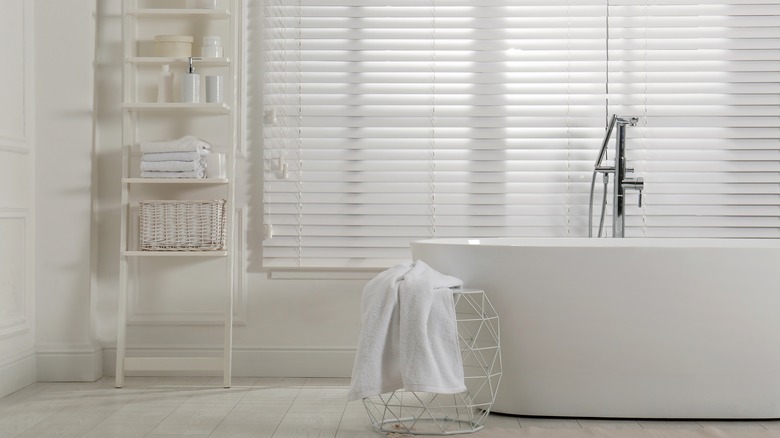 New Africa/Shutterstock
Sometimes the bare minimum is best, and this all-white bathroom looks surprisingly stylish with essential white blinds, a vertical shelf for storage, and a modern soaking tub.
30. Vertical stunner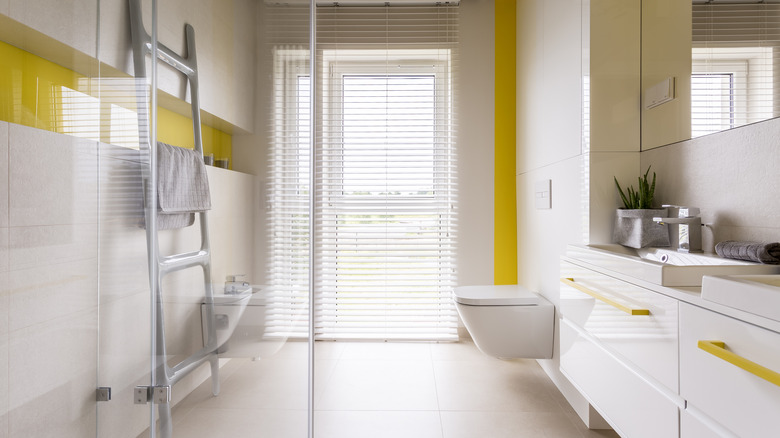 Photographee.eu/Shutterstock
These high ceilings are expansive, and the simple white blinds fit the floor-to-ceiling windows perfectly. We also love how the bathroom has a pop of yellow for some color.