Melissa McCarthy And Jenna Perusich Share How To Elevate The Feel Of A Garage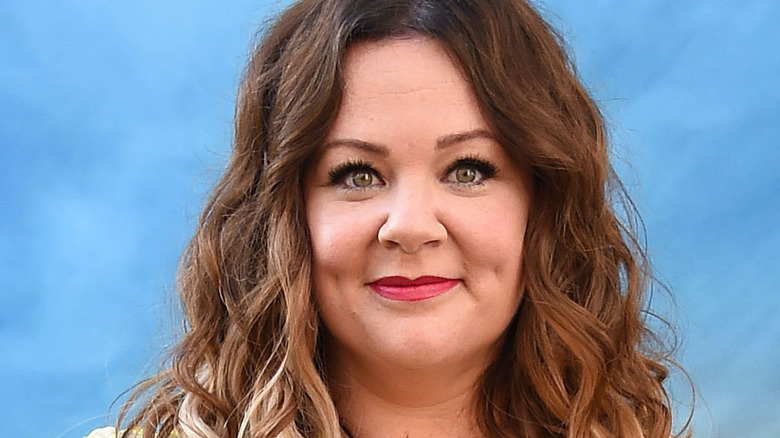 DFree/Shutterstock
The TV and Oscar-nominated movie star Melissa McCarthy has a new role to crow about. She's co-host of the Discovery+ and HGTV series "The Great Giveback with Melissa McCarthy and Jenna Perusich" which premiered just last month. McCarthy and her cousin, Perusich, implement design transformations for unsuspecting homeowners nominated by friends and family for what they hope will be a life-changing surprise, per HGTV. In fact, the two have been a decorating duo for a while off-set, according to The List.
In "Home Sweet Oasis," the first installment of the new program, the cousins create a private and quiet sanctuary for Kate, a pediatric nurse and mom of two, reported Realtor. They were challenged to stay within the existing footprint and incorporate access that didn't require travel through the home after late shifts at work. The team turned to the garage — not a place usually thought of for sleep or relaxation — transforming a dull, utilitarian canvas into a show-stopper. (Then again, character development is something McCarthy is familiar with.) Let's find out how they did it.
Making functional look fabulous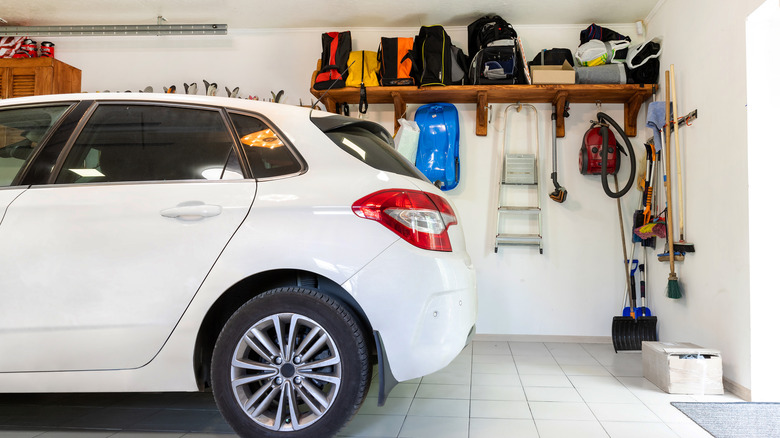 Pixel-Shot/Shutterstock
The two-car garage in Kate and her husband Ryan's California home offered a perfect opportunity. According to Hometown Structures, typical sizes are 20 X 20 and 24 X 24. That affords Melissa McCarthy and Jenna Perusich ample square footage to create a comfortable retreat for Kate.
However, the space was predictably full of stuff, so the design began with an unglamorous clean-out before making it over. While Perusich said the team is fully aware of the beauty of exposed beams or a vaulted ceiling, they opted to keep the garage as functional as possible and build storage into the ceiling instead, installing a pull-down ladder for access. 
The duo further disguised the mechanical function of the garage by replacing the unsightly storage tank water heater with a tankless version. This expensive yet beneficial swap adds more space and energy efficiency, per Consumer Reports. With the area stripped back, there is one garage staple McCarthy and Perusich are inspired to create as a reference to its original purpose; they install a peg board to the wall for Kate's exercise gear. The huge feature occupies one whole wall; the natural wood is a warm and textural accent, while workout equipment stacked on shelves are minimalist displays. An arched mirror reflects light and gives the illusion that there is another room behind the wood wall. 
An everything space that is everything
Floral Deco/Shutterstock
Like any family, Kate's required lots of storage, so Melissa McCarthy and Jenna Perusich built in cabinetry, per Realtor. They finished the cabinets in crisp white and introduced organic warmth with a wood countertop. One side of the room houses Kate's home office, while the other becomes a focal point and entertainment area. 
With function taken care of, the team can get down to the (pretty) nitty-gritty. However, McCarthy and Perusich hadn't yet addressed a driving factor behind the renovation — providing Kate a place to rest after long hours at her job as a pediatric nurse. The pair located a perfect spot right where the storage tank water heater was removed; a gorgeous ochre velvet daybed that looks luxuriously cozy. Black and cream accent pillows tie in with the modern artwork above. Nearby, the duo added a full-sized ivory sofa, striped chair, and a patterned ottoman upholstered in a vintage rug that contributes great color and texture. A large rug grounds the seating area and pulls the scheme together. While the paneled garage door is still undeniably there, a pair of glass doors bring in light and connect the space with the outside.
Of the designing duo, McCarthy told People their energy is not a calm one, but that didn't hinder their ability to create a serene and dramatic space, giving busy Kate a fantastic and well-deserved place to recuperate.