House Digest Survey: The Trendy Color 32% Of People Would Love To Paint Their Bathroom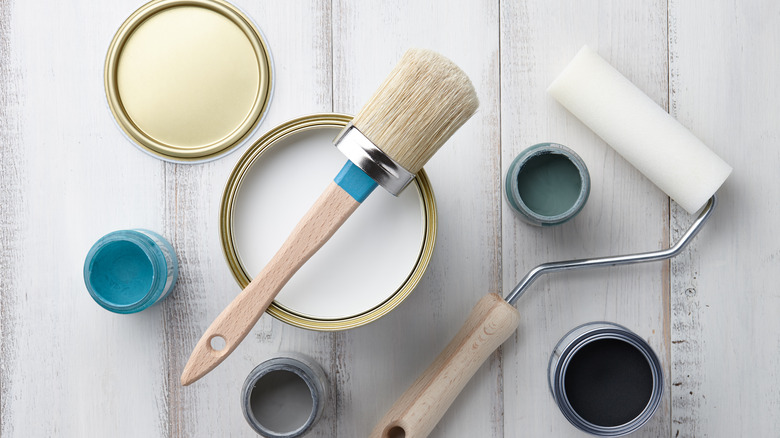 kobeza/Shutterstock
Homes come with many features, both permanent and temporary. Additionally, each room in the home comes with its own uniqueness. These rooms can be arranged and decorated however one desires. With so many furniture and aesthetic options out there, there is no shortage of what one can make of their room. However, one room is far more difficult than the others.
Since it has more permanent features than many other rooms, bathrooms can be harder to play around with. The sink, toilet, bathtub, and sometimes a separate shower are all features that cannot be redesigned unless you're wanting to rebuild the entire room. Of course, the theme and aesthetic are the best things to design when constructing your bathroom, as they can be changed at any given moment.
As per Bathroom Buddy Remodeling, bathroom themes should be updated every four to five years to keep up with trends. Upon doing so, it's not uncommon for the walls within the room to get painted and updated as well. However, this comes with many options all within itself, so how is one supposed to choose? House Digest conducted a survey of 596 people and asked them what color they would love to paint their bathroom. The results may surprise you.
The most popular color choice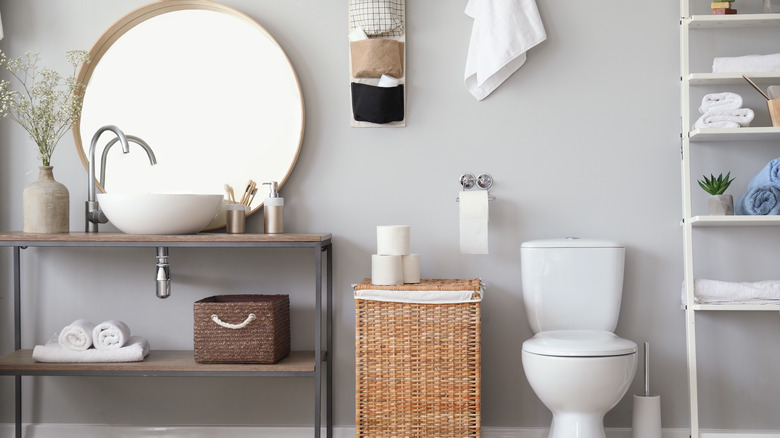 Pixel-Shot/Shutterstock
Out of the poll options, over 32% of respondents would love to paint their bathroom a dove grey shade. According to MyMove, this may be because the color grey is known to have many natural undertones. However, dove grey is a softer and lighter shade than the standard basic gray color. Additionally, this shade can play on other lighting sources within the bathroom, making it appear lighter and sometimes darker than it actually is.
Grey is also one of the most simple and flexible colors out there. This means it won't be hard to switch up the decor and aesthetic in the room while still keeping the grey walls you desire. Whether you want something cute and simple or something bright and bubbly, this color can help you. It's also one of the most modern colors people use as it's simple but elegant at the same time. If you're wanting to give your bathroom some calmness and simplicity at the same time, dove grey is the way to go.
Other popular colors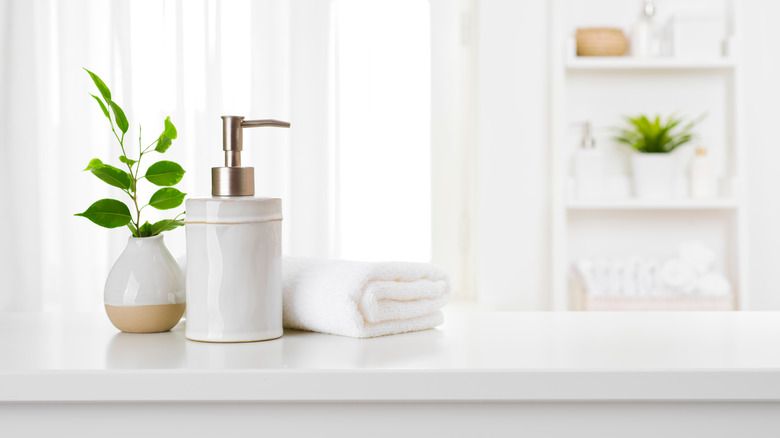 Didecs/Shutterstock
Not to be left out, there are a few other poll options that respondents love as well. In second place, and at almost 22%, many said that they would love to paint their bathroom walls white. According to Stone Gable, this is most likely due to a number of reasons including the open and spacious feel this color can bring. Furthermore, white is the most basic color you can use, allowing for any theme to be created within the room. Sometimes, simplicity is the best option and this survey proves it.
The third most popular color choice is a bit bolder than the first two options. Coming in at just over 19%, 116 people answered that they would love to paint their bathroom a seafoam green. This is a beautiful shade that is perfect for a beach aesthetic and can be combined with other tones of green as well as blues. Other survey answers came in with 10% choosing beige, less than 10% desiring a navy blue color, and just over 6% choosing a soft pink.