Jennifer Todryk Reveals How To Break Up A Boring White-On-White Kitchen Scheme
When it comes to design, too much of any one color can make a room visually boring. While all-white kitchens are still very popular, HGTV's "No Demo Reno" host Jennifer Todryk suggests you can update it and add color just by using dark floor tiles, according to Realtor. Even better, according to Todryk, is if the flooring adds shape as well, such as the black hexagonal tiles she used in a recent project, which allowed for contrasting grout lines. In addition to flooring, you can add character and interest with a backsplash, whether it's with an accent paint color, or colorful tiles, as suggested by interior designer Candice Olson.
Alternatively, Todryk also likes the idea of painting cabinets, as told to HGTV, which dramatically changes the look of a kitchen where everything was white, including the counters and backsplash. While white can create a bright, clean-looking space, its appearance can also look cold and sterile.  
Accent white cabinets with a colored backsplash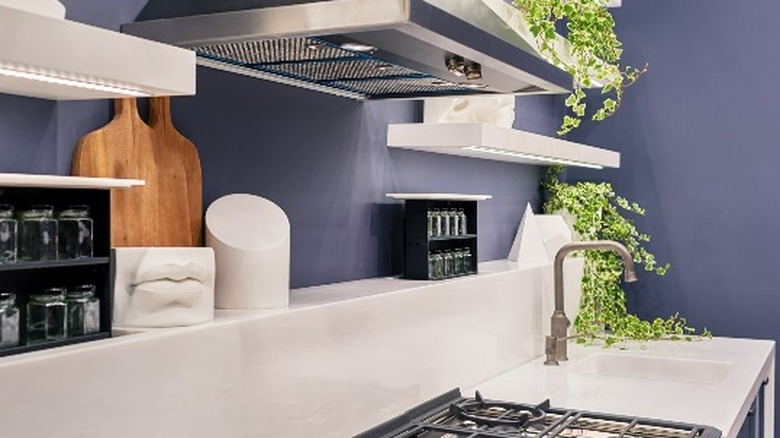 Fotiy_Svetlana/Shutterstock
One of Jenn Todryk's must-haves in a kitchen is a combination of textures, patterns, and found items that add fun and a sense of her client's personalities. Her appreciation for what she calls "organic modern" style, according to her website, is a way to include natural materials such as wood and stone. So, for example, if you want to keep your white wall cabinets, you could add natural wood cabinets to the base of an island, use bamboo window shades, and add plants in interesting ceramic pots. 
She also likes using a textured plaster technique on a brick wall or on an oven hood to create a homespun vibe. This can be accomplished with a stucco look or by using a whitewashing technique referred to as a German smear, explains Craftivity Designs. Todryk explains that when you add color and texture, it gives your eyes something interesting to look at and draws your attention around a room.