Christina Hall Is Feeling This Pretty In Pink Design Trend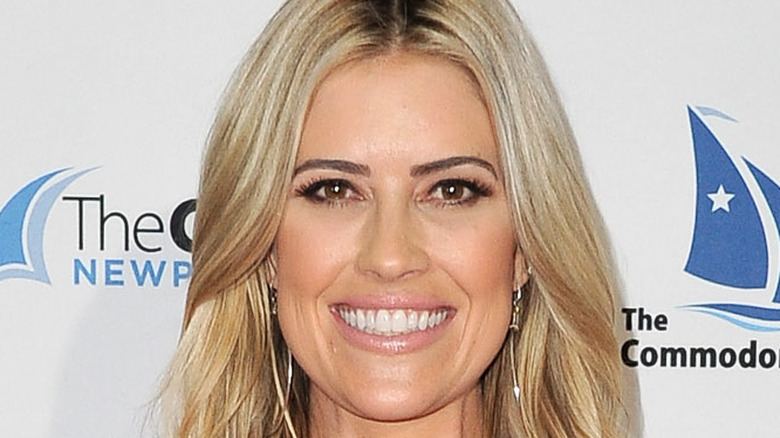 Allen Berezovsky/Getty Images
Christina Hall is a licensed real estate agent and designer who began her foray into HGTV stardom via the hard work of flipping houses. Her debut show "Flip or Flop" with ex-husband Tarek El Moussa ran for nearly a decade — more than adequate time for Hall to become an expert in her field and earn the accolades that would justify her own series, "Christina on the Coast." After four seasons, the program has been renewed and is open casting for a fifth (via HGTV). 
Since her initial premiere, Hall has encountered just about everything regarding home renovation and helped turn those flops into stunning residences and income properties. She's also experienced plenty of shifts in exterior and interior trends. We've witnessed her style transformation, too. Realtor shared some changes to Hall's design playbook, including an embracing of color for exteriors, opting for light wood cabinetry over dark, and ditching tile backsplashes in favor of natural stone. 
In the "Christina on the Coast" episode "A Marriage of Styles," Hall takes on a primary bedroom suite renovation for Jeff and Whitney, a couple in Newport, California, per Realtor. They're aiming to revamp the dull spaces, but unfortunately they don't agree on the desired outcome; he likes bold and colorful choices and she prefers subtle neutrals. The bathroom's unexpected design makes them both happy, and though an unusual look in Hall's repertoire, a particular component ultimately becomes one of her favorite new items. Let's find out what it is.
Compromise with bold and neutral tile
Christina Hall's fondness for sophisticated design is evident in this Instagram post, where she gushes over inspo bathrooms to inform the makeover of her new home. Of course, they're gorgeous and the epitome of luxury, but they're not, sorry Jeff, what one would call bright. And peering through her "Christina on the Coast" bathroom and kitchen portfolio, shades of white, grey, and beige are a recurring theme. However, some of Hall's spaces revel in graphic black and bold pattern, often mixed to interesting effect. 
For the Newport redo, Hall opts for a low-contrast grey and ivory patterned tile that features the subdued tones Whitney gravitates toward while giving Jeff his bit of playful texture (via Realtor). Rather than covering the entire room, the tiles are placed only on the vanity wall to save money and limit the pattern to a digestible amount. Hall is pleased with the decision, noting that it would have been overwhelming to carry them throughout the whole area. 
In accordance with one of the largest bathroom trends going, per Walls and Floors, Hall gave the couple a wet room with a separate garden tub and shower contained behind a frameless glass enclosure. The outlet explains that a wet room provides a simple, spa-like aesthetic and makes more efficient use of space.
Think pink for countertops
While the bathroom design for Jeff and Whitney's home was taking shape, with a large skylight above the tub, brushed brass fixtures, and a beautiful tile floor, it didn't yet have the unique character that Christina Hall believes each home should possess. When Whitney approached Hall with an unusual wish list item — pink countertops — it was just the thing that could achieve personalization of the space. Hall seems to adore natural stone countertops — frequently using attractively-grained slabs of marble and granite in kitchen and bathroom renovations — and she showed the couple a gorgeous rose quartz option. 
Per QuartzMaster, rose quartz is a durable material with more firmness than granite. Additionally, the outlet explains that it's easier to clean and install and doesn't require sealing. Aside from its practical attributes, it would also introduce glamour to a fairly masculine scheme and a natural and organic element — another of Hall's interior design must-haves. Despite Whitney's typical partialities, the warm and brown-leaning pink quartz is neutral enough for her, while the statement it makes is satisfactory to someone with bolder tastes, like Jeff.   
According to Healthline, rose quartz may purportedly support emotional health and encourage self-love. If that's not the best endorsement for using it in a bathroom, we're not sure what is. It's won Hall's affections — she called the radiant and inviting material a dream.