The Best Roof Color If You Have A Blue House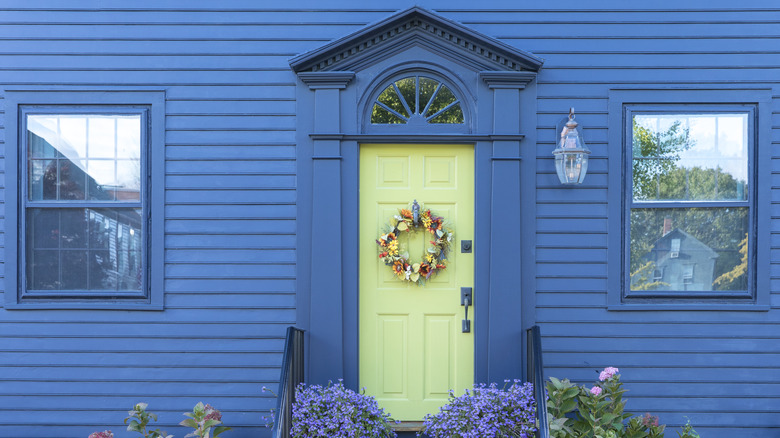 Tim Graham/Getty Images
Ensuring your house has good curb appeal isn't just for the benefit of you and your neighbors, it can also drastically boost the value of the property when you come to sell it. So making sure your home looks harmonious from the front is a worthy investment — and the roof is a great place to start.
But while owners of white, beige, and grey houses can go in many different directions when deciding on a roof color, it can be a far more daunting task for those with homes that boast a blue exterior. 
But it's important to remember that choosing a complementary shade of roof shingle for your blue abode doesn't necessarily mean picking a tone from the same color palette. In fact, according to Heritage Construction Co, opting for a contrasting hue for your roof can actually make for a more cohesive and eye-catching pairing. And who doesn't want a stand-out home?
The best hues for blue homes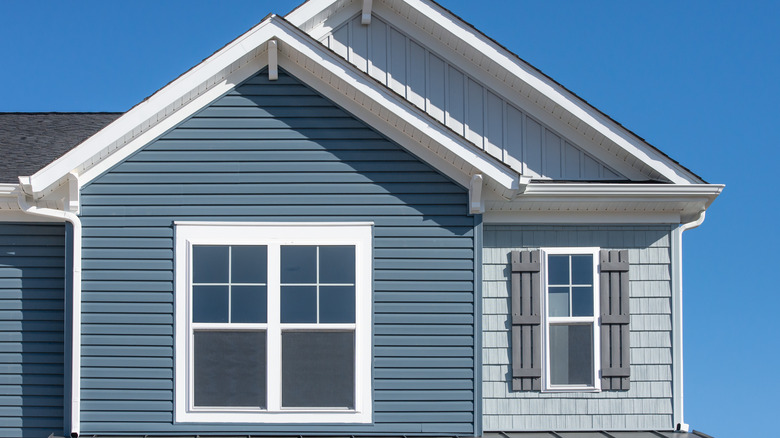 tokar/Shutterstock
Whether you're working with teal-painted bricks or cobalt clapboards, a contrasting roof color is just what your blue house needs to make it properly pop. Heritage Construction Co. recommends going for light and dark gray tones, or even black, when it comes to the roof. But remember, you don't have to just stick to one shade of shingle. If you want your roof to possess a little more pizazz, then consider blending different gray tones to create more of a flecked finish.
And what colors should you definitely steer clear of if you've got a blue house? According to Central Homes Roofing & Solar, regardless of whether your home is light or dark blue, brown and tan definitely aren't the right tones to pair with it. Especially when paired with light blue, a brown roof can make a house look quite dated, not fresh and newly redone.
Other things to think about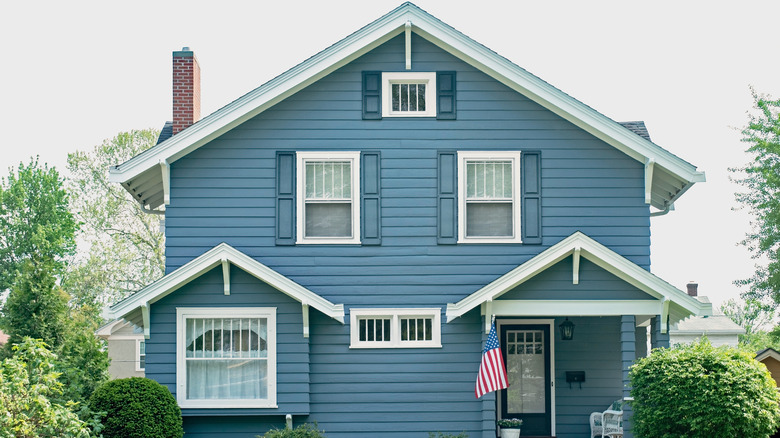 Susan Law Cain/Shutterstock
The color of your house shouldn't be the only factor you take into consideration when picking your roof. In fact, the size and architectural style of your home are equally important, say Heritage Construction Co.
Dark colors draw attention, so if your blue house is a little more compact, then going for a dark-colored shingle will make your roof dominate the rest of your home, and therefore leave it looking even smaller. In this instance, a gray shingle in light ash or a smoky tone would work well. Conversely, larger multi-level homes can afford to go for a darker slate or charcoal shingle, as these tones will positively emphasize the size of the house, and give it an air of grandeur. 
Ultimately, when redoing the roof of your blue house, gray is a great bet. But just make sure you also consider the size and style of your house, before picking from the light or dark end of the shade spectrum.