25 Genius Ways To Decorate With Greenery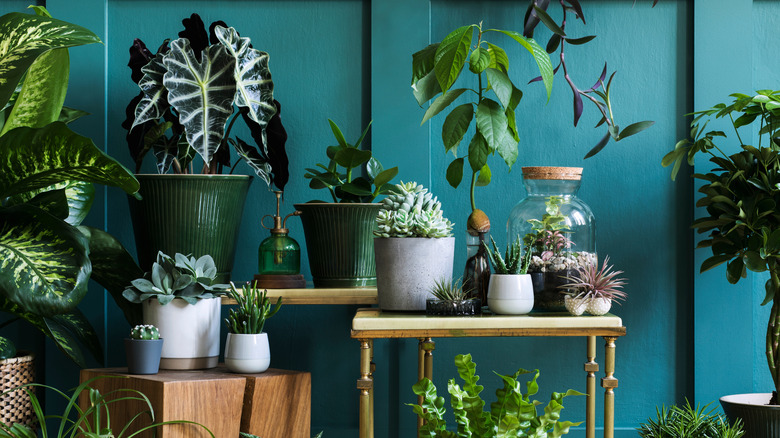 Followtheflow/Shutterstock
After decorating your home, it may still feel like something's missing. Perhaps the paint colors are perfect but the walls seem a little bare. Or maybe the walls are full but your shelves or coffee table could use some liveliness. Whether you're a minimalist, maximalist, or somewhere in-between, plants are always a great décor item to add to your home.
Perhaps the largest benefit of decorating with plants is that they create an aesthetically pleasing atmosphere. However, according to Interior Gardens, there are also a number of other ways plants will benefit your living space. Plants will add a peaceful feeling because they remind us of serene nature. This could, in turn, reduce your stress levels. Plants also turn carbon dioxide into oxygen, which means they'll freshen the air in your space. Interestingly, plants have also been known to reduce noise levels. Below are 25 ways to add greenery to your home. 
1. Place on floating shelves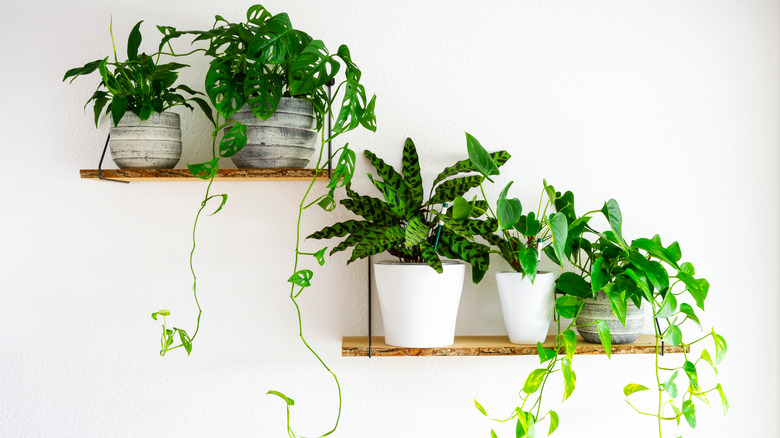 maxfluor/Shutterstock
When plants are arranged on floating shelves, they can take the place of wall art. Replacing flat paintings or other wall decorations with plants will add more dimension and texture to your living space. 
2. Create a feature wall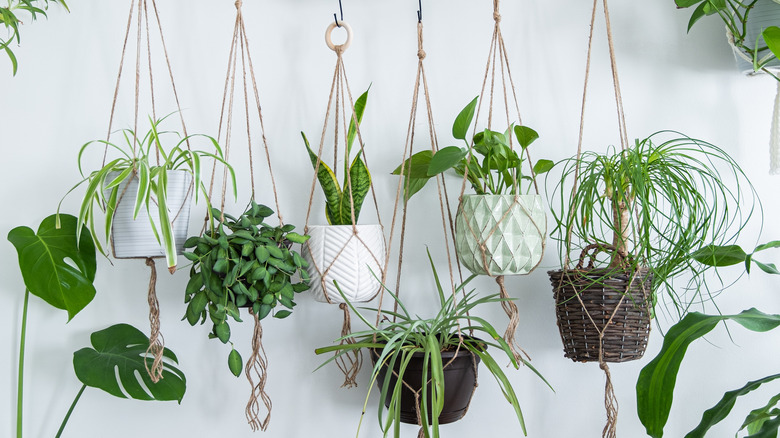 TippyTortue/Shutterstock
Many plants could be hung on one wall to create a feature wall. To anchor the pieces to something, you could hang them on a diagonal decorative stick. 
3. Set on a hanging shelf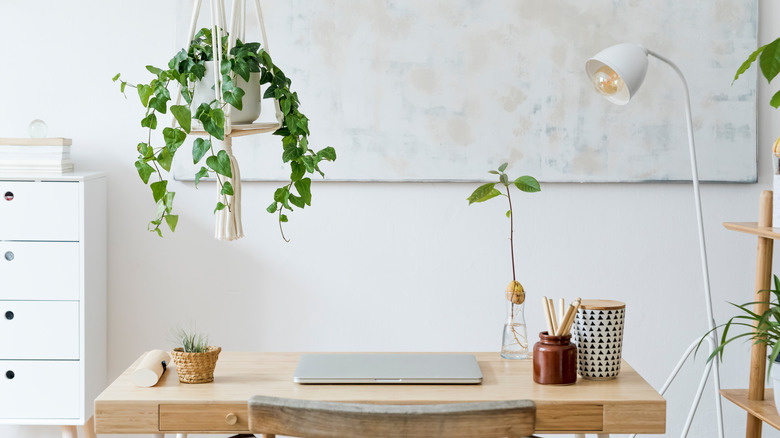 Followtheflow/Shutterstock
One single plant could also be hung in your home. In this space, the plant is sitting on a hanging shelf over a desk. Plants could also be hung in window sills or the corners of rooms. 
4. Grow in jars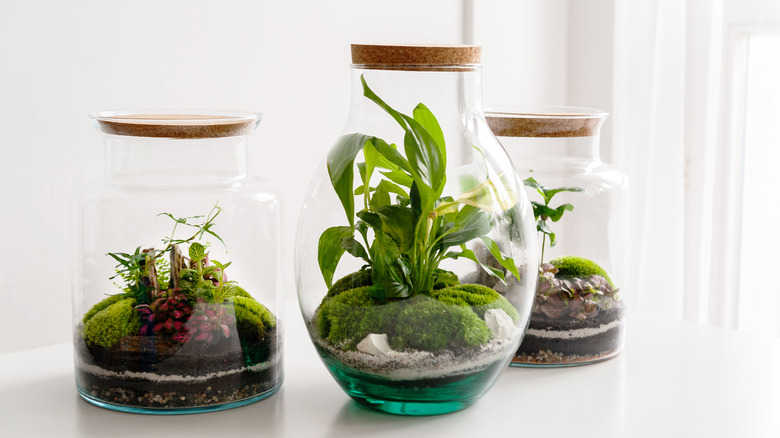 qnula/Shutterstock
To create a small terrarium, you could seal plants inside glass jars. These terrariums have lots of moss, soil, sand, rocks, and small plants. 
5. Fill the window sill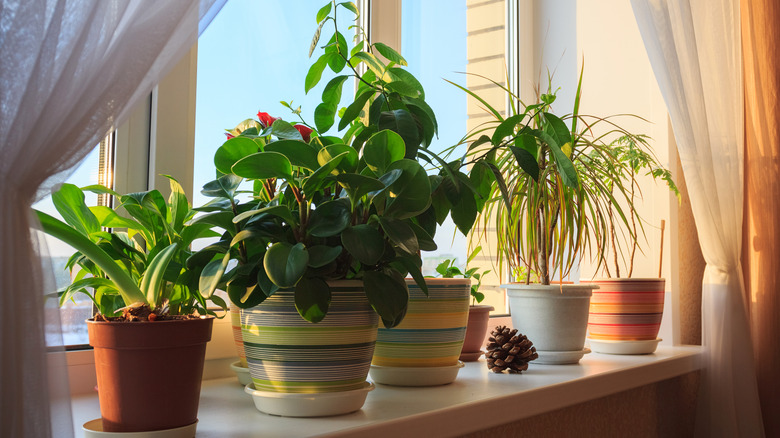 Anatolii Mikhailov/Shutterstock
A common place to decorate with lots of plants is the window sill. Of course, this option is ideal for those who have plants that require lots of sunlight. 
6. Add an herb garden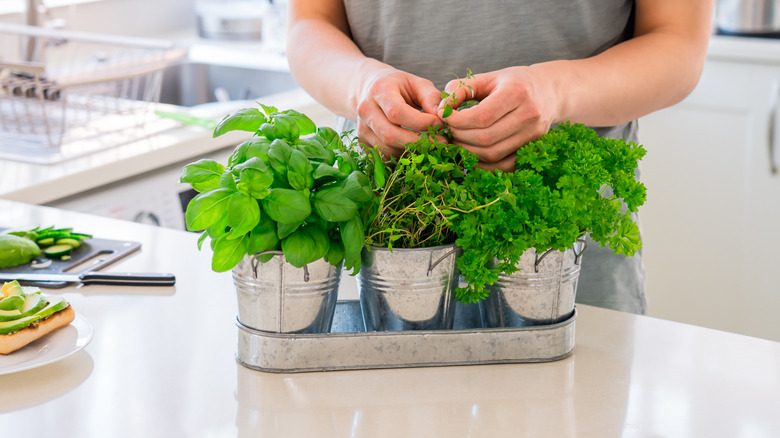 Okrasiuk/Shutterstock
To add some greenery to the kitchen, you could create a small herb garden. Not only will this look beautiful, but it will also taste delicious. 
7. Prop up on a plant stand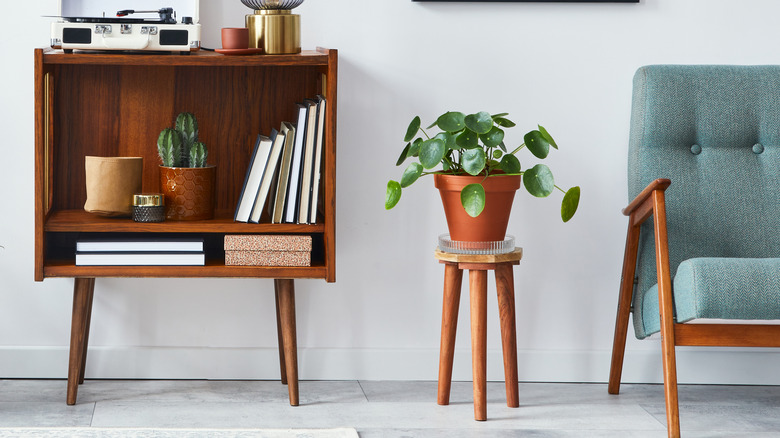 Followtheflow/Shutterstock
To lift shorter plants off the ground, you could place them on plant stands. Wooden stands will create an extra serene and nature-esque space. 
8. Place in a unique vase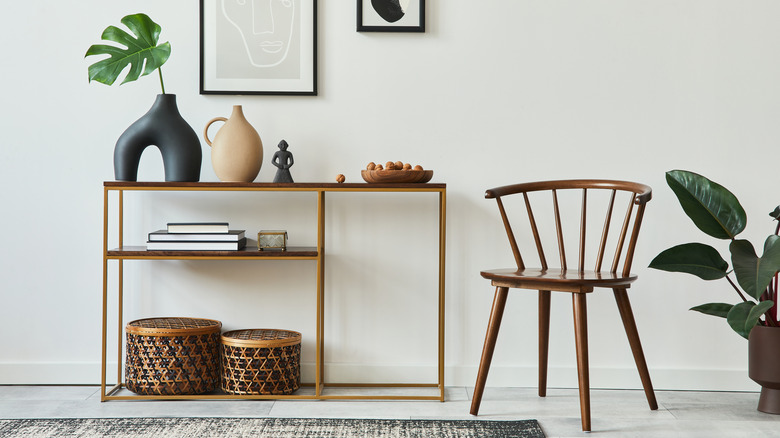 Followtheflow/Shutterstock
Placing a plant in a decorative vase can create an interesting look. This would be ideal for those who propagate plants. 
9. Surround a workspace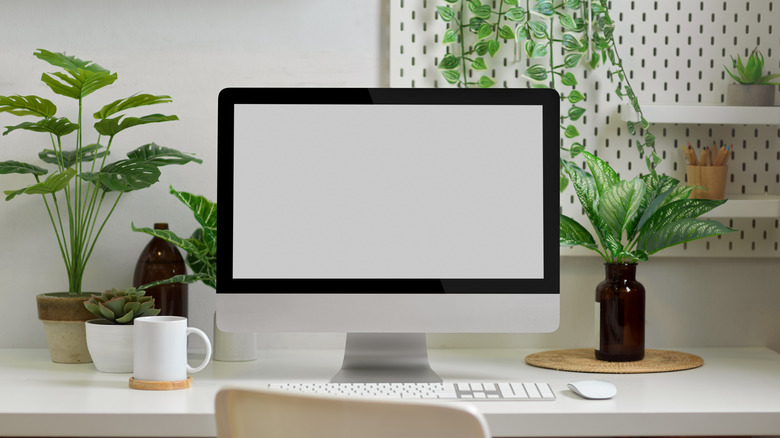 BongkarnGraphic/Shutterstock
Plants could also be used to surround a workspace in a home office. They could be planted in small planters, placed in jars, or hung above the desk. 
10. Arrange in the bathroom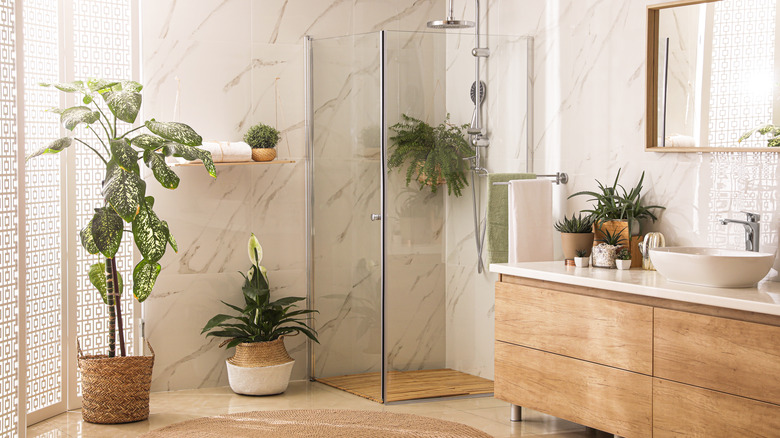 New Africa/Shutterstock
Plants can also look great in the bathroom. Species that like lots of moisture will thrive in the bathroom, especially when placed in the shower. 
11. Add to built-in shelves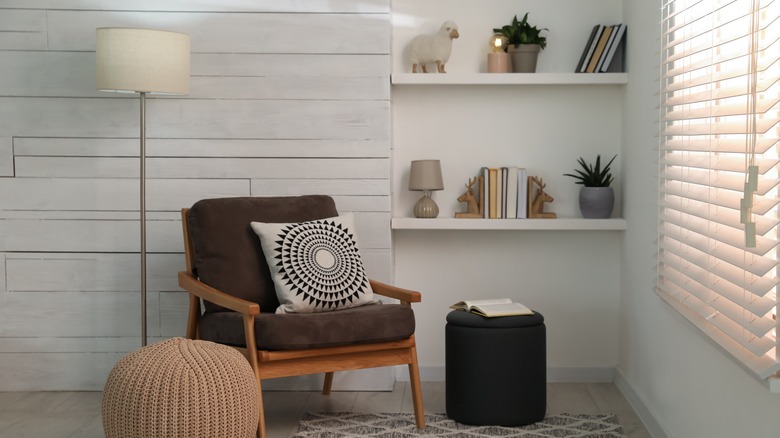 New Africa/Shutterstock
Greenery can liven up boring built-in shelves in an office space or living room. They can be placed around books and other knick knacks. 
12. Position on the coffee table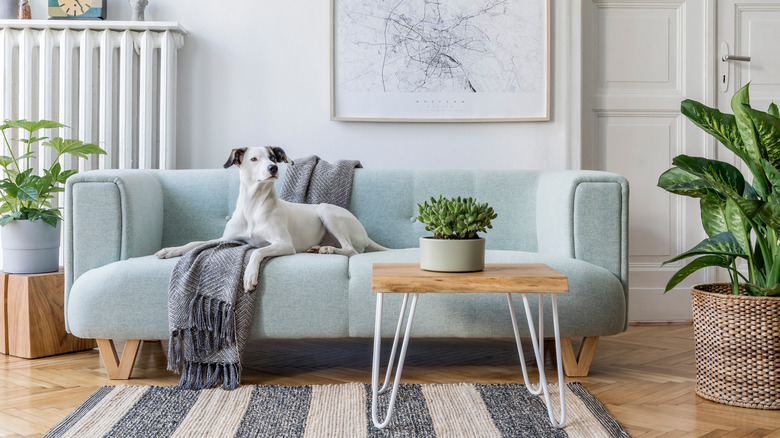 Followtheflow/Shutterstock
Placing a plant on the coffee table will liven up your space. This will make the plant the focal point of your living room. 
13. Lay in baskets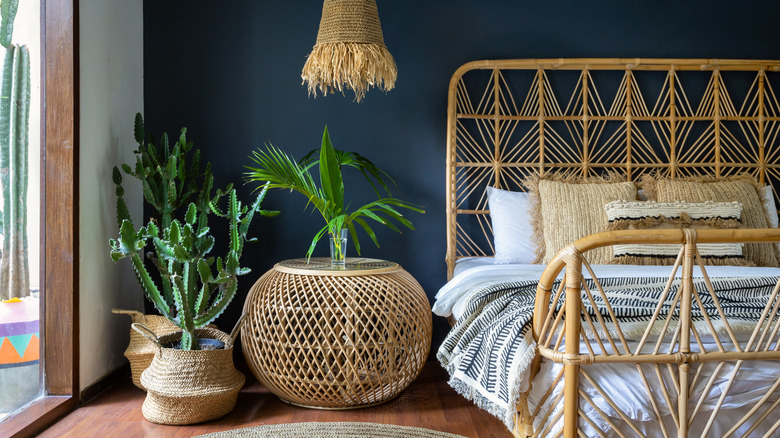 brizmaker/Shutterstock
Instead of keeping your plants in the planters they come in, you could replant them in decorative baskets. Wicker baskets would look great in a bohemian room. 
14. Decorate a colorful space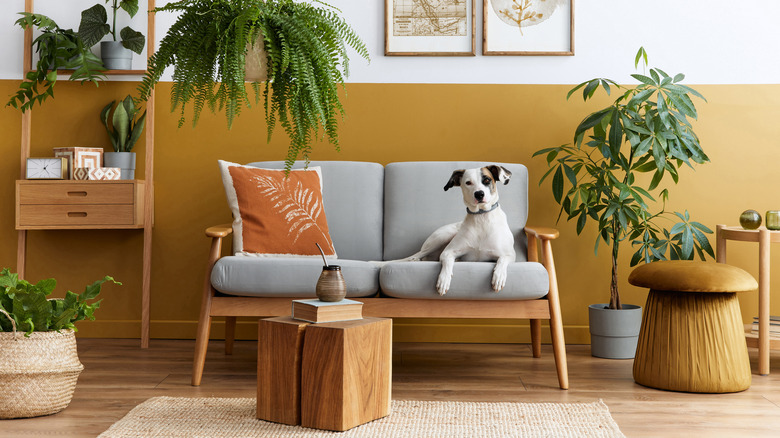 Followtheflow/Shutterstock
Plants can be used to add more dimension and texture to colorful rooms, like the above mustard yellow space. 
15. Decorate a neutral space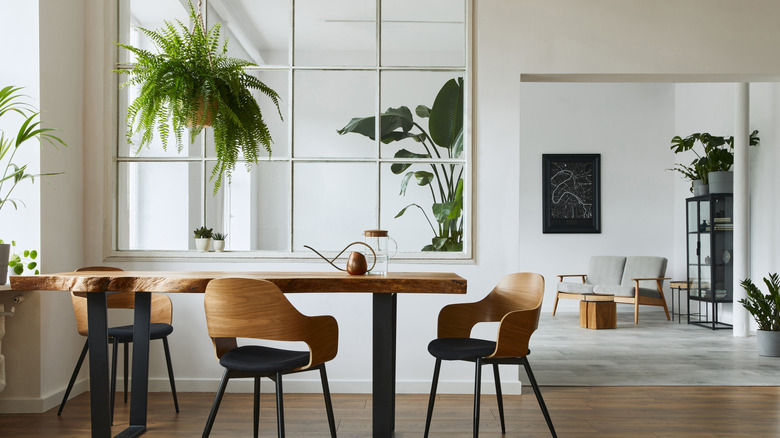 Followtheflow/Shutterstock
Plants can also add color to a mostly neutral room, like the above white and wooden dining space. 
16. Improve a bar cart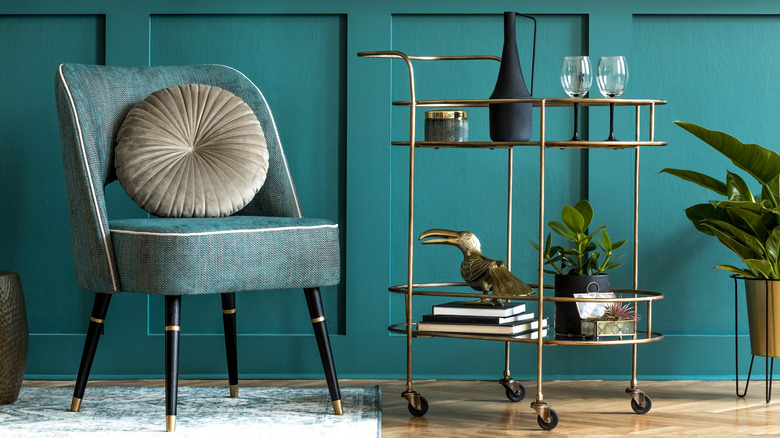 Followtheflow/Shutterstock
A bar cart could be used to store coffee, alcohol, or fun decorative pieces. Any of these uses could be jazzed up with a small plant. 
17. Use a unique planter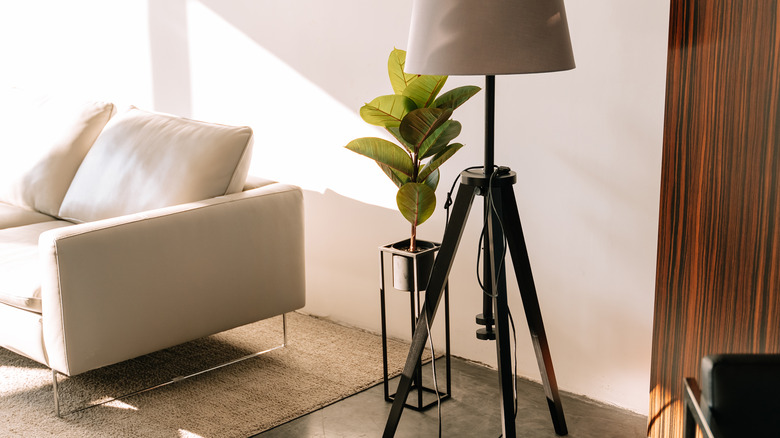 Oksana.Bondar/Shutterstock
To make your plant more interesting, you could place it in a unique planter. The above planter serves to lift the greenery off of the ground. 
18. Place around the entertainment stand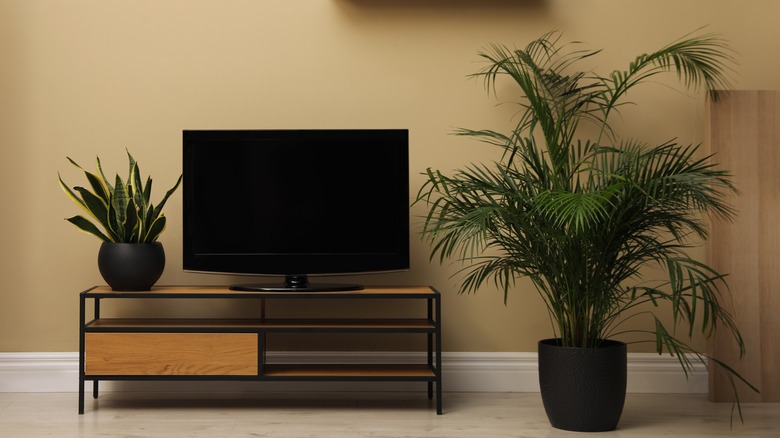 New Africa/Shutterstock
Surrounding an entertainment stand with plants can add more interest to your living space. Larger plants could be placed on the floor, while smaller ones could be placed on the stand. 
19. Arrange on a bookshelf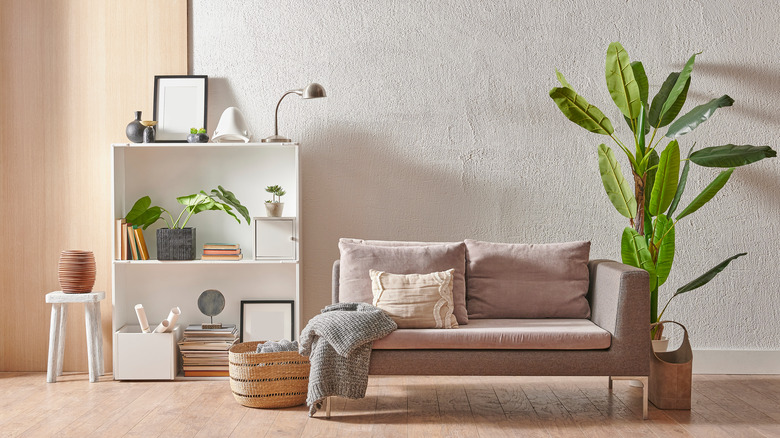 united photo studio/Shutterstock
Plants can also be placed on a bookshelf, to add color and dimension. Stacking books in various ways and adding plants around the stacks will create a fun shelf design. 
20. Use as a dining room centerpiece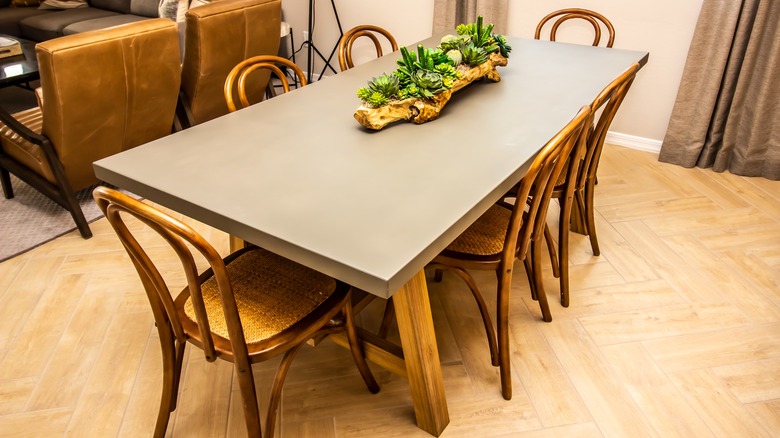 ThomasPhoto/Shutterstock
Greenery can also look stunning as a dining room centerpiece. This space has a wooden planter with multiple succulents in the center of the table. It serves to bring life and color to the space. 
21. Allow to welcome you home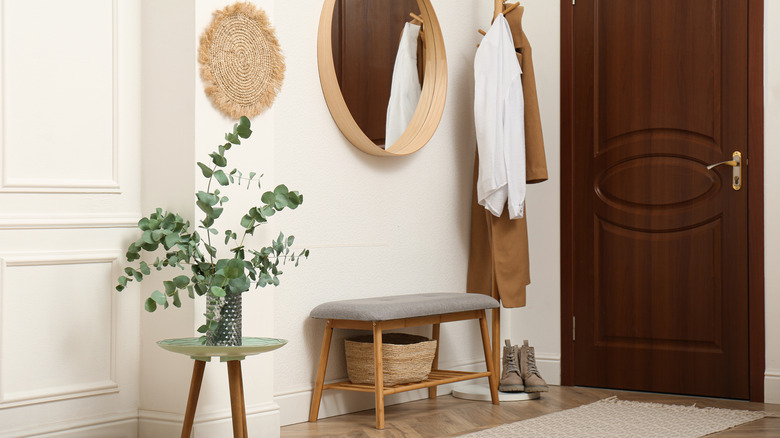 New Africa/Shutterstock
Placing a plant in your entryway will allow the greenery to welcome you home. This space has eucalyptus on a small plant stand near the front door. 
22. Position at the end of the bed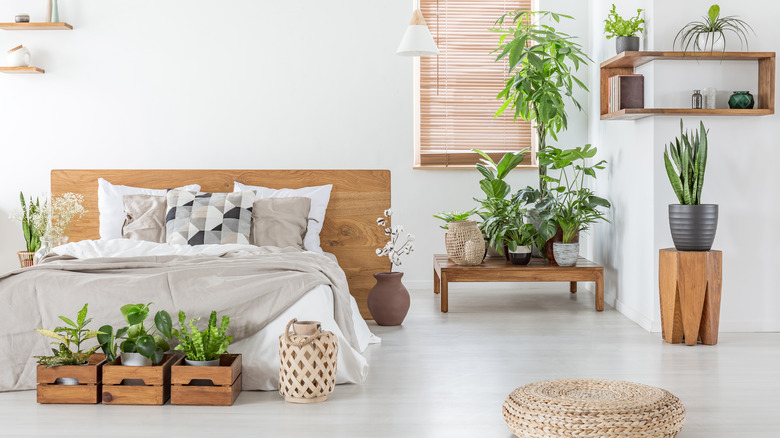 Photographee.eu/Shutterstock
A unique place to add plants is at the bottom of the bed. Putting them in wooden crates can emphasize the earthy vibes they bring to a space. 
23. Hang on a ladder shelf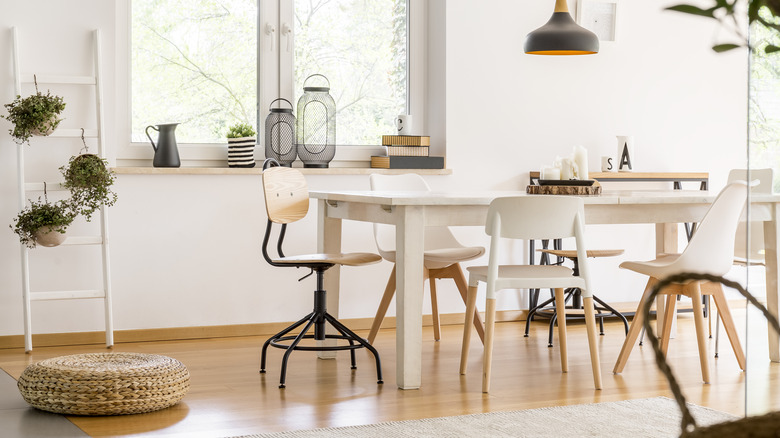 Photographee.eu/Shutterstock
Hanging plants on a ladder shelf can create a beautiful piece of artwork in any space. 
24. Lay along a fireplace mantle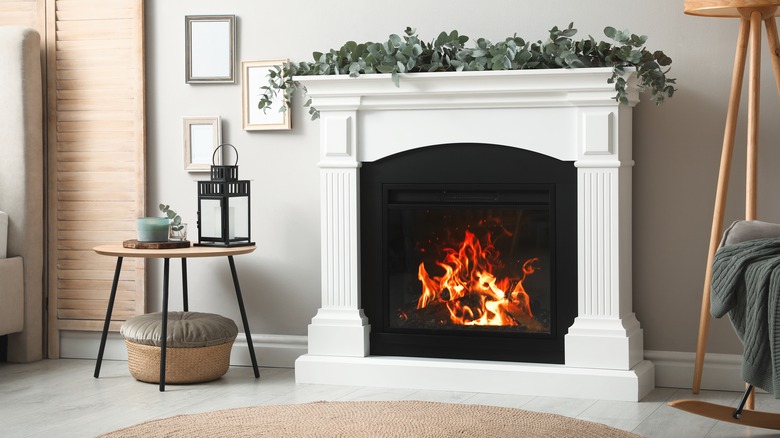 New Africa/Shutterstock
Laying greenery across the fireplace will add a cozy feel to your home. This room has eucalyptus positioned across the white fireplace. 
25. Wrap around a headboard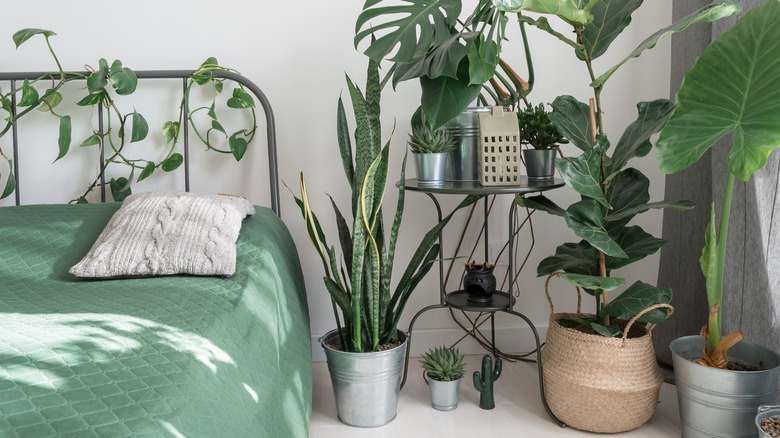 maramorosz/Shutterstock
Wrapping vines around a headboard can add lots of interesting greenery to the bedroom. When paired with other plants, this will transform your room into a serene jungle.