The Benefits Of Using The Same Listing And Selling Real Estate Agent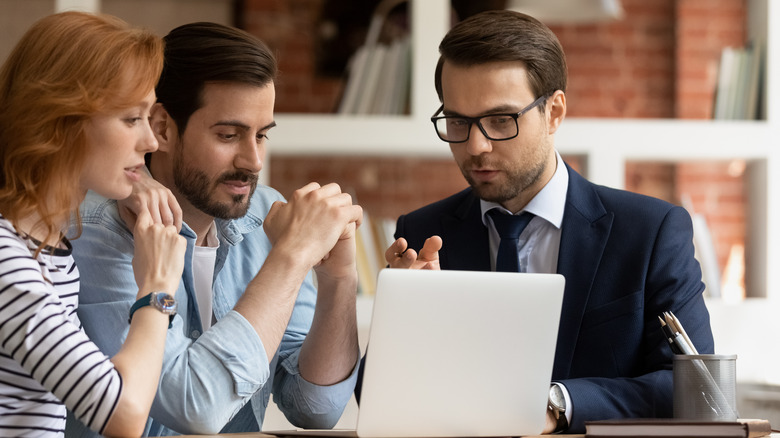 Fizkes/Shutterstock
When it's time to sell your home and buy a new one, people often wonder if they need to use two different agents. Most real estate agents are licensed agents working under a broker. They don't study to be one or the other (selling or listing agent), though some may later choose to focus on one area specifically. In the case of a person selling their home with the intention of buying one within the same area, it can get confusing as to whether or not they should have separate agents for the two different transactions. The answer is no, you do not need two different agents when selling and buying. As a matter of fact, there are many benefits to using the same agent. 
Don't confuse this scenario with dual agency. In a dual agency, the agent represents two different parties. One is the seller and one is the buyer. According to Bankrate, a dual agency usually occurs when both the buyer and the seller are using the same brokerage. This way, the agents in the brokerage aren't competing or getting into difficult negotiations together. 
When a seller is listing their home and planning on moving out of state, that changes things. Unless your agent is licensed in the state you're moving to, you won't be able to choose them as your selling agent. However, they can sometimes make a small commission with a referral fee from another agent if you allow them to refer you to someone in the area you are moving to. The goal, no matter what the situation, is to keep the process as simple and stress-free as possible, and to keep your out-of-pocket cost to a minimum. Let's take a look at the benefits of using one agent for both listing and selling.
What's a selling agent?
Chinnapong/Shutterstock
Real estate terminology can be a bit confusing. A selling agent works with people who are buying a home. They aren't just there for the closing — their job is to help buyers from start to finish. Sure, you could go looking for a home all on your own, but a selling agent is a licensed professional who is trained to understand every detail and help so you don't miss any important steps. A good selling agent will sit down with you at the beginning of the process and help you make a list of what you want in your next home. They'll take notice of your current living situation, and ask what you like about it and what you'd like to change. If the market is a buyer's market, meaning inventory is high, you may get overwhelmed looking at too many properties. Your agent will narrow that down for you quickly. 
Their next step is to get you pre-approved if you haven't already. A pre-approval letter shows the home loan amount the bank has approved you for. According to Better, having a pre-approval letter shows sellers you're serious and gives you an advantage over other buyers who aren't pre-approved. This is especially helpful in markets where multiple offers are happening. Your selling agent will help you come up with the best offer on a home once you find the right one. They're familiar with the market and will tell you if your offer is too high or too low, and they'll also handle all negotiations so you don't have to. After a home inspection, they can negotiate repairs or money at closing. They'll be there with you at the final walk-through, making sure everything is as it should be. Your agent will schedule your closing and be there, representing you, and making sure all paperwork is accurate and signed. 
Finally, they'll be the ones to hand you the keys to your new home. A selling agent has a fiduciary responsibility akin to the trust between a doctor and patient, or an attorney and client. According to Real Estate Express, the fiduciary responsibilities of the selling agent include disclosure of all known material defects in a home, acknowledgment of all funds received and disbursed, fair and honest treatment for clients, and compliance with all state and federal laws. 
What's a listing agent?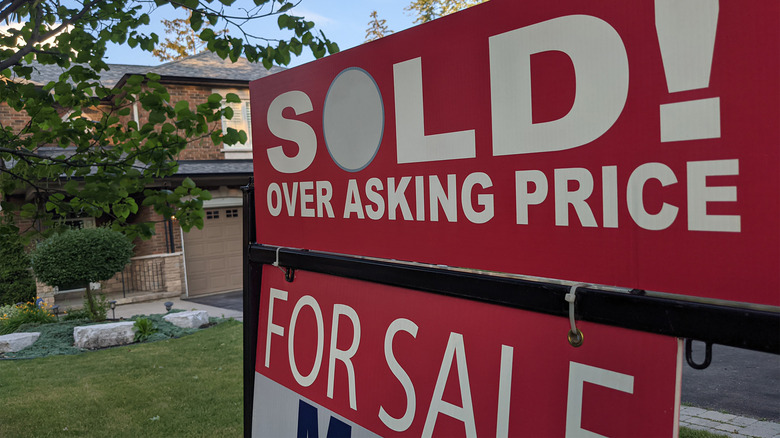 Elena Berd/Shutterstock
On the other side, a listing agent is there specifically for the seller, helping them throughout the entire process. There's more to selling a house than just listing it. Your agent will walk through the home with you before it's listed and give you recommendations on what you should do to help it sell quickly and for the right price. According to Barclay Friends, easy fixes everyone should make when selling are fresh coats of neutral paint on the walls, new flooring in small areas, and a whole house cleaning by a professional. When your agent points these things out, it's wise to listen. They get paid based on how the house sells, and therefore will give you sound advice. Don't take offense if your real estate agent suggests you replace your '70s shag carpet with vinyl flooring. 
Once the house is ready to sell, they'll go through the listing process with you. This consists of paperwork on your end, which they'll walk you through, including the contract agreement with your listing agent, which states their commission. Sometimes sellers get annoyed that a real estate agent wants a commission. The reality is that they deserve it. Your agent works for that commission. You may get your home ready and sign some papers to list it, but after that, the listing agent does all the work. They make sure your home is seen on every listing site and even let local real estate agents know that your property is coming soon. They'll also schedule all the showings and give you feedback after each one. The feedback will help you know if the home is priced right or if any changes need to be made. Once your agent finds a buyer, they'll deal with negotiations for you and get the home under contract. Just as a selling agent does, your listing agent will schedule the closing and be there with you every step of the way.
Reduce stress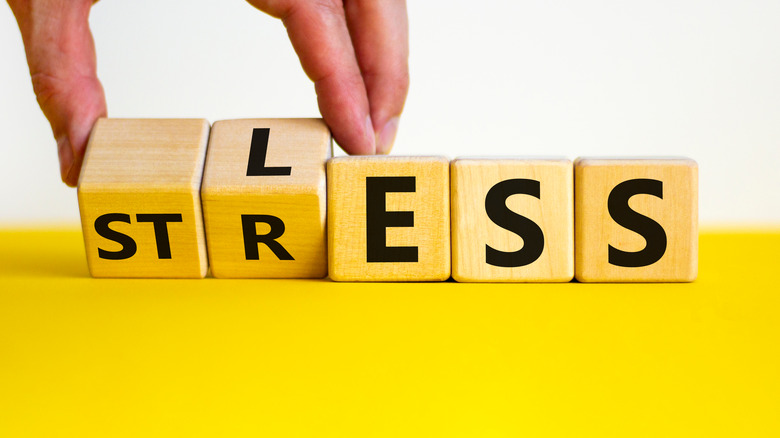 Dmitry Demidovich/Shutterstock
The reality is that selling or buying a home is seldom simple. There are many steps to get to the end result. According to Finance of America Mortgage, buying a home may be the largest purchase you make in your lifetime. There's the loan process, finding the right property in a sometimes unstable market, and dealing with difficult sellers. You can eliminate some of the stress by funneling every question and concern through one agent, rather than two who may have varying opinions. 
As you begin the process, you'll probably do plenty of research to narrow down agents and choose the one you feel comfortable with. Why go through the stress and hassle of doing that again if you don't have to? With one agent, as you begin to look at other homes and possibly want to make an offer, they'll know your exact situation. They know approximately how much cash you'll get from the sale of your home and what you have to work with. Life is stressful enough, let alone when you're buying and selling homes. Eliminate what you can by using only one real estate agent.
An easier closing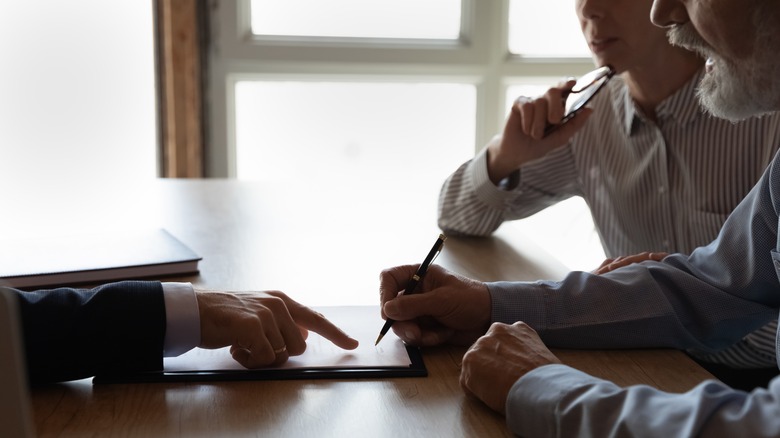 Fizkes/Shutterstock
Every agent loves to hear "clear to close" from the bank. As a buyer or seller, closings can be intimidating if you aren't used to them. They are the scheduled time that both the sellers and buyers come together, along with attorneys, real estate agents, and the closing officer, to get everything signed and any necessary checks handed out. The closing seals the deal and house keys are released.
A closing can be lengthy and tough to coordinate on the timeline you'd prefer, since you're dealing with a lot of different schedules. This can be frustrating when you're trying to get one house sold and waiting to move into another. Having one real estate agent handle everything for you, on both sides of the deal, increases the chance of a fast and smooth closing. Did you know you have to be represented by an attorney at a real estate closing? Meaning, on top of everything else, you must choose a real estate attorney. Thankfully, when using a real estate agent, they can take care of that for you. 
Most agents work with a regular attorney who always comes to their closings. Using one attorney through your agent eliminates the need for two separate ones at closing. According to PocketSense, the seller or buyer does not always have to attend the closing. They usually do because it's easier to just get everything signed at that scheduled time, so that everything is complete. However, if you can't make it, your real estate agent can represent you on both sides.
Trust and familiarity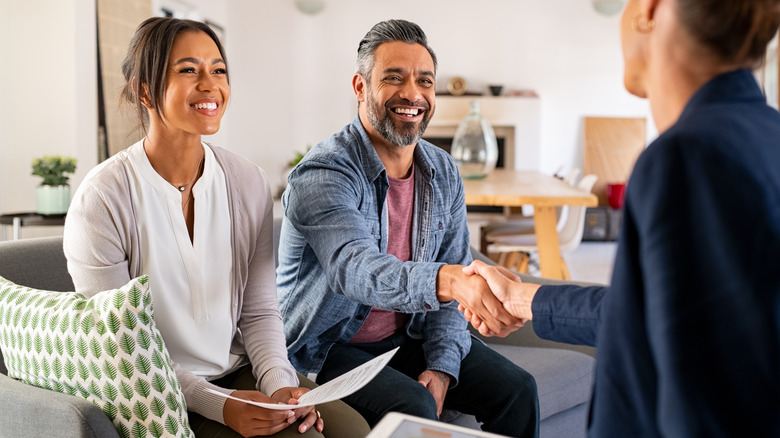 Rido/Shutterstock
No matter how much you enjoy your agent, it's hard to trust someone who is handling one of your biggest decisions and investments. With only one agent, it's easier to build that trust, making you feel more comfortable. As mentioned, your agent gets to know the home you are listing, and then gets to know you as they dig deeper to find out what you're looking for in your next home. You spend time with an agent on both ends of the process, a lot of information is exchanged, and your real estate agent truly gets to understand you and your family and what you need. That's where trust is built. After going through the listing process together and selling your home, which is emotional, you'll feel confident allowing that same agent to help you find your next home, rather than starting from scratch again with a new one. 
All that being said, what if you find the real estate agent you're working with isn't trustworthy? There are a few signs to look for to determine if you are, unfortunately, hooked up with someone who is unprofessional. The first is lack of communication, according to Real Estate Agent. Your agent should be available and answer your questions in a timely manner. Second, you need an agent that exudes confidence. There's no time for a nervous nellie during negotiations. Last, if you see any signs of dishonesty or unethical moves, find a new agent. Trust is everything during this important process. If you find one good one, stick with them.
Greater negotiation power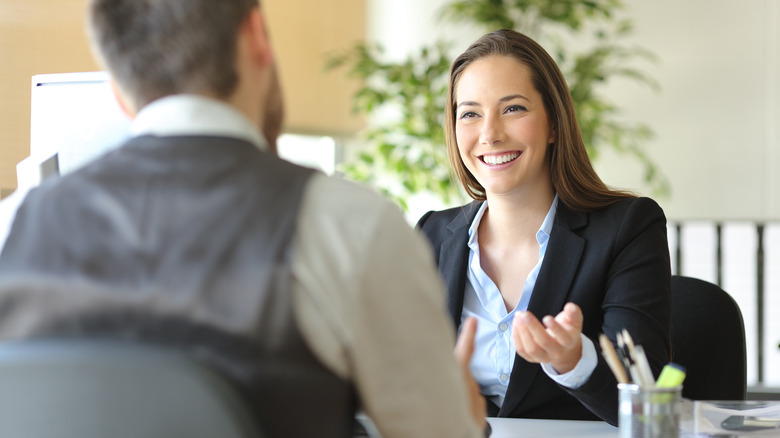 Antonio Guillem/Shutterstock
A good real estate agent knows the market well. They know when there's room to negotiate, and when their clients need to possibly offer over the asking price or lower the price of the home they're selling. There are two types of markets in real estate. Rocket Mortgage tells us that a buyer's market is when there's an abundance of housing inventory for buyers to choose from. It's a buyer's market because competition is stiff for the sellers. They may have to take lower offers to get rid of their homes, since buyers can easily go elsewhere if need be. According to Rocket Mortgage, a seller's market is when the housing inventory is low for buyers. They don't have a lot to choose from so sellers can hold fast at their asking price, leaving little room for negotiation. During this type of market, sellers know buyers are a bit desperate to find something. 
No matter the market, using one agent takes negotiations to a higher level. They have a clear picture of both sides of the deal. They know what you have to work with financially and how much you'll make on the sale of your house, which means there's no guessing when it's time to negotiate back and forth.
Save commission money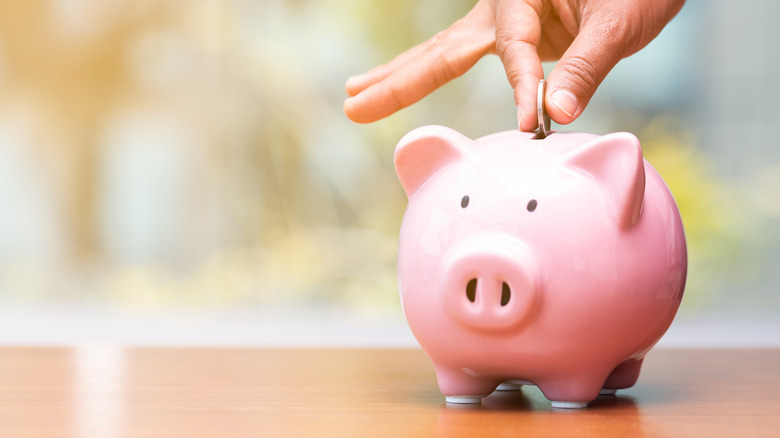 Ake Studio/Shutterstock
Many agents are willing to take less commission when working as both the selling and the listing agent. This is because they make a little more than they would when working only one side of the deal. According to Investopedia, real estate commission fees are typically somewhere between 4% and 6%, and those fees are usually paid by the seller. When two different agents are employed for both the listing and the purchasing side, that commission is shared. It's split down the middle for both the selling agent and the listing agent. That's why many real estate agents are willing to cut the commission a bit when acting as both agents, since they don't have to share it. 
For example, rather than asking for 6%, an agent might offer 4% if they can work both ends of the deal. It's still a win for them because they'll get 4% rather than 3%, and a win for the client since they'll make a bit more on the sale of their house. Saving money on closing costs is one of the greatest benefits of using the same listing and selling real estate agent.
How to choose one agent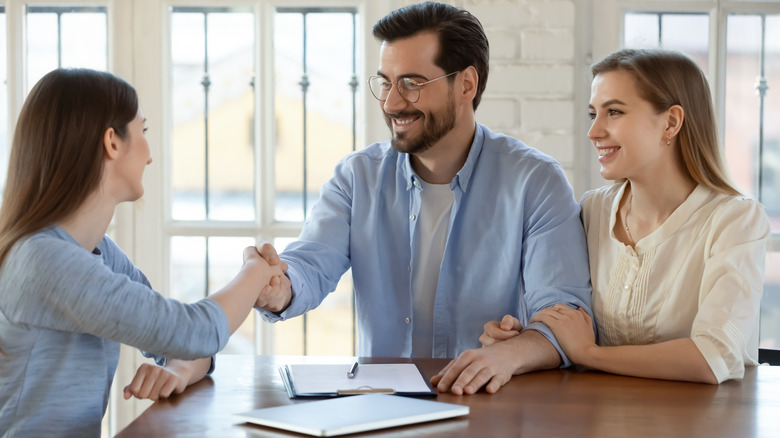 fizkes/Shutterstock
Once you've decided to use a real estate agent, you'll need to choose one. For many people, referrals are helpful. Whether you have referrals or not, it's important to do some interviewing. Selling or buying a home is a big deal. It's one thing to shop around for a car, but a house takes some more time. You need someone you feel comfortable with to help you through the process. When searching, make sure the agent belongs to the National Association of Realtors (NAR). The word Realtor can't be used on a real estate agent's signage, business cards, or anywhere else unless they are a member. According to PacRes Mortgage, agents who are members of the NAR adhere to a strict code of ethics, which is a good thing for clients. 
The simplest way to interview is through a phone call. You could also ask to meet a real estate agent face-to-face, but it isn't really necessary. You can get a good or bad feeling through a quick phone conversation. Have your questions ready to go when you place the call. HomeLight recommends 17 different questions you can and should ask when interviewing. Here are a few to get you started: How well do you know the area? What sets you apart from other agents? How often will we be in touch? How much do you charge? Do you have any buyers/properties in mind? You can add any questions that are important to you as well. The idea is to find out if this real estate agent is confident, a good communicator, experienced, and passionate about what they do. If you need a listing and a selling agent, remember to ask if they are comfortable acting as both. Hopefully, you'll find the right agent to suit your needs and walk through a smooth, successful real estate process.
Remember, it's okay to change your real estate agent relationship halfway through the game. Sometimes a business relationship starts off really well and then changes as time goes on. Maybe your house isn't selling even though it's a seller's market, or every time you call your agent they don't respond for days. If you find they aren't a good fit after some time, it's acceptable to let your agent go. However, if you've signed a contract with them, it can get tricky. Sometimes, agents will charge a fee if you break the contract early. Still, you can probably get out of that. According to Moving.com, it's best to call the broker who sponsors the agent and explain to them what's going on. Let them know the agent simply isn't a good fit. More often than not, to maintain a good reputation, the broker will void the contract for you.