Emily Henderson's Advice On How To Shop Vintage For Your Home
The Brimfield Antiques Flea Market is one of the largest antique flea markets in the U.S. It's held three times a year in May, July, and September in Brimfield, Massachusetts, and boasts thousands of vendors and more than a million visitors each year. Going to one of these vintage shows or walking into an antique shop or auction can feel overwhelming if you don't have a plan. HGTV's Emily Henderson from "Secrets From a Stylist" has some advice on how to successfully shop for vintage items for your home. Her starting point is to walk around a shop twice. The first time is to scope out the larger pieces of furniture, and the second time to look for smaller decorative items and lighting. This works well in the manageable confines of a store where you can look at just about everything before making any decisions.
Be aware that there is a difference between antique and vintage, says Farm Antiques, which explains that an antique item is at least 100 years old. Items that are considered vintage are less clearly defined, with some considering 40 years or more to be the guideline and others identifying anything that is at least 20 years old as retro. These distinctions make a difference if you are shopping for items as an investment rather than for what simply appeals to you.
Make a plan before hitting a flea market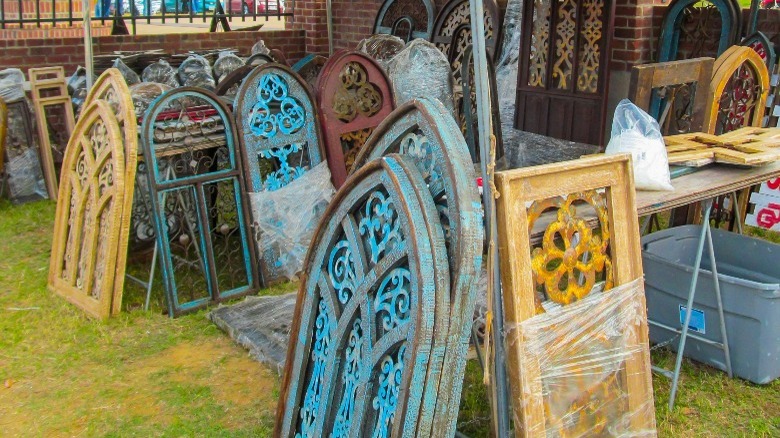 mivod/Shutterstock
Outdoor antique flea markets can have acres and acres of fields with hundreds to thousands of vendors set up, and it won't always be possible to see everything. You can find a starting point by checking the map layout for specific categories, such as at First Mondays in Canton, Texas, another of the most famous flea markets in the United States. During the year, keep track of the things you think about buying for your home, like a console table or a piece of art. Bring measurements for the space you want to fill, and even take photos of your room or wall for reference. 
Emily Henderson recommends looking for the labels and stamps on furniture that will help you identify their quality. If you don't have a specific maker in mind, you can search online for information on identifying furniture stamps to get more information before you head out to shop. The same is true for decorative items like pottery, glass, chandeliers, and art. You need to do some research ahead of time if you are looking to buy investment-quality items. A final tip from Henderson is not to buy something because the price tag makes you think it's a bargain. If the item will need repairs or updates, factor in the added costs such as material, paint, or hardware to see whether the purchase still fits your budget.