How To Make A Statement With Your Dining Room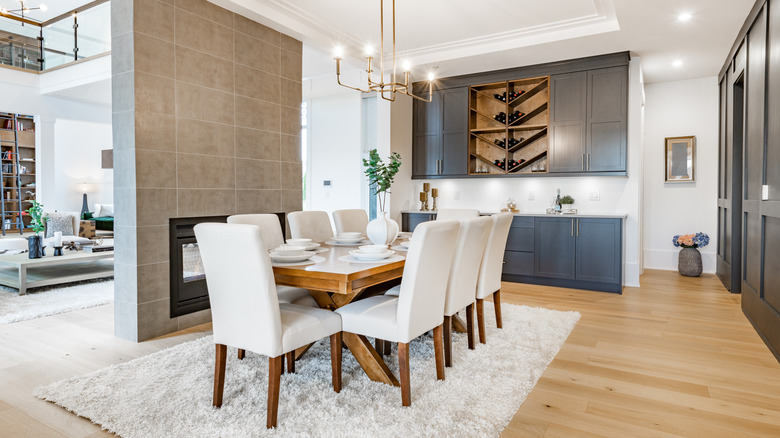 Sheila Say/Shutterstock
There are many ways to make a statement in your home. You could paint an accent wall a bold color, add a unique furniture piece, or decorate with personalized items. Other ways to create a wow factor include mixing styles or simply doing the unexpected. Simply Home Decorating emphasizes the importance of adding interesting pieces to your home. These engaging items will determine the rest of the design in a space. They can also become catalysts for joy or fun conversations with guests. And, when done right, they can feel meaningful to you while mixing effortlessly into your style.
Before choosing a statement piece for your dining room, Simply Home Decorating suggests answering these three questions. First, is this piece timeless and not trendy? Second, does this piece bring me joy? Lastly, does this piece work cohesively with my existing décor? Or, similarly, can I design a room around this one piece? Below are two ways you can create a statement in your dining room.
A unique lighting fixture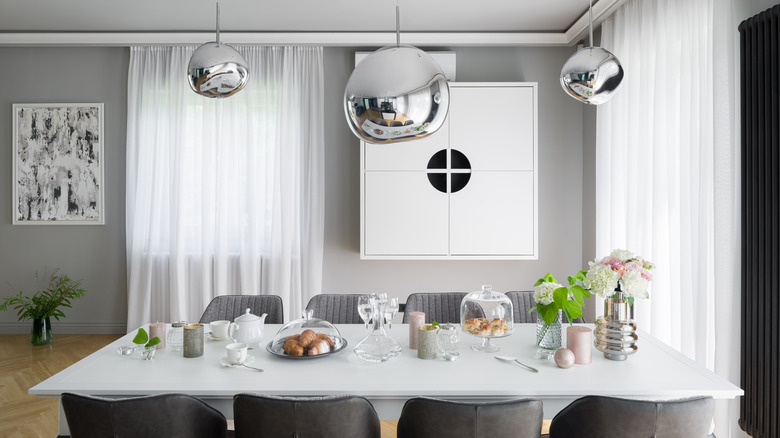 Dariusz Jarzabek/Shutterstock
Lighting fixtures are common statement pieces used in dining rooms. They serve by drawing the eye upwards and can even make the ceilings appear taller. Destination Lighting says that a beautiful chandelier can become the centerpiece of any dining table. If you choose a chandelier, make sure it is centered and at least 30 inches above the table. To illuminate a longer table, you could choose multiple pendants. Adding wall sconces will bring additional soft lighting into your space.
According to Lighting Design, when you want to make a big statement, try an oversized fixture. It will instantly catch the eye of anyone walking into the room. Typically, fixtures are made of metal or glass. To add extra flair, you could choose designs made from less common materials like twine, beads, leather, or fabric. You could also choose to juxtapose the style of your lighting fixture with the rest of your room's design.
Bold velvet dining chairs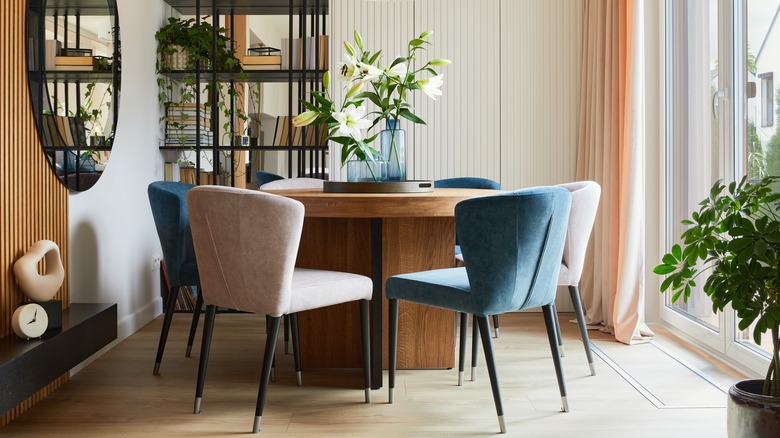 Followtheflow/Shutterstock
A completely different way to make a statement in the dining room is by surrounding your dining table with bright velvet chairs. Crate & Barrel says that velvet chairs look luxurious and sophisticated while also feeling extra comfortable. Choosing a deep color like a mustard yellow or an emerald green will let the chairs bring a grounding energy to the space. Mixing velvet chairs with metal accents and dishes creates a detailed and layered texture.
For the opposite effect, this type of chair could also be dressed down with a neutral color. Eco Chic Lifestyles suggests mixing and matching chair colors to create an eclectic and interesting look. Warm colors like red, orange, pink, and yellow shades are associated with happiness and lifted spirits. 
Chairs that are completely covered in velvet will make their own statement. Wooden chairs with small cushions will too. Kathy at Petticoat Junktion breathes new life into her drab dining room chairs by upholstering the cushions with a daring floral fabric.