The Worst Mistake You Can Make When Redoing Your Bathroom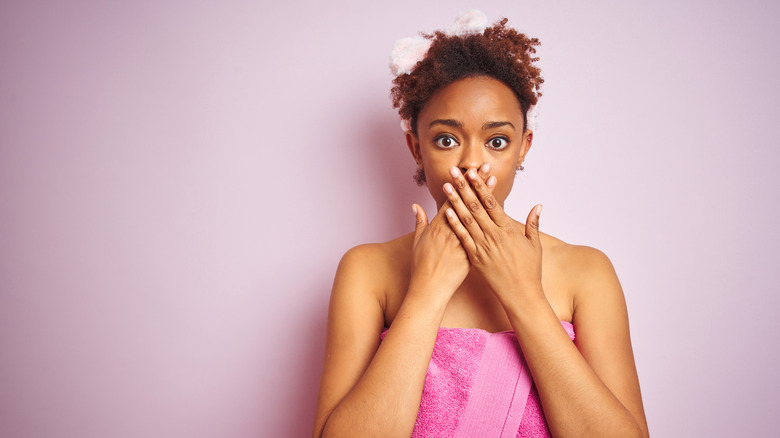 Shift Drive/Shutterstock
There are some really terrible bathrooms out there. However, there are some truly gorgeous bathrooms out there as well. The myriad small details that separate the swanky from the swampy means that when trying to choose the worst one, it can be a challenge. Sure, according to a survey by the National Association of Home Builders, 72% of first-time buyers view having a bathtub and shower in the primary bathroom as essential or desirable. But maybe a bathtub doesn't make sense for your context or budget — if you don't install one, then it's not as if you've really made a mistake at all!
Across the board, the worst mistake you can make when remodeling your bathroom is not going all-in on your lighting. Into The Gloss called harsh bathroom lighting "the pits" for applying makeup, advising readers to leave the bathroom behind and invest in a tray and hand mirror to go find natural light instead. The New York Times declared that badly lit bathrooms were nothing but "flaw accentuation chambers."
Well, that sounds like the opposite of what you're looking for from a remodel, doesn't it? So why is bad lighting so bad? And how can this one aspect of bathroom design turn a "flaw accentuation chamber" into the kind of bathroom that gives you a home-field advantage each time you get ready?
Why bad lighting is the worst mistake you can make when redoing your bathroom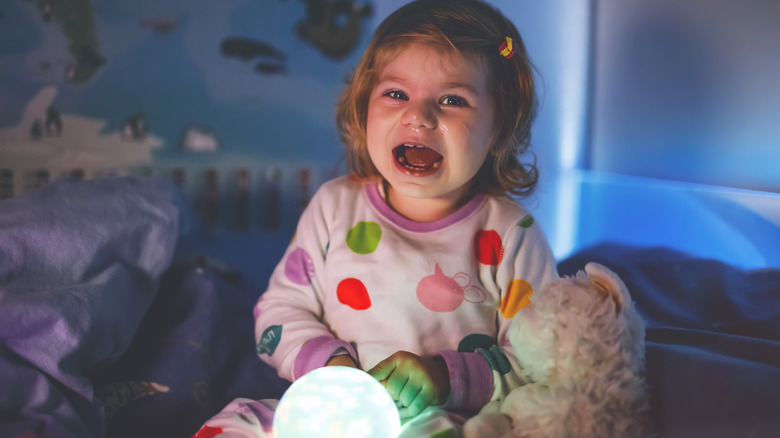 Irina Wilhauk/Shutterstock
The Plan Collection pointed out that lighting has a huge impact on our perception of things, and furthermore, that the way we see ourselves in our bathroom mirrors (being one of the most frequent places that any of us see ourselves) can be hugely impacted by bad bathroom lighting. Thankfully, unlike adding a bathtub, an extra sink, or a linen closet, upgrading the lighting in your bathroom can be quite affordable and requires no extra space — which makes skipping it an even sillier mistake to make!
Good lighting can also up the utility of your bathroom by adding multiple reasons to be in there. A dimmer switch will make it easier to switch your bathroom from get-ready-and-go mode to relax-and-unwind mode. As designer Anne Sneed told Architectural Digest, "Careful observations need stronger light, but a dim light is calming and romantic. A bathroom calls for both."
If your bathroom lighting is too weak, it can be too hard to see details, so you probably get ready elsewhere. If your bathroom lighting is too bright and blue, you're probably not using that part of your home as the potential relaxation space that it is, and that you're already paying for! Being able to quickly reset the lighting in your bathroom can give the room a new level of versatility.
How to improve your bathroom lighting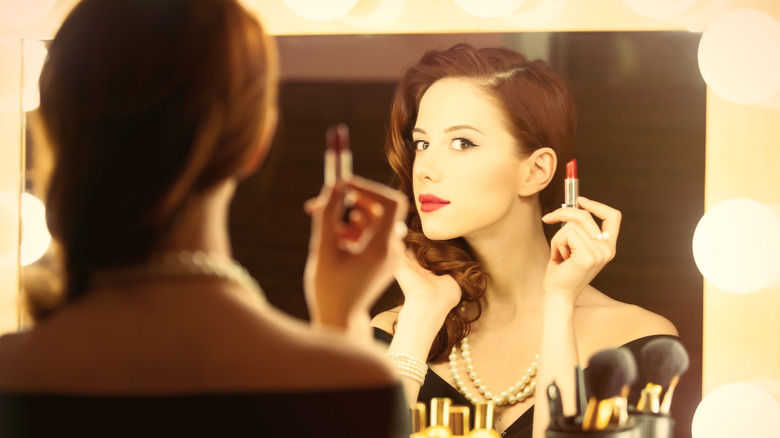 Masson/Shutterstock
The first and cheapest thing to change about your bathroom lighting is the bulbs themselves. Even if you change nothing else, making sure the bulbs in your lights are emitting 2,700 to 3,000K (soft white) and a CRI of 80 or above will do you the favor of showing you rich and accurate colors while still providing a flattering glow, according to the Appliance Analysts.
The next move is to increase the number of ways that light is hitting your face when you're looking in the mirror. The classic mistake people make when designing vanity lighting is to use only one light above the top of the mirror. According to Dig This Design, this can create heavy shadows that skew the way your face appears to you — the key is to have overhead lighting combined with cross lighting, eliminating any false sources of shade.
Remember, a space that looks great in photographs, but doesn't make you feel great about being there, isn't a space you're going to get the most enjoyment out of. Focus your bathroom renovation budget on creating a space that's versatile, flattering, and gives you a feeling of invincibility. After all, you're the one who's going to have to use it!