The Best Way To Make Your Shower Seem Larger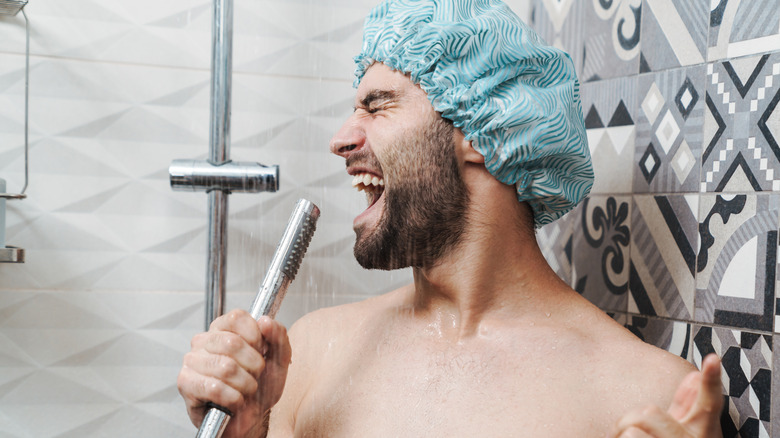 Dean Drobot/Shutterstock
Although in-home showers were available for the wealthy in the 1800s, it was not until the 1920s that they became affordable enough for the general public, according to The Shower Doctor. Even though they were available, many older homes and apartments were not retrofitted with showers until they became more popular in the 1980s. As bathrooms were updated and more houses were built, showers became the norm in American homes.
Whether you live in an apartment or a house, you may feel claustrophobic in your shower. Older homes tend to have smaller bathrooms and showers than newer builds, and efficient apartments are, well, efficient. Maybe your shower is not that small, but you want to create a luxurious space to start your morning or relax at the end of the long day. Regardless of the reason, if you are looking to create more space in your cramped bathroom, there are some options.
Install a curved shower rod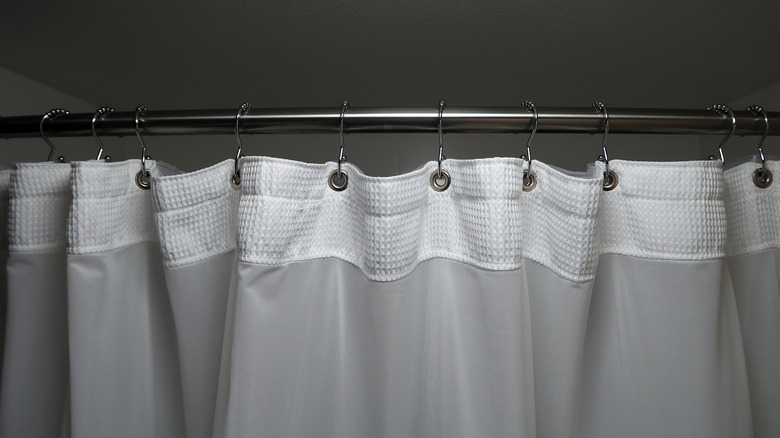 John Arehart/Shutterstock
To make the most of your shower space, consider installing a curved rod. Kitchen Infinity states you can get up to 1/3 more shower space with this one simple change –- that is 33% more arm and leg room for that luxurious salt scrub and a pleasantly spacious shower in which to spend your deep conditioning time. Not only is more shower space a nice addition, but it also reduces the possibility of falling while getting out of the shower. Because you can push the curtain further back, you are less likely to get your feet tangled.
If you have the basic tools and experience with hanging heavy items, installing a curved rod should be a pretty simple DIY project. Follow the instructions included with your purchase, and make sure the shower rod is attached directly to wall studs or by using the proper anchors, warns Signature Hardware. Moreover, Shower Drape suggests that 75 to 77 inches from the floor is the ideal height for a shower rod.
Declutter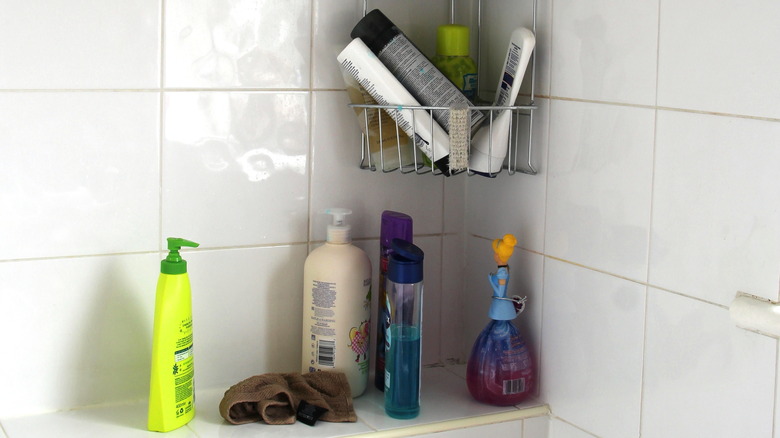 Gary Perkin/Shutterstock
Nothing makes a space feel small like clutter. How many bottles of shampoo and conditioner are in your shower? Brushes or shower poufs? Old razors? To make your shower feel bigger, start by removing everything, including all your shower products and storage items. Then think about what you use every day? These items are your first priority. Make one pile for everyday products and another for those you use occasionally. Are you really going to do a deep conditioning treatment when you're running late for work? Do you need to keep 3 types of salt scrubs in the shower when you only use them on self-care nights? Consider storing everything you don't use on a daily basis somewhere else in the bathroom, so they are out of sight when you don't need them, but easy to grab when you do.
Another way to reduce visual clutter is to consider installing corner shelving instead of using a shower head storage caddy, states Elbow Room. Shower corners are unused space, but all that clutter at eye-level under your shower head makes your space feel smaller. Instead, hang a bundle of eucalyptus over your shower head to add a touch of beauty and relaxing aroma to your daily routine.