Carmine Sabatella Reveals Homeowners' Biggest Design Mistakes - Exclusive
The best — and most challenging — thing about a career in home design is you'll never run out of things to do or learn. Not only will homeowners' needs and lifestyles change over time, but so will available building and decorative materials and popular tastes and styles. What looked fresh and inviting 10 years ago may seem frumpy and outdated now, and while some homeowners may be happy to stick with the same look for decades, others will be looking for a refresh — and it's their designer's job to find the best options for their tastes, lifestyle, and budget.
This isn't always easy, however; interior designer Carmine Sabatella, co-host of HGTV's "Inside Out," says that not only can it be tough for homeowners to decide (or articulate) what they really want, it's also difficult for him to get homeowners to visualize his recommendations at times. Still, Sabatella is up for the challenge of creating high-impact interior looks on a fixed budget. In an exclusive interview, he shares some design missteps many homeowners make.
When renovating, it's good to know your limits
Carmine Sabatella shared that most homeowners he works with come to him with some idea of what they want. However, he warns would-be renovators that just because something is trending online doesn't mean it would necessarily be a good fit for their home. A common mistake, Sabatella said, is homeowners striving to incorporate too many design features into a limited amount of space. "A lot of clients will go on Pinterest, or they go on Insta, building all of these of creative boards, and ideas and concepts," he explained. "They have a million ideas that they want to cram into one thing. Obviously, you can't do that. It'll look like a fun zone. We have to kind of reel them [in] and give them direction."
Sabatella added that an even bigger stumbling block for many homeowners is sticker shock. "Everyone seems to have a different concept of what pricing is going to be like," he continued. "I think that the biggest challenge is getting them to understand how that budget is distributed and what the true cost of things are." So if space limitations don't force Sabatella's clients to constrain their design vision, budgetary concerns probably will — but with creative thinking and a light touch, he and his team can deliver a pleasing renovation without breaking the bank.
Carmine Sabatella says open floor plans are out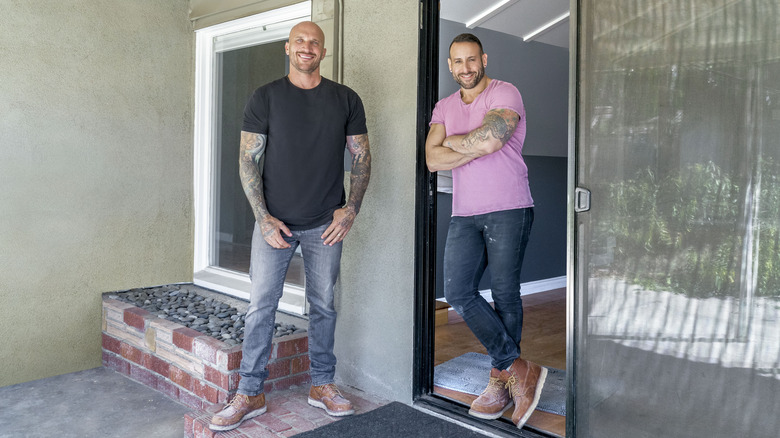 HGTV
For several years, if you wanted to modernize your home and give it a more spacious and inviting look, you'd turn to an open floor plan — knocking down the walls between your kitchen and living room, for instance. But now, Carmine Sabatella said the pendulum is swinging back towards more enclosed spaces. "Years ago, everybody wanted to open up everything, knock all the walls down, no more walls," he shared. "In theory, that's great, especially when your children are little, or toddlers, that makes sense. But those children grow up like weeds, and we're not ready. All of the sudden they're pre-teens and teenagers, and that open-wall concept where everyone was sharing space isn't as appealing anymore."
Instead, Sabatella said that homeowners are now looking for interiors that allow a bit more privacy for family members, especially growing children. "I don't know if that's just a generational thing, but we're seeing people going, 'Okay. You know what? Friends who did that 10 years ago ... now they're miserable, and they're trying to fix it, so we don't want to do that now,'" he revealed.
Season 2 of "Inside Out" premieres Monday, August 1 at 8 p.m. ET/PT on HGTV.