Nearly 45% Of People Prefer This Color Cabinets In Their Dream Kitchen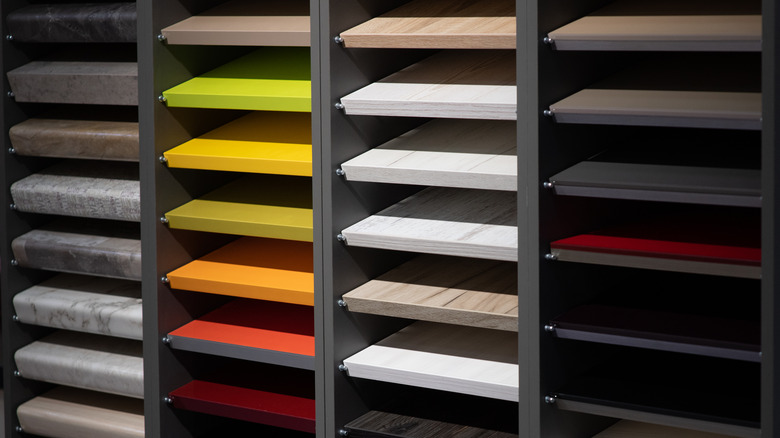 Sergey Spritnyuk/Shutterstock
Whether you spend hours scrolling through Pinterest or barely give any thought to home renovation, everyone has a few features that they wouldn't mind adding to their home. One of the rooms that people are pickiest about? Kitchens — according to Trulia, kitchens are one of the two rooms that homebuyers are the most analytical about (alongside the master bathroom). In other words, if you're a homeowner, you may as well justify that kitchen renovation: either you'll move and help increase your home's resale value, or you'll stay put and still get to enjoy the nicer kitchen that you probably would've gotten by changing homes.
Of course, cabinets are a crucial part of any kitchen. They help house all of your appliances and dinnerware — and their finish has a big impact on the room's aesthetics. Curious about the most popular preferences? To find out, House Digest asked 596 people which cabinet color they'd choose for their dream kitchen. The most popular pick was ...
Natural wood is in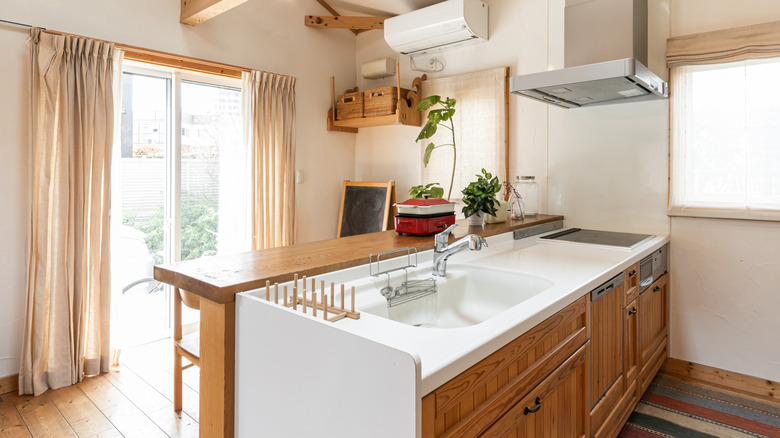 mapo_japan/Shutterstock
While it's not technically a single color, 265 people (44.46% of responses) said that they'd prefer a natural finish on their cabinets. We can't say that we're surprised — minimalism and cottagecore have both been popular on social media for a while, and each style makes it easy to justify natural finishes. U.S. News & World Report also noted that outdoorsy elements were a major up-and-coming trend this past winter, and all-wood kitchens were extremely popular last summer.
Plus, even beyond current style preferences, a natural wood look is timeless. It also provides lots of flexibility going forward since you can easily swap your cupboard's finish, allowing you to enjoy a new look at a fraction of the price. And if you pick solid wood (as opposed to particle board), the cabinets will last for years to come. It might be rare for nearly 45% of respondents to agree on a single choice, but we can see why natural wood is such a popular pick.
Runner-up choices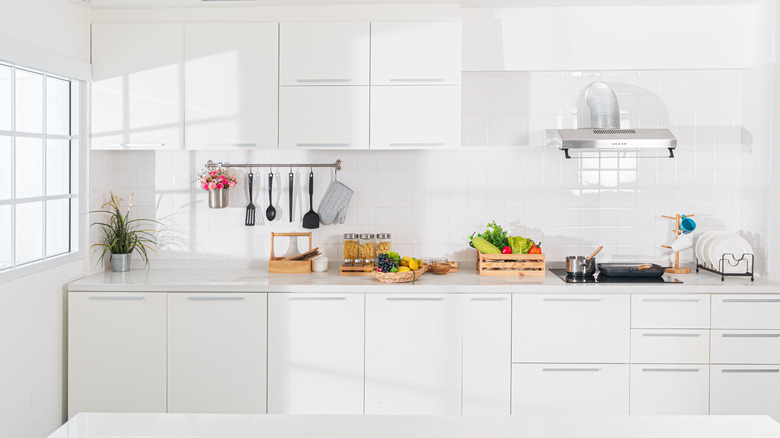 Sermsak S/Shutterstock
As you might imagine, not everyone is a fan of the all-natural look. Yet even second-place had a clear winner: with 136 votes, 22.82% of people said that they'd prefer white cabinets. Again, not a huge surprise — these are another minimalist-friendly pick, plus they'd go with a wide variety of wall colors. And, while NHance says white may show more dirt, people view it as a 'cleanly' color. If you plan on painting your kitchen in the near future, you can rest assured that your white cabinets will match even the most unconventional paint color. In third place, 95 people (15.94% of responses) said that they'd prefer grey cabinets — a choice that likely includes stainless steel finishes in addition to regular old paint.
Surprisingly, colored cabinets were by far the least popular choices. 75 people (12.58% of responses) said that they'd prefer cabinets with cool-toned colors such as blues and greens. Even less popular? Only 25 people (4.19% of responses) said that they'd prefer warm-toned colors such as red, orange, or yellow.
That all being said, choice is subjective. Unless you're specifically planning on selling your home in the near future, we wouldn't recommend choosing your cabinet color based on resale value. Instead, make the kitchen your own — ironically, unapologetic style choices are incredibly popular right now. Plus, you'll be much happier each time you step into the room.