The Least Expensive Armchairs At Target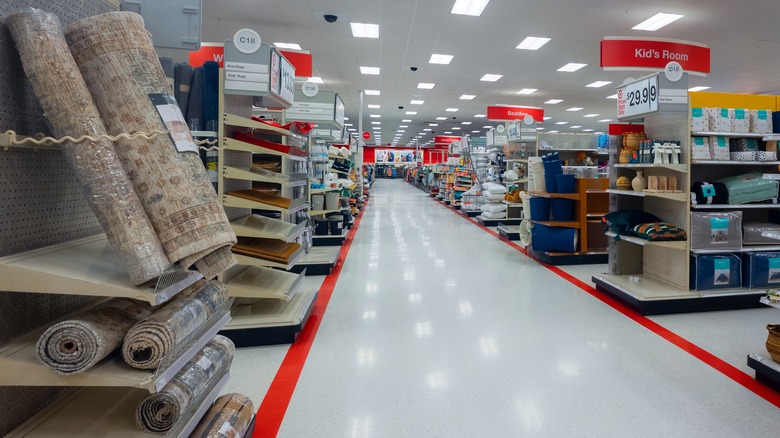 Mahmoud Suhail/Shutterstock
What better place to shop for your home than your comfortable neighborhood Target? A Bullseye View states that Target was founded in the early 1960s and started by selling a variety of good quality merchandise at discount prices. Their slogan, "Expect More. Pay Less," which was first used in 1994, is still popular today. Target stores are present in all fifty states, including the District of Columbia. A Bullseye View further informs that nearly 75% of the population in the United States claims to live within 10 miles of a Target.
From clothes to shoes to electronics, Target seems to have everything you could possibly need for you and your family. Recently, Target has also grown to incorporate a variety of home products, including a large selection of quality furniture that is bound to catch your attention. If you're interested in taking a look at some of the items they have to offer, join us in examining some of the least expensive armchairs you can find at your local Target store.
The Emma and Oliver transparent side chair
Currently, the cheapest chair you can find at Target is the Emma and Oliver Transparent Side Chair with Arms and Gold Base, which can be purchased for approximately $115. According to Target's website, this chair is made from clear, plastic material with a transparent crystal finish and is held up by solid metal legs. The total size of the chair is 31.75 inches tall, 24 inches wide, and 24 inches deep, and although it is only 12 pounds, it can hold nearly 450 pounds at once. For elevated comfort, the chair also includes built-in armrests and a waterfall seat structure that allows you to release the pressure you may feel in your legs as you sit.
The Emma and Oliver Transparent Side Chair boasts a very contemporary style, which may not appeal to everyone. Luckily, Target offers a similar chair, known as the Alonza Series Plastic Chair with Arms and Chrome Base, which provides the same design in a variety of different colors. Besides the singular transparent color, Target shows that the Alonza Series Plastic Chair comes in six different colors, including green, black, gray, and white, and is in the same price range as the Emma and Oliver Transparent Side Chair.
The Columbia captain chair
If you are not one for any modern or contemporary styles and are more interested in a traditional look for your home, Target also offers the Columbia Captain Chair – Regency for a relatively low price of $143. Compared to the Emma and Oliver Transparent Side Chair, this furniture is a bit smaller, averaging 21 inches wide and 20 inches deep. The Columbia Captain Chair also weighs a relatively heavy 25 pounds. It can only hold up to 250 pounds, but it contains a stylish look made with various high-quality materials.
Target states explicitly that the chair is beautifully designed with a mahogany wooden frame, brass nailhead trimmings, and a slick vinyl finish. Based on your personal preference, the chair is also available in two colors: black and burgundy. These color options are perfect for any traditional style you wish to apply it to, whether that be an office, library, or even a waiting room.