Reduce Poolside Clutter With These Pool Toy Storage Tips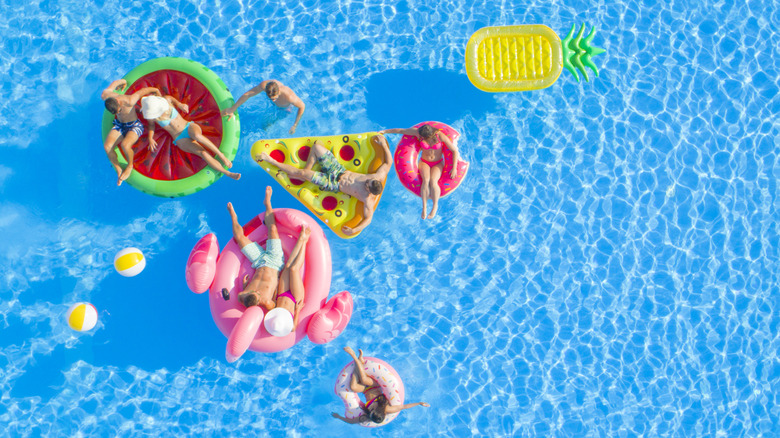 Flystock/Shutterstock
If you have a backyard pool, you know how cluttered and messy the space around your pool can get. Once the kids are done swimming, they can get into the habit of throwing their toys and floaties haphazardly onto the pool deck or in the yard. This can lead to not only a cluttered-looking space but also damaged floaties. Funboy says to never leave your floaties in the sun when they're not in use. This is because, if they're exposed to sunlight for a long period of time, they could expand and pop. Floaties could also get damaged by sharp furniture corners or toys.
To keep your poolside organized and your floaties safe, there are two categories of storage options you could choose. The key is to teach your kids to use these storage solutions when they're not swimming in the pool. These two tips are convenient during the summertime when your floaties and toys are probably being used almost every day.
Utilize hooks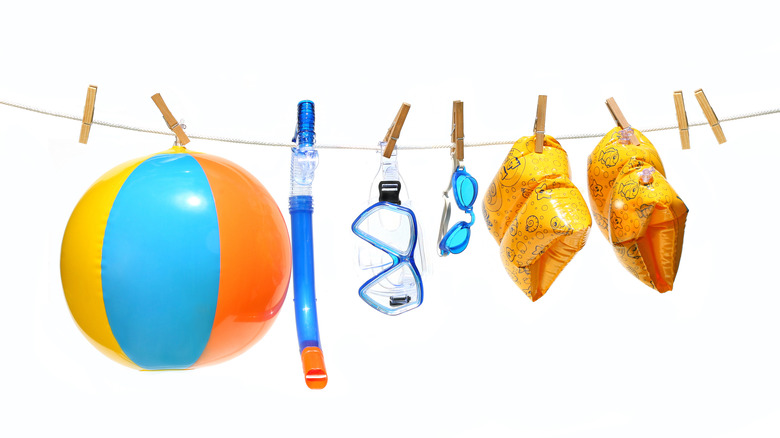 Sandra Cunningham/Shutterstock
A great way to keep your pool toys and floaties organized during the summer is by hanging them on hooks. However, when using this storage hack, you may want to place an umbrella above them or install the hooks in a shaded area, so your floaties don't get damaged by the sun. Hooks could be attached to a wall or a fence. Romper says that circular-shaped tubes can easily be hung on hooks, or you could also hang things like towels and goggles. 
Hooks could also be utilized with the addition of a freestanding rack. Floaties could be hung from these hooks with the help of rope or string, and this is also a great place to hang wet towels. A water hose holder could be attached to a wall to hold floaties or pool noodles. Life, Creatively Organized suggests hanging a net where floaties can be corralled every day. Or, you could hang toys on a line with clothespins to allow them to dry. 
Purchase a storage bin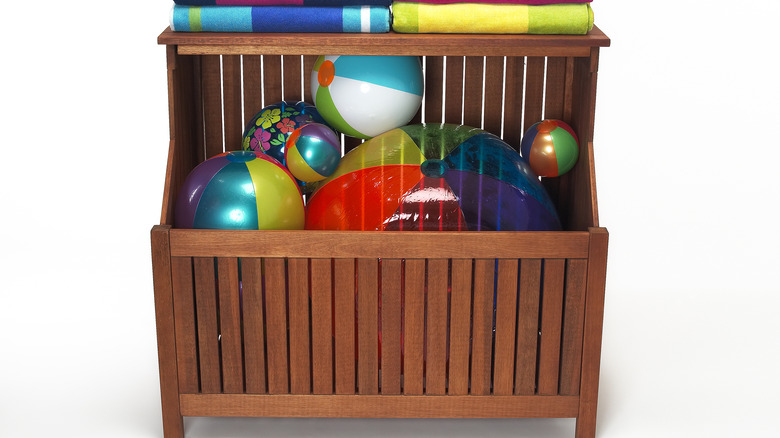 Michael Kraus/Shutterstock
Another way to store pool toys is with the help of an outdoor storage bin. The best bins have a lid to protect your toys from weather changes or sun damage. This is a great long-term storage solution for the colder months. When storing your floaties for a long time, make sure to wash and dry them with clean towels and fully deflate them, per Funboy. This will help you avoid any mold or mildew growth.
During the summer, an outdoor storage bin could be used to hold things like goggles and smaller pool toys. Life, Creatively Organized uses hers for these toys and then tucks her larger floaties into the corner of her patio. Storage bins could also be used to hold clean towels, so your kids don't have to drip water on your home's floors if they forget one. If you don't want to purchase a storage bin, you could repurpose a mesh or plastic laundry bin or another large container.