20 Clever Driveway Layouts Sure To Boost Curb Appeal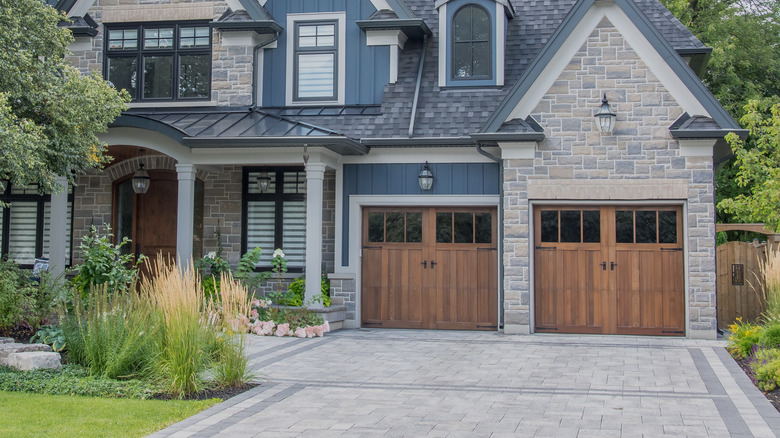 Mark Byer/Shutterstock
There are a number of ways to boost your home's curb appeal. You could paint your exterior, update your landscaping, or add flowerpots to your front stoop. You could also contemporize your driveway design. Blacktop Concepts says a new driveway can significantly increase your home's appearance. And it's typically easy and quick to install.
If you're stumped on what material to use, Realtor outlines a few different options. Concrete is typically used because it's durable and doesn't require lots of maintenance. However, keep in mind that it may stain or break down in cold weather. Asphalt is inexpensive and great for long driveways, but it may crack. Using gravel would look great in a rural area but requires lots of maintenance. The most expensive options are brick and cobblestone, which both give a timeless and luxurious appearance. Centurion Stone of Arizona says that stone pavers are easy to install and provide a personal look, but they can be costly. Aggregate is durable, low maintenance, and practical as well, per CoastCrete. Any of these options will boost your home's look. If you want some driveway inspiration, below are attractive layouts you could choose.
1. All brick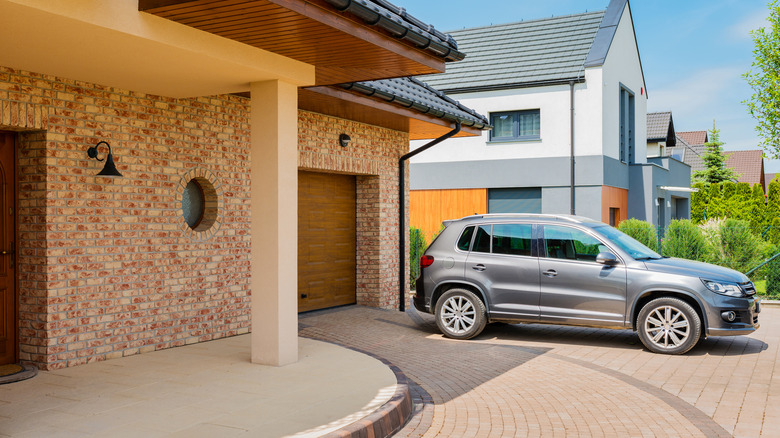 bubutu/Shutterstock
Brick is one of the most expensive driveway options; however, it will last a long time and looks gorgeous. Adding a brick driveway could add to the appearance of a brick house. 
2. Gray brick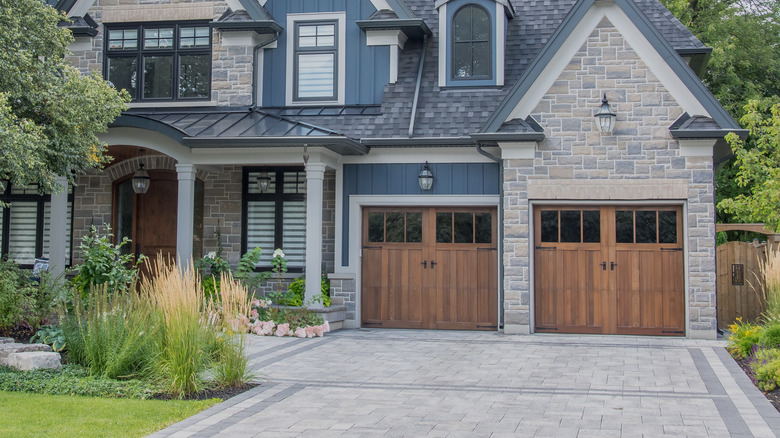 Mark Byer/Shutterstock
Instead of choosing red brick, you could opt for a gray brick driveway. This would be ideal for homes with cool-toned exteriors, like the above example. 
3. A brick border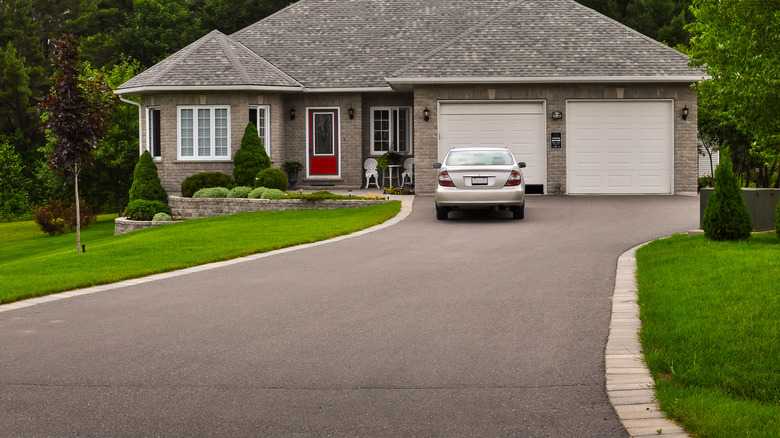 LesPalenik/Shutterstock
Or, if your budget won't allow for a complete brick driveway, you could outline an asphalt or concrete road with bricks. Adding a brick outline is a great way to update your driveway. 
4. Matching driveway and steps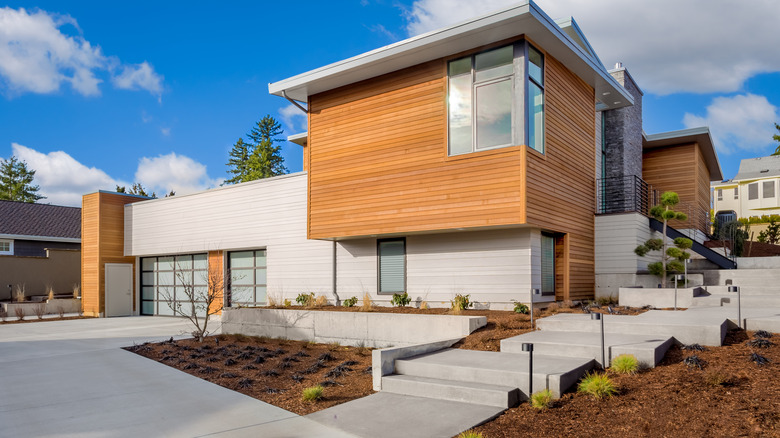 Breadmaker/Shutterstock
To create a cohesive look on the exterior of your home, use the same materials for both the driveway and the stairs leading up to your front door. This home utilizes smooth concrete. 
5. Contrasting driveway and walkway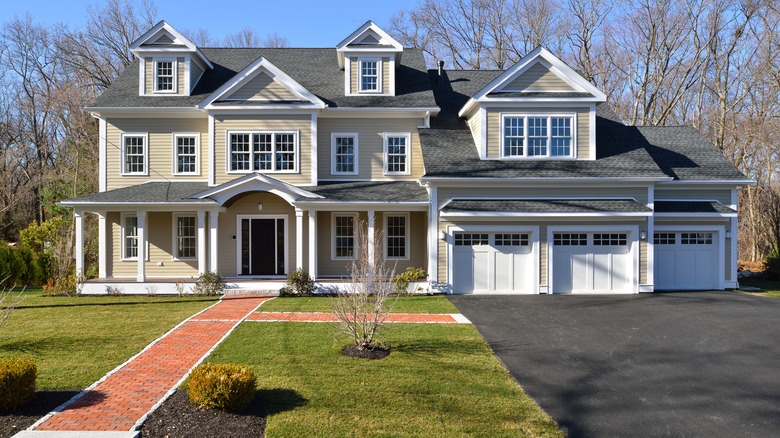 Jorge Salcedo/Shutterstock
Or, to create contrast, vary the types of materials your driveway and walkways are made of. As demonstrated above, if you have a dark asphalt driveway, you could create interest by building your walkway out of bright red bricks. 
6. Light appearance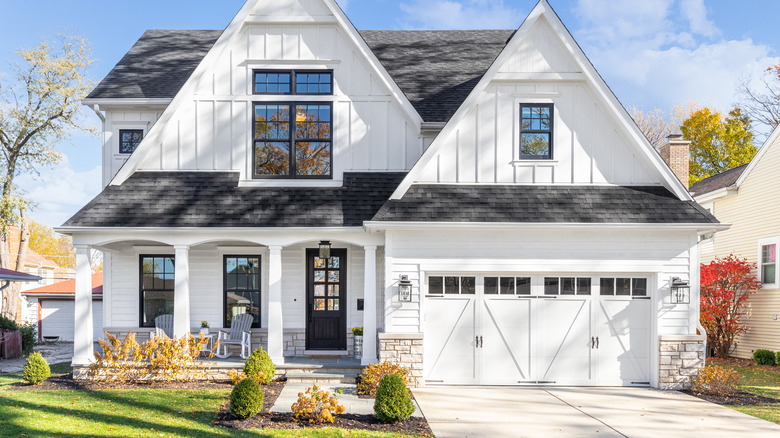 Hendrickson Photography/Shutterstock
You could also choose to have a light-colored concrete driveway. This is a great way to keep the exterior of your home looking chic and airy. 
7. Unique landscaping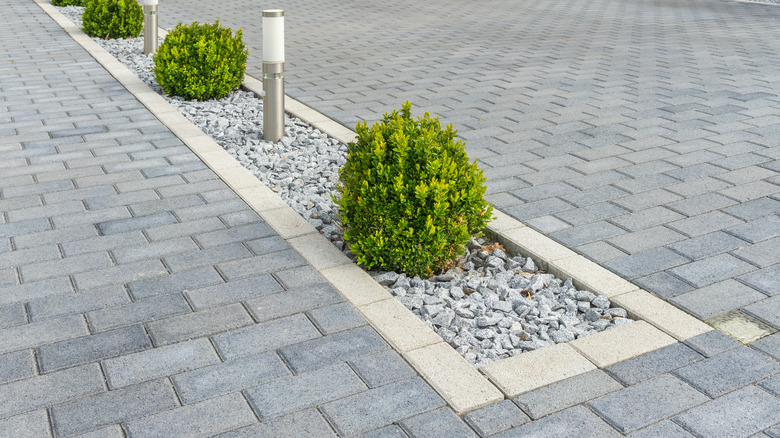 ThomBal/Shutterstock
To add visual interest, you could include unique landscaping in the design of your driveway. This gray brick driveway has a line of bushes and solar panels embedded into the design. 
8. A round hedge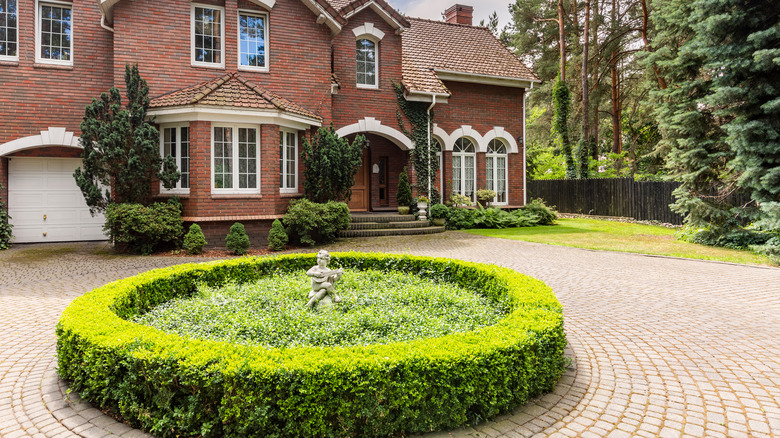 Photographee.eu/Shutterstock
To create a roundabout, you could add a circular hedge to the center of your driveway. For extra elegance and an expensive feel, line your private road with brick and add a statue to the center of the hedge. 
9. Interesting stone paving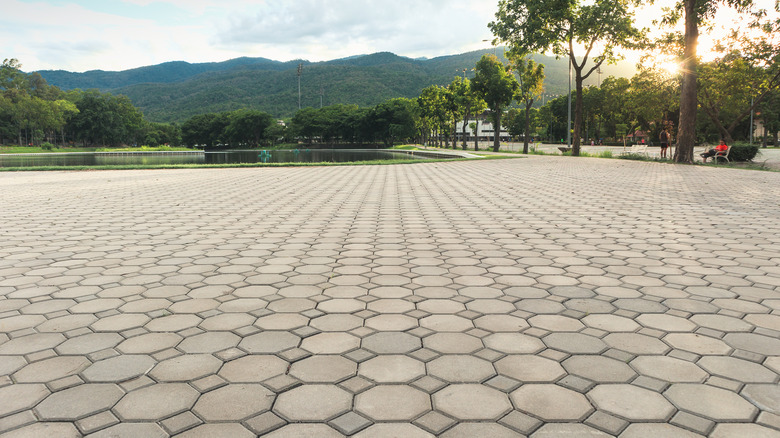 DifferR/Shutterstock
For a unique appearance, you could choose attractive stone paving in unique architectural forms. This driveway has diamond and hexagon shapes. 
10. Aggregate driveway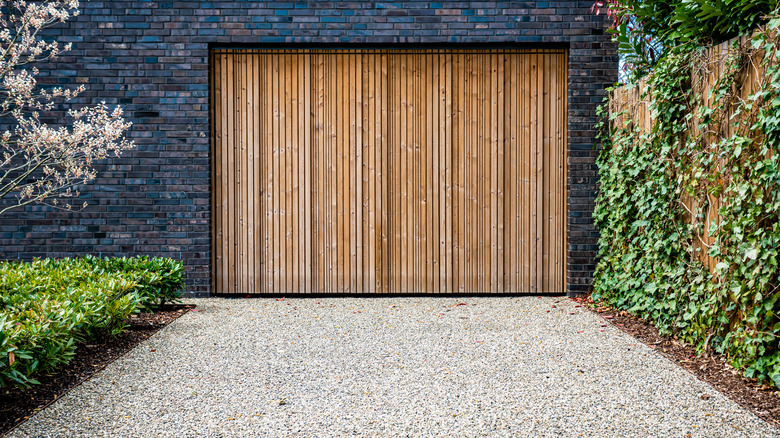 Ewa Studio/Shutterstock
Aggregate driveways are made of broken-up concrete. They can provide an interesting appearance, and they're pretty cost-effective. 
11. Gravel driveway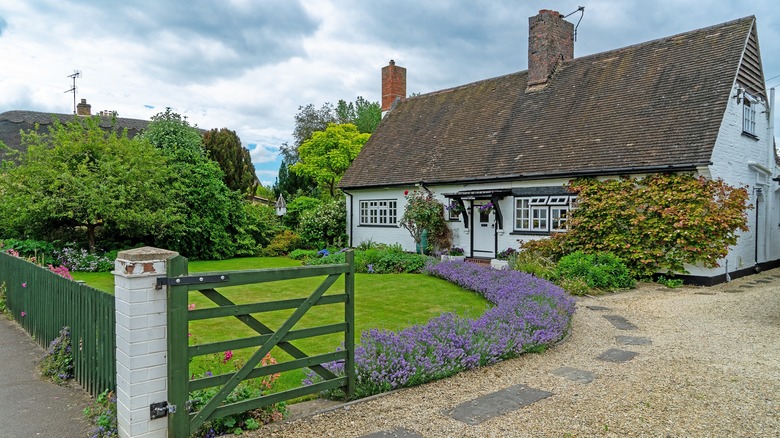 PJ photography/Shutterstock
Gravel driveways are ideal for rural homes, as they give the exterior an earthy and rustic feel. This house also has a stone slab path in the gravel. 
12. Large design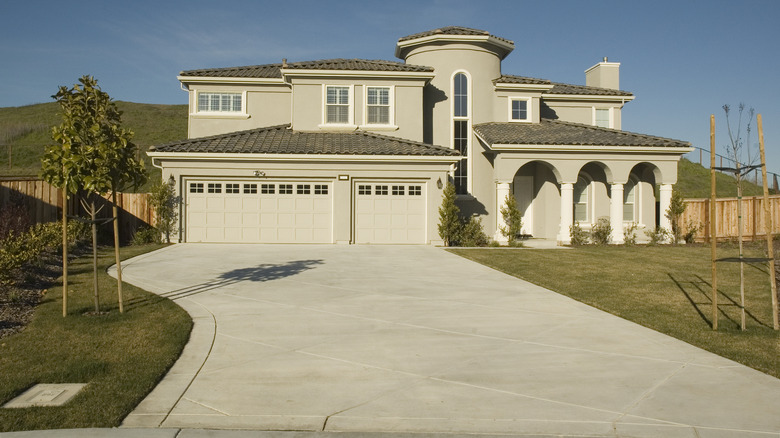 Jeffrey B. Banke/Shutterstock
To maximize the space on a driveway, you could have it expand near your garage doors. This will allow for easy access to the garage and will also create more parking. 
13. Surrounded by flowers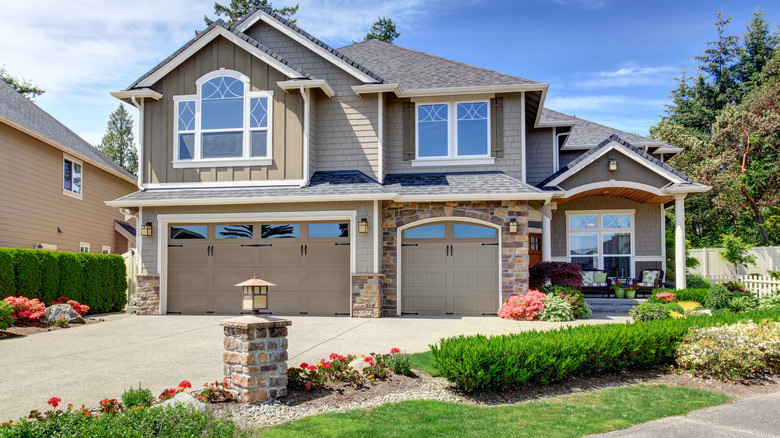 Artazum/Shutterstock
This driveway has a line of colorful flowers beside its edge. This is a great way to make your home's exterior look more inviting. 
14. Off to the side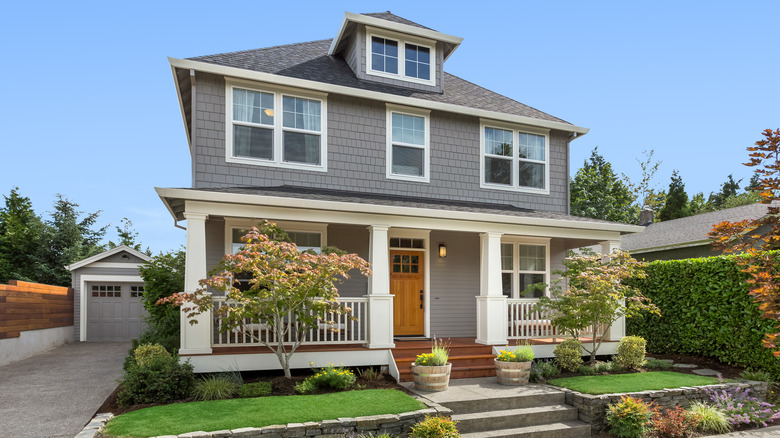 Breadmaker/Shutterstock
To really make the front of your home stand out, or if you have minimal space in your front yard, you could choose to install your driveway off to the side of your house. 
15. Curved driveway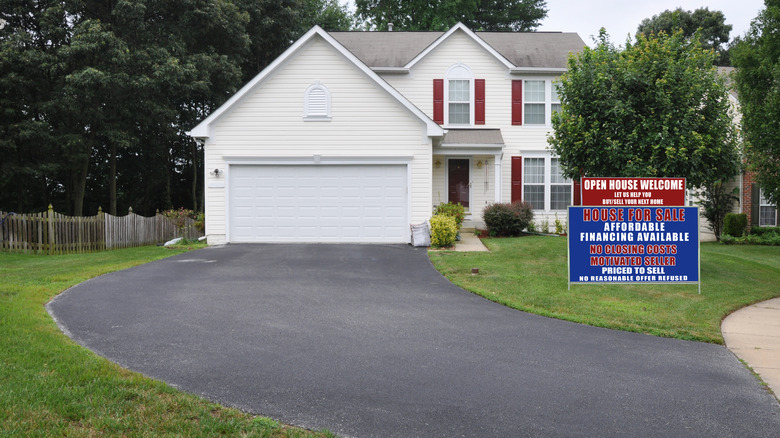 rSnapshotPhotos/Shutterstock
A curved driveway is ideal for homes that don't have their front doors facing the road. A curved layout can also make a house look less rigid and homier. 
16. Concrete with a stone trim
For a luxurious look, mix concrete slabs with warm stone edging. This driveway looks expensive and matches the home well. 
17. Two entryways
To improve the functionality of your driveway, choose a layout with two entrances. This driveway is curved, which makes entering and exiting the garage space easier. 
18. Lined with solar lights
To illuminate the exterior of your home, line your driveway with solar lights. This can significantly boost the appearance of your home when seen at night. 
19. Mixing stone and brick
Mixing two different elements can add lots of interesting texture to the exterior of your home. This house has both a stone and brick driveway. 
20. Stone paver driveway
Stone pavers, while they can be costly, would provide your home with a beautiful, earthy appearance. This home utilizes gray stone pavers that look stunning.