20 Ways To Implement Dark Paint Colors In Your Home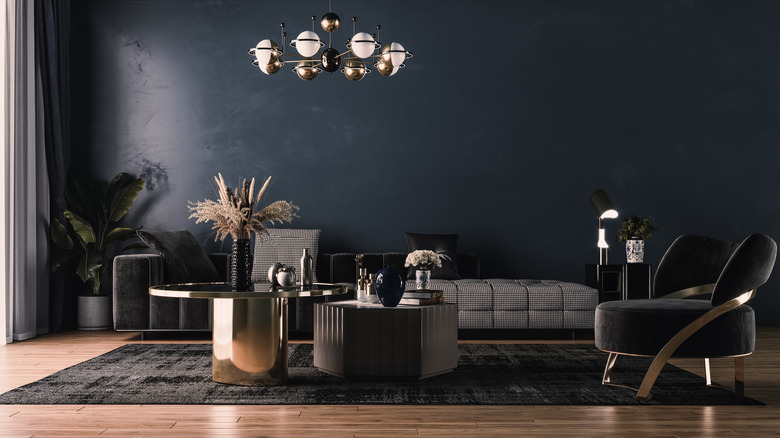 mixphotos/Shutterstock
Using dark colors in interior design can feel like you're breaking some unsaid design rules. After all, haven't you heard your whole life that dark shades can make a space feel smaller and more claustrophobic? However, deep tones have become quite popular in home décor today. They can easily create a more luxurious space by adding moody and sophisticated vibes.
When using dark colors in design, Seattle Times says that they can make a space feel cozier, more cohesive, and more dynamic. Deep shades will look great when they are used as foundational pieces of a room, such as on the walls or in the main furniture pieces. However, they also provide a warning: don't touch up a dark wall, as it will show. Instead, repaint the whole wall. If you're trying to decide how to incorporate dark paint colors into your home, below are 20 ideas to inspire you.
1. Redo the front door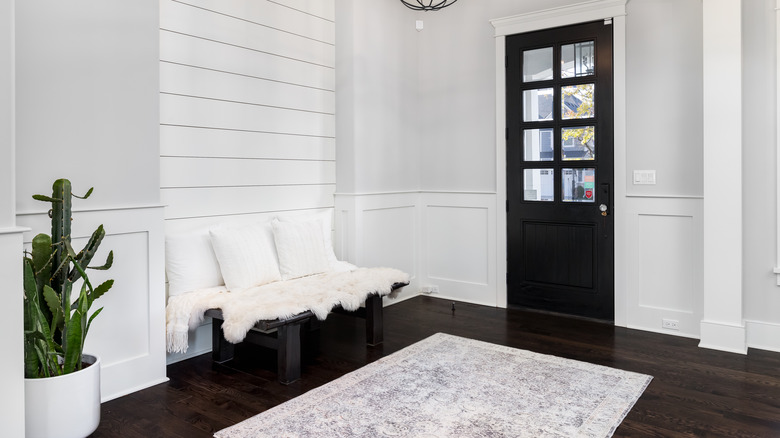 Hendrickson Photography/Shutterstock
Painting your front door a deep black will create an interesting dynamic in your space, especially if the rest of your home is light and airy. 
2. Paint your cabinetry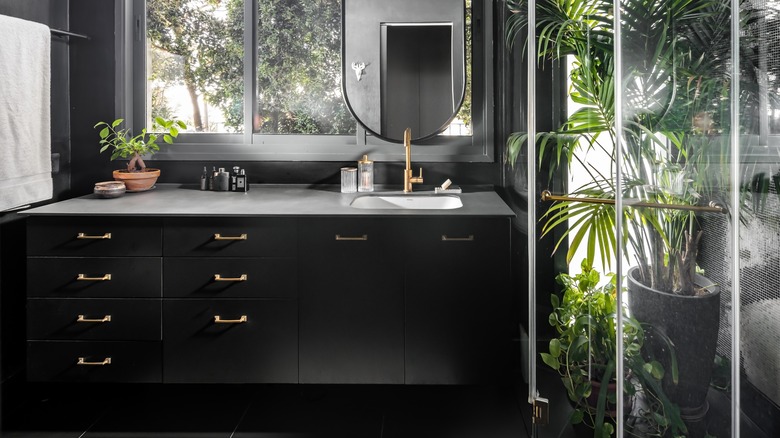 Shai.eps/Shutterstock
Dark cabinetry can create a chic appearance in a bathroom or kitchen space. To elevate it even further, add elegant gold hardware. 
3. Add an accent wall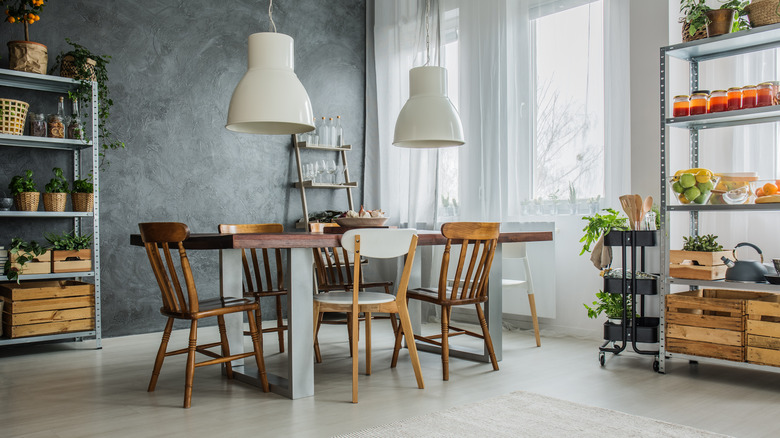 Photographee.eu/Shutterstock
An accent wall will provide dimension without feeling overwhelming. If the rest of your space is white, a medium gray wall will create a nice contrast. 
4. Decide on dark furniture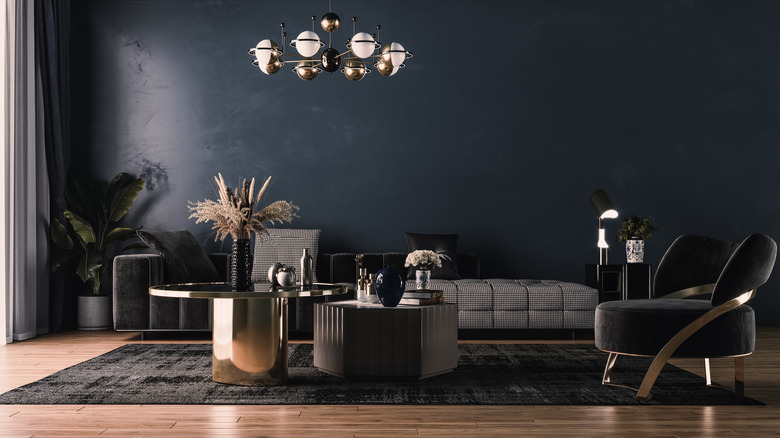 mixphotos/Shutterstock
Including dark furniture in a dark room can make it feel extra sophisticated. The key is adding lots of different textures and shades in the space, to keep it from looking one-dimensional. 
5. Give old furniture new life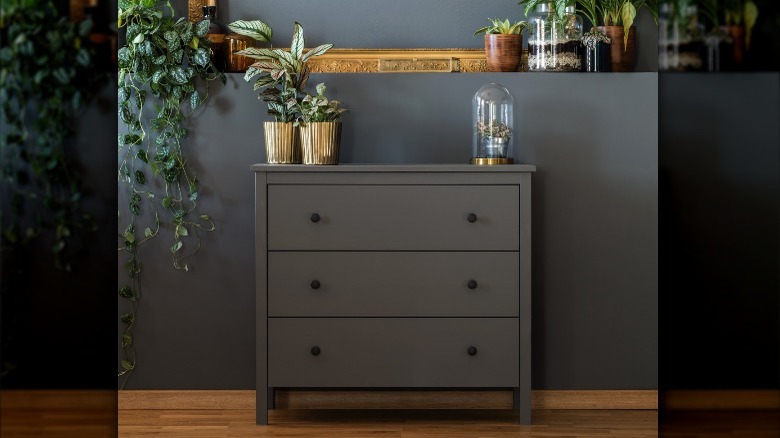 Photographee.eu/Shutterstock
If you have old furniture you're not in love with, you could paint it a deep tone to give it a new life. Dark furniture will look extra cohesive against a dark wall. 
6. Create contrast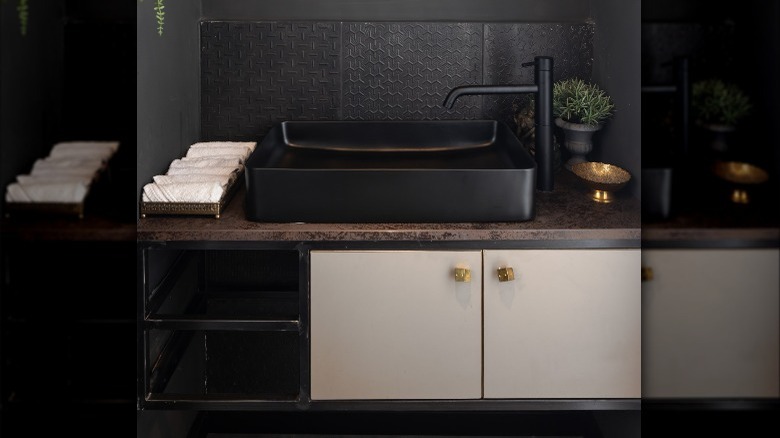 Shai.eps/Shutterstock
Creating contrast by mixing black and white will add interest to your space. This bathroom vanity is mostly black but also has white cabinet doors that really stand out. 
7. Embrace lots of natural light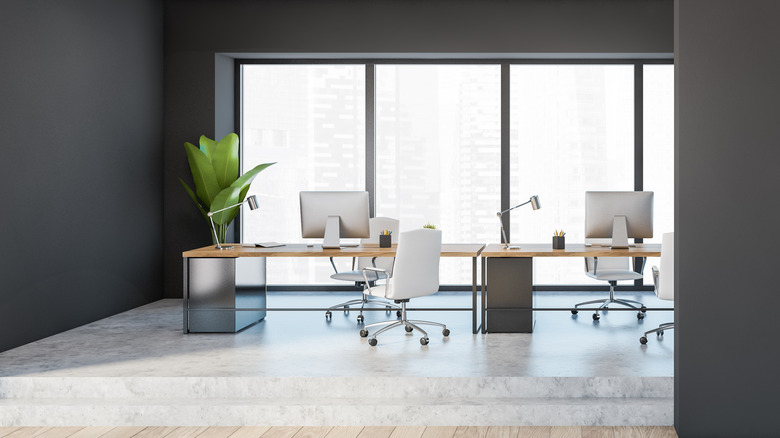 ImageFlow/Shutterstock
Since dark shades can make a home feel gloomy, embrace lots of natural light with large windows. 
8. Include ample lighting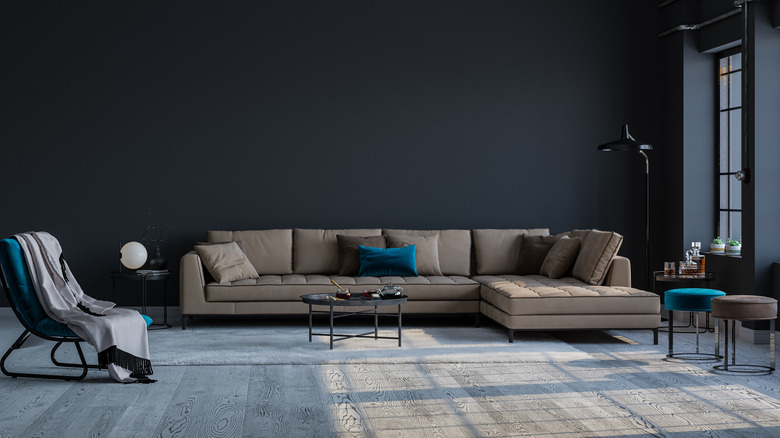 mixphotos/Shutterstock
If you don't have the luxury of large windows, you can still add light through floor and table lamps. Providing extra light in an inky room will keep it from feeling dingy. 
9. Make the base for open shelving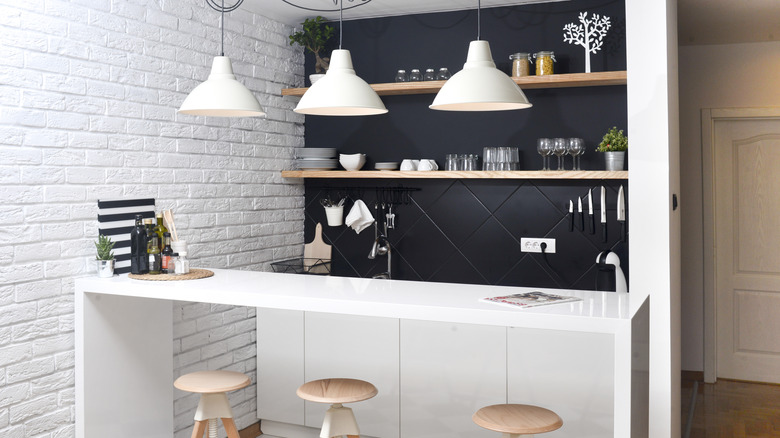 Marko Subotin/Shutterstock
A dark accent color behind open shelving can really enhance a space. This kitchen has lots of contrast and interesting textures. 
10. Pair with bright colors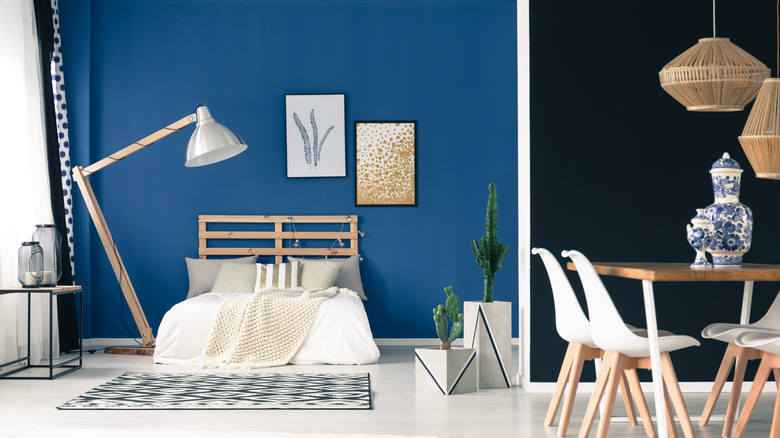 Photographee.eu/Shutterstock
Pairing black with a bright color, like a bright blue, will add a dynamic look and make the bolder shade pop. 
11. Use a matte finish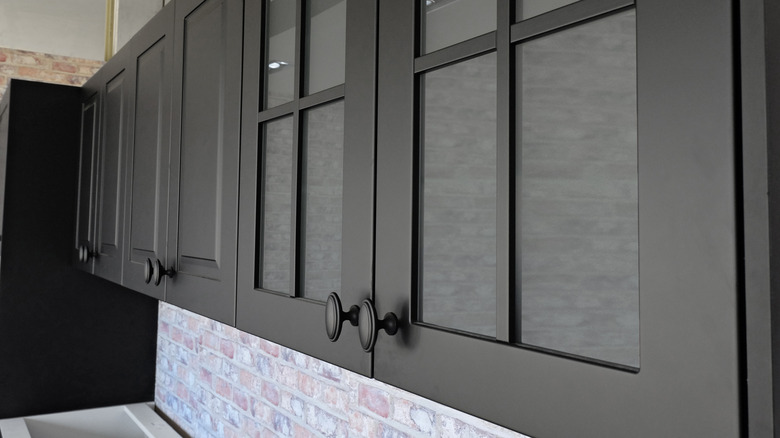 Papah-kah/Shutterstock
A matte finish creates a luxurious feel and gives a space extra character. This kitchen has matte black cabinets. 
12. Incorporate a dark ceiling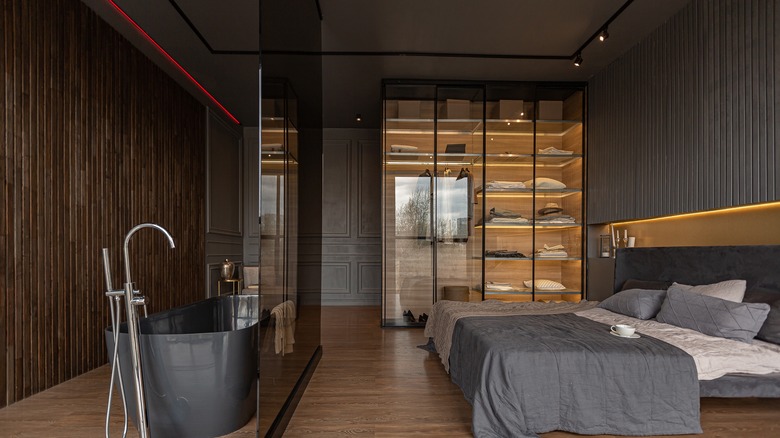 Pinkystock/Shutterstock
Incorporating a dark ceiling can seem like it would feel oppressive. In a small space, perhaps it would. But in a room with tall ceilings, a deep paint color can add extra interest. 
13. Keep it neutral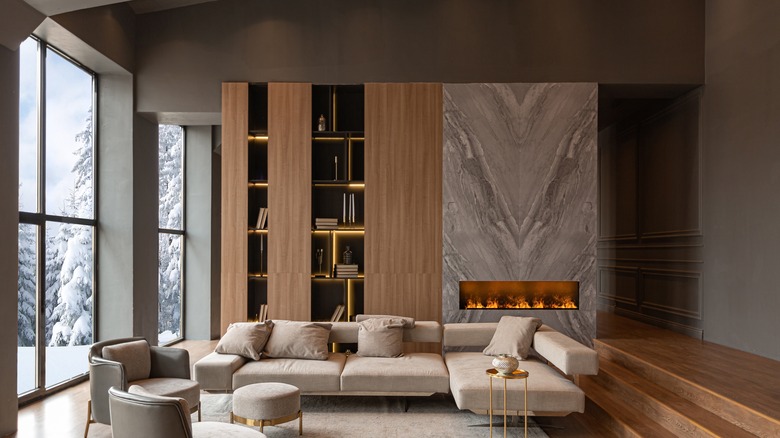 Pinkystock/Shutterstock
Keeping the furniture neutral can make a dark space look chic and sophisticated. This living room has light gray furniture and lots of wooden accents. 
14. Lean into color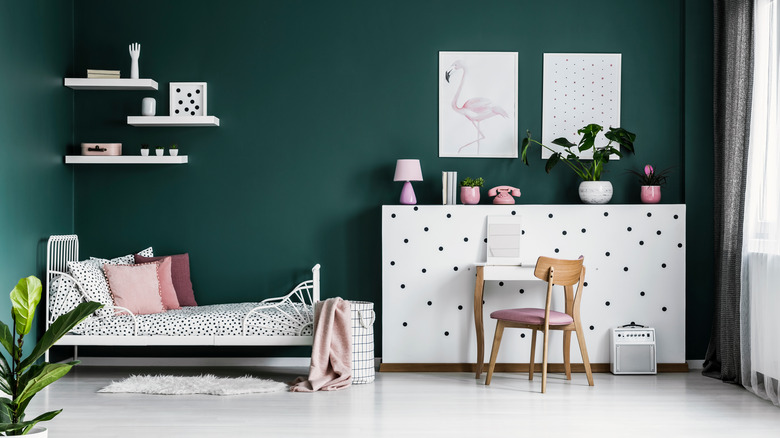 Photographee.eu/Shutterstock
Or, you could lean into color in your space. This children's bedroom has deep green walls and pops of delicate light pink. 
15. Focus on elegance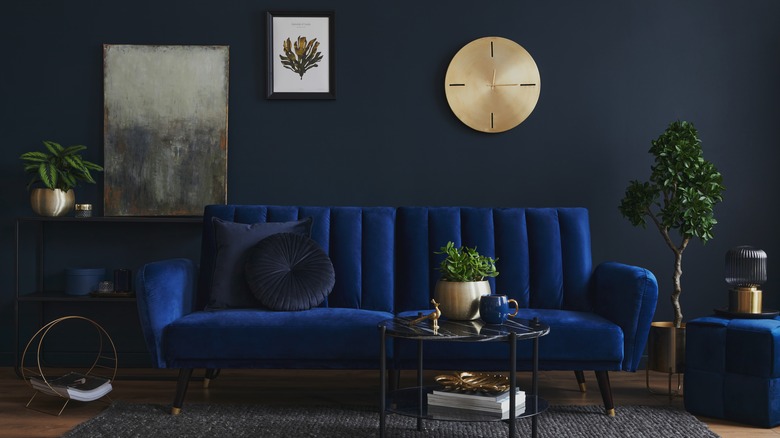 Followtheflow/Shutterstock
Add elegance to a dark wall by incorporating velvet furniture, gold accents, and purposeful design pieces in the space. 
16. Choose a smaller room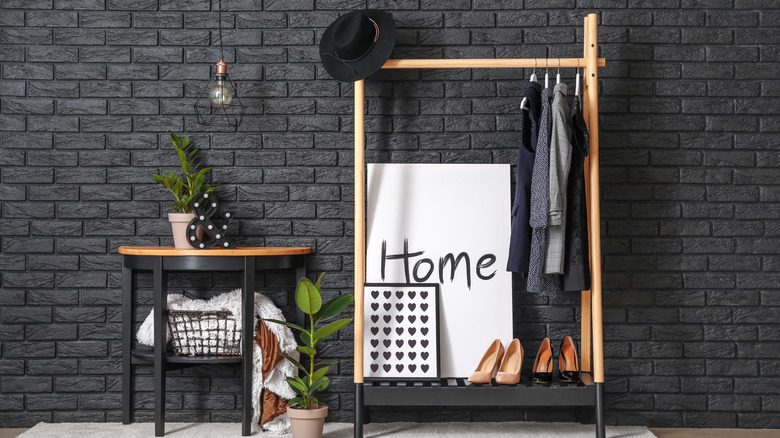 Pixel-Shot/Shutterstock
A smaller room, like an entryway or a bathroom, is the perfect place to play with deep wall colors. Because these spaces aren't supposed to be large, the tones won't feel overwhelming. 
17. Design a chic gallery wall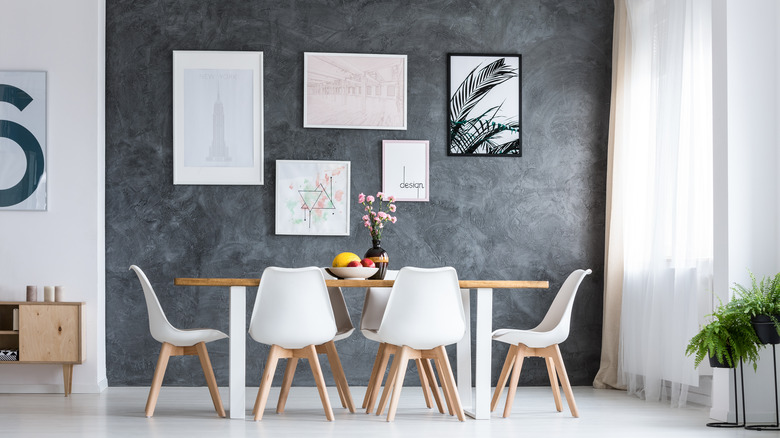 Photographee.eu/Shutterstock
A dark paint shade can create the perfect backdrop for a gallery wall. It will make your gallery pieces really stand out and look cohesive in the space. 
18. Draw attention to furniture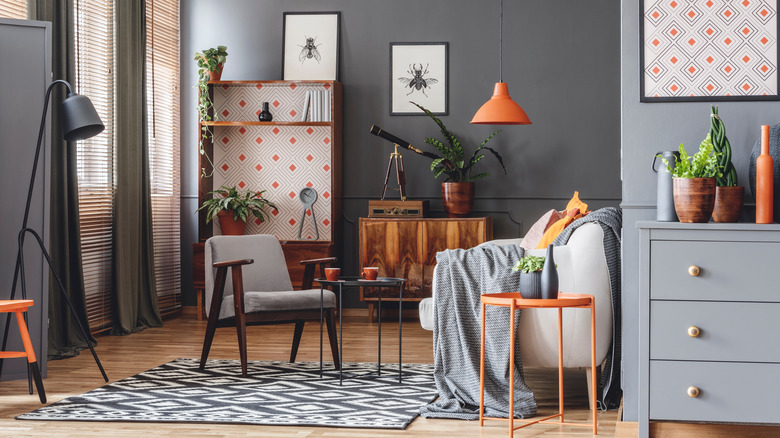 Photographee.eu/Shutterstock
The furniture you place against dark walls will really stand out because it will contrast with the wall color. Choosing furniture with bright elements can look extra interesting. 
19. Mix with lots of greenery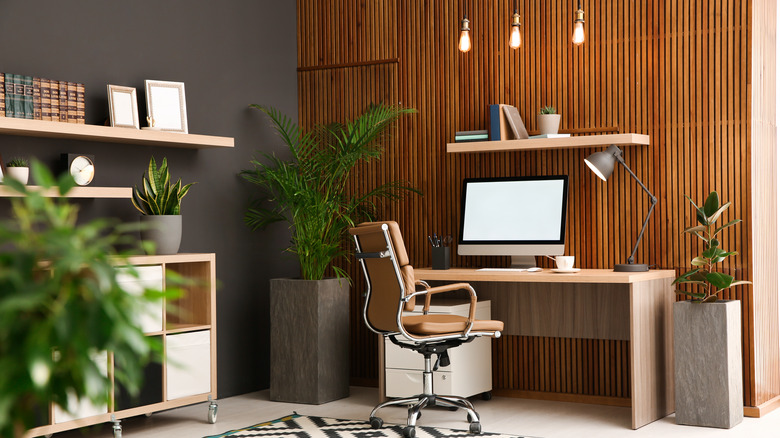 New Africa/Shutterstock
Greenery can liven up a dark room and make it appear more inviting. Similarly, adding wooden accents can provide the same homey vibe. 
20. Design a vintage-looking space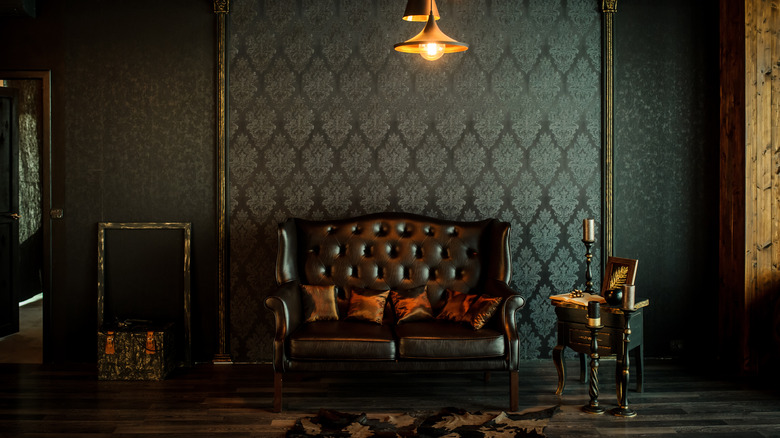 Med Photo Studio/Shutterstock
Deep tones are perfect for vintage-looking spaces. Adding dark leather furniture, wallpaper accents, and patterned elements will make your space look like it's from another time.