Carmine Sabatella Shares How To Maximize Your Home Reno Budget - Exclusive
It's no secret that some home improvement shows serve up as much fantasy as they do practical information. After all, it can feel really satisfying to watch an ugly, dated space being transformed into a show-stopping wonder without having to cover anything in tarps, cut a check, or make any difficult decisions. But as anyone who's tried it can attest, renovating your own home is much more fraught. You may have a sense that something needs adjusting, but have a hard time envisioning the exact changes you want. Or you may have a very clear idea in mind, only to discover it's way outside of your price range.
Interior designer Carmine Sabatella, co-host of HGTV's "Inside Out," sees this all the time. "Everyone seems to have a different concept of what pricing is going to be like," he explained. "I think a lot of that also has to do with the renovation shows ... that aren't all that realistic on a lot of different networks." 
On "Inside Out," Sabatella and his co-host, landscape designer Mike Pyle, work with clients on fixed budgets to help them get the most from their investment. In an exclusive interview, Sabatella shares home reno tips, including how to get a high-impact revamp on a limited budget.
Editing your choices makes for a better design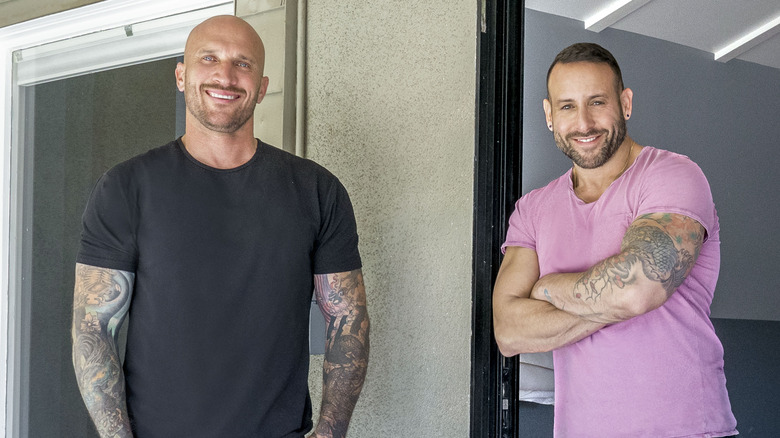 HGTV
Before undertaking big renovation projects, Carmine Sabatella said that many of his clients look for design inspiration online and start compiling ideas that appeal to them. He warns, however, that even if money were no object, it usually doesn't make aesthetic sense to cram a room with disparate design features, appealing as each of them may be individually. "A lot of clients will go on Pinterest, or they go on Insta, building all of these of creative boards, and ideas and concepts," he revealed. "They have a million ideas that they want to cram into one thing. Obviously, you can't do that. It'll look like a fun zone. We have to kind of reel them [in], and give them direction."
Sabatella cites a specific episode of "Inside Out" in which he and co-host Mike Pyle had to gently — but firmly — rein in the homeowners' design ambitions. "Getting them to understand that there was so much that they wanted to do in the new space — between the kitchen, the dining room, and the family room — I just had to kind of reel them in, and go, 'Okay. Let's focus on the big concept, and then build from there because there's just too much going on,'" he continued.
Choose a focal point for a big impact
It can be disappointing to discover that your dream kitchen — or bath or kitchen — is outside your budget. But by planning strategically, Carmine Sabatella explained you can still get a high-impact renovation without breaking the bank. "We would all like [to say] 'Look, I have $100,000 to just build their dream kitchen.' Right?" he shared. "That isn't the case for most of us. I would tell the client, "What do you want to pop? What is most important for you to stand out?"
Sabatella recommends choosing a feature — such as a backsplash, countertop, or kitchen cabinets — that you'd like to be the visual focal point for the room. "Once you pick the focal point, then you spend the money, splurge a little bit on that feature, and then you build from there and it kind of trickles down," he added. "I think that's for any room. That can be for the bathroom, that can be for the primary bedroom. Right? You pick one item that you really, really want to focus on. Your guests could come in and really admire, and see, and then you build down from there."
Season 2 of "Inside Out" airs Mondays at 8 p.m. ET/PT on HGTV.