Over 37% Of People Agree That This Is Their Favorite Kitchen Design Feature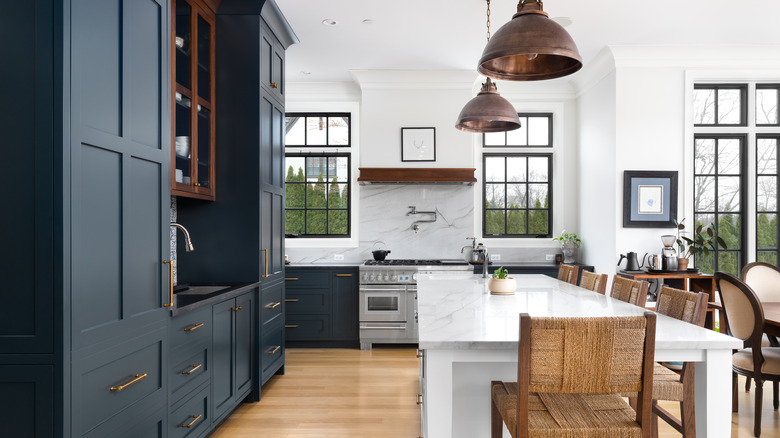 Hendrickson Photography/Shutterstock
When designing your kitchen, there are a number of things to consider. House Plans Helper says to begin by thinking about how you will use this room. How much countertop space do you need? Will you be entertaining guests? Then, choose the floor plan that best suits those needs. You'll also need to ponder where appliances will be placed, how you're going to incorporate enough storage space, and your lighting and electrical needs.
Once all these basic requirements are met, it's time to start choosing different materials and unique kitchen features. At this point, you may wonder what the most popular kitchen feature is. Luckily, House Digest surveyed 596 people to discover the answer to the following question: What's your absolute favorite kitchen design feature? Participants could choose from a number of options, including open shelving, a stovetop pot filler faucet, accent cabinets, quartz countertops, and subway tile backsplash. The results are in, and one feature was clearly the winner. 
The most popular feature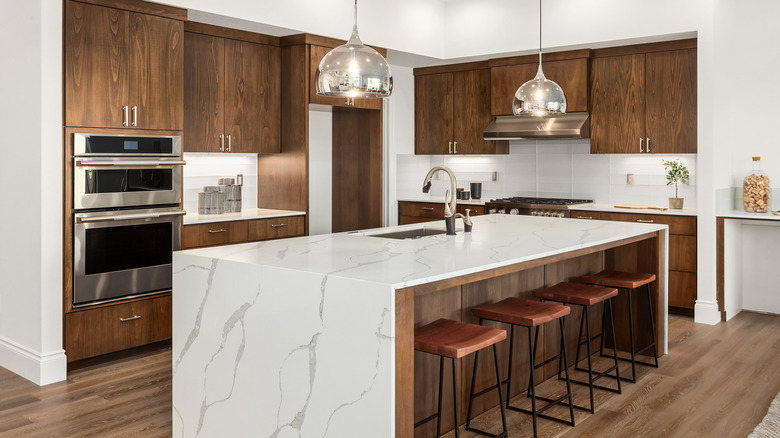 Breadmaker/Shutterstock
The most popular kitchen design feature is quartz countertops, which over 37% of participants (224 people) chose. CounterTop Guides says that these countertops give a very beautiful and luxurious appearance, which is probably the main reason for their popularity. Because these counters are manufactured, the color options are practically endless. Quartz is also very durable –- it typically doesn't chip or crack. And it's non-porous, meaning it won't stain and is easy to clean.
However, quartz countertops can be pretty expensive, even up to $200 per square foot of material. And quartz isn't as resistant to heat or as natural-looking as other materials. 21 Oak says that granite is much better at resisting heat. However, this material isn't as durable. Another beautiful option is marble, but this material is prone to staining and damage. Other options include concrete, laminate, and wood. Concrete is very expensive but doesn't damage easily, just like quartz. Laminate is less expensive but isn't durable. And while wood is beautiful, it's not very durable, either.
Other popular options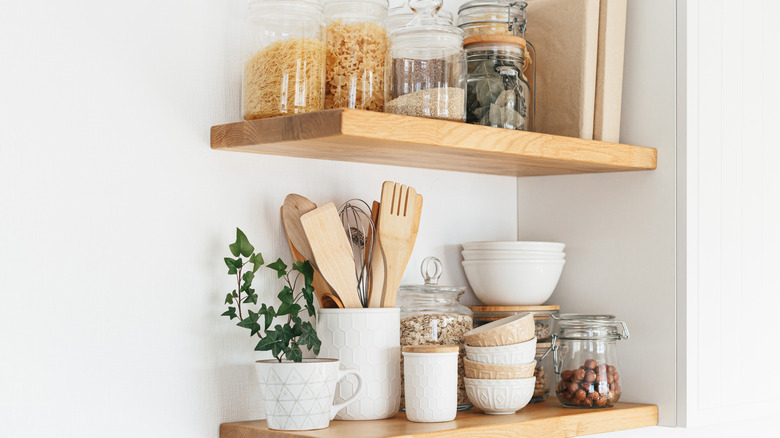 Switlana Sonyashna/Shutterstock
The next most popular design feature was accent cabinets. Over 24% of participants (146 people) chose this option. Twin Star Home says that accent cabinets are used to add extra storage to any area of the home. In the kitchen, they're typically used to hold extra dishware. These freestanding cabinets are meant to draw attention with unique designs. Some even have convenient places to store wine bottles.
After accent cabinets came open shelving, which over 14% of participants (86 people) chose. Open shelving is warm and inviting, per Kitchen Cabinet Refacing. These shelves allow for easy accessibility and make a great place to store beautiful dishware. They can also make a kitchen seem larger and provide more storage opportunities. However, it may be difficult to keep your shelves organized all the time. Both subway tile backsplash and a stovetop pot filler faucet tied for the least chosen options. Each had less than 12% of the votes.