Syd And Shea McGee Reveal Their Secrets For Outdoor Summer Living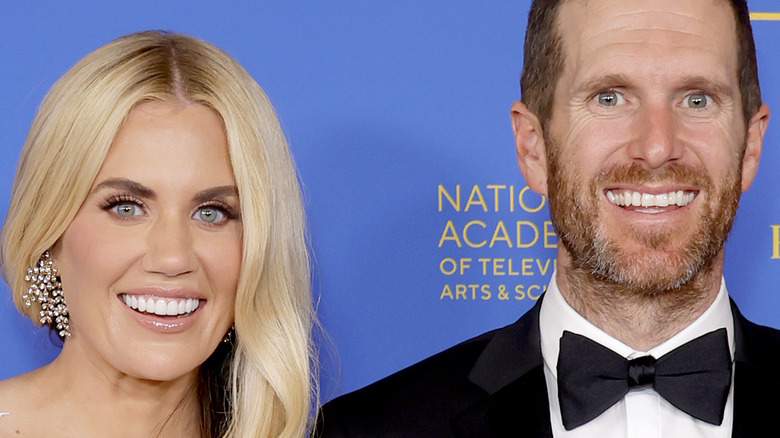 Frazer Harrison/Getty Images
Syd and Shea from Studio McGee are known for masterfully mixing styles to create unique spaces that feel classic and modern. But their vision doesn't stop inside the home. The couple's motto is to make life beautiful, which can be seen in how they embrace all areas of a residence. This summer, Syd and Shea McGee wanted to spend as much time as possible outdoors, which led them to create a space where they could dine al fresco. As you probably know, gorgeous views and intrigue of eating outdoors make meals eaten al fresco taste better, per Restuarant Engine.
But, of course, their outdoor space had to reflect the Studio McGee style. Not only did they make a space where they could eat and enjoy the outdoors, but they also designed a tablescape to make any outdoor meal comfortable and luxurious. The couple emphasized that the outdoor space could be used for a party with friends or a casual dinner with the family, and it's about highlighting the natural beauty of the area for any gathering.
Dine al fresco
A space where you can enjoy the outdoors with your loved ones by your side was a top priority for Syd and Shea McGee. Their al fresco dining space used light textiles and woven textures to create a summery feel. Start by choosing a zone for your dining area, and dedicate a space on your patio or deck for outdoor dining. Or take some inspiration from the McGees and place the dining area in your yard.
The base of this dining site should be the dining set. Choosing the dining set can influence the style of the space. The McGees love interesting textures and natural materials, so woods, wicker, and rattan are all great options. When it comes to outdoor wood furniture, teak is one of the better choices because it's naturally resistant to insects, rot, and mold, according to PatioLiving. Both wicker and rattan offer woven textures that Shea McGee loves, but they can be susceptible to rot when left to the elements. Use patio furniture covers or take the furniture inside to protect the pieces.
Create a stylish tablescape
Make your outdoor table feel comfortable and beautiful by creating a stylish tablescape. A tablescape refers to the centerpiece, place settings, and decorations on your table. The décor is meant to elevate the dining and entertaining experience, says Nina Hendrick. Some basic items you can incorporate into your tablescape include dishes, glasses, and flatware. Napkins, tablecloths, and runners take care of the linens. Use décor like candlesticks and candles as well as flowers and greenery. Be sure to keep in mind how many guests you'll have to ensure you have room for the dishes and glasses. If you don't want to move all the décor, you can use a dining room sideboard or kitchen counter to serve the food.
Studio McGee advises mixing up the material, pattern, and scale of the items to create a playful and lively tablescape. Shea McGee says brass finishes for flatware feel thoughtful and chic. You can think of decorating a tablescape by layering. On a clean table, add a runner or tablecloth. Create a centerpiece with florals and greenery using candles as an accent. Then set the table as you typically would with plates, glasses, flatware, and wine glasses.