Which Furniture Store Gets The Most Foot Traffic?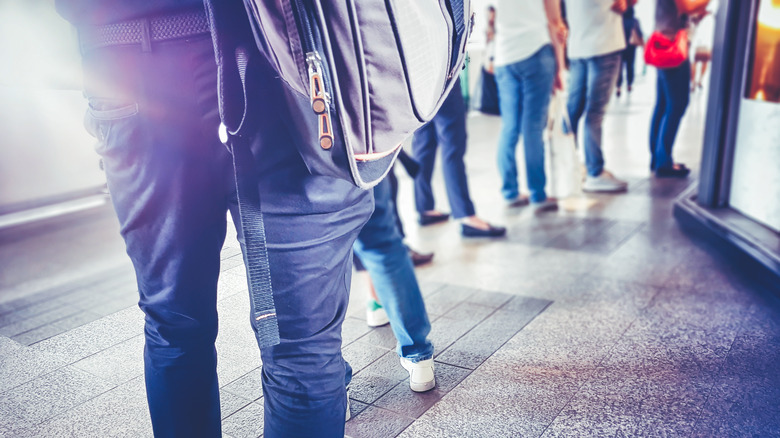 ilovephoto_KA/Shutterstock
When deciding on a new bedframe, dining room set, or living room furniture do you feel the need to take a look at it in person? Or are you comfortable ordering your furniture online? Well, for big furniture retailers who have put in the extra dough for a brick-and-mortar store, they will do almost anything to get your feet through their doors. From well-planned marketing strategies to deep discounts offered, chances are if they get you in-store, you'll buy more. To that end, one way for a retail store to measure its success is to monitor the amount of foot traffic it gets; this is the number of customers the business can entice to shop in-person, in turn exposing them to their full retail experience.
Calculating foot traffic can be an important tool for businesses to justify the need for a physical store in the area, monitor the ebb and flow of seasonal shopping, and also see if certain promotions are actually bringing in more customers, according to Shopify. Additionally, major home improvement retailers like Home Depot increase foot traffic to their locations by catering to DIY enthusiasts as well as home building professionals with special offers and free memberships. However, in the world of major retail furniture stores such as Ashley Furniture, Crate & Barrel, West Elm, Pottery Barn, and IKEA, how are they able to boost foot traffic? And who gets the most for their efforts? Let's find out.
One store soars above the competition
When businesses are looking to increase foot traffic, some strategies are to offer excellent customer service and easy access to items and check-outs — but more importantly, they also have a shopping experience unmatched by their competitors. According to the Harvard Business Review, if a company is looking to step out from the crowd, then it needs a draw that will not only bring customers through the door but also keep them there in order to boost their browsing time. The longer someone is in the store looking around, then the chances are better that they will purchase more items.
When looking at the data collected by SafeGraph about the flow of foot traffic into the top furniture stores, it may come as no surprise that IKEA climbs way above the competition. For one, as far as a complete shopping experience, IKEA seems to have created its own niche (via CNBC). With multiple levels, each section is designed using all of its sellable products, low prices, and plenty of stock, as well as a complete dining option — more reasons to show up than looking at simple furniture displays. Data listed in the graph above speaks volumes as to how this type of customer-grabbing marketing and unique store setup is getting buyers through the door and keeping them there.