The Best Riding Lawn Mower To Cut Your Grass With Ease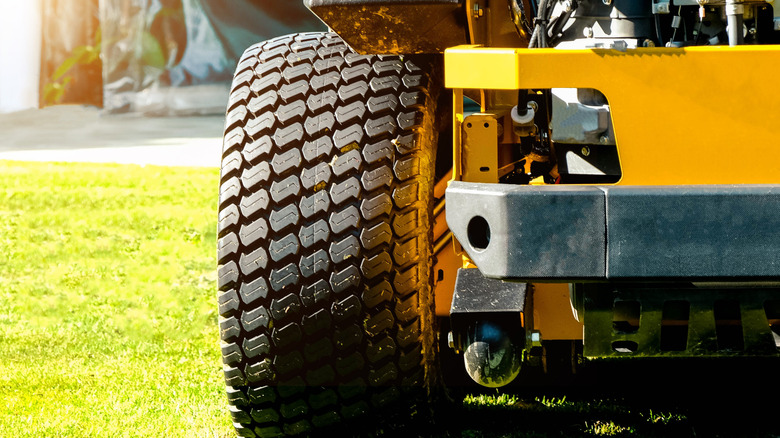 HSTUDIO99/Shutterstock
A lawn mower is perhaps one of the most expensive, yet extremely useful, purchases that you can make for your garden. If you're a homeowner, chances are you have one in your shed somewhere. On the other hand, you may pay for a company or small business to do your yard work. Either way, lawn mowers are needed to keep your grass maintained. Mowing the lawn can become a demanding task and can take up a substantial amount of time depending on a number of factors — the length and size of the yard as well as the exact type and brand of the lawn mower. 
Having your own lawn mower can save you money over paying for somebody to do the job for you, according to WC Tractor. But with so many brands and options, how is one to choose? Well, this also depends on many factors.
Prior to buying your new yard equipment, you need to decide if you want something that will simply cut the grass and nothing more, or if you need one with more features. Some modern lawn mowers come with a hitch where you can attach a trailer or a cart to haul other equipment and tools on your property. If you're thinking of upgrading your existing model, or are buying a mower for the first time, here are two of the best riding lawn mowers to help you to cut your grass with ease.
The best all around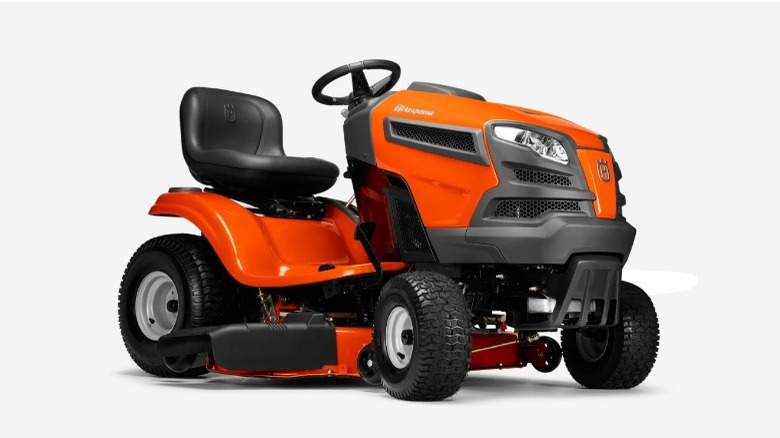 Husqvarna
One of the best lawn mowers you can get is the Husqvarna's YTH18542. While it's pricey at about $2,500, for this price, you get what you pay for and more. Among its many features, it boasts air induction, a pedal-operated hydrostatic transmission, a cast-iron front axle, a reinforced and powder-coated cutting deck, and an adjustable seat that slides. Additionally, it also comes with an optional use collector accessory. The cutting width has a span of 42 inches and a reverse speed of 2.5 miles per hour.
If you need additional equipment to what is provided, you're also in luck. This lawn mower is able to operate other accessories including a snow thrower, both triple and double bagger fits, mulch kit fits and plates, a tractor lift, and a poly swivel dump cart, amongst several others. Aside from the impressive features, both equipped and optional, the reviews are up to par as well. Out of five stars, this lawn mower has an average rating of 4.1. It has been reviewed over 800 times with 78% of reviewers recommending this design. If this price is a bit out of your range and budget, this particular lawn mower is eligible for Husqvarna's financing services.
A secondary option
If you're not into Husqvarna's lawn mowers or just want a second option, you could also consider the John Deere S120 model, available at Home Depot stores. Of course, like most name-brand lawn mowers, this one too is a bit pricey and comes in at about $2700. It houses a 42-inch cutting deck, perfect for those with small-sized yards. Unlike many other models, this model comes with an easily-readable, digital gas gauge, so you don't have to worry about estimating. It also comes with a 30-second oil change system, and this particular model comes with a cruise control setting, so you can let the lawn mower do all the work for you.
Other important accessories included are a 22-hp engine and a hydrostatic transmission. However, if you're needing more than just your average lawn mower, there are separate accessories you can buy as well including a poly utility cart and an aerator spreader. Overall, this machine has a four-star rating (with more than half of all reviews being five stars,) and Home Depot also includes a two-year or 120-hour warranty with your purchase.