The Best Sheet Colors If You Have A White Duvet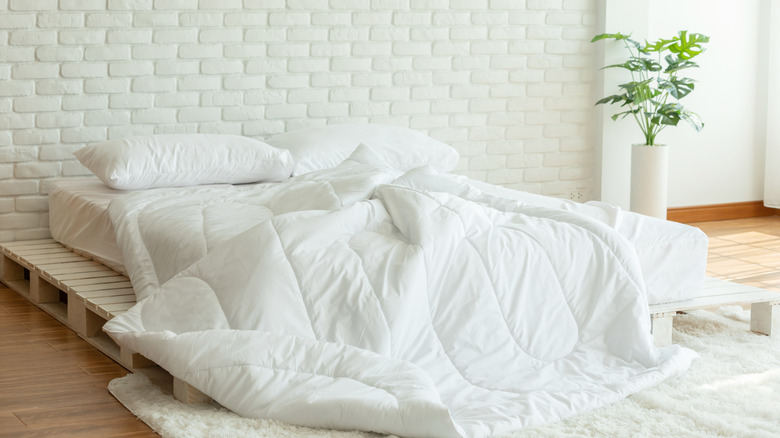 220 Selfmade studio/Shutterstock
One of the easiest ways to add a simplistic, elegant touch to your bedroom is by using a white duvet cover. White is ideal for creating a minimalistic atmosphere while leaving space for creativity and personality. According to Vision Linens, this non-color is incredibly versatile, making it a popular choice for hotel décor, as well as homeowners seeking sophistication. In addition, including white bedding to an existing theme or décor is one of the simplest ways to update the space, bringing a fresh aesthetic without an entire color scheme overhaul.
White can be cheerful, elegant, simple, and timeless, giving anyone who uses it in their bedroom the option for accents and colorful additions. When it comes to using a white duvet, the sheet selection can range across a variety of hues and shades. Deciding on the best complimentary linens for your comforter can come down to personal preference or designer suggestions. Certain colors match better with white than others, and you can peruse the options below before committing, so you're happy with the final decision.
The ideal match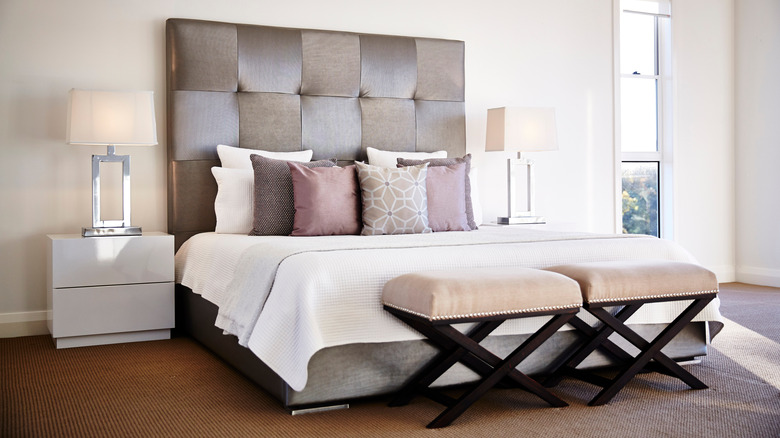 PhotoMavenStock/Shutterstock
Your ideal match for a white duvet is taupe bedding because it creates a neutral palette that still allows the white to pop without becoming overpowering. While using white bedsheets is a standard practice in hotels, sometimes this can create a lack of depth, and for personal space, depth is necessary. In addition, you want your bedroom to have layers, creating a friendly, inviting atmosphere.
Taupe is elegant but also understated, leaving you with endless possibilities for further décor and accents. Choosing this option will allow for pops of color and louder tones to be incorporated or for you to keep a neutral theme that still comes across as comfortable.
Taupe is associated with earthy, stable feelings and emotions, making it a dependable, comforting color. According to Caryn Design Studio, this tone helps people feel grounded. In addition, it is a combination of grey and brown, bringing a connection between the natural world around those who incorporate this shade into their homes.
More options to try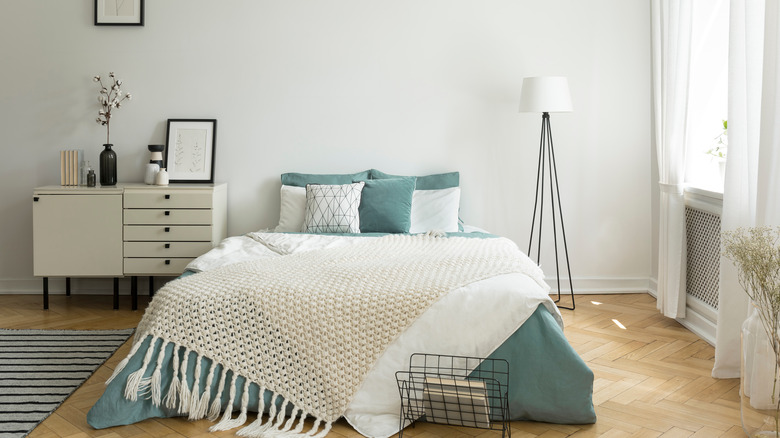 Photographee.eu/Shutterstock
While taupe may be one of the best choices for your white duvet, it isn't the only one. Several other hues can compliment a strong white set, including sage or moss greens, dusty rose, and pastels. In addition, using lighter, gentle-toned sheets will give your bedding a pop of color without drawing too much attention to those alone. Depending on the palette you plan to go with, each of these allows for a fun and engaging accent or décor backdrop that can pull different shades of that theme throughout the room to match.
When it comes to picking a color for your sheets, think about everything from your paint choices to the curtains and furniture. Essenza Home notes that a white duvet can pop even more with sheets that feature greens, browns, or pinks of a subdued nature. Everything still flows, but the attention can be drawn to the crispness of the comforter, allowing for more combinations of colors and patterns in the bedroom. Explore your favorite tones before settling on one, and pull inspiration from existing décor to save money on an overhaul.