Are The Least Expensive Nursery Furniture Sets At Target Worth Buying?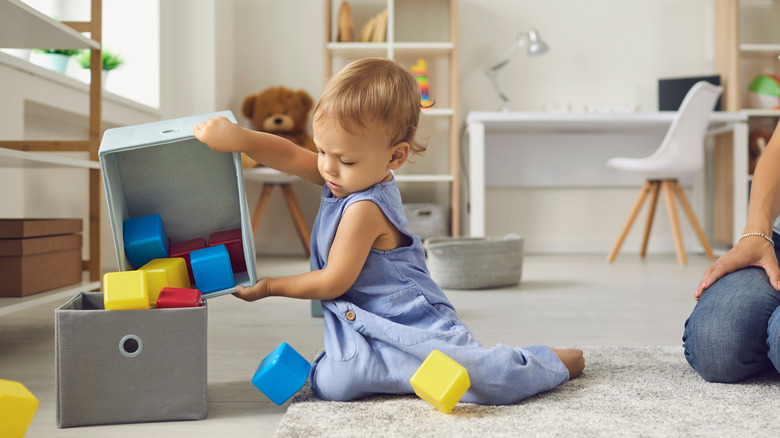 Studio Romantic/Shutterstock
Whether you are expecting, adopting, or just planning ahead, finding the right furniture sets for your home nursery is a crucial step to take before you welcome a new family member into your home. You may feel the urge to scour furniture stores like West Elm, Rooms To Go, and Ashley Furniture for the right nursery items for you and your little one. But before you let your scouring begin, you might consider your local Target store for some stylish, safe, and affordable nursery set options that could be worth buying.
Target can be a one-stop shop for expecting parents looking to avoid high-end retail prices, offering everything from infant clothes and diapers to a variety of car seats and strollers. Let's take a closer look at some of the least expensive nursery sets at Target — they may be the perfect fit for you and your growing family and save you a few dollars on the way.
Graco princess collection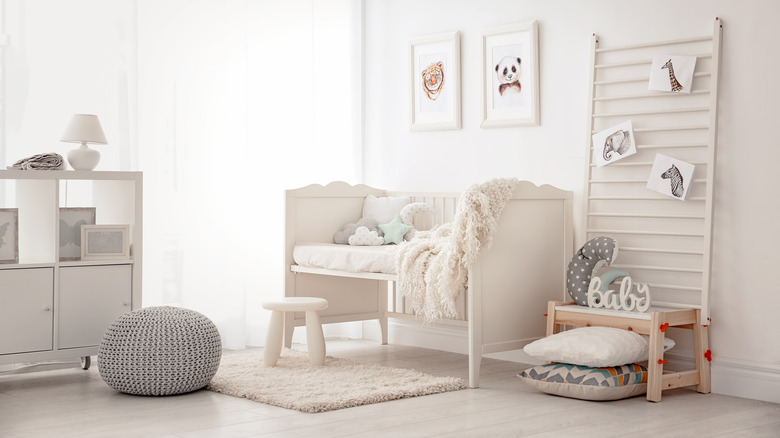 Africa Studio/Shutterstock
One of Target's least expensive nursery furniture collection sets is the Graco Princess Collection. As seen from its images, this furniture set can easily illuminate your nursery with an adorable elegance that your little one is sure to love. Each piece of furniture boasts beautiful designs with a soft white finish. Beyond its beauty, this furniture set will also provide your nursery with plenty of storage space and pieces that last even as your child grows. Because the Gracio Princess Collection includes a convertible crib, you can transform the crib into a toddler bed or even a full-sized bed when your child is ready.
According to Target, the price of the items within the Graco Princess Collection range between $89.99 and $179.00. While you'll still have to spend some cash, these items are more affordable than most, considering the average consumer pays between $150 and $800 for a new crib (via How Much Is It). The items included in this collection are a convertible crib, a six-drawer dresser, a changing table, and a glider with an ottoman, which is nearly everything you need for your home nursery. With the cute design and modest prices, we say this set is worth it.
Storkcraft nestling nursery furniture collection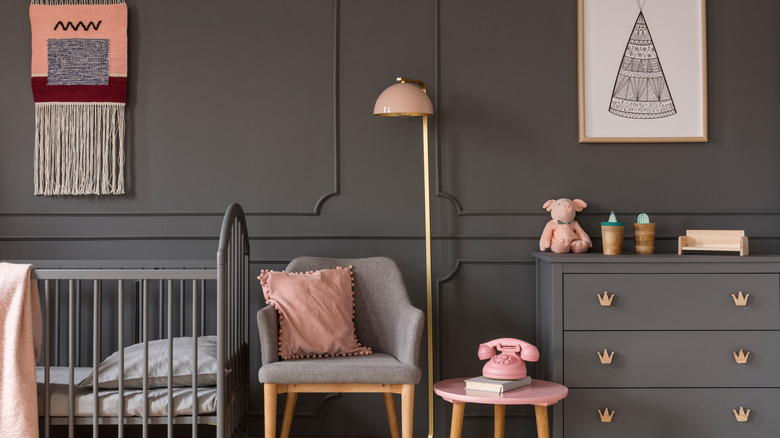 Photographee.eu/Shutterstock
Another relatively affordable nursery furniture collection Target offers is the Storkcraft Nestling Nursery Furniture Collection. Unlike the Graco Princess Collection, this set takes on a darker appearance that is perfect for bringing a simple and modern look to your nursery. Beyond the simplistic look, the set boasts plenty of storage opportunities and pieces that will transform as your child grows. For example, the Storkcraft Nestling Nursery Furniture Collection offers a convertible crib that can transform into both a toddler and a full-sized bed that can easily accommodate your child as they grow.
Boasting slightly higher prices, the items within the Storkcraft Nestling Nursery Furniture Collection cost between $89.99 and $279.99. When you purchase the entire collection, however, you can ensure that you will get everything your nursery needs and more. The collection includes a convertible crib, a six-drawer dresser, a drawer chest, and a glider with an ottoman. The sleek and versatile design make this set worth considering.