Jonathan Rachman Talks Decorating And His New Book - Exclusive Interview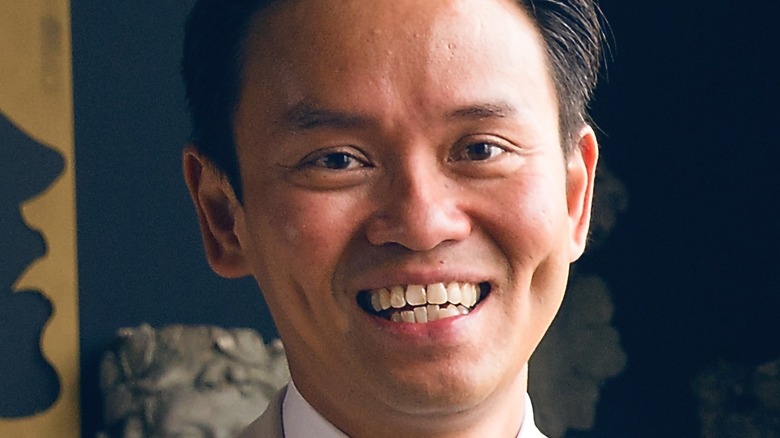 Flammarion
We may receive a commission on purchases made from links.
The spaces created by San Franciscan designer Jonathan Rachman seem to have come to the surface intact, with a degree of detail, an interplay of intriguing elements, and an individuality that makes them difficult to label and locate. His designs veer from one to the next: colorful, plush, formal, calm, moody, luxurious. 20 years after beginning his business, Rachman is sharing a compendium of his work and life in the soon-to-be released "Currently Classic: Jonathan Rachman Design." Co-authored by interiors and fashion journalist Dean Rhys-Morgan, the book showcases selections from Rachman's portfolio and his appreciation of the unique and beautifully-crafted. 
We talked with Rachman about his signature style, which is more an embrace of certain concepts and a negation of others he views as staid or mimicry. If we were to assign it a name it would be called maximalism — a jubilant mixture of antiques, modern pieces, textures, and layered accessories. Yet, true to form, he doesn't always play it the same — there is also tranquility. 
Born in Indonesia and later residing in Europe and the U.S., Rachman's aesthetic is informed and evolved through distinctive climates and cultural experiences. What developed was an education and a look that can only belong to him. Learn more about Rachman's coveted interior designs, what inspires him, and how to translate his ideas for your own homes in this exclusive House Digest interview. 
What classic means to Jonathan Rachman
You've been working on "Currently Classic: Jonathan Rachman Design" for the last two years, but you must have been compiling images, projects, and thoughts for much longer. Have you been wanting to create a book of your work for a while?
Jonathan Rachman: I wanted to have good records of my portfolio, originally simply to have them and to show potential future clients ... what I have done. Later, magazine editors requested the images and published them. Honestly, I never had any plan to have a design book. "Currently Classic," my first monograph, happened like my other unplanned life. I met my co-author Dean Rhys-Morgan because of his previous book on Jeremiah Goodman, and we instantly connected on various levels: our admirations of the design and art world (especially fashion and interior), our love of everything old school, and our sense of humor. He suggested the idea and introduced me to our publisher Flammarion in Paris and I made the trip and met the director — Suzanne Isoré — and the rest is history.
What is your definition of classic? You've said "Old school is always cool." How do we ensure that we do classic in a current, cool way?
Rachman: Classic to me is timeless, something beautiful and gorgeous that stands the test of time: a Greek key pattern in a hallway marble floor ... a lattice work in a sunroom ... handprinted chinoiserie wallpaper, for example ... they have been there since the last few centuries, yet here we are in 2022 and they are still as beautiful as the day they were installed. I hope to do the same with my work; while I have only been a designer for 20 years, what I have designed in my early career is still current now and [it] will be in many decades to come.
I always recommend to do the classic way that is livable, approachable, and inviting: There is no need for a classic design to be stuffy and standoffish, nor should it be a trend. No one wants to live in a museum or a theater; do what feels right for you and your space, apply the classic elements [so] that's not contrived or pretentious. You can do this by applying your classic design elements in a practical way: using a pattern that's classic on your window treatment trim or as I mentioned before, floor pattern — make it cohesive and seamless. Always think about the overall result and look. Do it from the heart, be sincere vs. wanting to be trendy or hip and it will show as such.
The designer thinks we'll see more of this style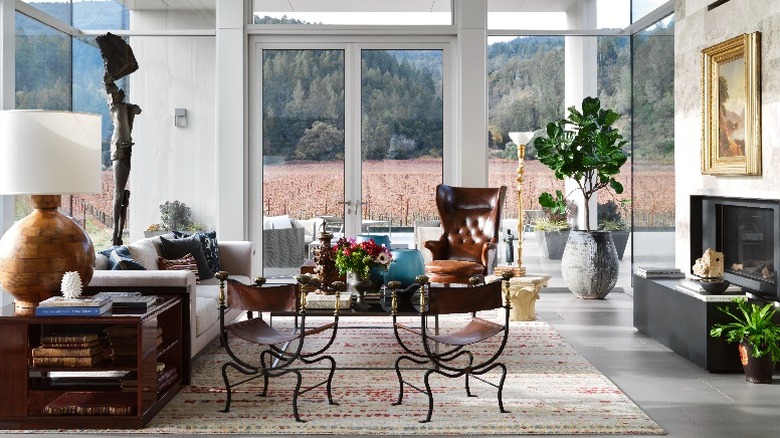 Flammarion
What are we most looking for from our spaces now? Is there a trend you think we'll be seeing more of?
Rachman: I have always said I don't follow trend and I am not trendy, so I am the wrong person to ask about trend ... However, if what you mean by trend is what design elements or style do I expect to see more or hope to see more, it is easy for me to answer that: for spaces to be more personal, to have a soul, to represent the owner of the house — not the trend nor the designer. That is how I work with my clients, to make their spaces theirs, and that does not look like a certain showroom. I can't stand going to a house and instantly it reminds me of a generic showroom look and this house looks almost the same of the rest of their friends ... I expect to see the classics and the maximalist to not only stay but back with a vengeance — where a space truly represents the owner of the house, using antiques or heirlooms that are meaningful to the owner, combined with practical yet beautiful pieces they have collected along the way ... to create a space that's inviting, warm, and livable with a soul.
The evolution of Jonathan Rachman's style
You were born in Sumatra and have said your design is heavily influenced by that. From your home base of San Francisco, what's impressing itself into your design aesthetic?
Rachman: Sumatra is part of a vast country called Indonesia (with almost 18,000 islands). What I learned from where I was born in design was that houses were not designed to be cool, but to design the house according to its climate, geography, culture, and the needs of the household. It also taught me the hierarchy of a house (from the formal areas to the more casual ones), as well as the use of patterns on patterns and combining rich bold colors with confidence.
What San Francisco has taught me is the opposite: Houses that [are] livable without any formality, an entire house that's super casual. I also learned how some San Franciscans are allergic to bright, bold colors as well as patterns; they love neutral and calm palettes.
The fact that I was born in Indonesia but have been educated and have lived in Switzerland, France, and the U.S. has taught me how to be hospitable and to be personal with various people from various parts of the world. My two worlds always collide but harmoniously: the east and the west, the bold and bright vs. the neutral and calm. How this translates into my design aesthetics is I have mastered [how] to combine or to select what's appropriate for each project. When more is truly more, more is less, less is more — or when more is never enough. I know when to use the patterns over patterns with daring colors or when to pull back, edit, and to calm a space.
Jonathan Rachman's design rules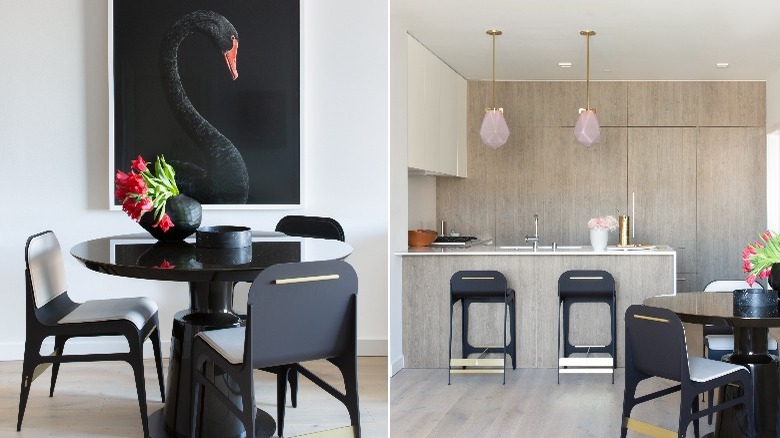 Flammarion
You stated that you didn't have a formal design education, hence you don't worry about breaking rules. With the benefit of your experience, are there rules you revel in breaking? Any that you won't break?
Rachman: Remember, I still don't know the rules, so what rules am I breaking? I may not have the answers ... but from my experience and what I have learned simply by conversing or reading with people in my industry: Apparently I break the scales rule. I love putting larger scale items in smaller spaces as I believe they cheat the eyes. Designers or people generally put smaller furniture in smaller spaces; I do just the opposite as it gives the space a bigger illusion. I also learned about how I like to break the modernism rule. I never really designed anything in a pure modern sense — ultra modern, modern architecture with modern materials and furnishing, the all modern design. Instead, I love combining the old and the new, the antique and the modern. For me it is one of the most beautiful juxtapositions in design.
Rules I will never break: When it comes to technicality in architecture and structural engineering, for me It is a matter of safety and security. I rely on the expert to make the recommendations and at times decisions.
One of the biggest mistakes people make in decorating is playing it too safe. Can you give us some suggestions for allowing our choices to be a bit riskier?
Rachman: Part of the reason why people are playing it safe in decorating is to copy other people's design and style. Think about interior design as you would in fashion: Don't copy, instead create your own style. To try to be someone else in life is not only unbecoming, it is boring and almost impossible. Be daring in experimenting on being and creating your own style — try that new pair of shoes with the outfit you always wore with the same shoes over and over again, or new jewelry with the vintage dress you put on. The same can be said with your interiors: Mix it up, try using antique chairs with your modern table, try to wallpaper your entire room and ceiling, do something outrageous. No one is dying, it is not rocket science — it's decorating your living spaces. If you don't like it, you can always redo or try something else ... but for heaven's sake, be you!
Jonathan Rachman shares what makes a house feel like home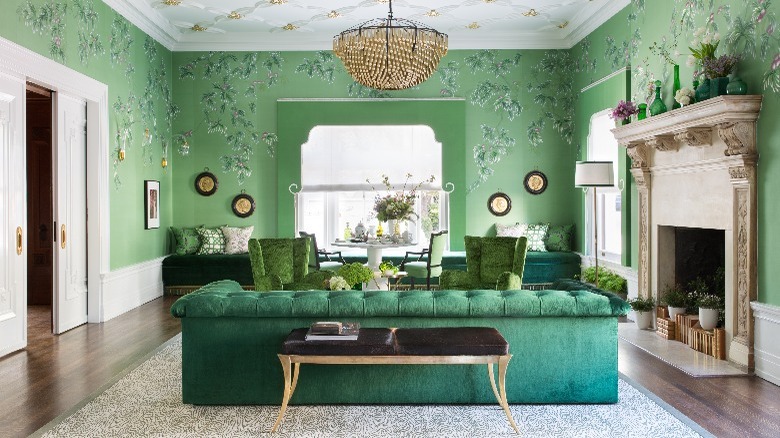 Flammarion
Is there a color or style you can't tolerate?
Rachman: Nope! I love all colors the way I love all flowers (I was a florist and still am). Like in the flower design business, [the] carnation gets a bad rep — and I used to looked down at [the] carnation but later found how pretty it is ... But how you use a carnation matters — the when, where, who, what, and why matter. The same with colors: There is place, time, occasions, and reasons why one would use an acid pink or skin tone on a wall. It is all about the application.
Are there elements, pieces, or objects you believe are underrated in design? Are there things you feel we should pay more or less attention to?
Rachman: I have learned and heard that antiques and family heirloom pieces have been seen as the dated or old elements by the younger generations. I find them romantic, beautiful, and meaningful. I believe we should honor them and incorporate them to your living spaces strategically. Not only [do they] add to the layer of your space, they also add to the story and romance of a space.
From a design perspective, what makes a house a home?
Rachman: The soul of the owner. What I mean by this is the passion of the owner and how he or she or they decorate and design a home. When you design with a heart and passion, it will show. When you simply design and decorate simply for the sake of decorating it so it looks 'designed' and to show off — it will fell cold and flat. A home should have a soul, a story, a romance and ... be lived in ... otherwise it will only be the tombs for your objects and furniture.
What's next for Jonathan Rachman?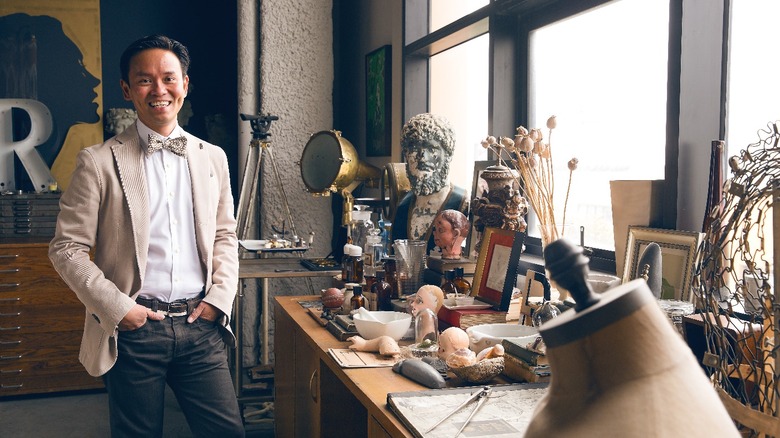 Flammarion
Is there a project you're excited about right now that you'd like to share?
Rachman: I am excited to design another boutique hotel, this time in Scotland ... I just made the visit and besides being a beautiful country, the Scots are one of the most welcoming, kind-hearted and friendly group of people I know ... and for me, they are very inspiring. To design a house in a new state is always exciting. We have amazing, loyal clients and this time, we are designing another house for our existing client but in the state of Washington — our first — so that's always exciting. My goal is to design a project in every state ... and continent of the world. So far we have done Europe, the U.S. and Asia, so if Africa and Australia are reading this ...
I am also finishing one of the hardest and most intimate projects I've ever involved in: our own country home that my husband and I recently renovated. My husband maybe is the most intricate 'clients,' but this project is a project of love ... so I am so into it!
What's next for you?
Rachman: I am truly honored to have been invited to collaborate with BIKA LIVING: a major showroom in Jakarta who provides furniture and home accessories for the best designers worldwide (as well as major hotel brands) to design a furniture collection as well as rugs, table tops, and perfume and candles. We hope to launch at the end of the year or early next year.
I am also excited to do my "Currently Classic" book signing worldwide because I am a travel addict — this is like killing two birds at once. Last but not least, I want to develop a movie based on my memoir, "The Garlic Peanut Story." This is a project close to my heart, a labor of love with a mission to spread the love and to help others, so stay tuned!
"Currently Classic: Jonathan Rachman Design" is published by Flammarion and will be distributed starting 9/27/22.