This TikTok Organization Hack Will Help You Store Your Reusable Bags
Reusable bags are undoubtedly a win for the environment and a better alternative to plastic ones. According to National Geographic, replacing one-time use bags with the sustainable kind has been proven to reduce trash both on land and in the water. Whether your city has officially banned plastic store bags yet or not, the chances are that you've embraced the eco-friendlier option in your own home already.
So while you're doing your part to help keep Mother Earth clean, you are also likely dealing with some clutter as a result. They tend to multiply in our homes, some materializing out of thin air while others are consequently bought in a panic at the store when you realize you forgot yours at home. These totes can take over your car, pantry, mudroom, and who knows where else.
They also come in a wide variety of shapes, sizes, and materials such as hemp, cotton, heavy-duty canvas, bamboo, and, yes, even durable plastic. Unless you're Marie Kondo herself, folding these bags so that they stay organized may seem slightly impossible. The good news? It's very possible to accomplish if you have the right technique. According to a TikTok organization hack by user @maxieelise, the key is to get the bags into a rectangle or square shape and tuck the handles in as you're folding them. Try to get them to form a uniform size and shape. Read on for what to do with them next.
Storing your bags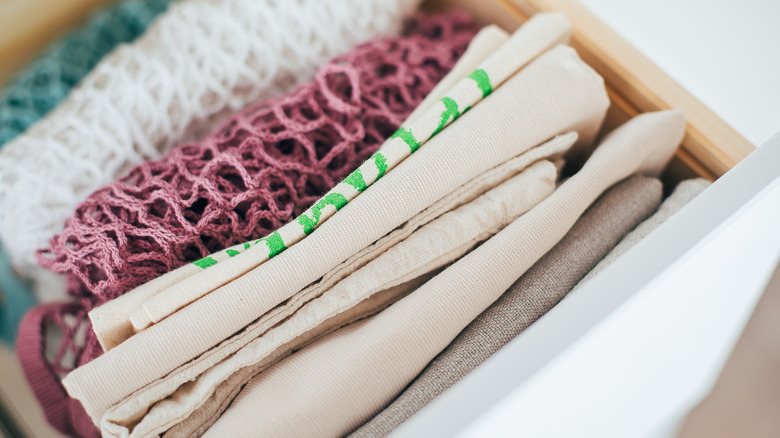 AnikonaAnn/Shutterstock
Next, grab a small open basket or bin and file fold the reusable totes into it. This method, which allows you to see everything you have by tucking them into a container vertically, was made famous by Marie Kondo. Think about the photos you see on social media with perfectly lined up jeans or sweaters in a dresser drawer. In addition to being able to see all of your clothes or, in this case, reusable bags, you can also fit more stuff into less space.
If you're aiming for minimalism, limit yourself to one container of bags and store it where you need them most. For many people, that would be in your car, so you'll never worry again about leaving them at home when you're headed to the grocery store. However, if you'd like, create a few bins to stash your bags. Place one in the trunk, one in the coat closet, and one in the kitchen for easy access.
Having extra bags on hand is not solely for groceries but can be helpful in other areas of daily life. Perhaps you have returns to make or need to mail an item out. Throw it in a reusable tote to make the errands easier. Or, as Modern Parents Messy Kids suggests, use them to store sand toys or wet swimsuits when you leave the beach (opt to use a durable plastic bag for this) and snacks for an outdoor lunch.