Home Depots Q2 Earnings Show What Projects Customers Are Prioritizing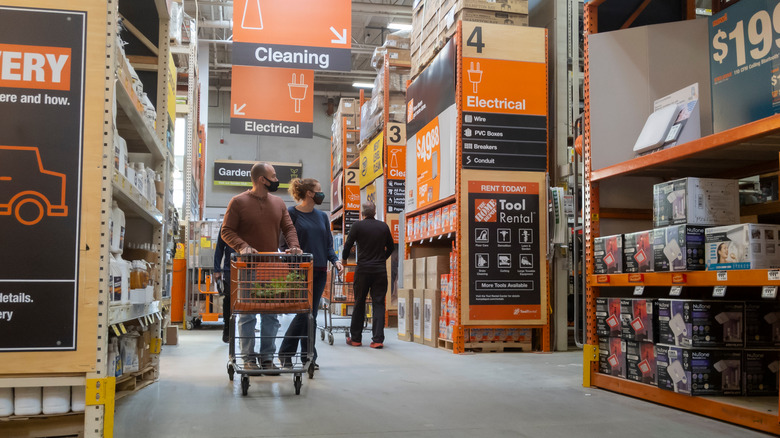 Colleen Michaels/Shutterstock
Home Depot has surpassed the expected earnings forecast with the recent release of its 2022 quarterly earnings report. The popular home improvement superstore showed big-time sales reaching just over $43 billion, according to CNBC. During the last few years, the shopping experience has definitely shifted. Big trips had to be canceled due to restrictions with traveling from country to country, and also in-person live entertainment came to a halt which meant that households may have had a little extra cash during this time. Customers have had to change how and where to spend their money by navigating the many necessary safety regulations brought forward because of the COVID-19 pandemic. Many retail stores ranging from small independent boutiques to major corporations have had to adjust how they can easily get their products to the consumer while ensuring that both customers and staff stay safe and protected.
Home Depot seemed to survive these ongoing challenges and thrive with booming sales over the course of this period. There may have been some savvy business decisions that have helped the company pull ahead of its competitors. By updating their customers often and offering contactless pick-up options and free delivery through their online ordering platforms, the corporation remained open as people spent more and more time at home (via Home Depot). But what were people recently spending their hard-earned dollars on at Home Depot that resulted in larger than projected sales? Let's now take a look and find out.
What were customers shopping for at Home Depot?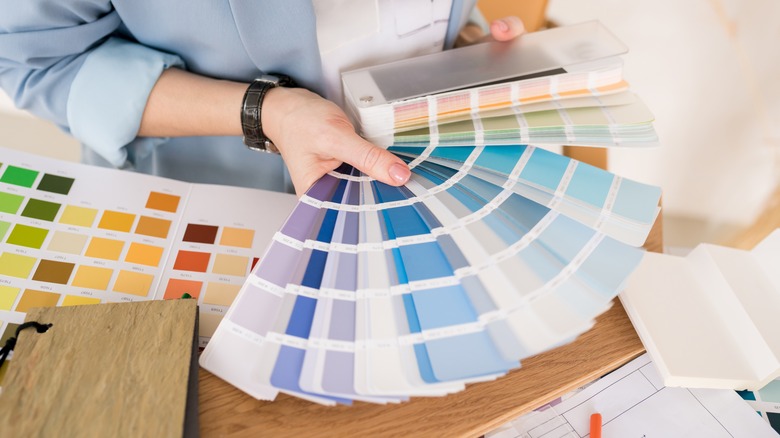 Tatiana Gordievskaia/Shutterstock
Home Depot has a wide range of products available for every type of customer. Whether you are a professional home builder or somebody who just needs a pack of lightbulbs, chances are that you will find it wandering down its vast aisles. However, now the company is reporting its highest than ever quarterly sales with an increase in net income to over $5 billion — as per CNBC — it has us wondering what customers are working on that is making them flock to the home building center with wallets wide open.
Throughout the pandemic, with stay-at-home orders in place, people were thrown into situations that led them to spend more time in their homesteads. This resulted in a boom of at-home projects, according to NPR, which ranged from redoing wooden decks, updating the paint in various rooms, creating home offices from spare rooms, or even more major renovations. It seems that the longer people stayed at home, the more they wanted to spruce up the place. Home Depot remained a store where savvy shoppers could find anything from gardening equipment, plants, and even trees to shingles, bricks, and cement. Although many businesses are back up and running, it looks as though customers are still shelling out big bucks for DIY projects. The major investors backing Home Depot have long been following this trend and have noticed that it is still a driving force behind the company's soaring profits.