Is Shiplap Going Out Of Style?
The tricky thing about trends is that they seem to go out of style before even getting a chance to enjoy them. That's especially true when there are big trends that everyone seems to follow. Shiplap is one of those trends. It has a historical context as a siding for ships and barns and was never meant to be an interior design feature. However, it quickly became a popular addition to homes, popularized by Joanna Gaines on HGTV's "Fixer Upper."
After being featured on the renovation show, many homeowners opted to put shiplap throughout their space. The fact that it rose to popularity about a decade ago and is seen everywhere has many questioning if shiplap is out of style. People have been adding shiplap to a home no matter the style, and that's what's making it feel dated, according to Chrissy Marie. However, it still makes sense in some contexts, such as coastal and antique homes, but maybe not in every house looking to add an accent.
So is shiplap going out of style? According to many designers and home experts like Chrissy Marie, it's a toss-up. Shiplap can still look like a stylish option within the proper context. But for most homes and homeowners, there are alternatives to shiplap that can achieve the same goals while providing a house with a more contemporary and unique look.
Shiplap is a way of adding texture
Many homeowners opted to use shiplap because it's an easy way to add texture and visual interest to a space. Shiplap is often used either on one wall as an accent or throughout the entire room to dress up otherwise flat walls. And while shiplap absolutely accomplishes adding texture to a space, it's not the only way to create an interesting detail on the walls.
Adding molding and trim can be a way to add texture to the wall that will stand out a bit more than the overused shiplap. Molding boxes are traditional and add a ton of character, says Thrifty Decor Chick. But painting the molding can also look incredibly modern, sleek, and timeless. These molding boxes are also easy to DIY with items bought from the hardwood store.
Other ways of adding texture to your walls include board and batten, a type of wainscoting that creates recessed squares, and bead board, which has a similar look to shiplap. Wallpaper is another great way to add some texture and pattern to a space. And, of course, you can texture the wall itself, such as a sand swirl, which can give the room a natural and earthy finish.
Shiplap adds a rustic flare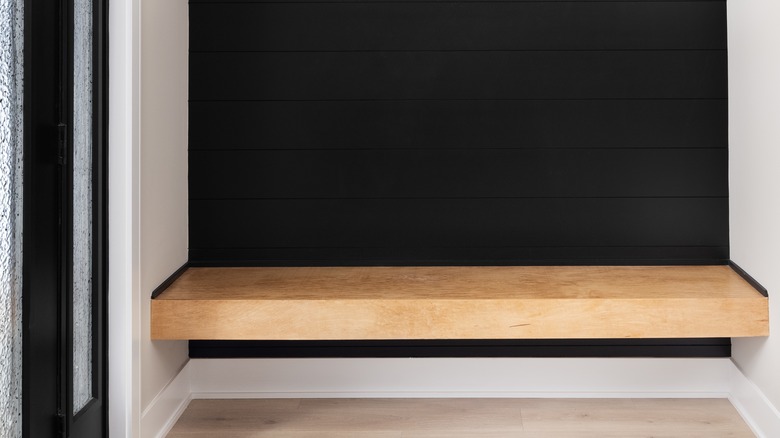 Hendrickson Photography/Shutterstock
The farmhouse style rose to popularity over 10 years ago along with the rise of shiplap. And while this style isn't as popular as it once had been, there aren't any signs of it stopping any time soon. Shiplap was an easy way to add a rustic flare to a home. As shiplap seems to become more dated, some homeowners no longer identify with the design feature. But transitioning out of a design style — especially one throughout the entire home — can feel complicated and expensive.
Changing your style doesn't have to break the bank. Bless'er House suggests finding ways to repurpose farmhouse or rustic decor into a new look. A fresh coat of paint can update the space with ease. For many, shiplap was originally painted white to fit the modern farmhouse aesthetic. Instead, paint the shiplap a modern color to make the room feel contemporary without having the project of taking it off the walls. Muted blues and greens are colors that go with most decor. Pinkish beiges and other warm, creamy tones are trending colors for the year that will instantly make your space feel new.