Top Realtor Shares Key Factors To Consider When Buying A Home - Exclusive
fizkes/Shutterstock
Finding the perfect house can be daunting for new homebuyers and experienced homeowners alike. In a competitive real estate market, you may feel pressured or rushed into making a quick decision. But before you steamroll ahead a buy the first place you look at, it would be wise to team up with an industry professional who can help you with the ins and outs of purchasing a property. Working side-by-side with a trusted realtor will ensure that you have someone in your corner that can look past the pretty façade of a home and help you determine if it's the right investment for you.
There are plenty of factors to identify when buying a home that can go way beyond the physical aspects of the property you are looking at. Although it's important that you be on the lookout for obvious problems such as a crumbling foundation, poor window treatments, signs of mold and mildew, and traces of water damage, there are other key issues that will definitely require your attention before you sign a final agreement. To that end, in an exclusive interview with House Digest, Rinal Patel — a licensed realtor and the co-founder of We Buy Philly Home – explains how to relieve some of the stress that comes with this big decision and gives some valuable tips on what to look out for when you are buying a house.
Location is always a factor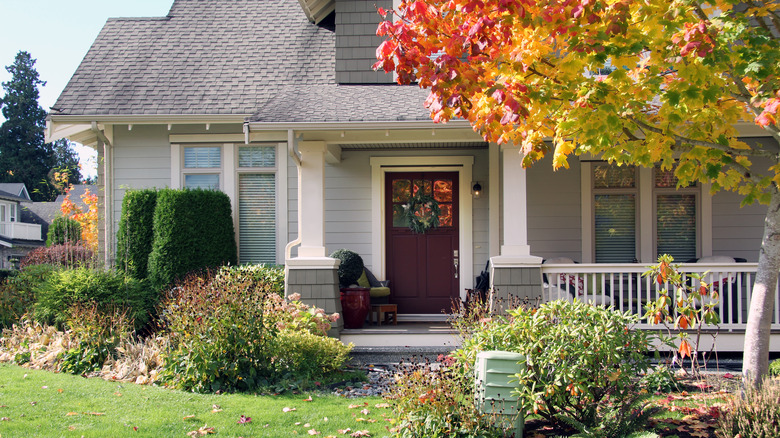 Hannamariah/Shutterstock
Whether you're looking for your first residence or your next one it all comes down to location, location, location. After all, you're going to be committed to living in the area for some time, so you want to make absolutely sure it's the neighborhood for you, says Rinal Patel. "Location is one of the most important factors to consider when buying a house," she explained. Patel suggests looking for "homes in neighborhoods with excellent schools, short commutes, beautiful scenery, and plenty of community amenities." Even purchasing a home that needs work in an ideal location could prove to pay off in the long run, according to Investopedia. As the saying goes, "It's better to have the worst house in a good neighborhood than the best house in a bad neighborhood."
Other things to keep in mind that might tip the scales when deciding on where to buy is whether or not the property lies in a termite zone or flood area. Also, how busy the actual traffic on the street is could determine if there are any safety issues or possible noise problems.
Consider the price and condition of the home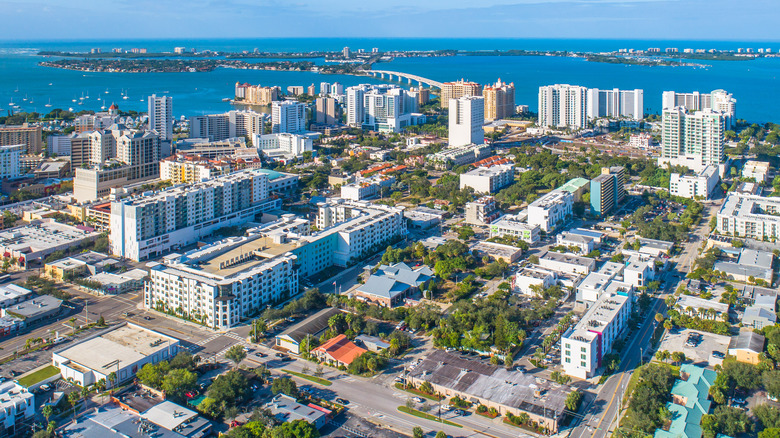 Suncoast Aerials/Shutterstock
Another deciding factor to keep in mind when buying a home is cost. And although this may seem a bit obvious, the list price of a property isn't the only expense you should think about. House prices can rise and fall depending on many things such as the state of the economy, the number of homes available in the market, and the cost of lending with regard to mortgage rates. 
However, Rinal Patel also points out that the "cost of living in the area, the condition of the home, and the size of the lot," should also be considered in your homebuying budget — not to mention the final expenditures involved in closing on a deal which could be "typically 3% to 6% of the purchase price."
Once you have worked out with a mortgage broker or financial advisor what your budget for a new house may be, you should also take into account the ongoing cost of living there. If it is a fixer-upper, then there is the money involved in renovation, property tax, general upkeep, home inspection fees, and moving costs, according to Sun Life. "All of these factors will play a role in your decision-making process, so be sure to consider them all before making an offer on a house," Patel added. The last thing you want is to be unprepared and surprised by additional expenses when you have already spent your budget on the property of your dreams.