We Tried The Cheapest Shop Vac At Home Depot. Here's How It Went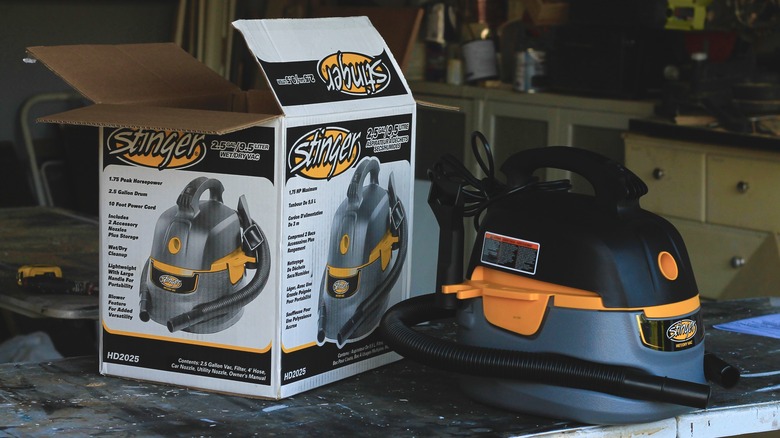 Diana Vilic/House Digest
If you've ever walked through a hardware store, chances are that you've seen the wall of wood shop vacuums. These vacuums, sometimes referred to as shop vacs, bucket vacuums, or wet/dry vacs, differ from your general everyday home options. According to Home Vacuum Zone, shop vacs are machines that have a strong motor and suction component, specifically designed to pick up detritus, sawdust, and dirt from construction zones and shop spaces. They can also be used to pick up small, potentially hazardous objects like screws, metal pieces, or liquid from floors and work surfaces.  
After doing a bit of research we headed to our local Home Depot to purchase the cheapest shop vac they carried in-store. Upon stepping into the aisle we were met with a row of different machines, all ranging in sizes and functionality, such as CFM rating or wireless batteries and hybrid motors over a standard cord. But for our purposes we were specifically interested in the 2.5 Gallon Compact Wet/Dry from Stinger. This one was by far the smallest model displayed at the very end of the aisle next to the standard Home Depot bucket attachments. Our goal in testing the 2.5 Gallon Stinger was to see if it's worth its rock-bottom price tag of $39.97 and if it offers all the benefits you need in a standard shop vac for everyday or workshop use.
Cost and product details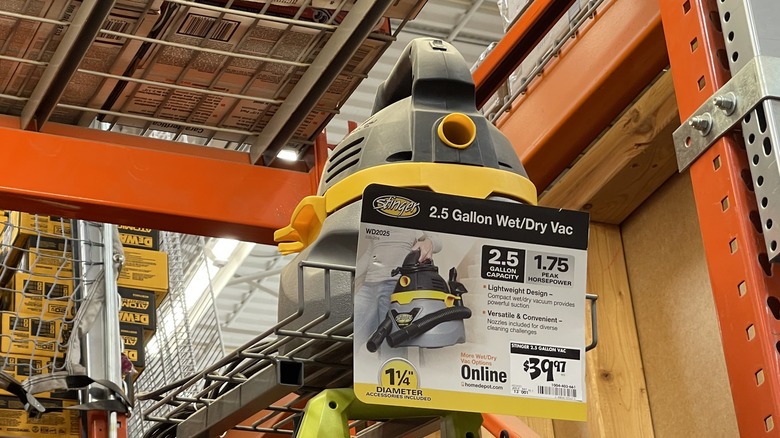 Diana Vilic/House Digest
What drew us to the Stinger 2.5 Gallon Compact Wet/Dry was the numerous reviews on Home Depot's website saying that it was simple, that the only thing you had to do was plug it in, and that it packed a punch. Catching our eye was one comment in particular: "I have had a couple battery power ones and none of them [are] as powerful as this one," the reviewer wrote. "Yes, it's less convenient, but it can suck a lot of stuff that the wireless ones can't." With such high praise, we had to know if it lived up to the hype. 
Inside the box was a car and utility nozzle, one filter bag, and a 4-foot hose. This model relies on a 10-foot power cord and has a 49 CFM, putting it at the general purpose level. The vacuum also has a 4.0 Amp motor. The cost of this shop vac is cheaper than most other models in stores, most of which are closer to the $100 price point. Like most shop vacs currently on the market, the Stinger 2.5 Gallon Compact Wet/Dry is recommended for workshops, interiors, and cars but not large-scale construction projects. Additionally, this machine has a blower capability that allows you to blow dust and particles away instead of capturing them in the drum.
Testing it out after woodworking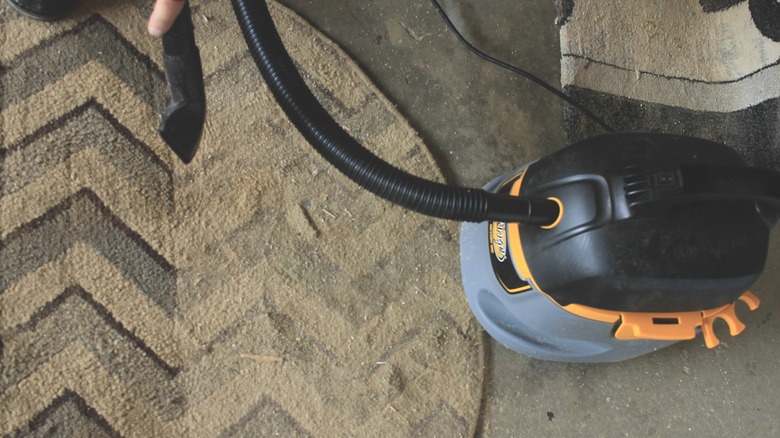 Diana Vilic/House Digest
To see how well the Stinger 2.5 Gallon Compact Wet/Dry performed, we focused on its usability and whether or not it actually served the purpose of picking up debris easily, ensuring a workspace gets cleaned adequately. Even though this is one of the most affordable options on the market, the level of safety a workplace requires should not be compromised. 
To test this vacuum we put it through a few simple tasks in a woodworking workshop setting. First, we wanted to see if it could clean up wood chunks and sawdust. Next, we took it into an area where items were being sanded to see how well it could pick up fine dust. Lastly, we tested the vacuum's ability to pick up small nails and chunks of wood. For something less than $50 our expectations were not high, but we still hoped that the shop vac could suck up the materials, even if it took a few passes. We also attempted to clean up a mat that had wood shavings and sawdust embedded into the fibers to see how well the shop vac could clean it.
How it exceeded our expectations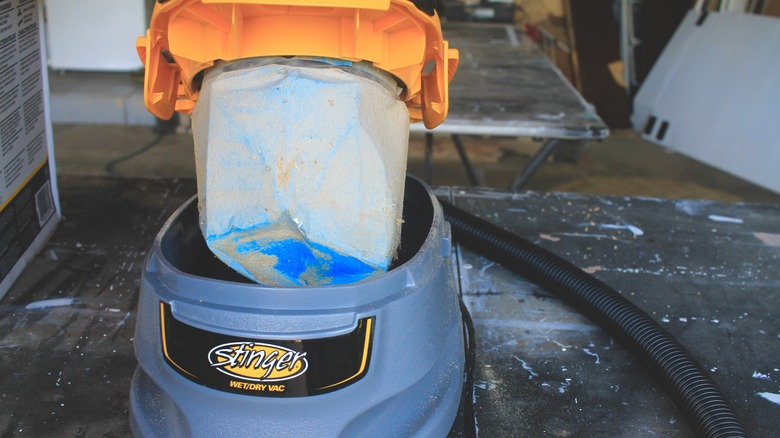 Diana Vilic/House Digest
After a little bit of trial and error with the blow/vacuum functions, we were shocked to see how well the Stinger picked up workstation debris. Despite its small size and 1-1/4-inch hose, the shop vac didn't get clogged with wood shavings or nails. Surprisingly multiple passes were not needed to pick up debris and larger objects and only a little bit of dust was thrown back as the machine sucked it into the drum. However, this can be remedied with different attachments. 
Even though the long cable can take some getting used to it doesn't pose much of a trip hazard or get in the way like we expected. Instead we were able to move around fairly easily in awkward corners and over curved surfaces. When it came to testing the Stinger's fabric cleaning capabilities, it only took two passes to suck up layers of built-up sawdust. And, instead of picking up the mat awkwardly, the nozzle glided across the fabric like a traditional home vacuum would. 
We expected the shop vac would overheat easily but were shocked to discover that even after 15 minutes of continuous use, the body of the device wasn't warm. It's also a lot quieter than shop vacs of the past and sounds more like a normal everyday vacuum than it does a high-powered cleaning machine.
What we'd change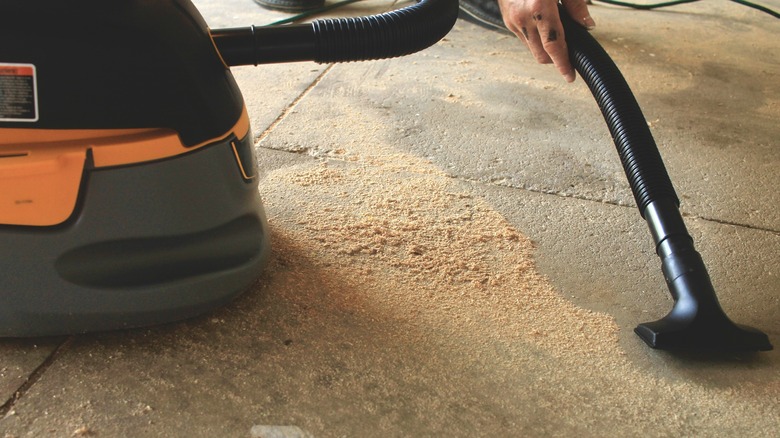 Diana Vilic/House Digest
Because the hose doesn't have a lock mechanism, any friction will cause it to fall right out; that would be one of the first things we'd suggest changing. The hose is also a little too short for everyone to comfortably use. For example, if you're over 6-feet tall, you may find it awkward to use the Stinger while standing to clean the floor. And while the long cord does remedy the short hose in a lot of instances, the hose always seems a bit too short for practical use. 
Also, attaching the filter to the drum chamber of the shop vac is a trial-and-error process. Because it's held on by a large rubber band it can easily fall off when being emptied or if you're not careful, it'll fall into the drum chamber when in use. Additionally, the vacuum is designed to hold its accessories and cable around itself, but the grooves in the machine body aren't very deep and the hose can easily come out in storage.
This shop vac also throws up some dust as it cleans, which is common in cheaper models. Depending on where you are in proximity to the vacuum, you may find some is blown into your face. However, to address this, Stinger has made the hose compatible with any accessories that fit a 1¼-inch size, which allows you to purchase attachments that minimize the amount of dust in the air.
Would we buy it again?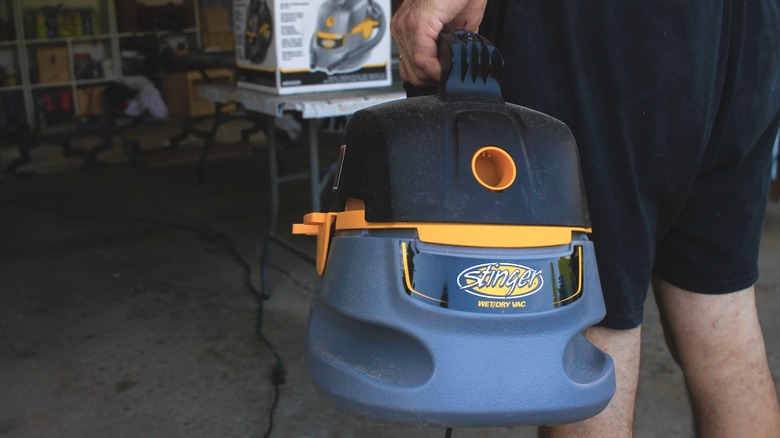 Diana Vilic/House Digest
For less than $40 the 2.5 Gallon Compact Wet/Dry from Stinger is one of the best starter shop vacs you can get. If you're just starting out in craftwork, woodwork, or doing small home renovations, this model will get you far. This is also an excellent option for anyone who lives in an apartment or rental unit and does any type of heavy-duty work but lacks the place to store a larger machine. Everything the vacuum needs snaps into itself and can be placed on a shelf or tool-carrying case. It's also extremely lightweight and user-friendly, making it perfect for people who have limited mobility or can't carry around the weight other machines have.
While the Stinger lacks the bells and whistles of more expensive models, it gets the job done as simply as possible. For our everyday uses we would absolutely purchase this vacuum again. While a short hose that doesn't lock in is a hassle, it isn't enough of one for us to want to shell out for a more expensive model. Additionally, because Stinger uses generic sizes, new hoses and accessories can be purchased virtually anywhere and they don't have to be reliant on a brand. The shop vac can be adapted to the user and what they need. Finally, while other models are more powerful, they also take up more room and are priced two to three times higher than the Stinger. For basic use this machine is a great choice.