Over 30% Of People Agree That This Detergent Is The Worst For Stain Removal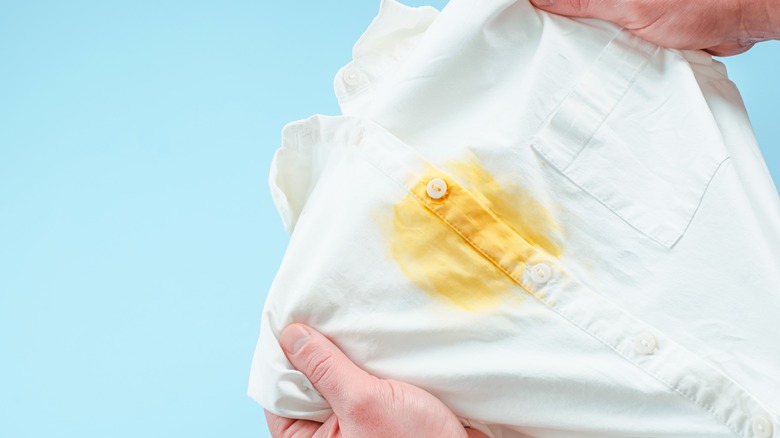 HalynaRom/Shutterstock
Pouring detergent into the washer and starting the machine is typically a mindless task that everyone completes multiple times a week. Explain That Stuff says detergents contain chemicals called surfactants that work to eradicate stains by attracting dirt and grease into the water so they can be washed away. Given that all detergents contain these chemicals, every time you put a new load of clothes into the washing machine, you're probably trusting that yours will come out thoroughly cleaned with brightened whites and a fresh scent. Maybe you've been using the same detergent for years without a second thought, assuming that it's providing you with the most stain-free results possible.
However, the results of a survey we conducted here at House Digest may change your mind about your current detergent. We asked 596 people which detergent is the worst for getting out stains. The possible options were some of the most popular brands, including Tide, Persil, Clorox, All, and Gain. One of these choices gained over 30% of the vote, and the results are below.
The worst detergent for stain removal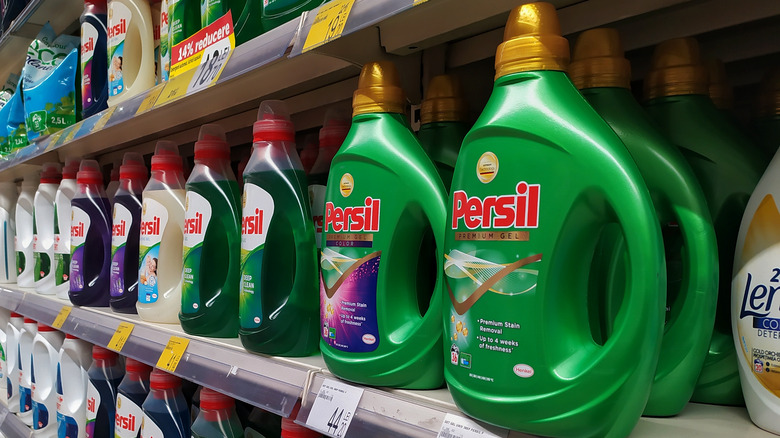 Popescu - Valceanu Marius/Shutterstock
According to the survey, the majority of people (186 participants) agree that Persil is the worst detergent when it comes to stain removal. This may be surprising to some, as Persil is a very popular brand. And, according to their website, Persil Pro Clean is supposed to remove even the toughest stains while thoroughly cleaning your clothes.
While many praise Persil for its price and cleaning power, some reviews on Walmart agree with the majority of the participants in the survey. Some claimed that this brand's detergent is mediocre, smells bad, and leaves an uncomfortable film on clothes. Others said that Persil's product didn't seem like it was doing much. Additionally, some reviewers claimed that it actually created blue stains on their laundry which are now permanent. Consumers on Persil's website also complained about the stains, saying it's the pods, which don't fully disintegrate in their washer, that lead to them, especially on their light-colored clothes. Persil may be able to remove dirt, but actually creating new stains sounds pretty bad to us.
The other detergents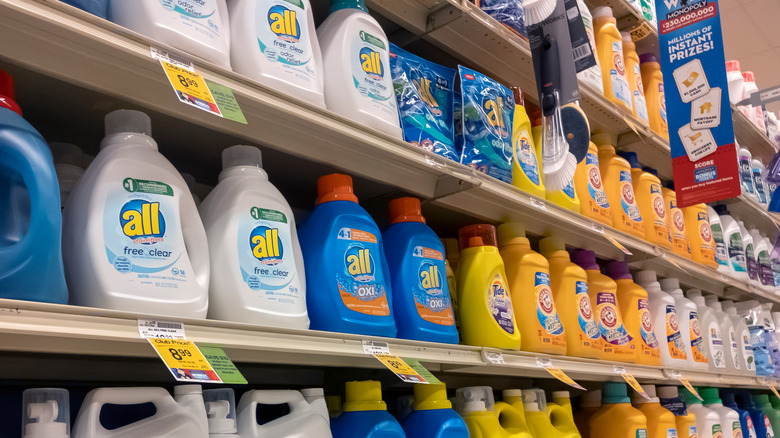 Colleen Michaels/Shutterstock
The second worst detergent brand in the survey was All, which gained almost 25% of the votes (148 participants). All is formulated for sensitive skin, has little to no scent, and claims to remove tough stains. However, some reviews on Walmart said that this product gave light-colored clothes a dingy appearance and actually stained some of their laundry, just like Persil. 
Gain came in next on the list, with over 21% of the votes (127 participants). Gain claims to remove dirt as well as dullness, while providing a unique and fresh scent. Gain's emphasis on scent instead of eradicating stains may explain why this brand received so many votes. According to the survey, Clorox and Tide may be the best detergents for stain removal. Clorox received around 13% of the votes (81 participants), while Tide earned only 9% (54 participants). Keep in mind that products made by Clorox have to be used alongside another detergent. Tide, on the other hand, is an actual detergent that claims to remove even week-old stains.