The Top Pressure Washer To Give Your Outdoor Space A Deeper Clean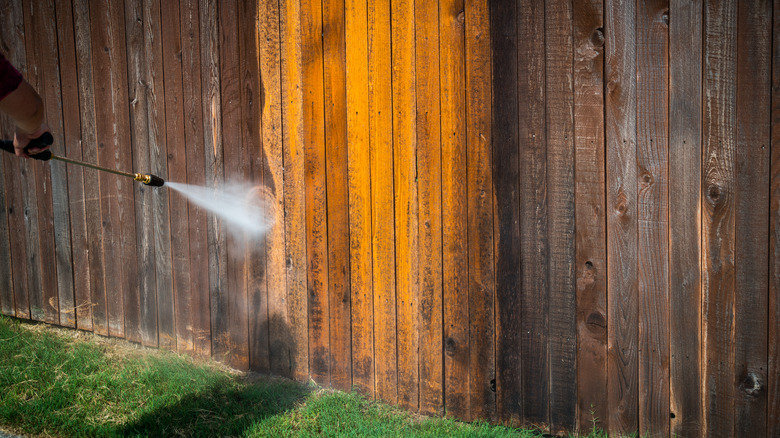 Roschetzky Photography/Shutterstock
We may receive a commission on purchases made from links.
A pressure washer works along the same principles as putting your thumb over the end of a garden hose when cleaning your car in order to get a more forceful, directed jet of water. However, the cleaning power generated by a pressure washer is much higher than you'll be able to manage with a thumb alone — according to Simple Green, using a pressure washer that's too powerful on the wrong objects can cause visible damage.
The extra cleaning power of a pressure washer isn't just for show, or even just to make cleaning quicker — though it does. According to Consumer Reports, pressure washers are stain-busters that have the effect of refreshing your surfaces with each clean. In the long run, this can save you significant amounts of money by extending the lifespan of decking, patios, and driveway surfaces.
For most homeowners, a commercial pressure washer is unnecessary, and a light-duty unit won't quite shift the stubborn stains that outdoor areas are prone to. Electric models with enough power also are smaller, quieter, and generally more convenient than equivalent gas pressure washers. We have selected the top-performing, medium-duty pressure electric washer on the market as well as a more budget-friendly option. 
The Best Pressure Washer
This Ryobi unit is easy to mistake for a gas-powered cleaner, as it's sturdier and built with bigger wheels than you'd expect for a lightweight, electric washer. It sits right at the top of the range for what's available in terms of power output from an electrical pressure washer. It is capable of up to 2,300 PSI of pressure and 1.2 gallons per minute of volume. This means that it will be able to tackle almost anything the average home will need. Although popularity isn't everything, market leaders tend to lead for a reason, and Ryobi has recently taken Karcher's top spot as one of the most popular pressure washer brands on the market, according to PressureWashr.
According to Pressurist, the Ryobi's higher price point isn't simply down to chunky wheels and a powerful spray — it also includes a brushless induction motor and an axial cam pump, which are higher quality components than the norm. These allow the Ryobi to run longer, smoother, quieter, and with a longer lifespan than cheaper models.
A budget-friendly option
This electrical pressure cleaner from Westinghouse is less than half the price of the Ryobi and almost the opposite end of the spectrum in terms of appearance. According to Chainsaw Journal, this compact unit is hardly bigger than a four-slice toaster. Rather than making the wheels bigger to increase stability as the Ryobi unit does, Westinghouse instead opted to increase the number of wheels from two to four, and these wheels are 360-degree swiveling casters, similar to an office chair or shopping cart. This combination of a low center of gravity and extra mobile wheels makes the Westinghouse extremely stable and maneuverable.
The more compact size doesn't translate to a reduction in power, however. At 2030 PSI, the water pressure is slightly lower than the Ryobi but still more than enough for cleaning a car or a driveway. The output of water is actually higher than the more expensive model, meaning that the Westinghouse might actually be a quicker-cleaning unit in areas where stains are easy to remove.
Overall, the extra longevity and durability of the Ryobi pressure washer mean that it comes out on top — however, the size, power, and portability of the Westinghouse cleaner make it an excellent alternative option for the budget-conscious.