The Chore 30% Of People Say Is Worse Than Laundry And Dishes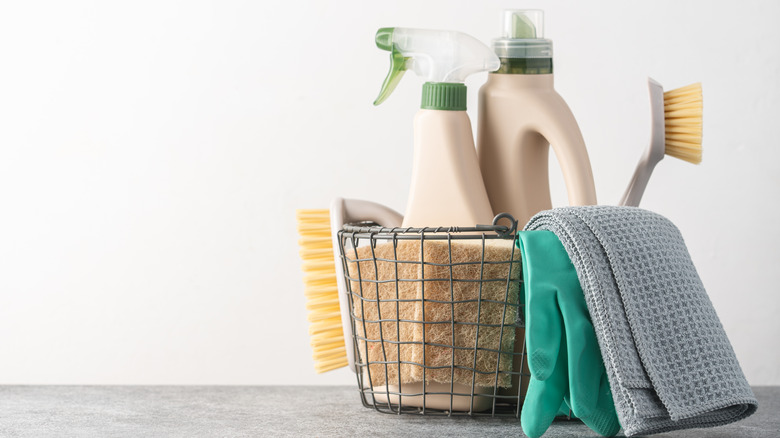 Anna Puzatykh/Shutterstock
Staying on top of the household chores can often feel like a full-time job. Every room in the house requires different products and an hour of your time to maintain. Experts often give tips suggesting different strategies to keep your home clean, like cleaning regularly or tackling one room a day.
Well + Good suggests cleaning kitchen surfaces daily while the bathroom sink and taking care of general clutter can be done every couple of days. Then, every few weeks, take care of the fridge, floors, showers, and tubs. But the baseboards, ceiling fans, windows, pantries, closets, and oven only need attention a few times each year.
But even with a schedule, cleaning can feel overwhelming and downright unenjoyable. So what is your least favorite household chore? The answers that often come to mind include laundry and dishes, but House Digest actually found chores that people hate doing even more than those. Of a survey of 627 respondents, a little more than 30% of the people agree that this one room is actually the worst.
Cleaning bathrooms is a pain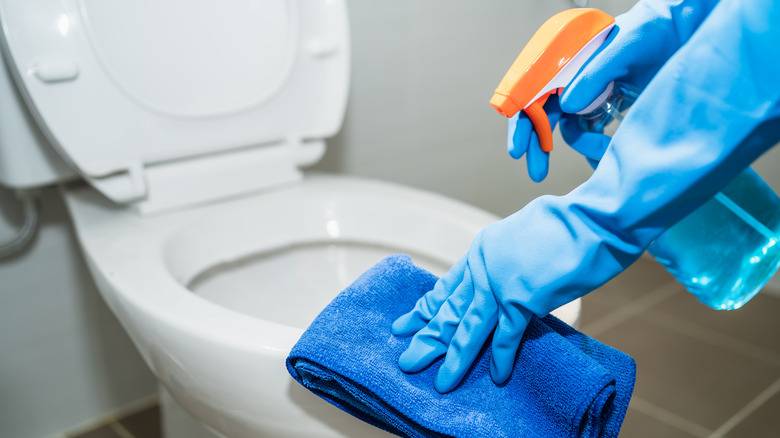 Gumbariya/Shutterstock
The one room people would rather not clean is the bathroom. In the survey, 189 respondents, 30.14% of the total votes, said that scrubbing the bathroom is their most hated household chore. That's not surprising as the bathroom is one room that can get particularly grimey. It can also be a place that needs a lot of attention in order to get clean. Most people hate getting on their hands and knees and scrubbing the toilets, showers, and sinks. And if you have multiple bathrooms in your home, that can mean an entire day of cleaning bathrooms.
Of course, there are ways to make cleaning the bathroom easier if you must power through the chore. Molly Maid suggests removing all items before you start cleaning. For example, moving all the shampoos, soaps, and scrubs from the vanity and shower will make cleaning much more seamless than if you had to move these items as you go. Another expert tip: all-purpose cleaner works best if you clean regularly. But if you have buildup, an acid-based cleaner is the best option.
Rather clean something other than the floors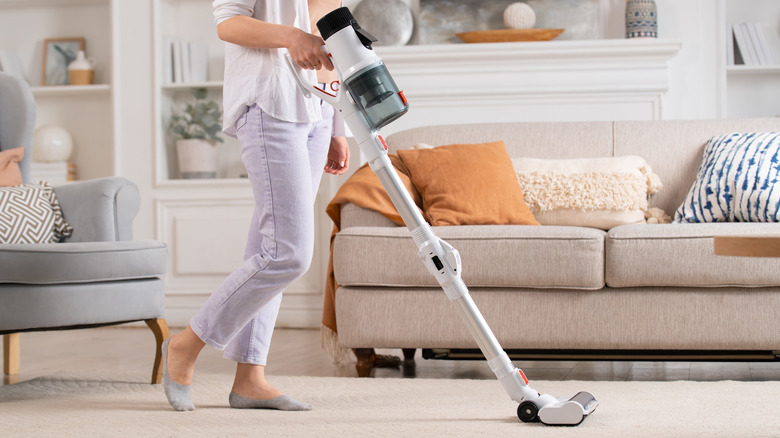 spb2015/Shutterstock
Tackling the bathroom might have been the most hated chore, but there was a strong contender for the runner-up. In second place for the most hated chore is cleaning the floors. Of the 627 survey respondents, 119 agreed that vacuuming and mopping the floors is their least favorite household chore. That's 18.98% of the total vote. It makes sense that people hate cleaning the floors because it basically means cleaning the entire house. Not to mention that different flooring types require different kinds of cleaners, which means having to use different products and methods to tackle your floors. In addition, you have to take the flooring material into mind in order to keep your floors looking in their best condition. Like a vacuum with a hard floor setting for ceramic tile and a damp cloth for hardwood, says Angi.
In third place comes mowing the lawn. 97 of the respondents, or 15.47%, agree that it's their most hated household chore. Yard work–particularly with a large lawn or out in the heat–can be particularly tedious. Maintaining the kitchen and doing the laundry were close with 84 (13.40%) and 83 (13.24%) votes, respectively. And coming in last place is washing dishes, which 55 respondents, or 8.77%, said was their most hated chore. But the low votes don't take away from this dull chore.