26% Of Homeowners Would Rather Renovate This Room Instead Of Their Kitchen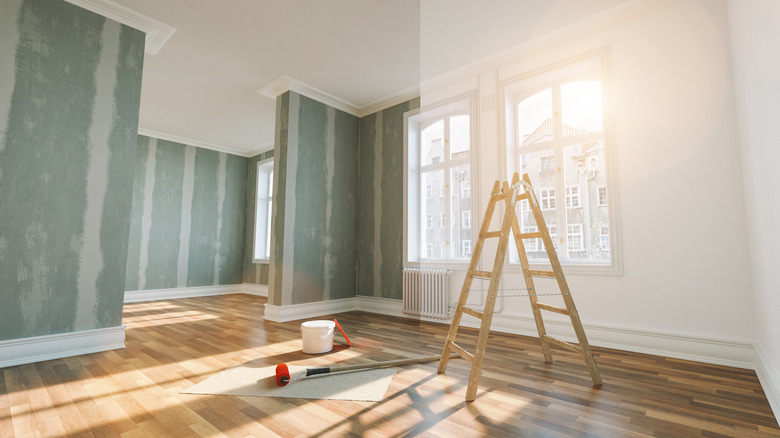 r.classen/Shutterstock
Nothing would transform your home more than a full renovation. The Curtain Call says that a home remodel would make your space more comfortable and functional. Additionally, redoing your entire house could lower energy costs, which would save you money over time. For instance, replacing your windows would mean less heat could escape from your house, which would reduce your heating bills. And finally, if you're thinking about selling, a remodel could help you sell faster (and get more money, too).
However, many times a full renovation isn't in the budget. Imagine that you want to redo your entire house, but you only have enough money for one room –- which would you choose? To discover what space most people want to renovate the most, House Digest surveyed 627 people. Participants could choose from the following options: the bathroom, the kitchen, the home office, the living room, the basement, or the bedroom. Over 26% of homeowners chose one of these rooms, and surprisingly, it's not the kitchen.
Renovating this room could help you relax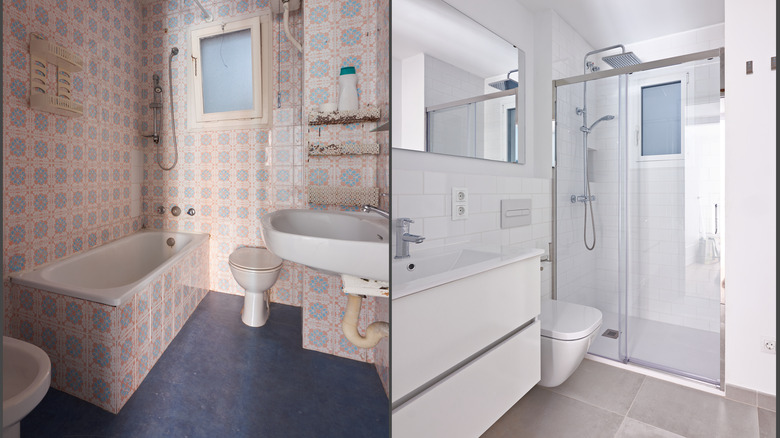 J Cardona/Shutterstock
While the kitchen received over 23% (146 people) of the vote, the bathroom gained over 26% (165 people). This may be shocking, as the kitchen is one of the most common areas to renovate. Further, Go Banking Rates says that renovating the kitchen before the bathroom makes the most sense, especially for those who want to sell soon. This is because, while remodeling the kitchen will cost more upfront, it will give you more return on your investment once sold. Even if you're not planning to sell your home soon, you may still want to remodel the kitchen first because this space is typically seen by guests, while your private bathroom probably isn't.
However, Petri points out that remodeling the bathroom may make it easier for you to relax in your space. Updating the tub or shower could help you really enjoy the time you spend in the bathroom. Additionally, it could make the space safer by updating slippery flooring or exposed electrical outlets. Lamont Bros. says that a bathroom remodel may be more convenient than a kitchen remodel since most homes have more than one bathroom, while they typically only have one kitchen. If you're sticking to a tight budget, renovating the bathroom will make more sense because it costs less money upfront.
The other room renovation options
Andrew Angelov/Shutterstock
After the kitchen and the bathroom was the living room, which less than 19% (118 participants) of people chose. BenchMark Home Services says that redoing the living room can make your space safer by removing damage done by pests or mold. A renovation can also make this space feel larger and allow it to be used in multiple ways. This room could also be transformed into the ideal space for you personally by adding built-in bookshelves, a large fireplace, or more storage.
Next in line came the bedroom, which gained 11% (70 people) of the vote. HGTV says that remodeling the bedroom can make it feel more comfortable –- and it could add more space, which may be especially beneficial in the closet. The home office only earned over 10% (66 participants) of the vote, perhaps because not everyone has an office. If you have this room, Model Remodel says that a remodel can help you be more productive and less distracted while working. Finally, the basement gained the least amount of votes, under 10% (62 people). Just like the office, this is probably because not everyone has a basement -– or, if they do, they're content with just using it for storage. LaMantia says that those with large families would benefit the most from a basement remodel, as it could be transformed into a playroom, gym, office, family room, or guest bedroom, which would save you more space in the rest of your home.