Rental Redo's Keyanna Bowen Shares How Renters Can Transform Their Space - Exclusive Interview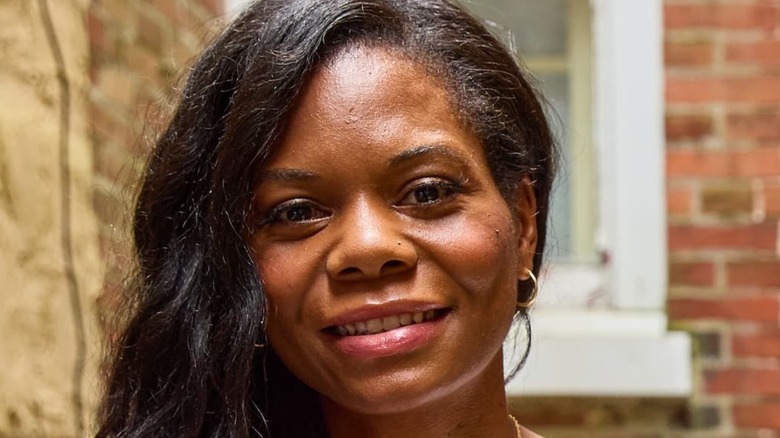 Magnolia Network
Interior designer Keyanna Bowen is determined to change the face of home improvement television, one rental unit at a time. On her upcoming series "Rental Redo" on the Magnolia Network, Bowen seeks to provide representation for a demographic she believes is all too often forgotten by most home improvement platforms: renters.
While shows about flipping houses for homeowners with huge budgets seeking a total property renovation are considered the norm on popular networks, Bowen believes that renters and even just owners with minimal budgets deserve to love where they live and have their space reflect their personalities just as much as anyone else.
In "Rental Redo," Bowen aims to challenge the notion that renting has to be synonymous with dated fixtures and ugly gray walls. Instead, she seeks to empower renters with the knowledge and tools they need to transform their generic spaces into Instagram-worthy pads. In this exclusive interview with House Digest, Bowen talks about "Rental Redo" and shares some simple and budget-friendly updates that people can make to drastically enhance the look and feel of their living spaces.
Keyanna Bowen's own experience inspired her to help other renters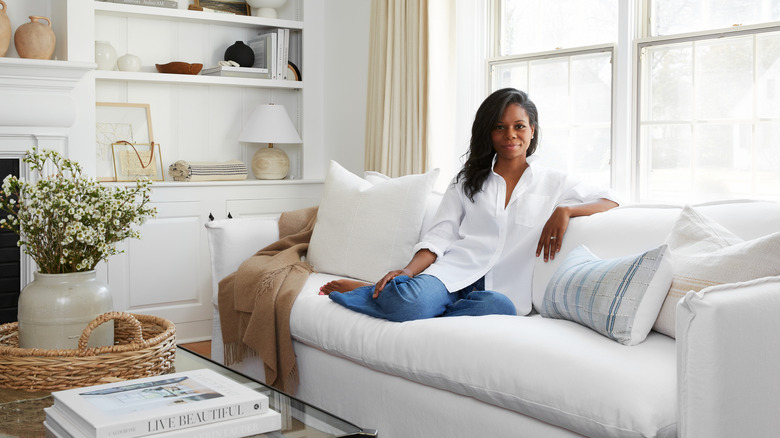 Magnolia Network
What inspired you to make a career out of interior design and how did you get started with rental units?
Keyanna Bowen: So I actually am self-taught in interior design. I kind of stumbled upon my passion for that a little bit later in life, but I went to school for broadcast journalism at Howard University and I knew I always wanted to do something in television. I eventually moved back home, and that's when I really realized my love for interiors. And so I started my blog East and Lane; at the time I started it, I was just living at home with my parents. It wasn't until I got married and my husband and I moved into our first rental property that I really realized the lack of content on social media and on blogs and even on television concerning rental units. Everything was about doing fixer-uppers or flipping a home or homeowners renovating their homes. And there was not a lot of content out there for renters.
And so I started blogging about updating my personal rental; I specifically wanted to find a rental that was dated, that I could move into and update and document it on my blog, which is completely unusual for most people. When you're a renter, you want to find the most updated property, but I kind of had a deeper mission because I wanted to show renters that we could also have homes that are beautiful and that represent our personality — it [isn't] just for people who are homeowners to have these beautiful homes.
So my husband and I moved into our rental, which was really dated, and I started to update it and documented [it] on my blog and on my YouTube channel. I partnered with my landlord, so he actually fronted the money for the updates. It was a small budget, but I made a little YouTube video about it. And from there, it just kind of caught the eye of other renters who were realizing that, "Wow, this is the first time I'm really seeing someone who is updating their rental."
And so being able to merge my love for interior design, but not excluding a market that is typically excluded was really important to me. And that's kind of how it all got started.
Why renter representation is so important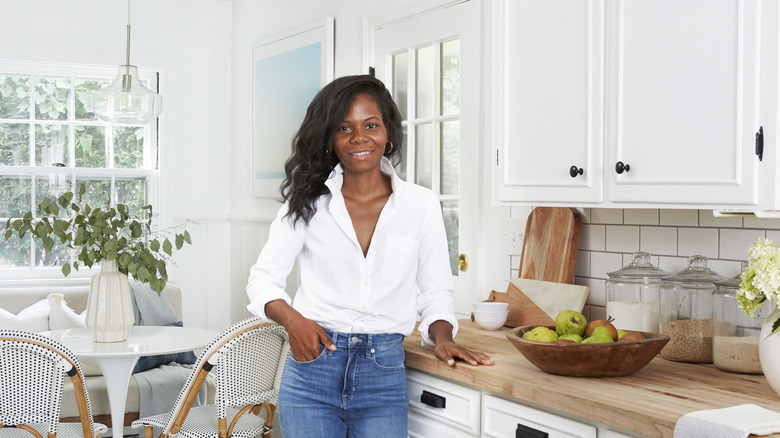 Magnolia Network
What representation does "Rental Redo" provide for renters and why do you think that's so important?
I actually used to be a realtor. So there was definitely this common thought that if you don't own a home, you shouldn't invest in it. But over the years, from whether it's the market crashing [or] people's homes going into foreclosure, there was this influx of people who were once homeowners now turning into renters — people who were long time renters, people who were living in markets [where] home prices were so high that they just have to rent, like New York and L.A. And it was just one of those things where I was seeing there is a large market of renters out here, why isn't there content? Why aren't there tips and tricks for us, and everything is just about doing a $40,000 renovation? So you really do feel kind of excluded and unless you own a home, you don't deserve to have a beautiful place. And so being able to fill that void and create content — and now having the show "Rental Redo" to give more tips and ideas to the market that was kind of a lost and forgotten category for so long — is just, I'm really excited about that.
And what's kind of great about "Rental Redo," is that the name is a little deceiving. Yes, we are focused on renovating rental properties, but really the show is for anyone who is looking to update their space on a budget. So whether you're a homeowner or whether you are renting, you can find great tips, great budge-friendly solutions for your spaces.
Do you have any advice for someone who feels like they might be stuck in their rental, who kind of has that mentality where they feel like they need to own their house for it to feel like their home?
I mean, I always say you have not because you asked not. I think a lot of times renters were a little intimidated by our landlord or we kind of have this preconceived notion that I signed this lease agreement and it says I can't do A, B, and C, so I can't do A, B, and C. But honestly, especially nowadays, landlords are getting more and more open to allowing renters to make updates — and some are even willing to pay for the updates. So don't be afraid to ask your landlord for what you want, what you're trying to do to the space, get his or her approval in writing and just try it out. Like I said, there are some things that you can do that aren't permanent, like painting walls or changing out the light fixtures and things like that, that you can always swap back. But yeah, just take the leap; ask your landlord and I think you would be surprised with what they're willing to agree to.
Keyanna Bowen's renovation tips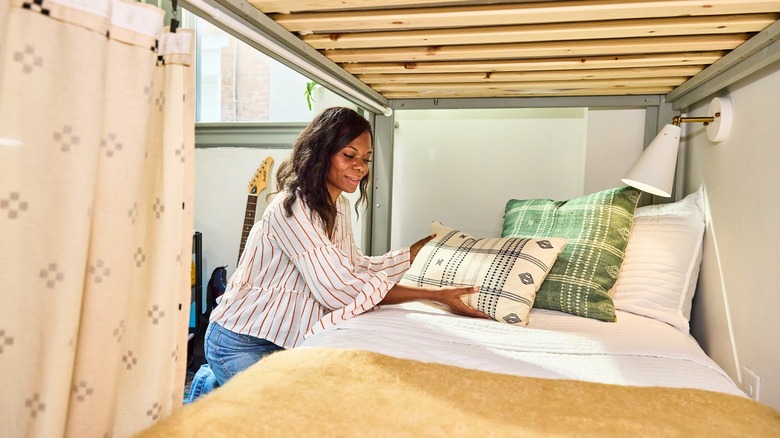 Magnolia Network
What are some of those budget-friendly updates that renters and homeowners in general can make if they do want their home to appear a little bit more high-end?
So I kind of have maybe three things that are my first focus when updating a space. First, we all know paint. Paint is one of the most cost effective ways that you can transform your space. Even if it's just refreshing it with a fresh white coat of paint, just having something fresh and new or adding color to the walls will instantly make the space feel new and have more personality.
The second thing I love to do is change out light fixtures. And so a lot of times — and again, this goes for both, whether you own a home or not, but a lot of times when you're in a rental — it's very generic, builder-grade type light fixtures. And swapping them out for something that is more visually interesting, or something that has a little bit more flare and character, will actually help elevate the space and also make it feel like it has a little bit more of an architectural interest to it ... And the best thing about a light fixture is that you can take it with you to your next place. And so you can splurge a little bit on the nicer fixtures; keep the old one when you take it down. And then when you move out, if you ever move from your rental, just pop the old one back in and take the new one with you.
And then the third thing that I really love to do is incorporating artwork and different décor. So a lot of times it's not even about cosmetic changes, it's just about adding those personal touches — adding artwork to your walls, changing out pillows and little décor items, adding those sentimental touches. I think a lot of time renters –- because we don't feel like we own it -– we're afraid to do things like put up a picture of our family or add those antique elements that might have been passed down from our grandparents into our house. Little sentimental touches that really go a long way and will help your rental feel more like home.
Do you have any specific updating suggestions for those with particularly strict landlords who don't like to see a lot of change to a unit?
Yeah. The good thing about paint is that you could always paint it back to the original color. So that's a stipulation that a lot of people have in their lease agreements, that if you do paint, you have to change it back. Paint might seem permanent, but you can always just change it back to the original color before you leave.
But also some non-permanent things, a light fixture, changing out a light fixture is non-permanent thing. Swapping out hardware in your kitchen is another great thing that is not super invasive, not permanent, but will also make the kitchen feel more updated. And so little things like that.
Keyanna Bowen's favorite design trends and upcoming projects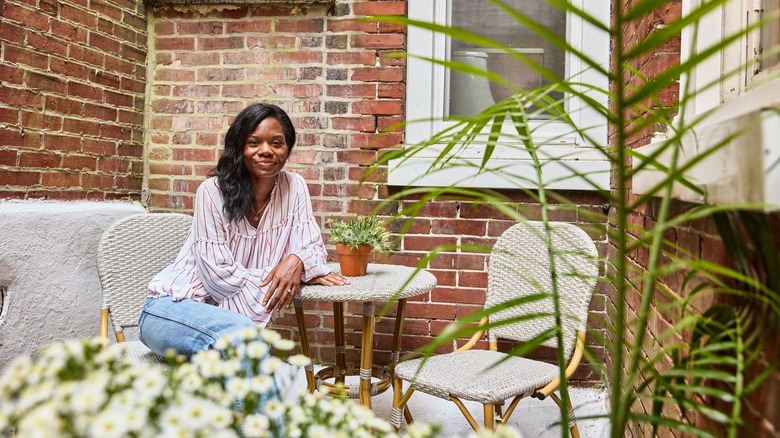 Magnolia Network
What are some of your personal favorite design trends right now that you think both renters and homeowners can implement in their spaces?
So I'm really big on –- and this is kind of across the board –- but I think wallpaper, specifically peel-and-stick wallpaper is really great for renters. There's a lot of peel-and-stick options out there in general for renters, whether it's wallpaper, they have floor tile that's peel-and-stick, backsplash vinyl that is peel-and-stick. All these things are great because it's easy to install. You can do it yourself. And the best thing about it is you can remove it without damaging your walls or the surface that it's on. So peel-and-stick wallpaper, I do it a couple times on the show actually, and it makes such a big impact to a room and makes it feel more personalized. And then the best thing about it is when you move out, you can just peel it down [because] it's not permanent so you can always change it out later on.
Is there any word yet about a potential season two of Rental Redo?
Not yet. Season 1 airs on August 26th, so I haven't even really premiered yet. But fingers crossed that there will be a Season 2, but honestly we're still filming Season 1 as we speak. And like I said, it premieres on the 26th of August, so I'm just excited to get that first season rolling. There are a couple platforms that'll be streaming on; Discovery+ is the main platform.
Are you working on any other kind of projects right now or are you focused on the show and finishing season one?
I'm kind of a multifaceted creative. In addition to doing design, I also do interior photography. So I've kind of been flip-flopping between doing photo shoots for magazines and other designers with interior photography, as well as doing some private design work with clients, as well as filming for the show. So it's been quite crazy right now, but of course I'm really grateful because all those things are kind of my passion. So I'm just blessed to be able to do them all.
Magnolia Network's "Rental Redo" featuring Keyanna Bowen premieres August 26, only on discovery+ and the Magnolia app. New episodes drop every Friday through October 7.