Fall Home Decor Trends For 2022, Per Crate & Barrel's Sebastian Brauer - Exclusive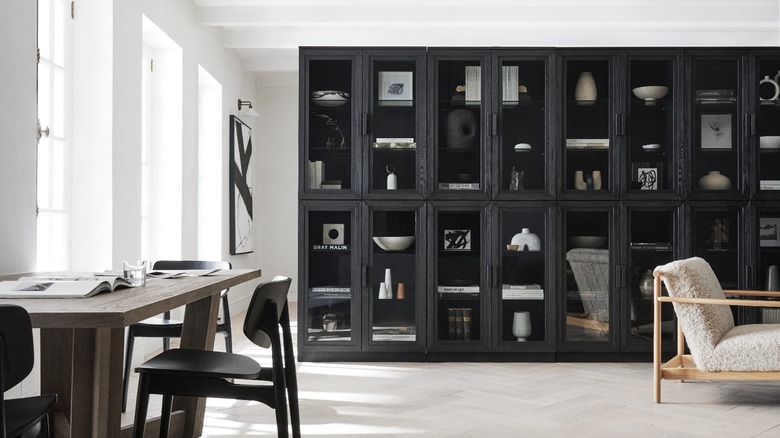 Crate & Barrel
Fall's unfolding is a sensorial treasure map and X marks the coziest spot. It's an excuse to treat both ourselves and our homes to change, as well as the perfect time to be a little extra — to add more layers, go deep with color, and sleep longer. For those who live through many months of winter every year, it feels flagrant to find such comfort in the cooling of autumn; the fact that we do proves its grasp. 
In an exclusive interview with House Digest, Sebastian Brauer — Senior Vice President for Product Design, Development, and Metaverse for home décor and furnishings retailer Crate & Barrel — he told us the season is all about creating a cozy and luxe environment. "These fall collections from Crate & Barrel and Crate & Kids were inspired by evoking the feeling of rich fall flavors, an anticipated highlight of the season, into a modern design aesthetic through colors, warm layers, and mixed materials," he revealed.
Brauer also shared his thoughts on the design trends with pull this year — including the interior style that beautifully complements the essence of fall — and explained how we can incorporate them into our spaces. If we follow his lead, we might find a blanket of moss, a pillow of sage, and a beverage tub of gold. 
Colors to commemorate the season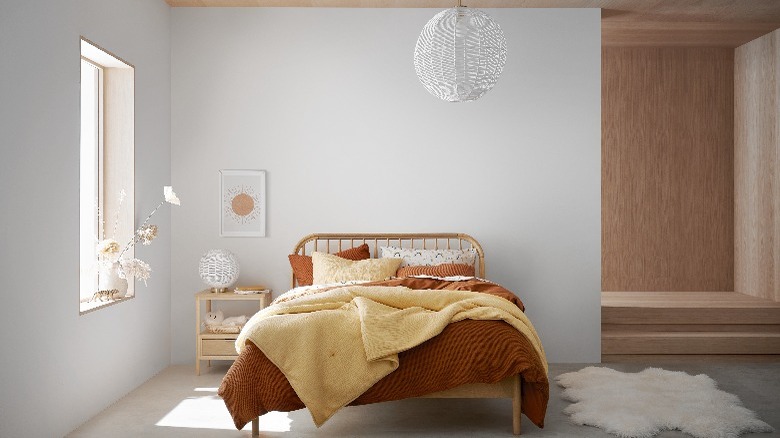 Crate & Barrel
First, Sebastian Brauer told us what colors shoppers may be looking for this season. "Consumers are continuing to style their homes with neutral pieces, but venturing a bit bolder," he explained. "And this season, we predict they'll incorporate a range of luxe fall colors inspired by seasonal flavors like turmeric ... [and] delectable shades of brown from ginger to brown sugar." Terracotta, ochre, and jewel tones make an appearance as well. "While all unique, the different trending colors for fall share an earthy tone, making it easy to layer them and mix textures and materials while still feeling cohesive," Brauer added. 
Additionally, the color story combines harmoniously with featured organic materials like wood, stone, and metals. "We've also seen continued interest in midcentury design from our customers so we looked to reinvigorate styles from [that] ever-trending era with a luxurious, yet livable twist," Brauer continued. Midcentury style, with its modern and clean silhouettes, is an effective counterpoint to rich colors and lush textiles. "The great thing about this collection is that while there is a heavy focus on midcentury design, the majority of pieces will work seamlessly with existing pieces already within your home," Brauer noted. "You don't need to stick with one color palette or one theme; mixing and matching pieces can help create a custom design aesthetic for your home."
Comforting textures abound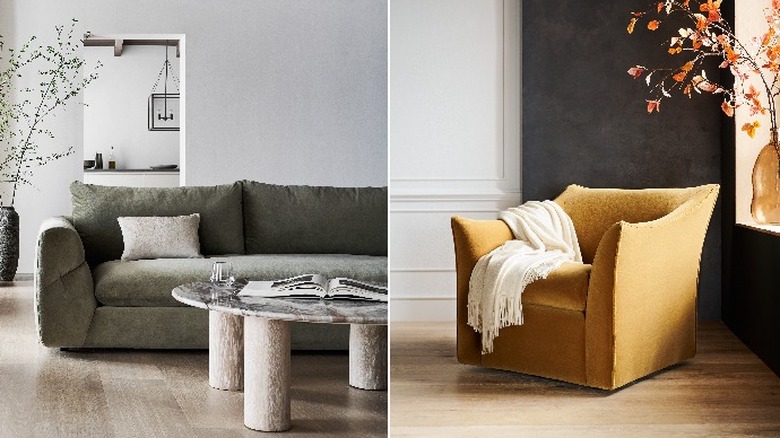 Crate & Barrel
Aside from bold color, texture can add great coziness and interest to our spaces, as noted by Sebastian Brauer. "Textured materials like velvet, boucle, and shearling are very popular in furniture and textiles while glass and ceramic are hot in décor this season, bringing a luxe feel to your home," he shared. To that end, occasional chairs and sofas tempt with their sumptuous fabrics and are a perfect opportunity to add both comfort and a wow factor to a room. "Organic materials like cotton and vegan takes on classic textures remain on-trend as consumers seek out better for the planet products," Brauer continued. Décor options include glowing amber glass bottles and ivory ceramic pumpkins that are a subtle nod to the festivities ahead, while dried and faux greenery introduce a natural element. 
Customers are considering more than comfort and style this season, as Brauer cited an increased desire and demand for sustainable goods. "Consumers are seeking products that are built with purpose, from function and form to sustainability," he pointed out. "We incorporated sustainable materials within the collections from both brands, including a recycled cashmere and vegan tan leather and FSC certified pieces, including the Rixby Swivel Recliner and Cambria Sofa." A green velvet sofa, sustainably produced — we are venturing into a rich land.
Find Crate & Barrel's The Fall Edit seasonal selections on their website.