Are The Least Expensive Curtains At Urban Outfitters Worth Buying?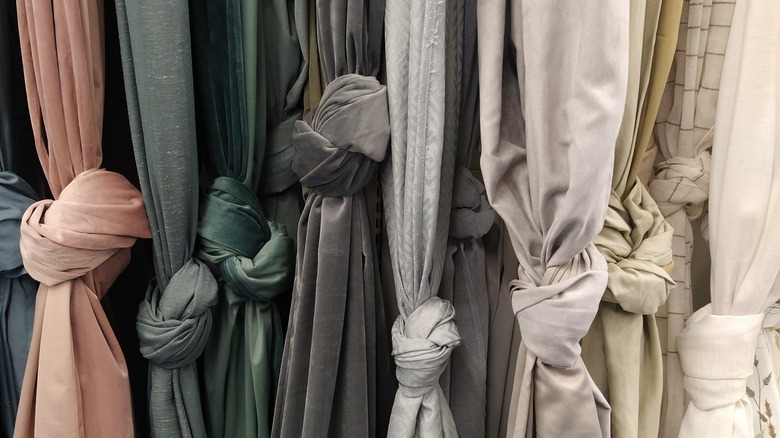 Karjalainen/Shutterstock
We may receive a commission on purchases made from links.
With its talent for launching trendy, Pinterest-worthy pieces, Urban Outfitters has quickly become a staple store for tons of young adults. So it's hardly a surprise that their equally stylish home section is just as appealing, especially as the store's target demographic juggles room redecorations, dorm decor, and shopping for a first apartment. But Anthropologie's sister store is known for their steep price tags — and according to Consumer Affairs, Gen Z has an 86% reduction in buying power compared to Baby Boomers, making it all the more important to save money wherever possible.
Since Urban Outfitters is so on-trend, it's only natural for the retailer to be an inspiration source when young adults start looking for decor. But price tags can quickly add up, too. So is it really worth shopping for curtains at Urban Outfitters — especially if you find yourself limited to their least expensive offerings? As it turns out, it depends on the style you've got your eye on.
Chloe Gauze Curtain
If you're strictly looking for the cheapest curtains that Urban Outfitters has for sale, the Chloe Gauze Curtain might seem like a great deal. After all, the retailer has lots of patterns on sale for $39, but the Chloe curtains start at $29. What a steal, right?
Well, not exactly.
The $29 price tag is for the 52x63 inch curtain, whereas the $39 offering is 52x84 inches. Urban Outfitters' other $39 curtains are only sold in the larger size, so really, the Chloe curtain isn't the bargain that you might initially assume.
Plus, there's another problem. The Chloe Gauze Curtain's title tells you exactly what you'll get ... gauze mesh. The curtains won't block really out any light and are just there for decoration. Not an issue if that's your thing, but $39 for a mesh curtain still seems expensive — especially since the product only comes with one panel, not two.
Fortunately, there's no shortage of dupes. For example, Ikea's Lill lace curtains feature mesh diamonds instead of squares but cost $5.99 for a pair (and are longer than the Chloe curtain) — in comparison, they're an absolute steal. Amazon also sells a pair of mesh curtains for dirt cheap, plus you'll have access to lots of color and size options.
Hazel Floral Window Panel
When you start to get into the patterned window panel designs, things start to get a bit more reasonable. Like the Chloe Gauze Curtain, the Hazel Floral Window Panel costs $39 for a single 52x84 inch curtain — definitely a big splurge. But depending on your room's layout, it may be just the perfect touch to tie everything together.
The beauty of Urban Outfitters' window panels is that they're semi-sheer, allowing the sun to shine through. Now, this also means that they should be worth less — after all, translucent fabric costs less than thicker counterparts, not to mention that you won't get many sun-blocking benefits. At the same time, the sun shining through gives off a beautiful glow. The curtain almost turns into a new type of decor, rather than simply being meant to block out light.
That being said, it's easy to find thin fabric. For example, if you simply want to get a plain colored window panel, you're better off buying a semi-sheer piece of fabric, sewing in a hem to create space for the curtain rod, and then hanging it. On the other hand, if you find a patterned design that feels like it'll tie your room together, it may be worth the splurge — just be sure that you fully understand what you're getting beforehand.