15 Kitchens With Beautiful Copper Sinks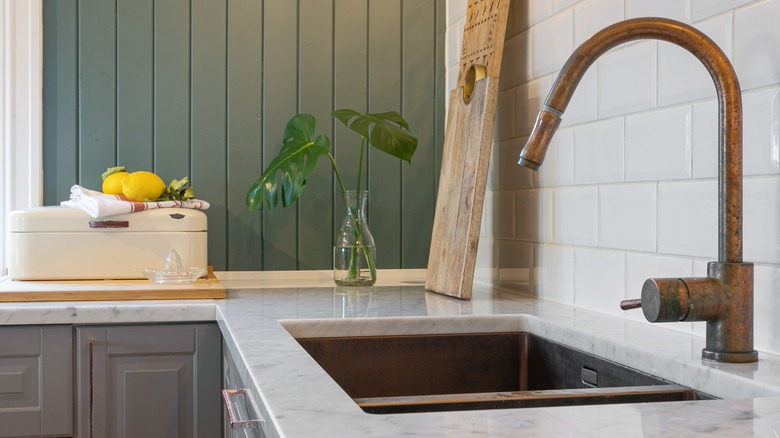 KDE Photo/Shutterstock
Copper sinks are a rare but stunning feature to add to a kitchen design. They are mostly made out of copper with just a small amount of zinc which, according to Quality Bath, makes them extra durable. These sinks are also resistant to rust and last for a long time. However, they are quite pricey and require more maintenance and cleaning than those made out of typical materials.
When used in interior design, copper sinks are quite versatile because they can look great in industrial, rustic, farmhouse, traditional, and even modern kitchen spaces. Additionally, Sinkology adds that copper sinks work with a number of color palettes, from warm tones to cool, and they look especially beautiful when paired with blue. They could also be paired with other metals, which would provide a fun and eclectic vibe. If you're intrigued by copper sinks, you're not alone, as this material makes quite the statement. Below are 15 spaces with gorgeous copper sinks.
1. Surrounded in black cabinets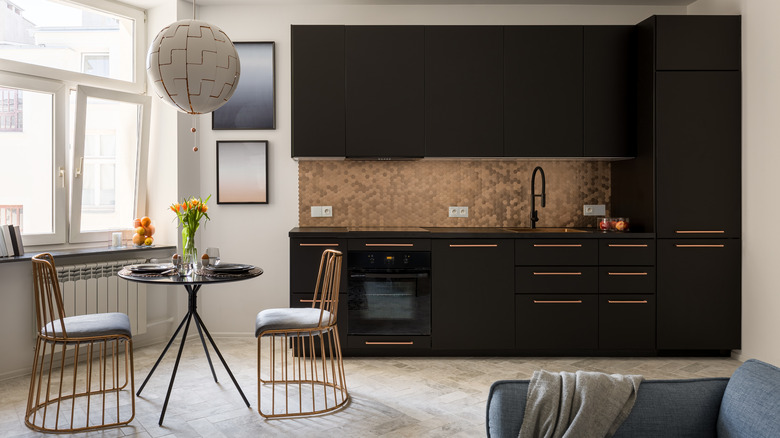 Dariusz Jarzabek/Shutterstock
Because this sink is surrounded by black cabinetry, it looks quite modern. To make the space more cohesive, this kitchen has been designed with copper hardware pieces and a warm metal backsplash.  
2. Farmhouse sink
Many of these sinks have a large farmhouse design, meaning that they have deep basins and exposed metal in the front. This sink is surrounded by modern gray countertops and a white backsplash.  
3. In a modern kitchen
Just like the previous images, this sink has been placed in a modern kitchen design. This image demonstrates how versatile copper is because it even looks great when paired with light pink cabinets. 
4. Large design
This large farmhouse sink is in another modern kitchen, with beige countertops and white cabinets. Additionally, this sink design has both a copper basin and faucet, which not all designs have.  
5. Paired with cool tones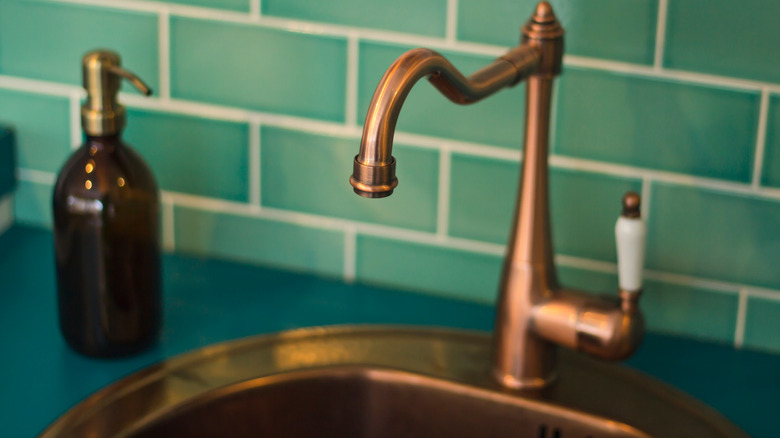 GENETTICA/Shutterstock
Copper can look especially beautiful when paired with cool-toned shades like blue and green. This kitchen's blue countertops and green backsplash work together to make the metal really shine. 
6. Just the faucet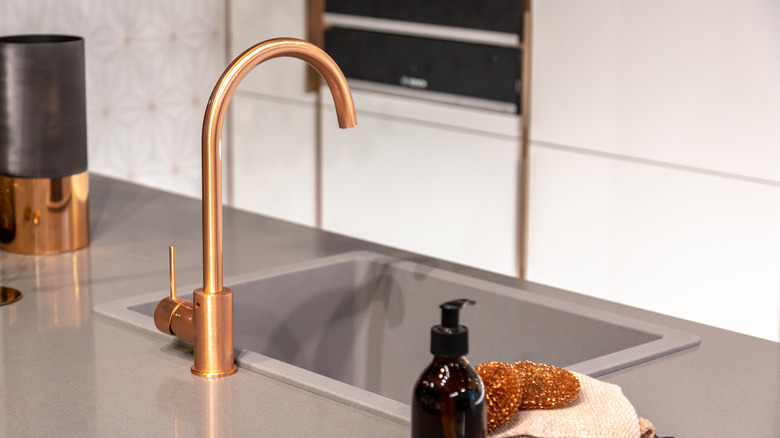 Jimbo Films/Shutterstock
If you love the look of copper but don't want the hassle of constantly cleaning a large sink, you could add just a copper faucet to a basin made out of another material. 
7. Old-fashioned hammered surface
CSD Dmitriy Tikhonenko/Shutterstock
This old-fashioned style would look great in a traditional or classic space. In addition, the hammered finish of this design would help hide imperfections. 
8. Black and blue cabinets
This modern kitchen is extra interesting because it has lots of contrast. For example, the light countertops contrast with the dark blue and black cabinets, which also make the copper sink really stand out. 
9. In an industrial kitchen
To give your space an extra industrial feel, you could add a solid copper backsplash behind the same material sink. Also, choosing wooden cabinets and a warm wall color adds to the rustic vibes. 
10. Huge farmhouse design
Those with a large family may be drawn to this huge farmhouse sink. Not only are the basins extra deep and the model extra wide, but the back of the sink extends up the wall as well. 
11. Surrounded in white
Another way to make a copper sink pop is by keeping the rest of your kitchen very neutral and monochromatic. This sink stands out because it's been installed into a space with an all-white countertop and backsplash. 
12. Paired with green and gray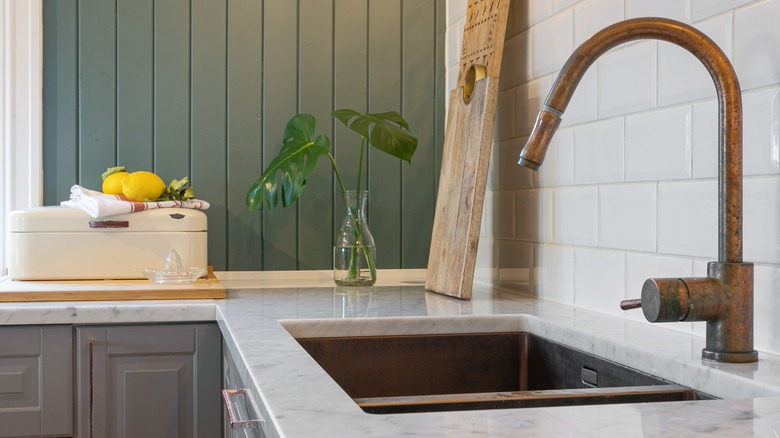 KDE Photo/Shutterstock
To make a copper sink feel more modern, you could pair it with colors like soft green and light gray. For example, the above image has a green shiplap wall and light gray bottom cabinets with copper hardware, which gives the space a cohesive appearance. 
13. In a rustic kitchen
If you have a rustic or old-fashioned kitchen, this sink design would look especially nice. To carry copper throughout the room, you could also display a tea kettle made of this material on the stove.  
14. Paired with more copper elements
Adding copper to a backsplash or a kitchen hood, as well as to the sink, would carry this material throughout the room, making your kitchen design appear extra thoughtful.
15. In a colorful kitchen
This is a modern and colorful kitchen with pink and green cabinets. It also has copper displayed not only in the sink but also on the kitchen hood, the hanging cooking utensils, and the stools.