What Cabinet Colors Go Perfectly With Your Black Appliances?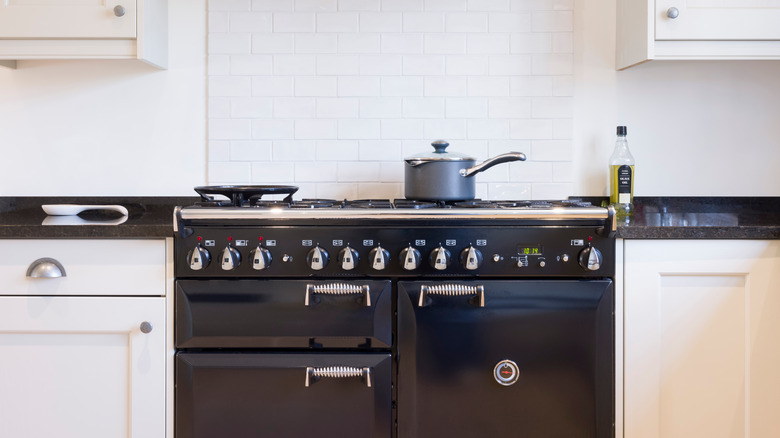 Paul Maguire/Shutterstock
When it comes to painting your kitchen cabinets, there are an endless amount of colors you can choose from. However, appliances usually come in standard colors such as black, white, and stainless steel. They also can't be as personalized as cabinets because once bought, you're stuck with the color you chose. Thus making it easier to customize your cabinets to fit your appliances. It's also advised that when choosing appliances, they should match each other. Mixing a black coffee maker with a white toaster can throw off the kitchen's aesthetic and make it harder to pair with your cabinets.
According to Lily Ann Cabinets, black appliances can coordinate well with many color schemes. Usually, they work best with darker-colored cabinets such as wooden finishes or black itself. Since black is such a versatile color, though, lighter colors such as white look just as pleasing. Without further ado, here are a few cabinet colors that will go perfectly with your black appliances.
Keep it basic with black or white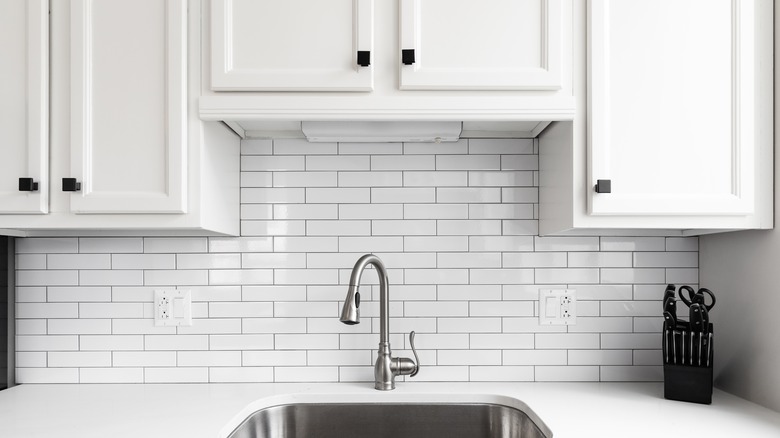 Hendrickson Photography/Shutterstock
In an attempt to keep it classy, you can always paint your cabinets the same color as the appliances: black. This dark shade is versatile and can allow for multiple themes to be incorporated. However, as Kitchen Solvers points out, it's important to include some accent colors so your newly renovated space doesn't end up dull. One way to do this is by adding white countertops or painting the walls a bright color. This will refresh the room, so it's more open and inviting. You can also add a backsplash of a lighter color or design to bring some variety into the room.
Likewise, white cabinets work well with black appliances. However, just like black cabinets, you'll need a different shade of color to make the kitchen pop. Kylie M. Interiors recommends adding a medium or dark countertop as well as a backsplash of this shade. These elements will allow the appliances to contrast, as the cabinets will be the only bright feature. It's also recommended to paint the walls a lighter shade, so there are a few different shades of neutrals within the room. You can also add a variety of decor in multiple colors. In doing so, you'll have the simple room you desire while still keeping it fun and playful.
Be bold with blues or yellows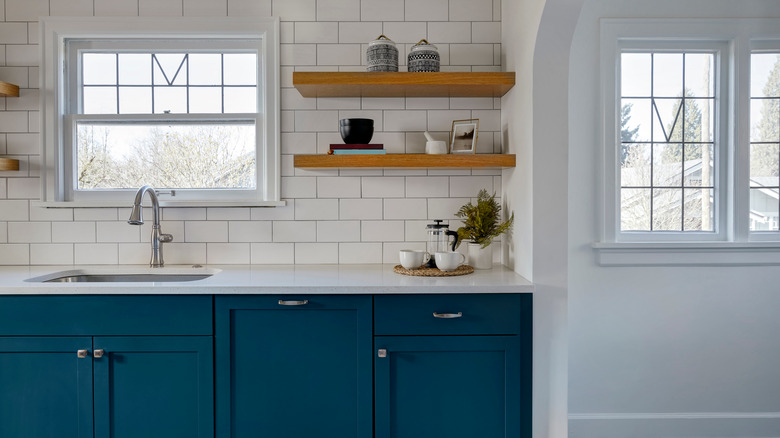 David Papazian/Shutterstock
For those wanting a kitchen that pops, you can add some bold colors to your cabinets. These colorful cabinets bring character into the room and are a great way to create a modern and chic aesthetic. One popular shade you can choose is blue. If this is something you're into, Wholesale Cabinets suggest changing up the countertop as well. If you go with a lighter shade of blue, they recommend pairing it with a darker countertop. In contrast, if you opt to choose a darker shade, it's recommended to go for a lighter countertop. Either way, blue cabinets are a great way to bring some color and fun into the room.
Yet, another colorful shade that you can choose is yellow. Not only are they aesthetically pleasing, but yellow cabinets also offer a few other great benefits. According to Nelson Cabinetry, yellow cabinets help to boost the value of any home. This is because they attract more buyers than regular colored cabinets such as black, white, or tan. Therefore, if you ever need to sell your home, you may be able to quicker than usual. However, no matter what shade of yellow you decide on, you are a bit limited to what themes you can create within the kitchen. Aesthetics such as a farmhouse or a sunflower theme can be created by mixing in some browns, whites, and sometimes blacks.