Is The Least Expensive Bedding At IKEA Worth Buying?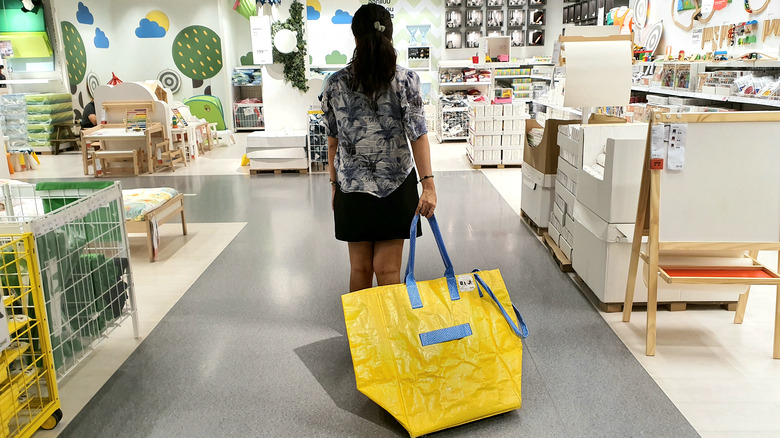 Prachana Thong-on/Shutterstock
IKEA is known around the world for selling a large variety of affordable, stylish products for the home. Although this chain originated in Sweden, they now have 471 stores worldwide, 52 of which are in the United States, according to SmartScrapers. With so many stores, there is one within driving distance for most Americans, but they also now offer shipping on some products, including bedding.
In recent years, sustainability has become a big part of how IKEA operates. Their goals for 2030 include helping people live well within the boundaries of the planet. In shopping for bedding, you can see this practice has begun with the use of recycled and responsibly sourced materials. While sustainability is definitely important when you shop, so is quality. Poor performance is no bargain, so we checked out the least expensive bedding items at IKEA to see if they are worth buying. We found that it seems this company continues to fulfill its reputation for giving buyers a lot of bang for their buck.
The TJÄRBLOMSTER bedspread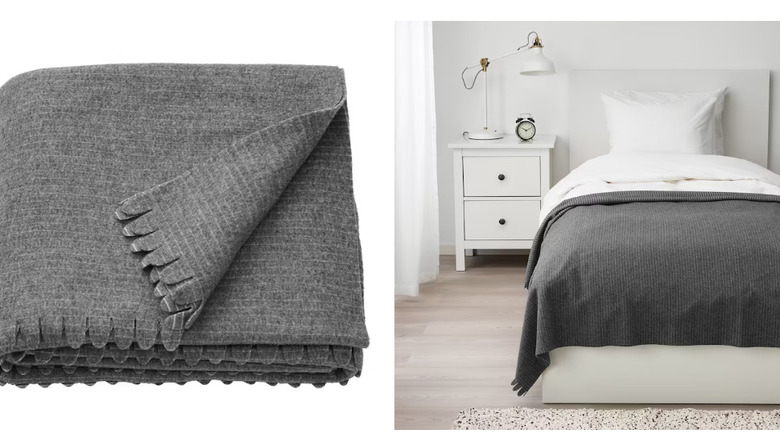 Ikea
At only $7.99, the TJÄRBLOMSTER is the least expensive bedspread at IKEA right now. Although a standard twin bedspread is around 66 inches by 86 inches, according to Amerisleep, this option is a little smaller at 59 inches by 83 inches, so you can use it either as a bedspread or a throw. Subtle details help make this blanket a bargain. With scalloped edging and a faint stripe design, it looks much more expensive than it is. The TJÄRBLOMSTER is made of machine washable fleece for warmth and durability. For those looking for environmentally friendly bedding options, this blanket is made from a minimum of 90% recycled polyester.
While the price seems too good to be true, an overwhelming number of 5-star ratings implies that reviewers seem to agree that it is worth buying. Several people mention they initially purchased this for dog beds or to protect furniture, but they ended up loving it so much that they bought more. The vast number of reviewers agree the blanket provides a cozy texture and a pleasant pattern and is definitely worth buying -– and maybe buying again
Sheets and bedding sets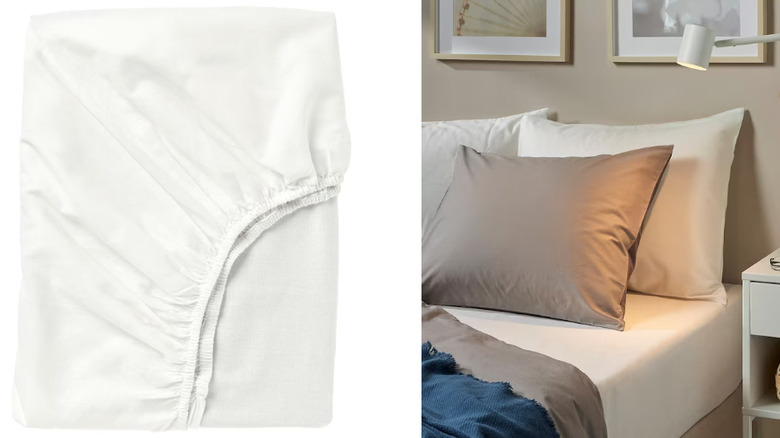 Ikea
The FÄRGMÅRA white fitted sheet is available in twin size for $4.99 and $8.99 for the queen without a king size option. This basic fitted sheet is made of 100% sustainably grown cotton, which includes farming practices that use less water and fewer pesticides, according to HomeGrown Cotton. This item fits mattresses up to 6.25 inches deep, so this is not the right sheet if you need deep pockets. Reviewers are overall pleased with the product, but several state that it is thinner than expected. It is rare to find 100% cotton sheets at this price point, making the FÄRGMÅRA worth buying.
If you are looking for a bedding set, the DVALA set comes in a variety of colors and sizes, starting at $14.99 for a twin set and $39.99 for the king option. Like the FÄRGMÅRA sheets, this set is also made from 100% cotton. In contrast, the DVALA set fits mattresses up to 10.25 inches deep. With an average of 3.9-star reviews, most agree this is a bargain. Some reviewers state this sheet set stands up well to frequent washing and regular use.