20 Stylish Swing Ideas To Cozy Up Your Front Porch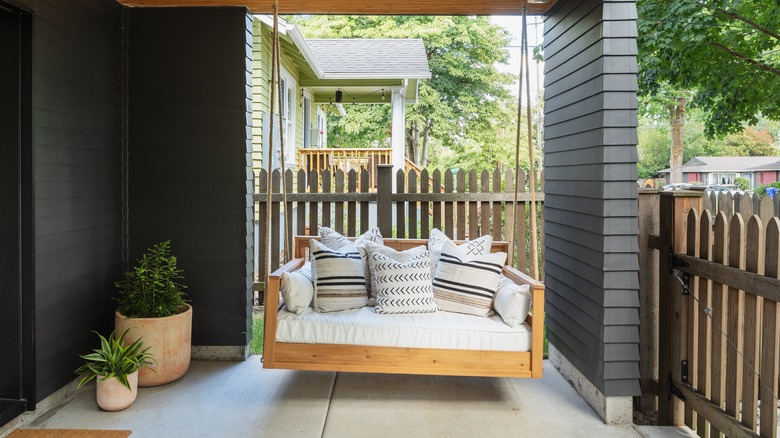 David Papazian/Shutterstock
Your front porch is typically one of the first things guests notice about the exterior of your home. Because of this, the way you design this space tells guests what they should expect to find inside your house. If your porch is cold and empty, they may assume the inside is that way, too. At the same time, if your porch appears warm and welcoming, guests may be more excited to enter your home. 
One way to make your front porch appear cozier is by adding a swing. While the most common swing is a bench, you could also add a hanging chair. In addition to making your home appear cozier, a porch swing is also great for your health, per The Joint Chiropractic. Relaxing on your porch swing can relieve stress, provide fresh air, and promote blood circulation. If you're looking for some stylish porch swing options, below are 20 hanging benches and chairs you could add to your front porch.
1. Classic and comfortable cushions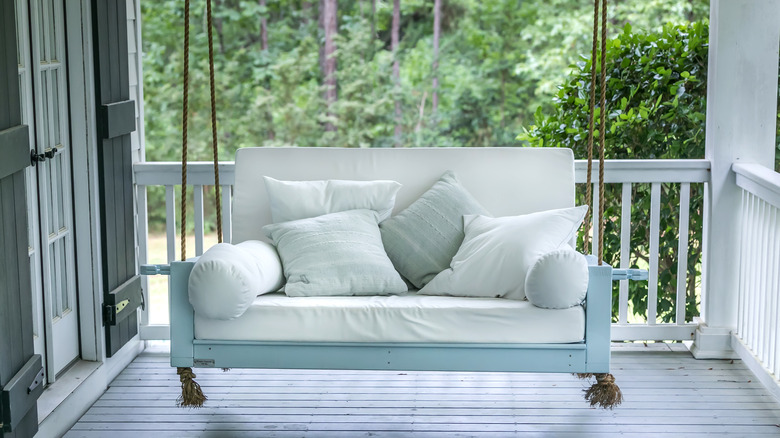 Ursula Page/Shutterstock
Adding a hanging bench with comfy cushions would definitely make your home appear more welcoming. This wooden bench has been painted a delicate blue color and has beautiful white cushions, which make it appear clean and relaxing.  
2. Warm wood bench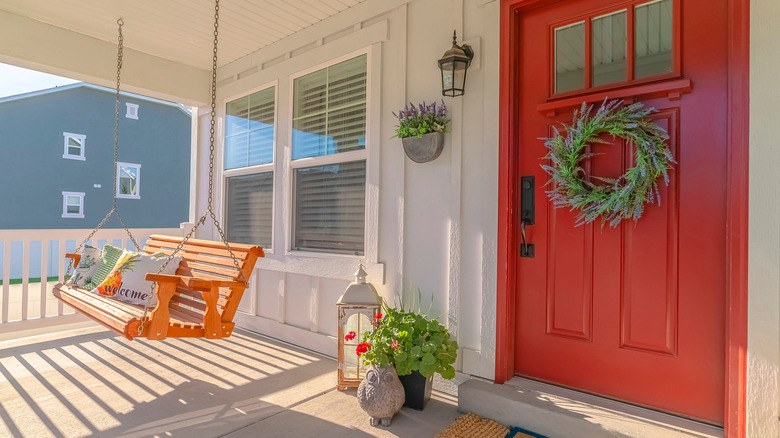 Jason Finn/Shutterstock
A hanging bench made out of warm wood will add cozy vibes to your front porch. This bench also has armrests, which make it more comfortable. 
3. Welcoming woven chair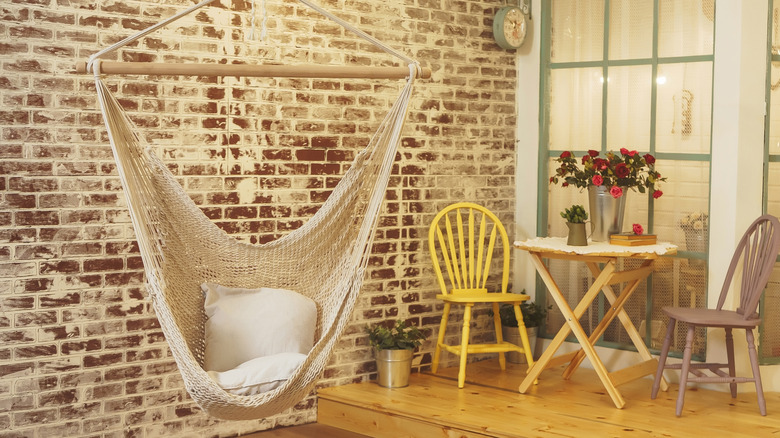 Yashkin Ilya/Shutterstock
Instead of a bench, you could add a hanging chair. This chair has a wooden dowel across the top to keep the unstructured woven fabric from falling in on itself. It also has white cushions that make it more comfortable to sit in. 
4. Bright boho chair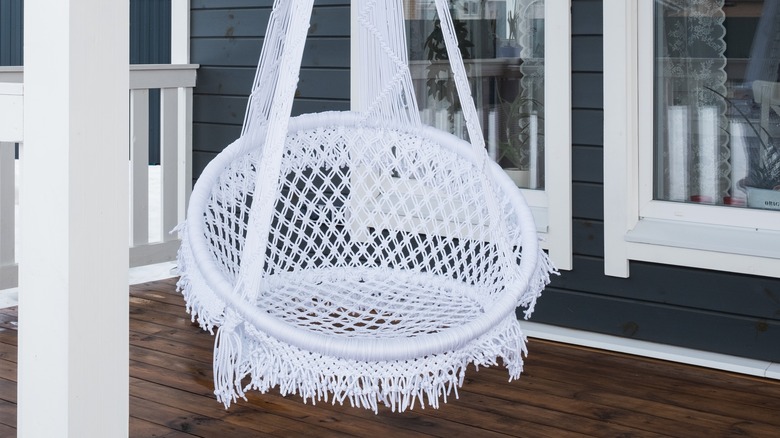 TatyanaMalkova/Shutterstock
To give your space a bohemian feel, add a chair with tassels and woven fabric. This bright white chair looks extra comfortable and clean. 
5. Beautiful black bench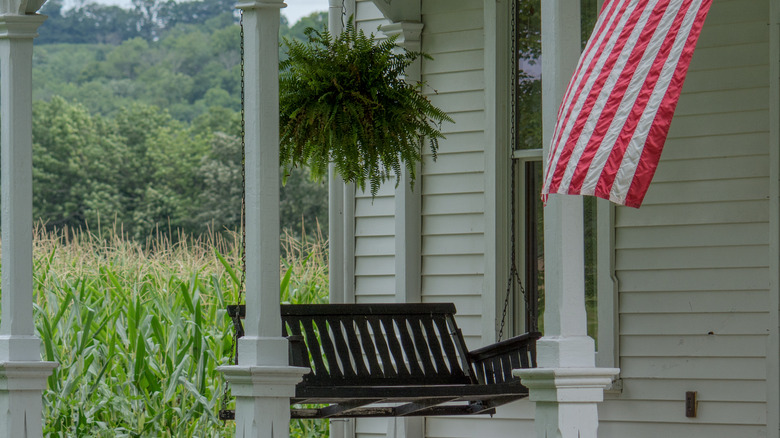 Erce/Shutterstock
If you have a light-colored home, make a front porch bench pop by painting it chic black. This will make it stand out, and guests will definitely notice it as they approach your home. 
6. Playful plank swing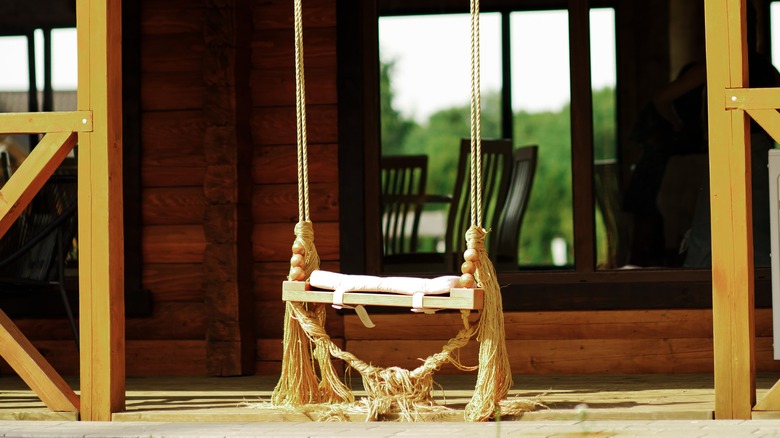 Leojuli/Shutterstock
You could also add a hanging plank swing. The above style has a small comfortable white cushion and tan tassels for a bohemian appearance. 
7. Farmhouse fresh seat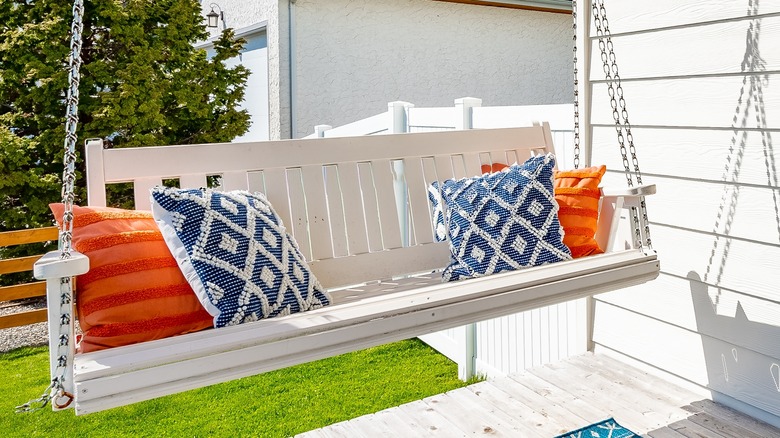 Sheila Say/Shutterstock
A wooden bench painted white will look fresh and provide a modern farmhouse feel to the exterior of your home. Layering colorful cushions will also add extra interest.  
8. Basic bare bench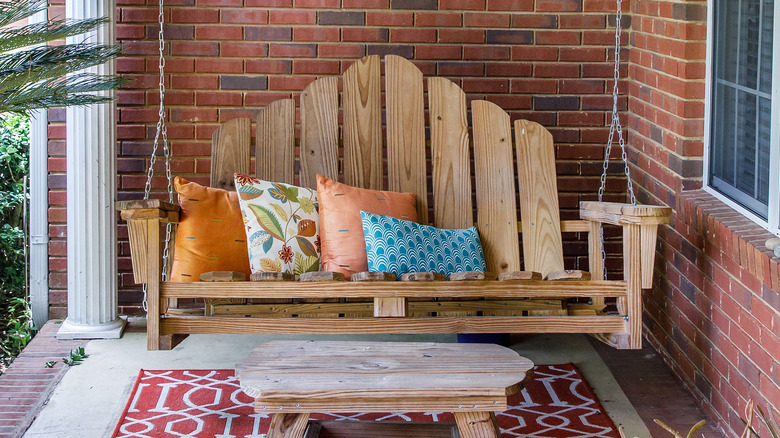 Ursula Page/Shutterstock
You could also keep your bench unpainted to give your space a natural appearance. To make your seat extra useful, you could add a table near it where your guests can place their drinks or other items. 
9. Cozy and calming hammock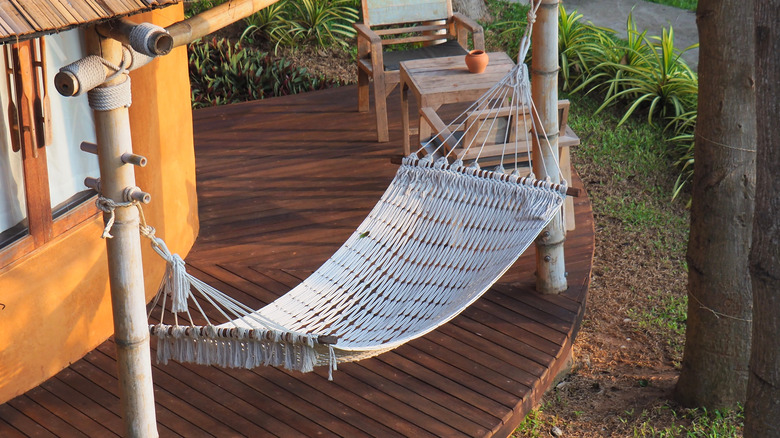 suttirat wiriyanon/Shutterstock
Instead of a hanging chair or bench, you could add a relaxing hammock to your front porch. This would allow you or your guests to lay down outside while creating a calming atmosphere. 
10. Whimsical white bench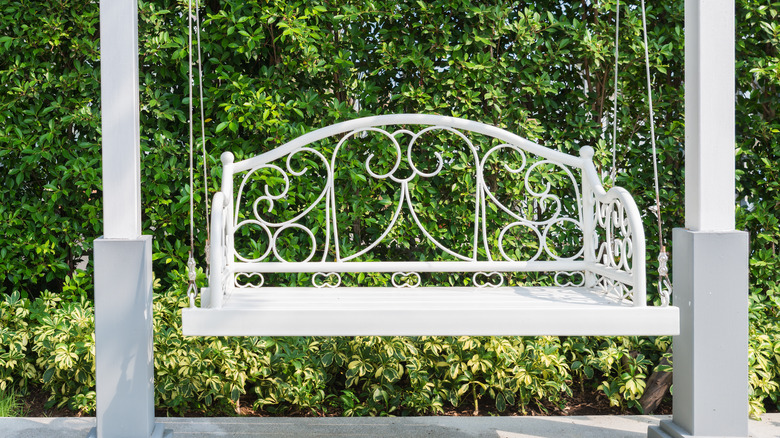 Travelpixs/Shutterstock
Benches can also have whimsical designs. This bench's playful style would make your garden or front porch appear fun and friendly. 
11. Stylish and sophisticated swing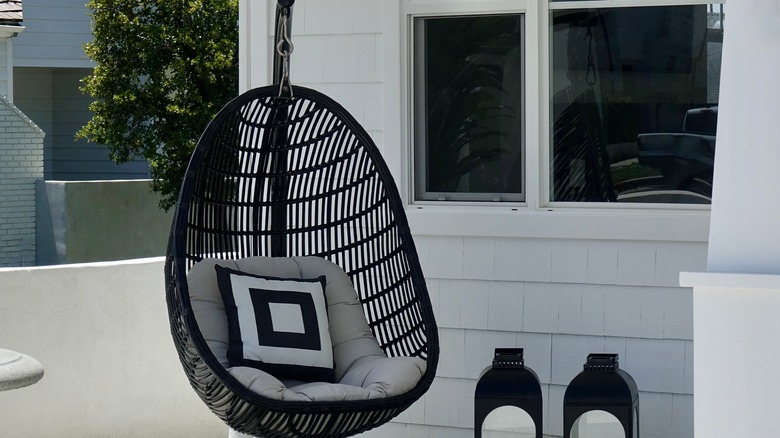 HY-DP/Shutterstock
A wicker egg chair painted black will give your front porch a modern and sophisticated appearance. This hanging chair is freestanding, meaning it isn't attached to the ceiling but to its own stand, which makes it easy to move. 
12. Rocker with red cushions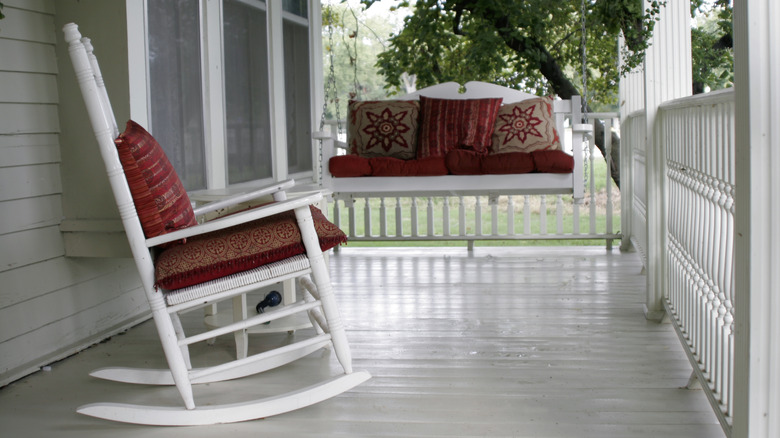 Lisa Eastman/Shutterstock
Pairing your hanging bench or swing with rocking chairs will create multiple places to sit and socialize on your porch. To make your space appear cohesive, you could add the same color or patterned cushions to each seating option. 
13. Woven wicker seat
Wicker furniture has a natural and warm appearance that feels inviting. The above wicker bench provides the porch with the perfect place to relax. 
14. Bold blue bench
If you have a neutral-painted home and porch, adding a bench in a bold color can make a statement.
15. Humble hanging bench
To keep your porch's style very simple, you could add a wooden bench without any cushions. This will require the least amount of care, as you won't have to worry about cushions blowing away or getting wet in the rain. 
16. Elegant egg chairs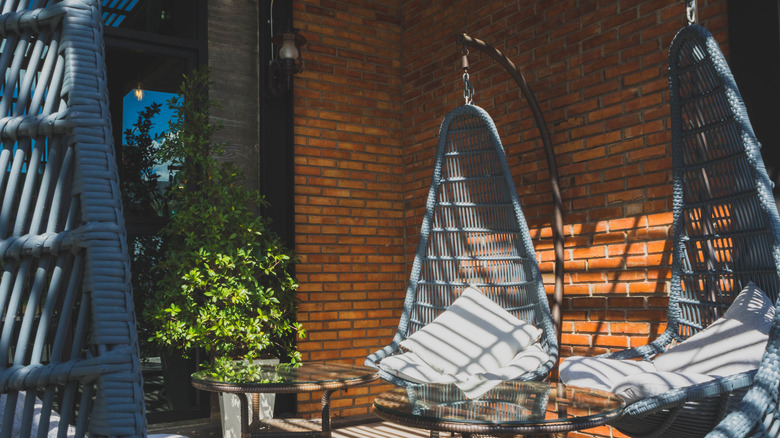 Aplabpla/Shutterstock
These gray-blue egg chairs create the perfect seating space for conversations with guests. They also allow each person to have their own chair, which may make guests who are meeting each other for the first time more comfortable.  
17. Extra eclectic cushions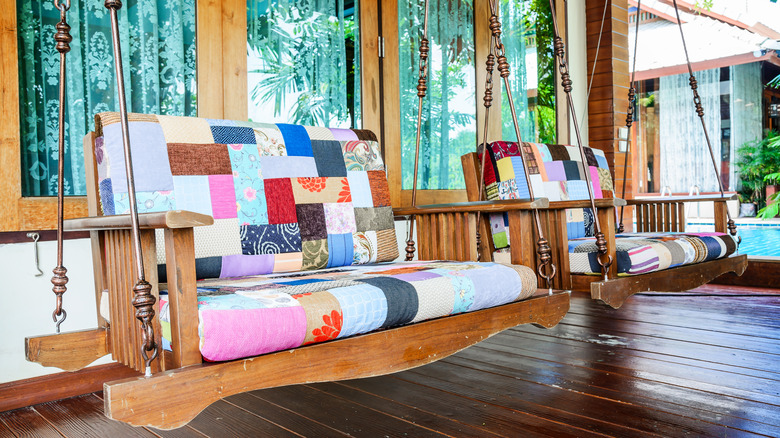 Take Photo/Shutterstock
Adding colorful patchwork cushions to your porch benches will give them an eclectic appearance. This could make your guests extra excited to see how the inside of your home is styled. 
18. Luxuriously large bench
Bignai/Shutterstock
A large bench will make your porch feel luxurious. It could also be a great option for those who like to relax outside for long periods of time, as you could choose whether you want to sit up or lay down.
19. Extremely unique egg chairs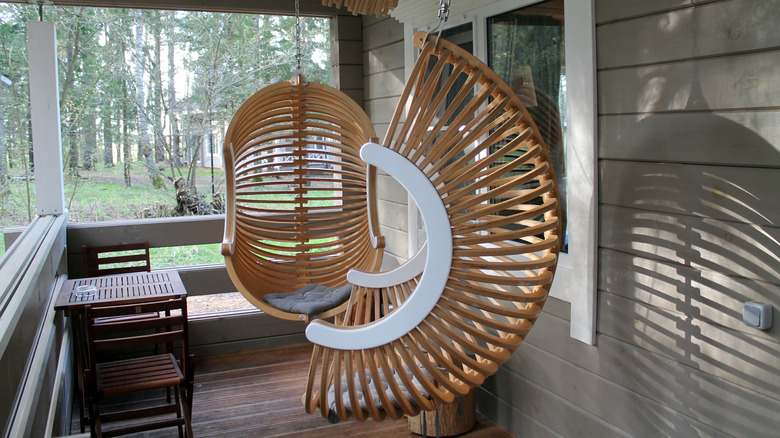 Aksi Po/Shutterstock
These extra unique egg chairs give this porch a fun and modern feel. They provide an interesting contrast by containing both warm wood and white features. 
20. Simple sofa seat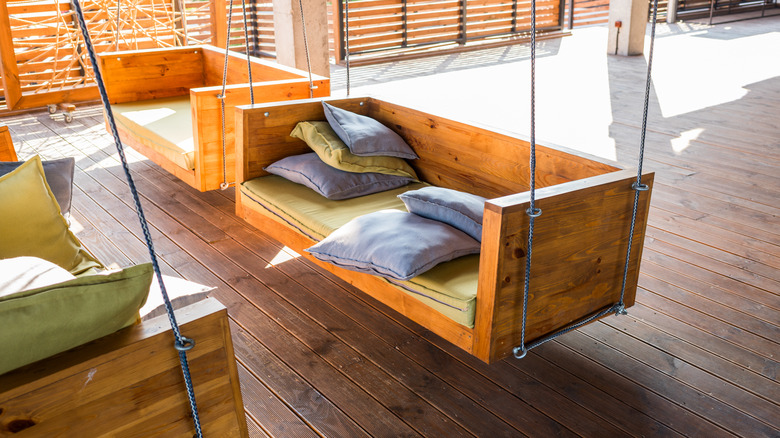 P A/Shutterstock
A wooden sofa bench with a flat bottom and even sides could also be added to your porch. This seat would be ideal for modern-styled homes because it has a simple design and clean lines.