Are The Least Expensive Shelves At Urban Outfitters Worth Buying?
Shelves play a big role within your household. From storing clutter to displaying your most prized possessions, there is always something they can be used for. Store More Store further mentions that shelves are also a great way to optimize your space, helping you stay organized, increase productivity, and remain more efficient throughout your day. So, whether you have been wanting to display your favorite figurines or have too much clutter in your workspace, it may be time to invest in another shelf for your home.
Although Urban Outfitters may not be your first choice to look at when it comes to furniture, they have a wide selection of fun and modern shelves that are bound to attract your attention. Unfortunately, because Urban Outfitters is a popular company, its products tend to be rather expensive. So, let's take a look at some of the cheaper shelves Urban Outfitters has to offer and see if they are still worth purchasing.
The Carter Triangle Bracket Wall Shelf
Currently, one of the cheapest shelves you can purchase at Urban Outfitters is the Carter Triangle Bracket Wall Shelf. According to the website, this shelf consists of a simple plywood base that is supported and hung to the wall by a metal bracket, which can come in either a black or copper color. Depending on the size you wish to purchase, each shelf costs between $8 and $16. The smallest size is approximately 12 inches long, 4 inches wide, and 8 inches tall. The largest size is approximately 20 inches long, 4.5 inches wide, and 10 inches tall. Regardless of size, however, each shelf is designed to only hold a total of 4.4 pounds.
Overall, customers who have purchased this shelf give the product a relatively good 3.7 out of 5 stars. Although many declared that the shelf looks very nice, even with its simple design, they are difficult to level off, which can cause problems when actually using the shelf to display your items. For its relatively cheap price, however, the shelf may still be worth a try.
The Shania Ledge Picture Shelf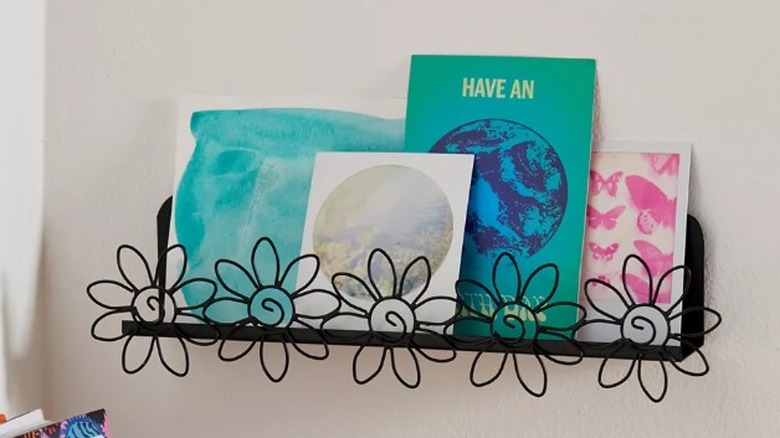 Urban Outfitters
Another inexpensive shelf option at Urban Outfitters is the Shania Ledge Picture Shelf, which can be purchased in either green or black for $24. Unlike the Carter Triangle Bracket Wall Shelf, this shelf is entirely made from iron that is sculpted into an adorable flower pattern and spans approximately 3.5 inches long, 12 inches wide, and 2 inches tall. The shelf can also only hold a total of 4.4 pounds at a time.
Although this product only received one customer review, the shelf was given a 5 out of 5 stars. That specific customer stated that they absolutely loved the way the shelf looked, and it was the perfect size to display exactly what she wanted. Making the installation process easier, the shelf also came with screws that they were able to use to attach the shelf to the wall. Despite this one excellent review, there may still be some undiscovered flaws that appear as more customers invest in this product. Regardless, the Shania Ledhe Picture Shelf still seems like a worthwhile purchase for its inexpensive price.
The Mari Wood Shelf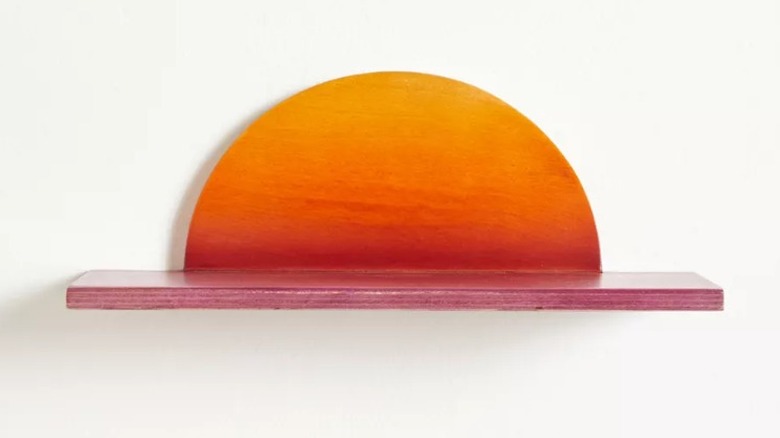 Urban Outfitters
Finally, if you are looking for a shelf that boasts a little more color, Urban Outfitters has another relatively cheap option for you. The Mari Wood Shelf is a simple plywood shelf that boasts a beautiful orange and red color combination for the price of $34. Unlike the other inexpensive shelves mentioned in this article, this shelf can hold a slightly heavier total of 6.61 pounds but still spans an average of 13 inches long, 5 inches wide, and 5 inches tall.
Out of the two reviews this shelf received, it was given a solid 4 out of 5 stars. Comments claim that although the shelf is obviously cheaply made, the colors used to finish the shelf make it worth the purchase. Making for an easy installation process, the shelf also came with screws that easily allow purchasers to attach it to their wall at home. Regardless of quality, if you are looking for a shelf that can light up a room with a bit of color, the Mari Wood Shelf may be worth a second look.