Crate & Barrel Design Expert Sebastian Brauer On The Styles That Will Take Over This Fall - Exclusive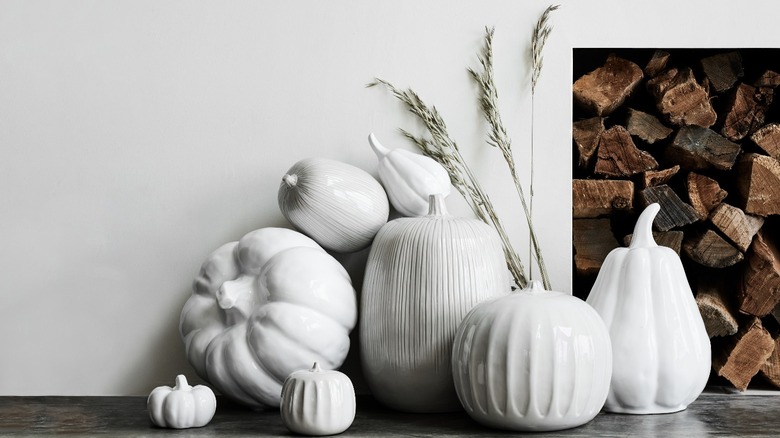 Crate & Barrel
It's happening — fall is coming. We can try to hold onto summer, but that would be futile and a little ill-advised. Plus, there are so many reasons to just ease into the lovely season of rich color and cooler evenings. 
Because we'll be spending more time indoors soon, we wanted to know how we can help our homes support our loftiest goals for them: to keep us comfortable, allow us to celebrate friends and family, and create memories that will last until next spring and beyond. To that end, we talked with Sebastian Brauer, Senior Vice President for Product Design, Development, and Metaverse for Crate & Barrel. In an exclusive interview with House Digest, he described the direction for the season. "For fall we leaned heavily into translating seasonal flavors into a design aesthetic and a big part of this was through colors, with delectable shades of brown from ginger to brown sugar," he noted. "You'll also see a lot of deep jewel tones inspired by nature ... While all unique, the different trending colors for fall share an earthy tone, making it easy to layer them and mix textures and materials while still feeling cohesive." 
Brauer also shared his picks of the new fall arrivals with us, as well as tips to transform our environments with pieces that capitalize on a cozy sensibility or make household and back-to-school routines easier.
Add fall color and texture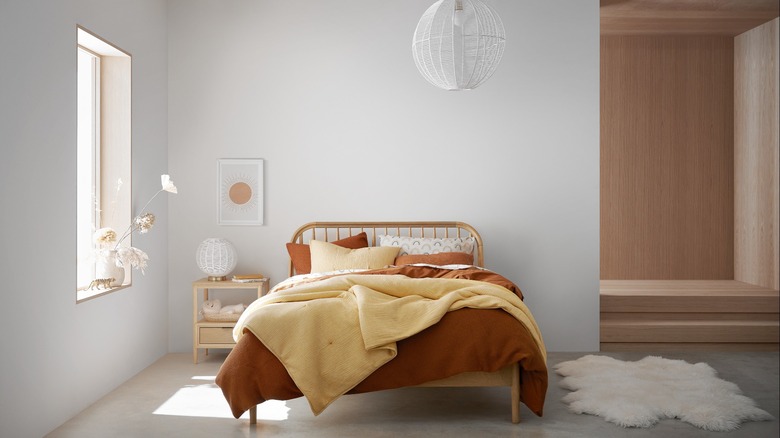 Crate & Barrel
Sebastian Brauer explained that fall is a time we turn our attention to our interiors to amp up an enveloping feeling. Thoughts also shift to practicality: organization, storage, and the provision of layers for warmth. "Incorporating cozy fall fabrics like knits and quilts in the living room and primary bedroom and swapping summer bedding for warmer, rich materials like a terracotta duvet in kids' rooms are easy ways to do this," he shared. "Parents are also preparing for their kids to go back to school, so there's a trend of purchasing desks, organization pieces, and backpacks."
Tactile fabrics and lustrous or rustic accents play into autumn's traits, too. "Textured materials like velvet, boucle, and shearling are very popular in furniture and textiles while glass and ceramic are hot in décor this season, bringing a luxe feel to your home," Brauer continued. "Focus on easy ways to warm up your space through fall-inspired colors or materials across textiles and décor." 
While we might be hesitant to throw something new in with our existing décor, Brauer explained that it's fine to incorporate complementary pieces. "You don't need to stick with one color palette or one theme," he added. "Mixing and matching pieces can help create a custom design aesthetic for your home." And regarding the prospect of enjoying outdoor spaces for a bit longer, Brauer suggested, "Adding items like a fire pit or outdoor pizza oven are perfect ways to extend the outdoor entertaining season into cooler fall months. I also encourage people to add warmer pillows and throw blankets to outdoor seating."
Find Crate & Barrel's The Fall Edit selections on their website.