Are Tuscan Kitchens Going Out Of Style?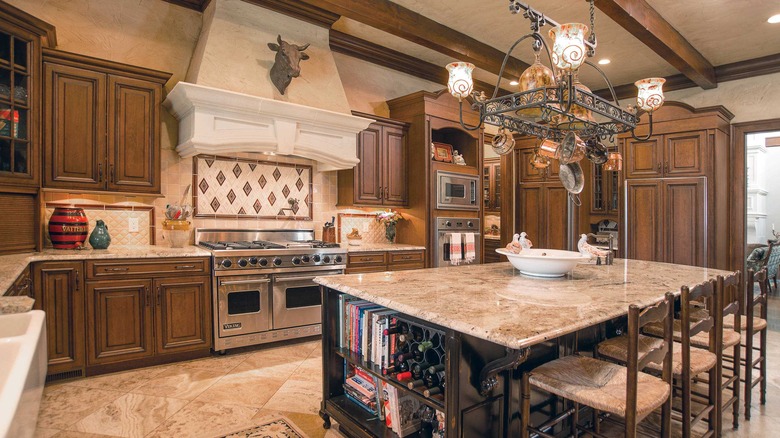 mattia masciullo/Shutterstock
You remember the Tuscan kitchen of the early 2000s, according to Reimagined Room. With moody beige walls everywhere, orange-stained oak cabinets and travertine floors, and an earthy, granite countertop to tie it all together. Lest we not forget the iron and bronze finishes! We paired these kitchens with Italian chef chalk signs displaying the evening's dinner menu and Mediterranean vases from Crate & Barrel. And while the Tuscan kitchen sustained a commendable run, it is moving out of trend with new construction builds. 
As homes have evolved in the last 10 years, so has the Tuscan kitchen. Elements such as warm tones, charming tile, and an expansive island will always have a place. However, as home aesthetics trend towards light, bright, and neat, the Tuscan kitchen's place in the housing market has changed. We are going to talk about a couple of details regarding the Tuscan kitchen that have not dated quite as well and what you can do as a homeowner to update accordingly.
Nixing the granite counters and Travertine floors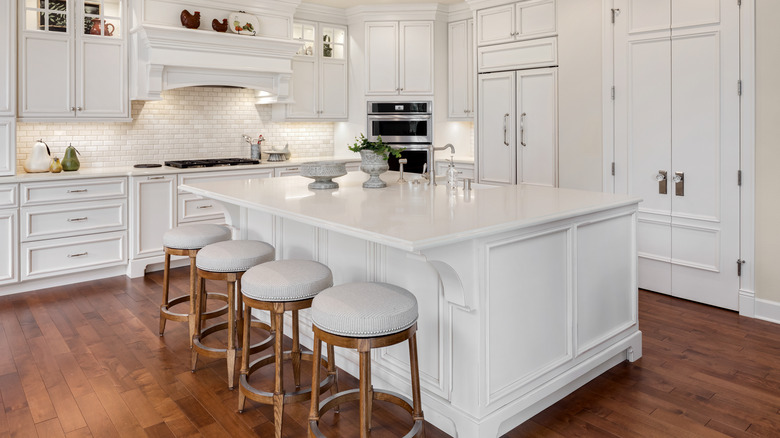 Breadmaker/Shutterstock
Granite is an attractive countertop feature of the Tuscan kitchen, as it reflects light to brighten up the room (as noted by Keystone Granite & Tile). However, as natural light became an increasingly important feature for home buyers, the beiges and earth tones of the Tuscan kitchen became less desirable. Instead, there has been a rise in the white or neutral quartz for a clean, minimal look. Though more expensive, quartz is nonporous, stain-resistant, easier to repair, and more mold and water-resistant. In addition, quartz requires very little maintenance, while granite requires sealing once or twice a year (as noted by Kitchen Infinity).
Travertine tiles fit specifically into the Tuscan kitchen aesthetic. Thus, replacing floors is another way to update your Tuscan kitchen. Luxury vinyl planks are an excellent option and come with a few benefits that even hardwood floors do not have. Luxury vinyl planks wonderfully mimic the appearance of hardwood floors, but do not change due to heat or humidity, are waterproof, and last a long time (according to Really Cheap Floors). Another option is porcelain tile, which gives the kitchen a bit more of an urban and chic quality. Porcelain tile is similarly low maintenance, and Williamson Source advises a darker grout to keep the floors looking cleaner longer.
Brightening things up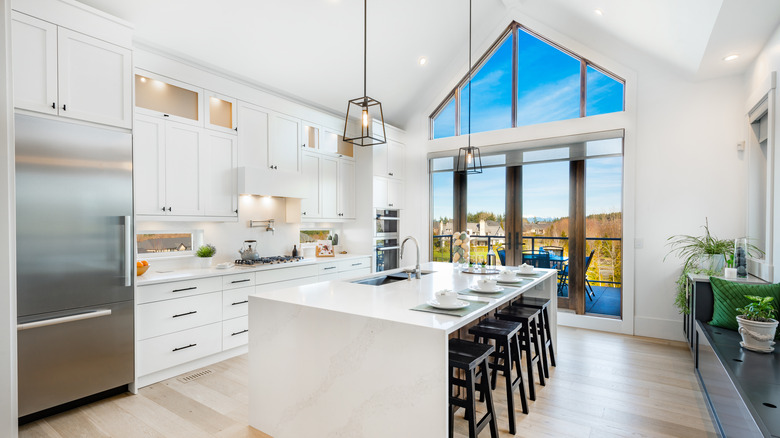 Sheila Say/Shutterstock
Brightening a kitchen's color palette and updating fixtures are other simple ways to update your Tuscan kitchen. Home Light notes that painting walls a warm white is one of the easiest ways to freshen up a space and make it feel updated from the early 2000s. As previously mentioned, this will also optimize the light in the house, as well as transform your home from that moody vibe into that fresh feel that buyers obsess over today.   
Old-world fixtures can also date a kitchen. Rather than the overly bulbous and rustic qualities of the old world, homeowners today prefer something simplistic in shape and with a slight contemporary edge (as noted by Modernize). Ultimately, major structural overhauls such as floors and countertops are not the only ways to gain an updated feel. Paint and finish choices can work wonders and are often the overlooked details that can make a surprising difference in the final product of a kitchen.