Are The Least Expensive Furniture Sets At IKEA Worth Buying?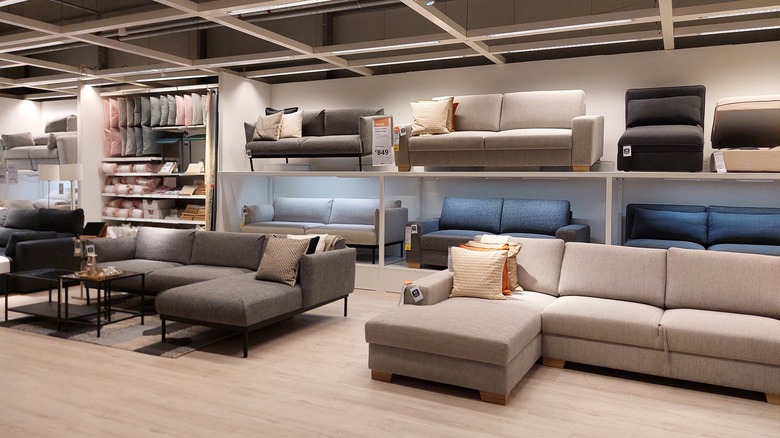 Walter Cicchetti/Shutterstock
Everyone knows Ikea as the minimal furniture superstore, and Vinterior partially credits the Swedish company for the fall of stuffy options. Simple styles, affordable prices, and a vast stock are some of the retailer's enticing qualities, along with the food court. Some trek for miles to reach an Ikea store for what can be an all-day event, and you can check off a long list of décor wants and be with people of similar mindsets. However, the warehouse atmosphere and busy crowds can put others off. Cheapism cautions Ikea might not be the best place to visit if you're impatient, prefer individual attention, or find decision-making challenging. You must also be willing to spend time assembling the in-store or shipped flat-packed furniture. 
DesignFix listed low prices as the number one reason to choose Ikea. According to CNBC, they've earned a legion of fans primarily because the furniture looks pretty good for what it costs. Interior Designer Ashlie Broderic explained to the outlet that most furniture pieces' unadorned façades and pared-back shaping allow the outlet to sell at a budget-friendly price point. GOBankingRates reviewed several products, giving selected rugs, curtains, and shelving units high grades for appearance and function, and calling some a bargain. We're profiling a few of the least expensive furniture sets to decipher whether they're worth the low price.
Everyday function at a good value
Ikea curates products into trends, streamlining the shopping process and instilling design confidence in the consumer. For $99.99, the white MELLTORP-ADDE Table and 2 Chairs has a crisp, mid-century modern feel that belies the cost. Yes, it's melamine and metal, two materials not associated with quality furniture; however, that's precisely what makes this set so useable. Ikea describes the melamine surface as stain, heat, and moisture resistant. Further, as a space-saving measure, the chairs can be stacked, and the retailer notes that additional tables can be pushed together to make a larger surface. This set has great potential for a small eat-in kitchen or a craft room. 
The GURSKEN Bedroom Furniture Set includes a queen bed, nightstand with shelves, and a door wardrobe for $253.99. The materials are fiberboard, particle board, veneer, and plastic, and the listing notes the pieces can be wiped clean with a damp cloth. The set features a natural wood color and minimal style many will appreciate as-is; however, it's the perfect candidate for some creative alteration. Some design-savvy people shop the furniture store's simple forms because they're easy to zhuzh and Ikea-hack into copycats of more expensive pieces. Additionally, the set offers hanging storage, which is ideal for those lacking closet space. However, if you're concerned with off-gassing manufactured materials where you sleep, SustainabilityNook says a second-hand or solid wood bedframe may be your best bet.
Home office offerings
Whether for a work-from-home set-up, family organization station, or home-work spot, the MICKE-ELDBERGET-KALLAX Desk and Storage Combination offers excellent functionality. The whole set is $228.98 and includes a three-drawer desk, cube shelving unit, and swivel chair. The desk has cord management, and the swivel chair is height adjustable and equipped with casters. The shelving unit stands almost 5 inches tall and can be oriented horizontally, providing flexibility and a good amount of storage. In addition, it can be used for less studious purposes, like displaying decorative objects in a living room or holding supplies in baskets in a bathroom. 
The white finish is contemporary, yet its clean canvas will work with many styles, such as modern, farmhouse, or cottage. Ikea notes the materials as fiberboard, particleboard, steel, and plastic but doesn't provide care instructions. Because of the light color, inevitable frequent usage, and contact with items like pens and backpacks, we wonder how long the pristine finish can be maintained. However, the set's storage and look seem like an excellent value for the price.