25 Fall Porch Ideas That Will Transform Your Space Into An Autumnal Paradise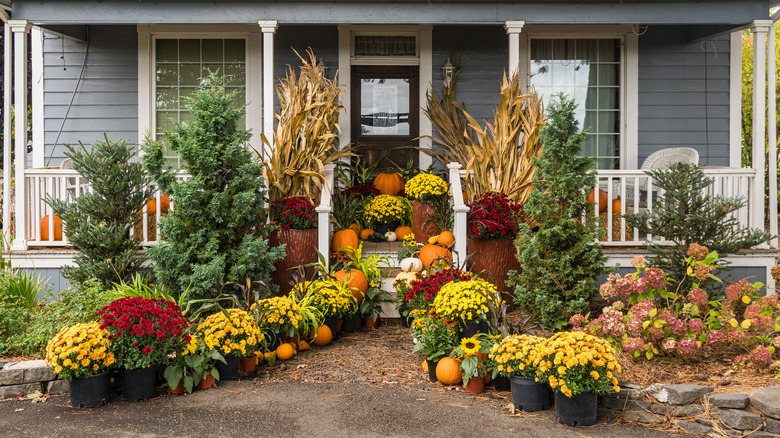 Michael Warwick/Shutterstock
As the weather starts to cool off, almost everyone starts getting excited about fall. Cozier clothes, pumpkin spice drinks, nights spent around the fireplace – what's not to love?
Around this time, those who love decorating start to dig through their attics to find their autumn décor bins. Taste of Home provides two key tips on decorating for fall: first, make sure you layer, and second, replace pieces instead of adding autumn décor to a space that's decorated for summer. One of the most fun places to decorate is the front porch. Adding some fun fall flares to this space will give your house the grand autumn entrance it deserves – and, it can make you and your family more excited about the changing seasons. 
If you're at a loss about how to decorate your front porch for autumn, you'll want to peruse this article. You'll find everything from classic pieces to some modern ideas you could try. Below are 25 ways to spice up your porch design this fall.
1. A collection of colorful mums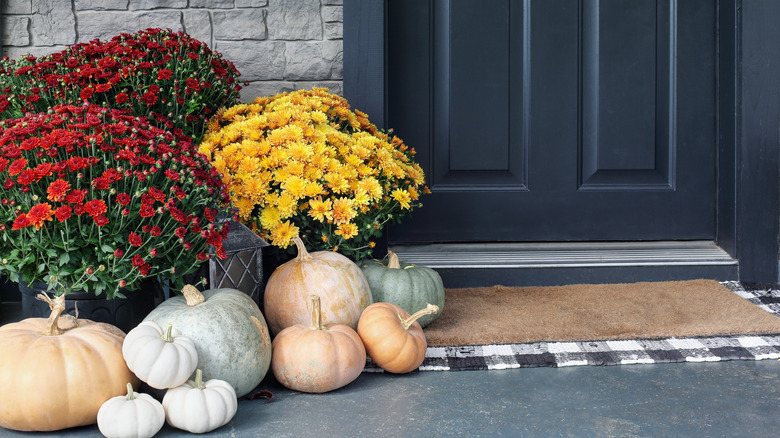 Stephanie Frey/Shutterstock
A staple of the season, mums can help you make the transition from summer fun to fall coziness. Replace your bold flowers and greenery with these autumnal-colored plants.
2. A pumpkin patch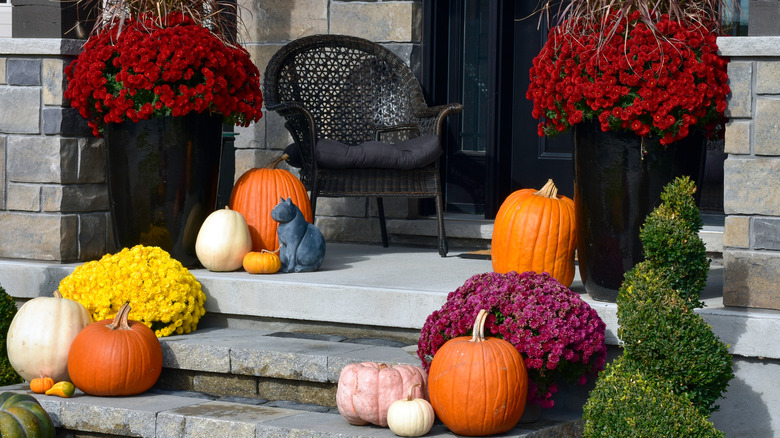 Joanne Dale/Shutterstock
Another classic choice, pumpkins are always a great idea for the front doorstep. To make your space extra interesting, choose ones of different sizes, types, and colors.
3. Gorgeous gourds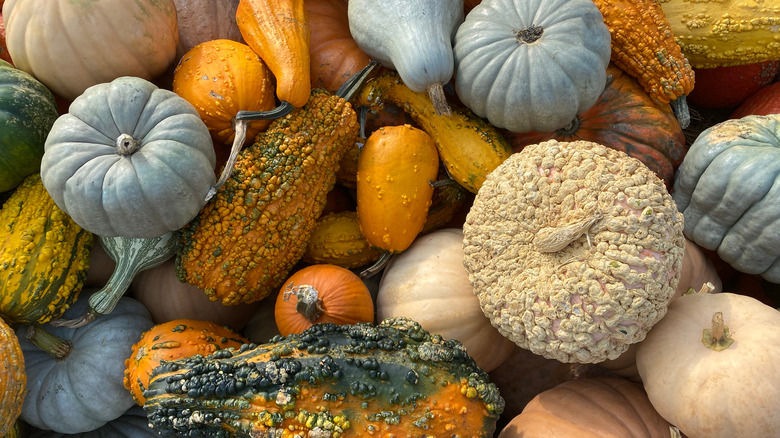 Iris_Images/Shutterstock
To add even more diversity to your porch setup, you could mix in some funky gourds. These will add more unique colors, shapes, and designs to your fall decorations.
4. A leaf wreath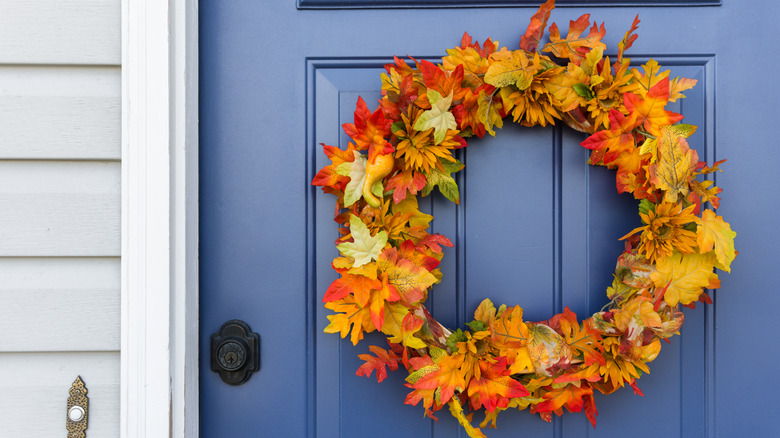 Brett Taylor Photography/Shutterstock
When decorating your front porch, don't forget to adorn your door. You could add a fun leaf wreath to bring in lots of color. If you're a DIY lover, you could create one yourself.
5. A wreath made out of berries
Tatyana Soares/Shutterstock
Or, if you'd rather only showcase some deep red tones, you could purchase or create a wreath made out of dried flowers and bright berries.
6. Two smiling scarecrows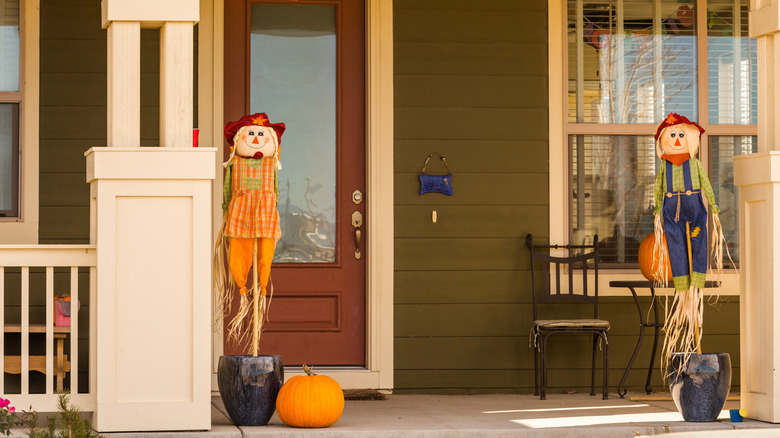 Arina P Habich/Shutterstock
To create an inviting atmosphere, you could enhance your porch with two smiling scarecrows, one on either side of your front stoop.
7. Black and white fall décor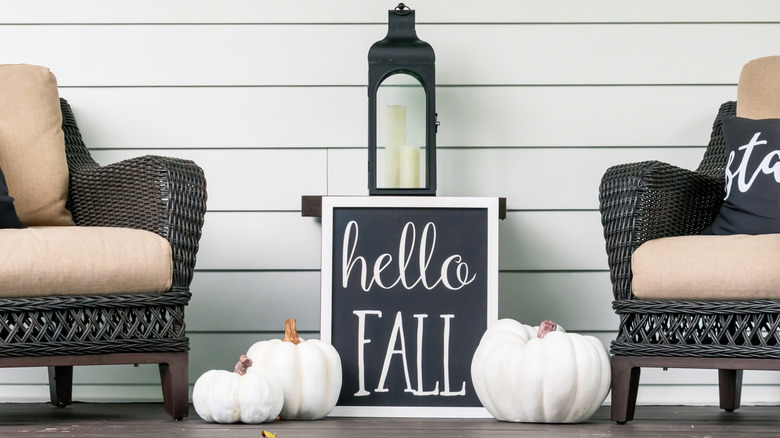 Kristen Prahl/Shutterstock
If you're not a lover of classic red and orange fall colors, that doesn't mean you can't decorate your porch for the season. You could use white pumpkins and a black and white sign.
8. A seasonal doormat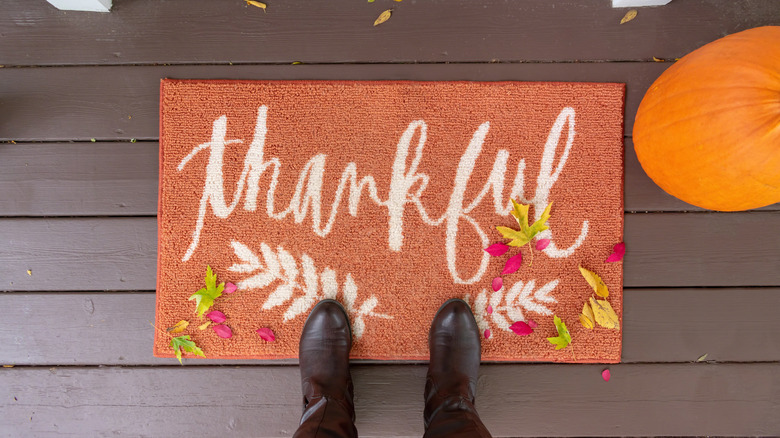 Kristen Prahl/Shutterstock
Swapping out your regular doormat for one that matches your fall décor is a classic way to give your guests the proper fall entrance they deserve.
9. A surrounded doorway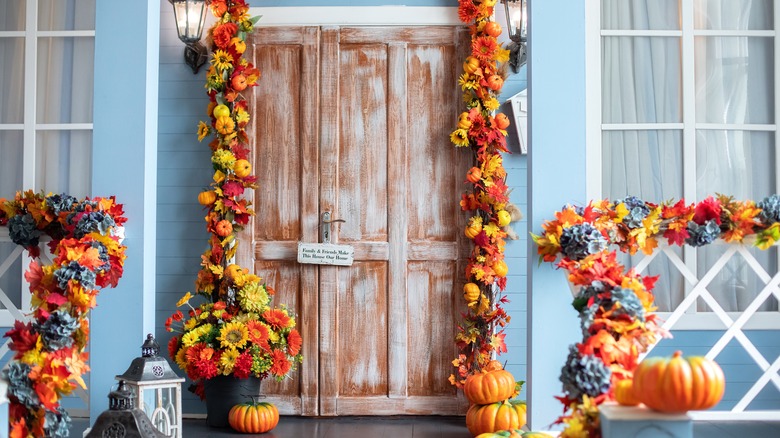 stock_studio/Shutterstock
If you want to go all out with decorations this year, consider surrounding your front door in a fall garland. This could be made out of fall flowers, leaves, and small pumpkins or gourds.
10. Lit lanterns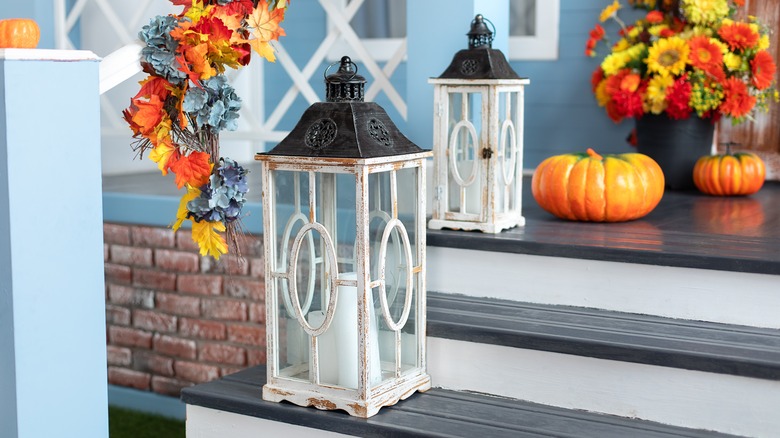 stock_studio/Shutterstock
Lanterns with candles will add a warm and inviting feel to your home. It's a great way to add a similar and more elegant jack-o-lantern look before Halloween night arrives.
11. Plaid prints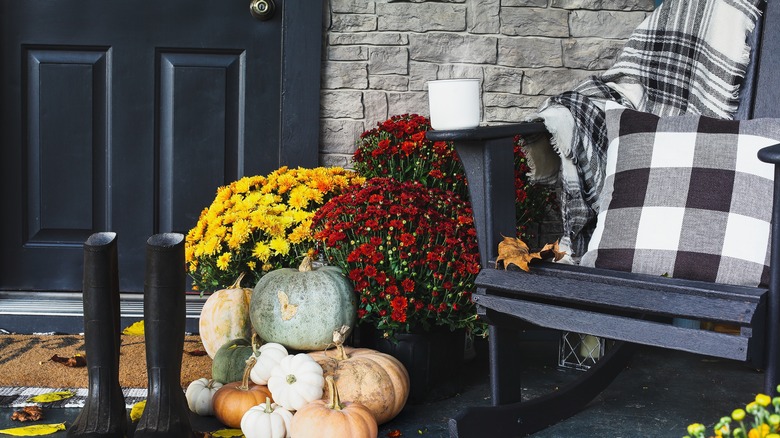 Stephanie Frey/Shutterstock
Adding a plaid doormat, throw pillow, or blanket will make your porch space appear cozier. It reminds the onlooker of the traditional lumberjack fall flannel. Typically, these patterns utilize black and white or red and white.
12. Painted pumpkins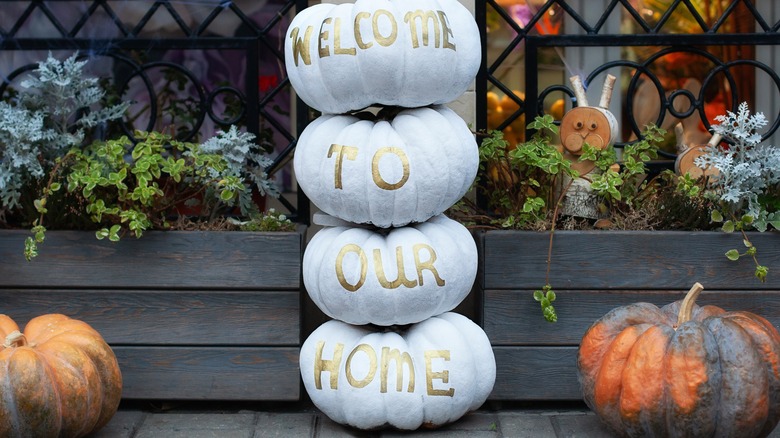 stock_studio/Shutterstock
If decorating your porch with pumpkins, you don't have to keep them their original color. You could create a unique look by painting them. As displayed above, you could also transform stacked pumpkins into a welcome sign. 
13. Piles of wooden logs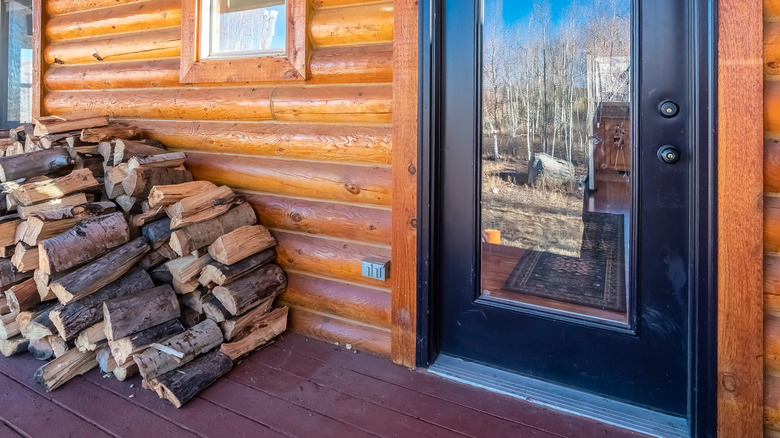 Jason Finn/Shutterstock
Adding a stack of wooden logs will inevitably make your home look cozier and more prepared for the upcoming cold weather. This is a great way to add a natural element to your porch space.
14. Layering hay bales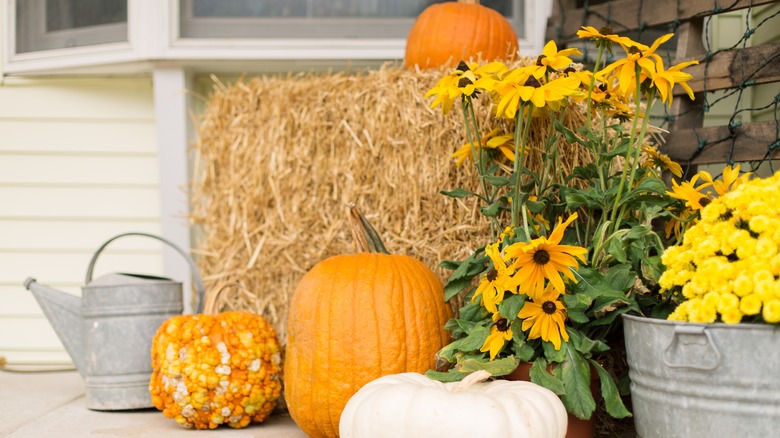 Holly Hatchett/Shutterstock
To add multiple layers to your porch design, use hay bales. These remind the viewer of fall hayrides and give your space a more dynamic appearance. 
15. Tall pampas grass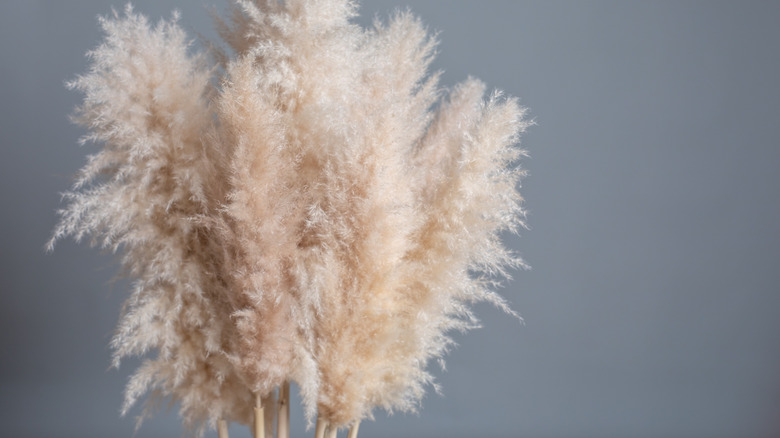 Raily_M/Shutterstock
For a more modern-looking autumn design, display pampas grass in large vases. This will add a fun textured element to your porch that looks beautiful. 
16. Corn stalks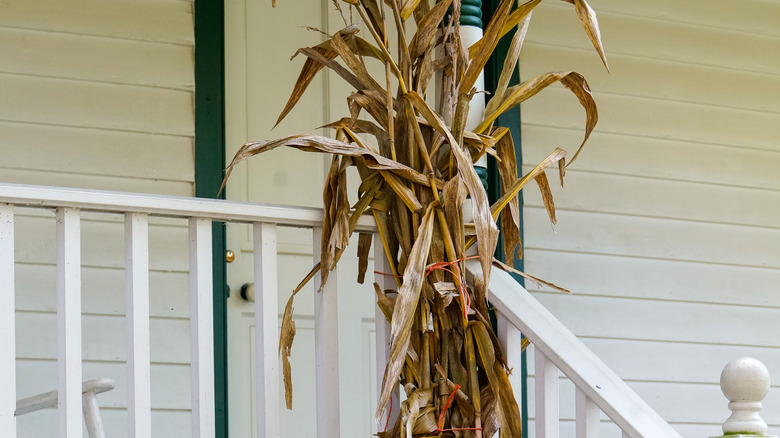 C Killion/Shutterstock
Corn stalks will give your porch a classic rustic appearance. These could be used behind other fall elements or along the railing. 
17. A rustic ladder shelf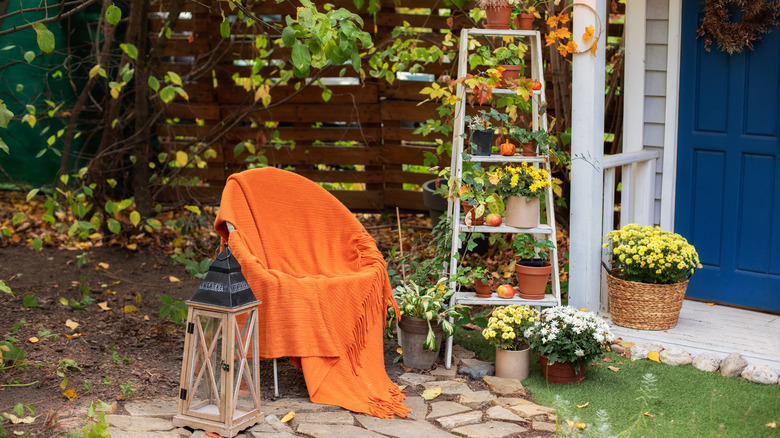 stock_studio/Shutterstock
A ladder shelf could be utilized to display more plants, flowers, pumpkins, or other fall knickknacks. This will carry the eye up in your outdoor space. 
18. Clear vases
KlavdiyaV/Shutterstock
Clear vases could be used to give your porch steps a more modern autumnal appearance. These will allow all the focus to fall on the flowers and pampas grass inside. 
19. Wreaths on every window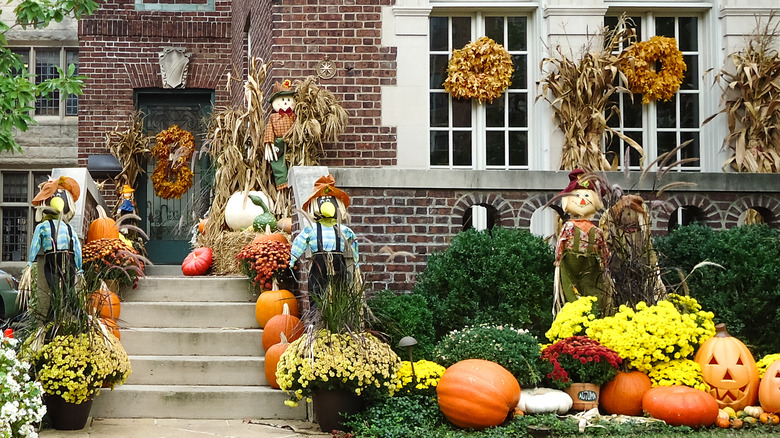 Quinta/Shutterstock
The above porch space is an autumn explosion. To add a unique feature, they adorned each one of their windows in leaf wreaths. 
20. Preparations for colder weather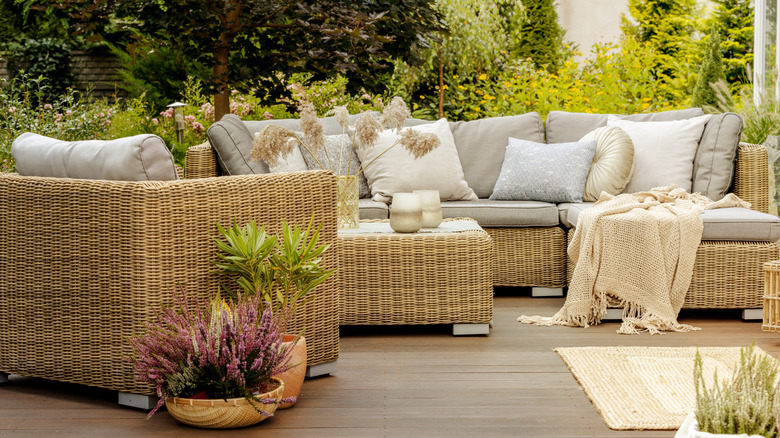 Photographee.eu/Shutterstock
While in the summer, pillows and blankets are unnecessary, as fall rolls around, they can make a massive difference on your porch. Layer blankets and pillows on your outdoor furniture to make your space look cold-weather-ready.
21. String lights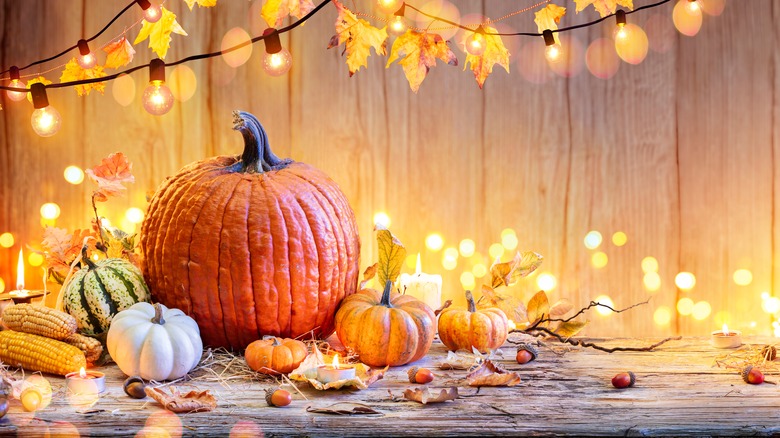 Romolo Tavani/Shutterstock
While fall brings lots of wonderful things, it also means daylight continues to dwindle. To encourage your family and guests to spend more nights on the porch, you could hang some string lights. 
22. Cozy candles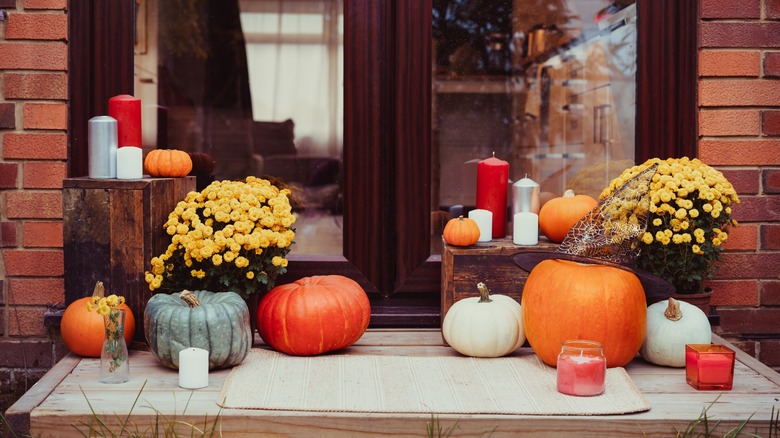 Okrasiuk/Shutterstock
Similarly, adding candles (whether real or fake) to your decorations will add more lighting and create a warm atmosphere on your porch. 
23. A patchwork quilt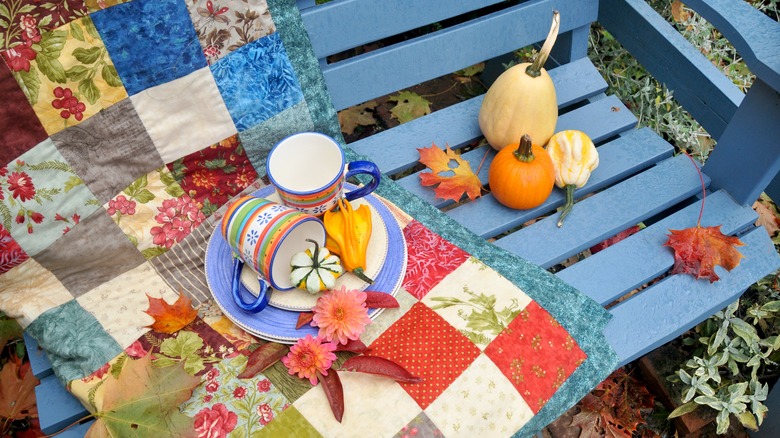 Klem Mitch/Shutterstock
Thick patchwork quilts will give your porch a more comfortable appearance that reminds the viewer of the upcoming cold weather. 
24. A woven basket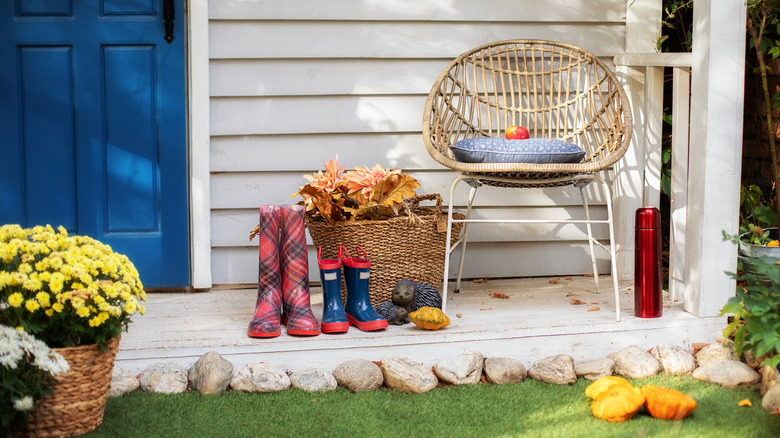 stock_studio/Shutterstock
A woven basket would add a rustic and natural element to your porch. It could be used to hold leaves, pumpkins, cut flowers, or mums. 
25. Some Halloween pieces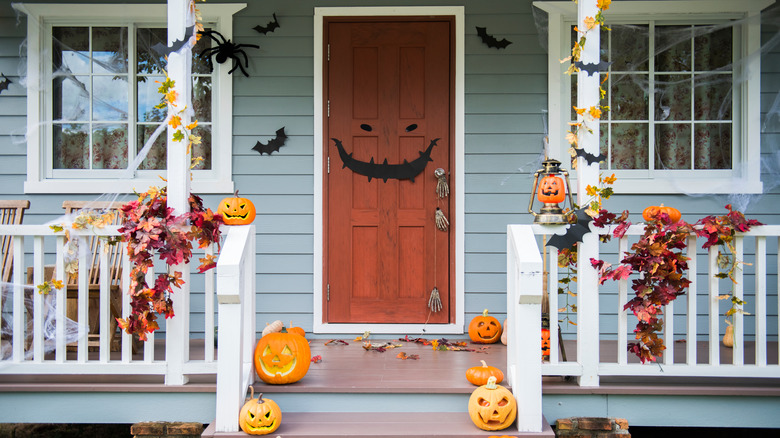 Rawpixel.com/Shutterstock
If you just can't wait for October 31, you could mix autumn décor with some spooky elements. For instance, you could include fake spiderwebs, bats, a skeleton, or jack-o-lanterns.